CES & THE Show 2012 • A Buffet of Music
by Paul Bolin | February 6, 2012
After attending a dozen Consumer Electronics Shows over the last fifteen years, 2012 added something new to the predictable rush of new components, familiar faces and the sights and sounds of Las Vegas. Instead of the usual Thursday-through-Sunday schedule, this year the CEA decided to begin on Tuesday and conclude on Friday. Marc Mickelson and I both arrived in Sin City on Sunday to decompress, and in my case recover from a bit of jet lag, before diving in to the festivities.
Due to the press of time, I spent most of my time at the Venetian, home of CES's "high performance audio" exhibits, though I did sneak in some time at THE Show down Las Vegas Boulevard at the Flamingo.
There, the first room I chanced across was that of Covenant Audio Consulting and the Lotus Group. Lotus Group's Granada G2 open-baffle speakers (complete with their 500Wpc dedicated woofer amplifiers, active DSP crossover and room calibration, $75,000 total) were amplified with the always lovely sounding WAVAC 150-watt HE-833 Mk IIs ($195,000/pair) on the mids and 60-watt MD-805 Mk IIs ($59,900/pair) on the tweeters. The front-end was WAVAC's three-chassis LCR-X2 phono stage ($25,000) and PR-T1 transformer-coupled preamp (three chassis, $31,900). Analog sounds were provided by a Hanss T-60 turntable ($8000, stand $5950) outfitted with a Durand Talea tonearm ($8500) and a Lyra Olympos cartridge. EAR provided an Acute III CD player ($6895). StarSound Technology's Sistrum stands supported the electronics and PranaWire supplied the wiring ($125,000 total). I heard an earlier version of the Granada at the 2009 Rocky Mountain Audio Fest and it failed to do much for me, but this system was very pleasing. A piano-and-saxophone duet sounded very detailed, with well-defined timbres and easy-flowing dynamics.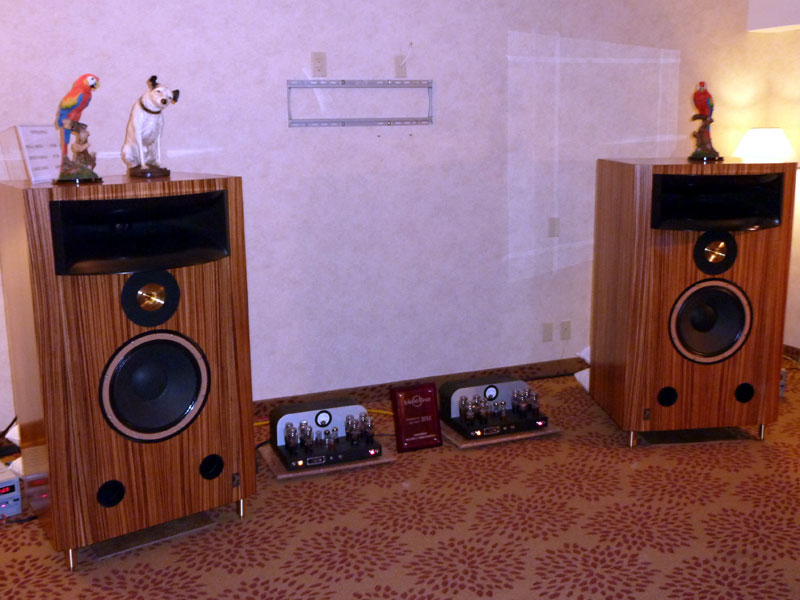 Atma-Sphere and Classic Audio Reproductions have been showing together for dog's years. If it works, why mess with it? This year Mr. Atma-Sphere, Ralph Karsten (winner of this website's Product of the Year award), showed the lovely, retro Nirvana amplifier in a static display. Ralph's long-running M-60 amplifiers ($6950/pair) and MP-1 full-function preamplifier ($16,690 as shown with V-cap upgrade) were used with Classic Audio Reproductions T-1.4 Reference speakers ($49,500/pair, finished in an eye-popping zebrawood) together with an Amazon Referenz turntable ($13,000), Tri-Planar tonearm ($5700), ZYX Omega G cartridge ($5000) and MSB Technology CD IV transport ($3995), Signature IV DAC ($13,995) and Signature Power base ($3495). The Classic Audio loudspeakers are not quite what they appear to be. While clearly identifiable as a horn speaker, what lives inside the pretty boxes is anything but ordinary. The T-1.4 contains two 15" woofers, one firing down and serving as a subwoofer, a 4"-diameter beryllium-diaphragm midrange compression driver mounted in a "tractrix" wooden horn and a beryllium-dome supertweeter the company claims goes out to 45kHz. The motors of the front woofer and midrange drivers, which cover nearly the entire audible spectrum, are not magnets but field coils, which require an external power supply, one of which was sitting behind and outside each of the speakers. Unlike permanent magnets, field coils are magnetized only when signal is present.
In terms of sheer power and scale this system was a match for anything at either show. As I know Karsten and Tri-Planar's Tri Mai quite well, they were more than generous in accommodating some of my more unorthodox demo music. On the digital side, King Crimson's live "Dangerous Curves" from Level Five had seismic power -- quite sufficient to overload the room, in truth -- to go with a massive stage. K-Pop girl group Sugar's "Sweetness" was resolved with genuine distinction and very deep bass synthesizers; voices were also notable in their individuality. Tri spun the new Yello LP and a really fine Jeff Beck disc, also to splendid effect.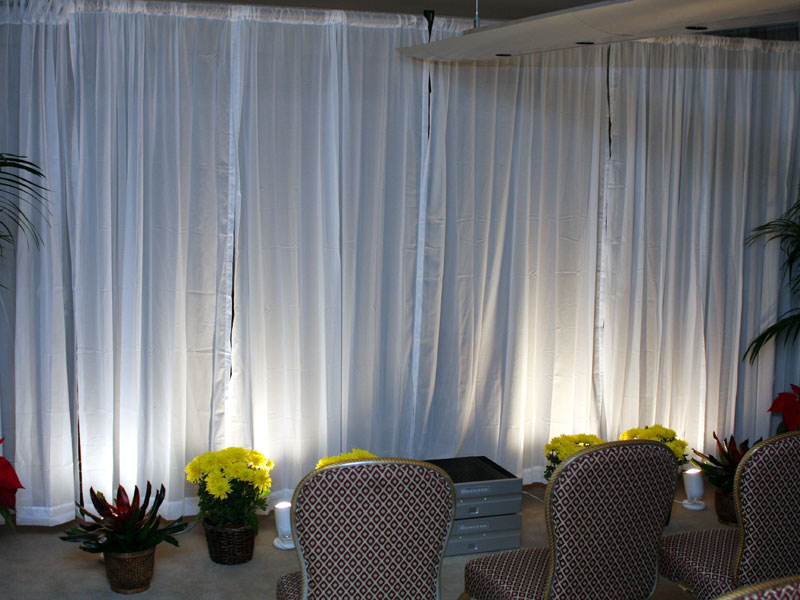 Magnepan did things in their own inscrutable and surprising way. As Marc reported, all of the speakers were hidden behind a scrim and were driven by Bryston electronics, including a multichannel processor, which did give the game away a bit. The Maggie show included a pair of entry-level MMGs ($599/pair), the Tri-Center center-channel concept ($5000), and a pair of Maggie subwoofers ($795 each). When Magnepan's Wendell Diller told me what was behind the scrim I could scarcely believe him. Diller admitted that no one would actually assemble such a system in the real world, but that Magnepan wanted to do it just to show what their speakers could do -- and ultimately promote the company's Dealer-Direct sales model. Had I been told that a pair of the forthcoming 20.7s had been hiding there I would not have been surprised in the least. The sound was that enveloping and resolved and so natural on voices that I was thoroughly nonplussed. Bravo!
Zu Audio once again did what they do so well -- defy expectations and rock the house. The Definition Mk IV speakers ($12,500/pair) with their powered subwoofers were paired with First Watt Audio's 10-watt J2 mono amplifiers ($3500/pair). Music was, as usual, something very out of the ordinary: The Flaming Lips and Stardeath & White Dwarfs' rather unique reinterpretation of the whole of Pink Floyd's Dark Side of the Moon on vinyl. Probably not the thing for Pink Floyd purists, but there was no denying the system's megascale dynamics and power.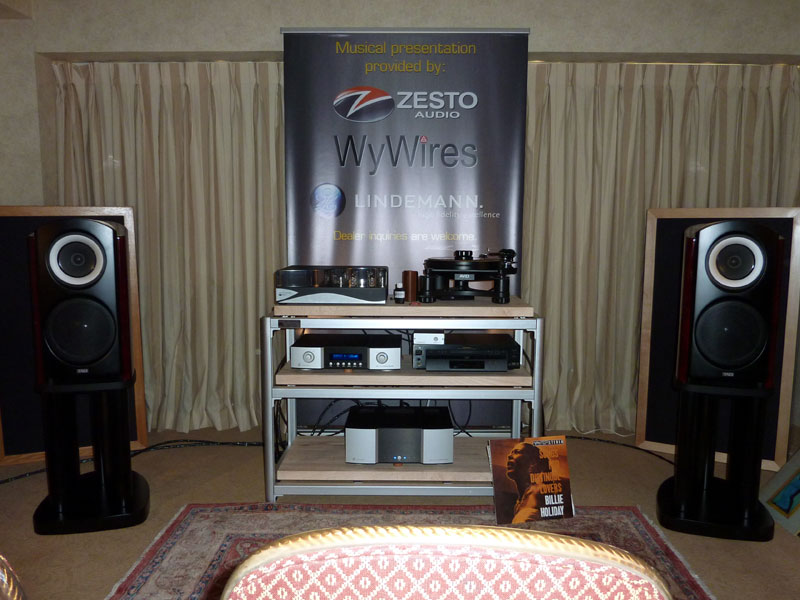 Zesto Audio, Lindemann and WyWires assembled a most enjoyable and refined-sounding system. An Avid Volvere turntable ($5500) with Origin Live Illustrious 'arm ($2500) and Dynavector XV-1s phono cartridge ($5500) were paired with Zesto's Andros PS1 tube phono stage ($3900), Lindemann's fully balanced 830 S preamplifier and 855 stereo amplifier ($12,500 and $15,000, respectively) and Lindemann's USB DAC ($900). TAD's Compact Reference One speakers ($40,600/pair) and WyWires Gold Series interconnects ($1349/meter pair), Silver Series speaker cables ($1299/ meter pair) and power cords ($399 each) completed a wonderfully musical system. Billie Holiday sounded just right on "A Foggy Day in London Town" from the LP Songs for Distingue Lovers, as did everything else I heard in the room.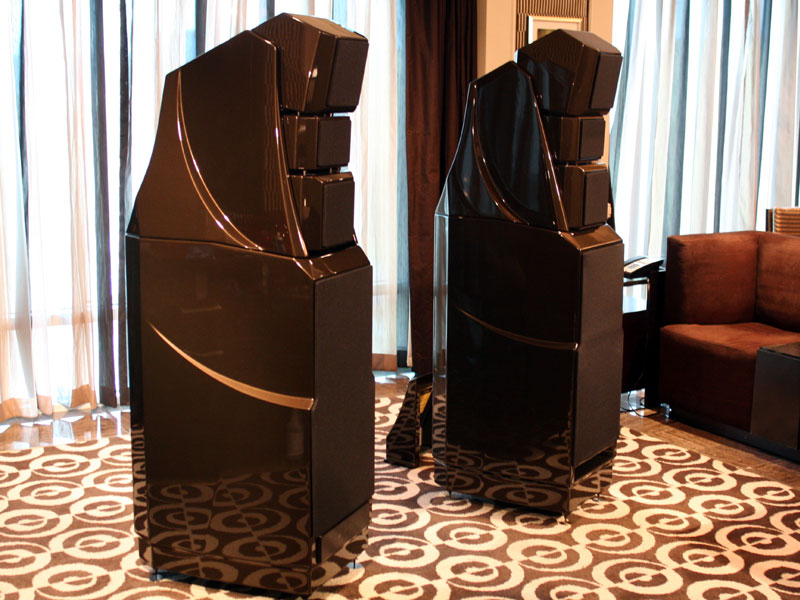 Across the street from the Venetian at the Mirage, Wilson Audio Specialties unveiled the new Alexandria XLF (left, $195,000/pair; the Alexandria X-2 Series 2 is also shown) in a static display. Marc has reported his first impressions of this massive and beautiful loudspeaker. More of his thoughts will be forthcoming after he takes delivery of this super Alexandria for review in the next couple of months, so stay tuned.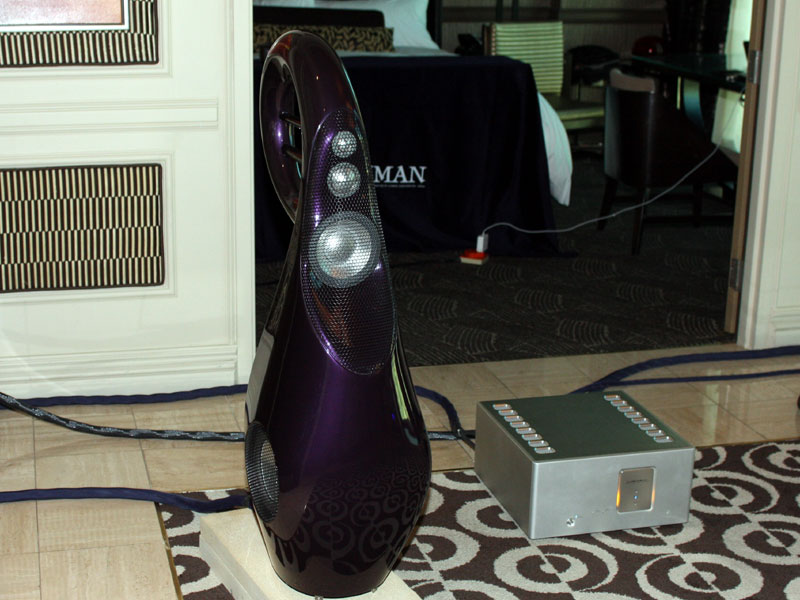 The Mirage also saw the debut of the Vivid Audio Giya G3 ($40,000/pair) driven by a Luxman M-800A 60Wpc stereo amp ($19,000), with Brinkmann's Balance turntable ($24,000), 12.1 'arm ($8000) and Edison phono stage ($13,000). An EMT Ti cartridge ($4300) held pride of place on the Balance, and the center of the system was Audio Aero's La Source CD/SACD player and tube preamplifier ($44,000), all of the above courtesy of distributor Philip O'Hanlon of On A Higher Note. Kubala-Sosna's Emotion cabling tied everything together, with support from Harmonic Resolution Systems stands ($15,000).
Quite how Vivid's designer Laurence Dickie manages to get such deep and profound bass from the smallish, side-mounted woofers in the G3 is unclear to me, but there was no denying the results. All of the other drivers in the G3 are identical to those in its big brothers, the G1 and G2; though little brother is smaller in stature, a mere 45" high, it is every bit a Giya in its ability to disappear while filling a large room with truly first-rate sound. Philip consistently plays some of the most interesting music to be found at audio shows. Although the Acoustic Sounds test pressing of Shelby Lynne singing "Just a Little Lovin'," heard in a number of rooms, showed the G3 at perhaps its most commanding, a Michel Jonasz live LP was pretty darned fantastic as well.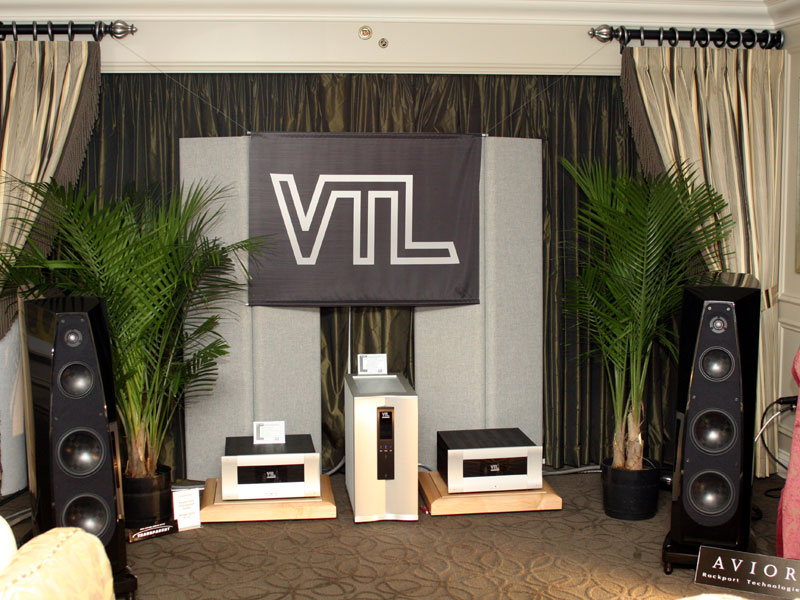 Over at the Venetian, I popped in to the VTL room, where two new stereo amplifiers were the stars: the revised S-400 Series II Reference ($33,500) and the S-200 II ($10,000). The S-400 II (350Wpc pentode, 200Wpc in triode) can be most easily thought of as a single Siegfried configured to operate as a stereo amp, and the S-200 II (220Wpc pentode, 115Wpc triode) as the two-channel little brother to the highly regarded MB-450 Signature III monoblocks. Both the S-200 II and S-400 II contain all of the technical and circuit refinements of their monophonic counterparts.
The music came from a dCS Paganini stack -- transport ($16,999), clock ($7,999), DAC ($17,999), and upsampler ($10,499) -- a Spiral Groove SG 1 turntable with its companion Centroid 'arm ($35,000 total), a Dynavector Te Kaitora cartridge and a complete loom of Transparent Audio's Reference MM cabling (roughly $70,000). Front-end electronics consisted of VTL's TL-5.5 Signature preamplifier, complete with phono stage ($9500) for the S-200 II, and the TP-6.5 phono stage ($8500) and the TL-7.5 Series III Reference line stage ($20,000) for the big boys. The new Rockport Technologies Avior speaker ($29,500/pair) held forth with the S-400 II and a pair of MB-450s IIIs, while the Avalon Indra ($19,995/pair) did the duties for the S-200 II.
Both systems exhibited everything that I have come to expect from VTL -- marvelous timbral completeness, effortless large-scale and exceedingly subtle small-scale dynamics and an inherent rightness. Particularly noteworthy were a great-sounding LP featuring a tremendous Italian soul singer, Mario Biondi, and a test lacquer (good for maybe a half-dozen plays) of tracks from the upcoming Original Recordings Group reissue of Duke Ellington's Blues In Orbit, one of the most lifelike presentations of recorded music it has been my pleasure to experience. The Rockport Aviors were extremely impressive and represent genuine competition for my longtime reference speakers, the Wilson Audio Sasha W/Ps.
When I walked into the Silverline Audio room I was immediately struck by the spacious, bold sound I was hearing. Naturally enough I assumed that it was coming from either the SR17 stand-mounters ($7500/pair) or the Bolero Supreme floorstanders ($15,000/pair). I could not have been more wrong. What I was hearing came from a pair of tiny boxes: the Minuet Supreme Plus, which measure a very petite 9" x 5 1/2" x 9" and cost an equally minuscule $699/pair.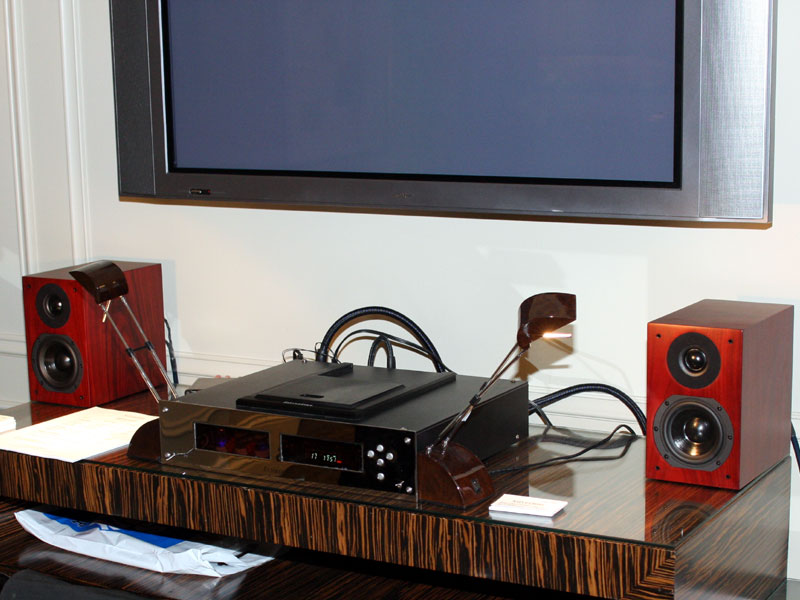 Silverline's Alan Yun is one of the last great renaissance audio tinkerers, and apart from the Pass Labs 250 power amp and Manley Labs' Mahi monoblocks (30Wpc, $2500/pair) the rest of the equipment in the room was modified or built by Yun himself. I was thoroughly smitten with the Minuets, and Alan, in his usual ebullient fashion, promptly shipped me a pair immediately after the show "just to listen to." The Minuets may not be large, but they play bigger than any similarly sized speaker in my experience. Look for more on these amazing little boxes of audio dynamite in an upcoming blog. I must also point out that the Bolero Supreme was as musically right and purely enjoyable as I am used to Silverline speakers sounding.
Speaking of remarkable small speakers, the state of the art in that respect was on display in the Raidho room. Roy Gregory recently reviewed the C1.1 ($15,000 including stands) in these very e-pages, and there is nothing I can add to his well-considered comments. This is an insanely good small speaker and an eye-opening one by any standard. At CES the C1.1 was accompanied by a Burmester 063 CD player operating as a transport, which fed a Jeff Rowland Design Group Aeris DAC ($9800) and 625 stereo power amplifier. Naturally enough, Nordost Frey cabling, from the new Norse 2 line, and Quantum power-conditioning products were also in play. Speed, resolution, and surprisingly impactful bass were all on the menu with this system. Raidho's Michael Børresen is clearly a designer to watch carefully.
As promised above, there is more to say about MSB Technologies, which had a remarkable show. Their cutting-edge digital components were in numerous rooms, including the Atma-Sphere/Classic Audio Reproductions room, where their performance was so notable that it made the MSB exhibit at the Venetian a must-hear for me.
There MSB presented an all-MSB system, save for the cabling and YG Acoustics' Kipod Signature II speakers ($49,000/pair), consisting of their top-of-the-line Signature Data CD transport ($7995), Diamond DAC IV with volume control ($29,489) with the Galaxy Femtosecond clock ($9995) and S200 200Wpc stereo amplifier ($14,995). All of the MSB DACs are capable of upsampling to a depth of 32 bits at a maximum of 384kHz. According to MSB, the Galaxy clock reduces jitter to a brain-boggling 77 millionths of one billionth of a second. All I can say is that Harry Connick Jr.'s "A Nightingale Sang in Barclay Square" was absolutely transfixing through this system -- and perhaps the best digital reproduction of music I have heard. It was clearly on the same level as the previous champ, the benchmark four-box dCS Paganini stack.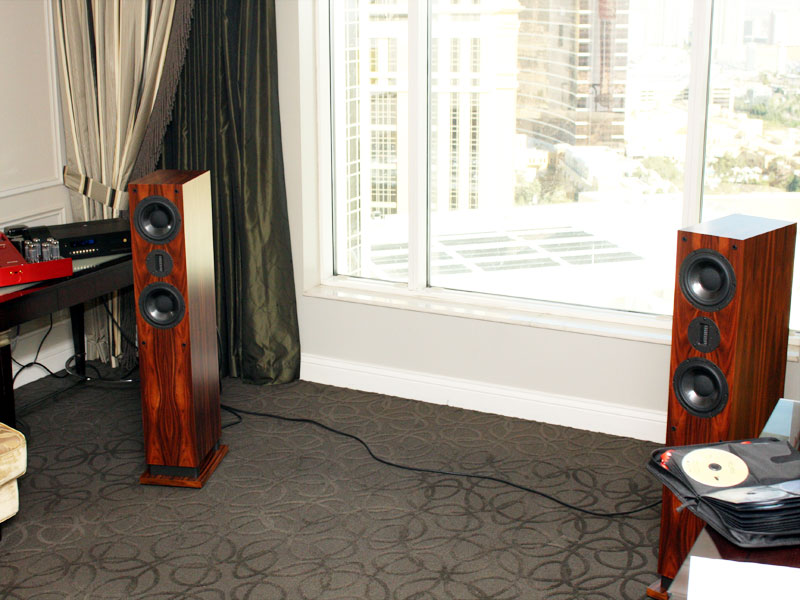 The affable and easygoing Richard Gerberg has been the US ProAc distributor for as long as I can remember, and each of the last three years he has brought with him a new loudspeaker from the English company that offers an enormous performance envelope that has belied their comparatively modest sizes. This year the featured speaker was the Response D40R ($12,000/pair) driven by the very sexy-looking Tube Technology Synergy Carbon preamp/power amp system ($18,000), a most unusual integrated amplifier. The 150Wpc unit combines a pair of mono power amplifiers, each sporting six KT77 power tubes, and a five-input preamplifier. CDs were spun by Tube Tech's Fusion 64 player ($8000), which offers 64 bits of depth according to Tube Technology's Zia Faruqi.
The sound from the Tube Technology/ProAc pairing had tremendous thrust and rhythmic drive, extremely potent low bass with great whacking authority that one would never think could be produced by a pair of 6 1/2" woofers, albeit woofers sporting fine-weave carbon-fiber cones. The highs were airy and extended thanks to ProAc's proprietary ribbon tweeter. The room was set up as simply as possible, with the electronics on hotel furniture and no acoustic treatments, but it was one of the most engaging sounds at CES.
Ron Sutherland of Sutherland Engineering introduced his 200-watt Reference PowerBlock mono amplifiers ($10,000/pair), which are the perfect cosmetic and sonic matches for his equally dual-mono Reference PhonoBlock ($10,000/pair) and Reference LineBlock ($15,000/pair) front-end electronics. Vandersteen's Quattro loudspeakers and EnKlein cabling completed the system. LPs were spun on the compact and cleverly engineered Merrill-Williams R.E.A.L. 101 turntable ($6000), which combines a sandwich plinth that is suspended on elastomer feet. All of the moving bits -- motor, armboard and platter -- are isolated by more elastomer, resulting in a simple but highly effective suspension system. The 'table sported a vintage Dynavector 505 'arm and the Ortofon MC Anna phono cartridge ($8500). Very centered and solid images were presented against luxuriously silent backgrounds.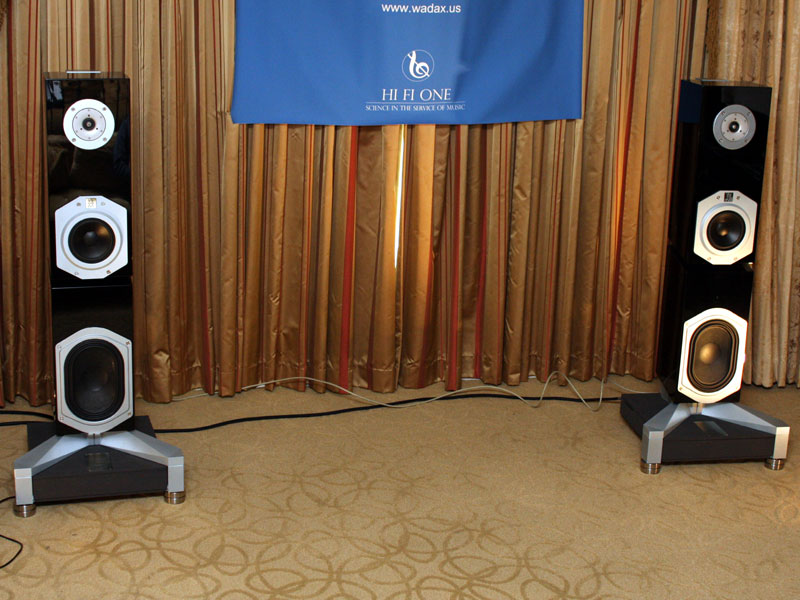 Spain's Wadax showed their fascinating PRE 1, a combination preamplifier/phono stage/DAC ($32,500) together with their new La Pasíon powered loudspeakers ($106,500/pair, with dedicated 400-watt amplifiers for each woofer and midrange driver). A C.H. Precision CD player ($36,000) was used as a transport for digital sources, while a Brinkmann Oasis direct-drive turntable ($13,700) with the Brinkmann 9.6 'arm ($4000) and Brinkmann Pi cartridge ($2700) and Echole cabling completed the system.
The ferociously complex Wadax PRE 1 is a fascinating component. As explained to me by importer Rick Brown of HiFi One, it can perform a remarkable array of functions, including analog-to-digital conversion of phono signals, in which RIAA equalization is applied in the digital domain. It can also serve as a DAC via its USB, S/PDIF, TosLink and BNC inputs and, when coupled with the Pasíon, contains a 5Wpc amplifier for the speakers' tweeters. Even more impressive, a user can, using a test LP supplied with a phono-equipped PRE 1, play that recording, record the signal generated by the analog playback setup to a thumb drive or laptop, and send it via e-mail to Wadax. He will receive back software that can be uploaded into the PRE 1 to compensate for any and all electronic discontinuities in the owner's analog system entirely within the digital domain. In addition to being an incredibly sophisticated piece of audio gear, the PRE 1 is built like a battleship and a striking piece of industrial design.
Now I am someone who generally prefers to keep digitization as far away from my LPs as possible, but the Wadax was, as far as I could hear, sonically indistinguishable from the top echelon of dedicated phono stages. The system sounded superb with the jazz LPs and acoustic-guitar duets Brown spun as well as the Julie Driscoll/Brian Auger "Light My Fire" from the remastered CD of Streetnoise. Bass guitar and upright bass had first-rate pitch definition and were exceptionally articulate and bloomy. Driscoll's voice was dead-bang on in every way and surrounded by a well-defined space. While very expensive, the Wadax gear may well be a precursor of high-end things to come.
Britain's EAR and Sweden's Marten repeated their team-up of last year's CES to fine effect. EAR's Acute 3 CD player ($6795), DACute DAC ($6595), 912 preamplifier ($13,000), and 890 power amplifier ($8295) drove Marten's new Django speakers ($15,000/pair). Jorma Origo interconnects ($5250/meter pair) and speaker cables ($7000/meter pair) tied it all together. I've always found EAR gear to sound a bit dark and glamorous, but together with the lithe and speedy Djangos, which are positively inexpensive for Marten speakers, this system was definitely musically satisfying.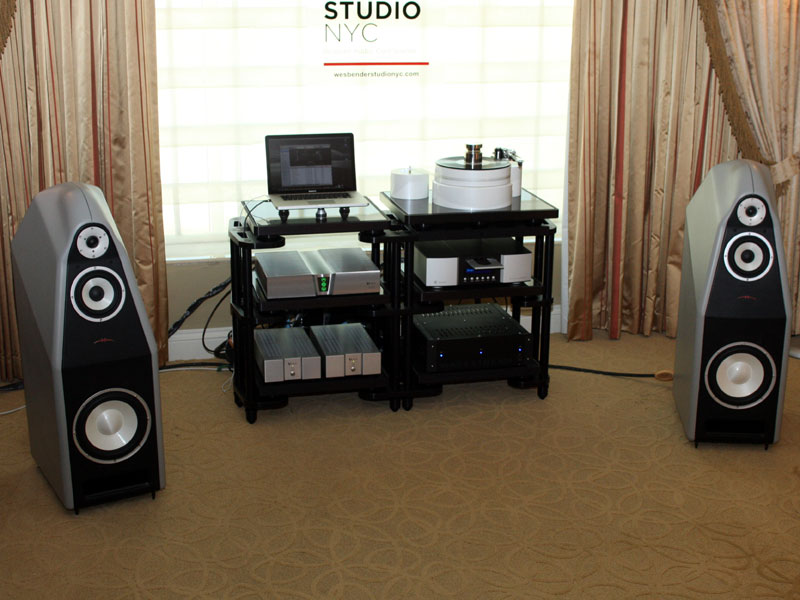 Wes Bender Studio NYC assembled a fine-sounding system around Viola Audio Laboratories' Crescendo line stage complete with integral DAC ($19,000 including an Apple iPod Touch controller) and 75-watt Forte mono power amplifiers ($19,000/pair), a Lindemann B25 CD player ($12,500) used as a transport, and Hansen Audio's new Prince E speakers ($39,000/pair). LPs spun on a Redpoint Audio Designs Model D turntable ($29,000) carrying a Tri-Planar Ultimate Mk VII 'arm ($5000) and Dynavector XV-1t cartridge ($9250); Jorma's Origo interconnects and speaker cables made the connections together with Kaplan Cable GS Mk 2 SRC and HC power cords ($1600 each) and power conditioning ($4500), which supplied the juice. Also on hand were Harmonic Resolution Systems SXR racking with M3X isolation bases. Computer audio included Channel D's Pure Music software along with an AudioQuest Diamond USB cable.
The sound here was large-scaled and bold, with deep, tight bass and a smooth, extended top. Porcupine Tree's live "Radioactive Toy" from my Coma Divine CD was exceedingly spacious, well sorted and powerful, as were the Driscoll/Auger track and the classic "St. James' Infirmary" from the Louis Armstrong Plays King Oliver LP. This system had a physicality and image density that were very habituating.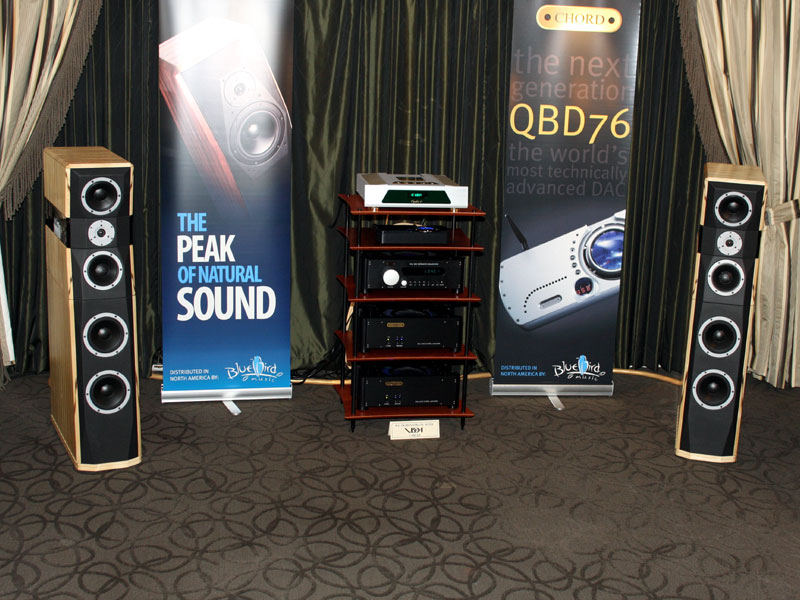 Toronto's Bluebird Audio showed two systems, both of which offered distinguished sound. The big system featured Peak Consult's new Kepheus loudspeakers ($110,000/pair) with Chord's CPA 500 line stage ($21,000) and 480Wpc SPM 1400 mono amplifiers ($32,900/pair), van den Hul Mountain interconnects ($1495/pair) and Cloud 3T speaker cables ($3195/pair). Most interesting was the fact that Bluebird has assumed distributorship for the legendary components from France's Jadis, whose Orpheé 1 tubed CD player ($19,900) handled the digital chores for this system when I was present. This system delivered thunderous dynamics, a vast soundstage and marvelously sweet strings on the fourth movement of Scheherazade, courtesy of a Reference Recordings CD by José Sebrier and the London Philharmonic, and a mellow, creamy lusciousness on Bobby Short's "Can Can." A smaller but equally engaging-sounding system featured Jadis' JPL preamplifier ($10,900), DA-7 100Wpc stereo amplifier ($13,900) and Spendor's slick little A5 loudspeakers ($3195/pair), also with van den Hul cabling.
Precision Audio & Video is the longtime distributor of Belgium's Venture speakers and electronics as well as Weiss digital gear from Switzerland. The latest product from the fertile mind of Venture's Njoo Hoo "Didi" Kong was the Ultimate Reference loudspeaker ($139,500/pair), which is reasonably large but elegantly proportioned, and incorporates the proprietary materials, applications and technologies developed for the massive Xtreme speaker that was unveiled at last year's CES. Venture's VP 100L line stage ($35,100), 100Wpc V 100A+ mono power amplifiers ($62,000/pair) and cabling supplied the motive force and connections, with the Weiss Jason transport ($22,707) and Medea+ DAC ($19,680) decoding the digits.
This system provided me with the single most thrilling moment of the show. Precision's Mike Slaminski popped a CD into the Jason and a superbly recorded "O Holy Night" featuring soprano voice and organ materialized at the far end of the room. Beautiful, indeed. Then the massive choir came in: floor-to-ceiling, wraparound sound, as lifelike as any large-scale music I have ever heard from an audio system in terms of timbral richness, scale, dynamics and sheer realism. It is no exaggeration whatsoever to say that chills ran up my spine at that moment. The moments where you can utterly forget that you are hearing an audio system are rare indeed, but this was one of those magical experiences. I have never heard anything less than exceptional sound from a Precision room, but this upped the ante considerably.
Norway's Hegel is one of the newer names on the North American high-end scene and they acquitted themselves very well in Las Vegas. A laptop server fed Hegel's four-input USB capable 32-bit HD11 DAC ($1200), P30 line stage ($7500) and a pair of 1100-watt H30 monoblocks ($30,000/pair). Venture's Ultimate Encore speakers ($46,000/pair) completed the system, which sounded smooth and refined.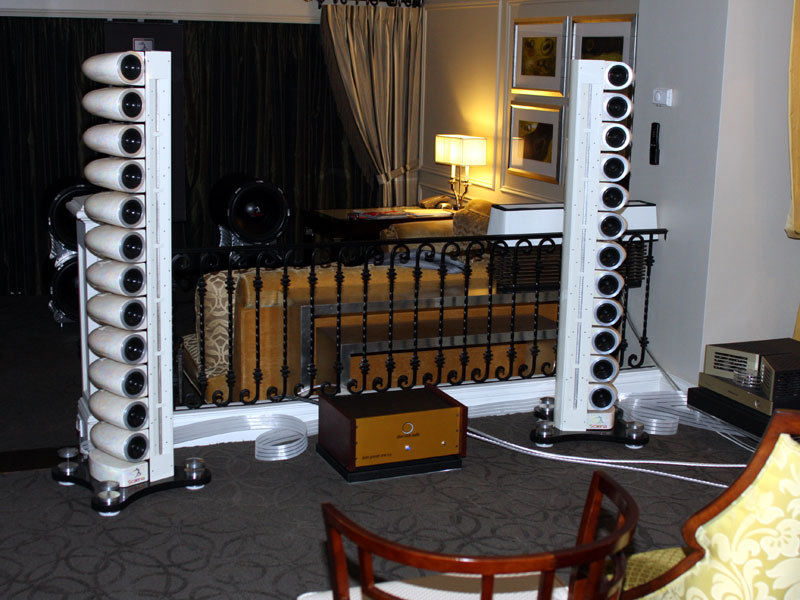 Scaena has revised its standard-setting speakers with a planar-ribbon tweeter. The new Spiritus (estimated to be around $100,000, including woofer amplification and crossover) consisted of twelve midrange "pods" and nine tweeters per side, with two pairs of massive 18" subwoofers set far back from the towers. Scaena's Sunny Umrao and Alan Eichenbaum were not happy with the bass balance on Tuesday, but they had things humming along beautifully by Thursday. Like last year, dCS's Paganini digital stack and Conrad-Johnson's ART amplifiers ($33,000/pair, 275 watts each) and a full loom of Nordost Odin cabling completed the Scaena system. Also on hand was Veloce Audio's battery-powered tube line stage, but it was not in the system when I did my listening.
The Scaena speakers do something I have heard just a tiny handful of other speakers do -- consistently cast a soundstage that reflects the recording in every way and dimension. It is definitely a "you are there" speaker rather than a "they are here" approach, combining remarkable detail resolution and timbral naturalness. I can only repeat what I have said about this speaker before: it provides perhaps the most freakishly holographic soundfield there is to be heard in the audio world. Of all the speakers I have heard in the last ten years only Wilson Audio's MAXX 3 and Alexandria X-2 Series 2 (the Sasha comes close) can put the same spell on me.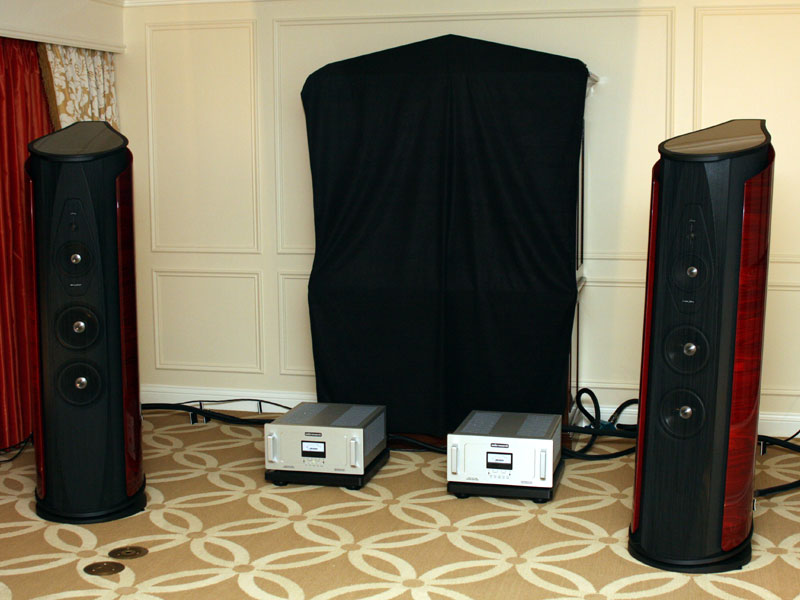 Audio Research was clearly doing something right, as their room was jam-packed every time I stopped by. In addition to a static display of the new Reference DAC "Digital Media Bridge" prototype ($15,000), which will handle virtually every current form of digital source in addition to acting as a preamplifier, the Reference 5 SE line stage and Reference Phono 2 SE phono stage made their public coming-out. Both SE-series components incorporate heaping helpings of what the ARC engineering team learned in developing the boundary-obliterating Reference Anniversary line stage yet have increased in price by only $1000, to $12,995 each. Analog sounds came courtesy of an SME 20/3 'table and Series V tonearm ($17,000 complete) and a Sumiko Palo Santos Presentation cartridge ($3995); a laptop computer served as digital server into a DAC8 converter ($4995) and Sonus Faber's very substantial and strikingly beautiful Aida loudspeakers ($120,000/pair) -- a direct descendant of the quarter-million dollar "The Sonus Faber" mega-speaker -- moved the air in wonderful fashion driven by Reference 250 amplifiers ($25,990/pair). Shunyata Research's latest Anaconda interconnects and speaker cables, power cords and Hydra Triton power conditioners tied everything together and all sat atop Harmonic Resolution Systems SXR stands.
Marc and I stopped by at the end of the day on Friday and finally got to do some serious listening, and it was well worth the wait. One of my longstanding reference tracks is the extraordinary (both musically and sonically) cover of "Light My Fire" by Brian Auger and the Trinity with Julie Driscoll. This spectacularly transparent and lifelike recording seems to work its magic on everyone I have ever played it for at shows and is inevitably followed by "What was that and where can I get it?"
As soon as Julie made her inimitably sultry entrance over the atmospheric growl of Auger's Hammond organ Marc, for whom I had never played this, let out a "Holy shit! What is this?" All levity aside, this was a very, very special system.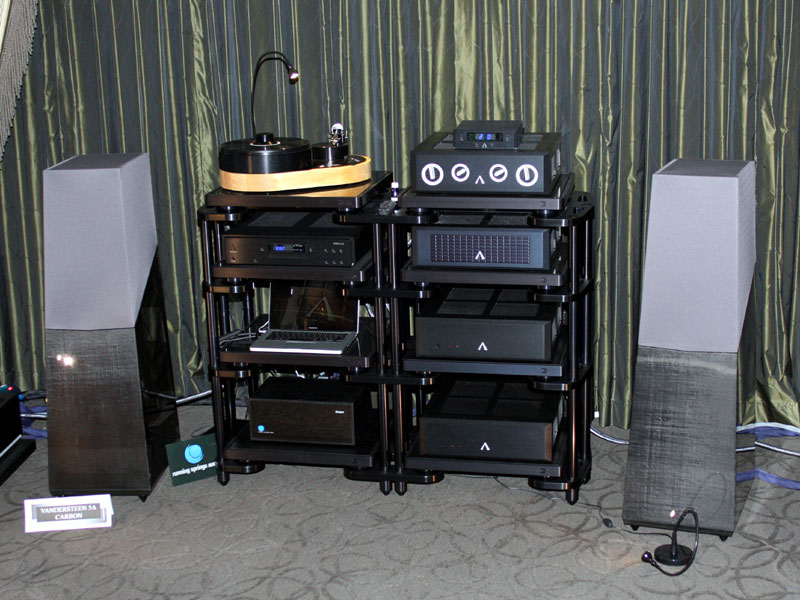 Aesthetix showed a most impressive system, continuing their recent run of fine-sounding rooms. The heart of the system was Aesthetix's own Io Eclipse phono stage ($15,500), Callisto Eclipse line stage ($19,500) and Atlas mono amplifiers ($16,000/pair). Sources were the new AMG Viella 12 turntable/'arm ($16,500) with the equally new Clearaudio Goldfinger Statement cartridge ($15,000) handling analog, and the Aesthetix Romulus CD player/DAC ($7000). Vandersteen 5A Carbon speakers ($24,000/pair), Running Springs Dmitri ($5100) and Maxim ($4900) power conditioners, Kubala-Sosna Emotion and Elation cabling ($35,470 total) and Harmonic Resolution Systems racks ($31,115) completed the presentation. This carefully assembled system synergized quite wonderfully and handled everything I heard thrown at it with serenity and refinement; I cannot recall hearing a better-sounding Vandersteen speaker -- ever. Particularly impressive was an EMI LP of a Beethoven piano concerto that had a spacious, open and finely wrought musicality.
When it comes to describing Nola's rooms, I can practically repeat word for word my findings from one show to the next. "Consistency" and "excellence" recur each and every time. Carl Marchisotto showed a prototype of the revised Baby Grand Reference speaker ($65,000/pair), and at CES the production version made superb sound, as was the Nola norm. The new Baby Grand is wired internally with Nordost Valhalla and the crossover is now incorporated in the cabinet, allowing the speaker to be connected with a single pair of speaker cables. Audio Research's Reference CD8 player, Reference 5 SE line stage and Reference 250 amplifiers, Nordost Odin cabling and Quantum power conditioning comprised the rest of this outstanding system.
Wisdom Audio presented an enormous tower speaker array, driven by Audio Research electronics (Reference CD8 CD player, Reference 5 SE line stage, and a pair of DS225 stereo power amplifiers). The Wisdom LS-4s are massive planar-magnetic line sources ($80,000/pair) some 7' 2" high, and were supplemented by a pair of huge STS subwoofers ($10,000 each) and Wisdom's SC1 System Controller ($6500). Both tower and subwoofer are rated at 100dB sensitivity, and with 900 watts of power on tap, dynamic compression was not a problem. It was very hard to get a firm grasp on how the speaker sounded, as music was played in minute-long bites; just about the time I started to get familiar with the material, it was on to something else. This is a distinctly sub-optimal way to demonstrate any audio equipment, much less a $100,000 speaker system. Despite this challenge, it was clear that the Wisdoms were well-thought-out and capable performers.
A new entrant in the ultra-high-end sweepstakes was Qualia, distributed in the US by Immedia. The firm's product planning and marketing are done in the US, industrial design is via France, and manufacturing is undertaken in Japan. The Indigo USB DAC ($45,000) handles sampling rates up to 192kHz from a battery of inputs and contains a pair of 32-bit ESS 9012 Hyperstream chips run in parallel for each channel, and four power supplies. The Indigo phono stage ($76,000) is a three-chassis dual-mono unit with separate power supplies for each stereo channel. The Indigo line stage and accompanying ENGINE power supply ($65,000) also comprise three chassis. The casework of all the Qualia components is machined from single aluminum billets, and the luxurious look, fit and feel rank with anything to be found in the audio world. This is very serious artisanal gear.
Accompanying the Qualia gear was the Spiral Groove SG1 turntable and Centroid tonearm ($35,000) with a SoundSmith cartridge and a CH Precision digital transport ($36,000), VTL MB-450 Signature III power amplifiers ($20,000/pair) and Sonics by Joachim Gerhard Allegra 2.0 speakers ($17,500/pair). Sonically, the Qualias were silky and sophisticated, as to be expected at these price points.
D'Agostino Master Audio Systems once again teamed with Wilson Audio, with the new Momentum 200Wpc stereo power amplifier ($25,000) powering Wilson Sasha W/Ps ($27,900/pair). Like its monoblock brethren, the stereo amplifier had an engaging, organic sound. To my ears, Dan D'Agostino has never done better work than these wonderful amplifiers. All the detail one could wish for is there to be heard, and the overall package is superbly refined both visually and sonically.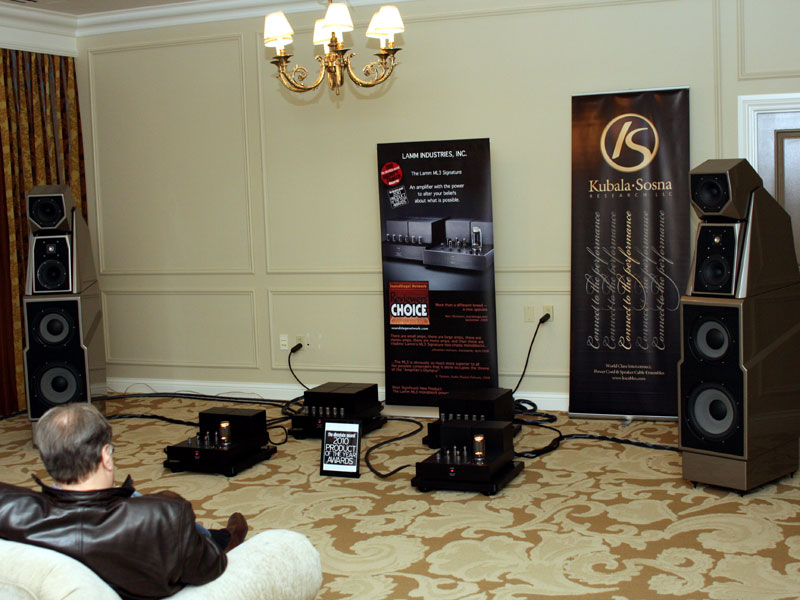 Lamm Industries followed their tradition of two fully stocked rooms of the highest of high-end components and, as usual, they provided an overload of sonic riches. The larger of the two rooms was built around Wilson Audio MAXX 3 speakers ($68,500/pair) and the extraordinary Lamm ML3 Signature amplifiers ($139,290/pair). In addition to those showstoppers were Lamm's LL1 Signature four-chassis preamp ($42,690) and LP2 phono preamp ($7590); NeoDio's NR22T transport ($13,300) and NR22D DAC ($12,000) were the digital source in both rooms. The Onedof turntable ($150,000) carried a Graham Engineering Phantom II Supreme 'arm ($4900 plus $700 for cable) and a Benz Micro LPS cartridge ($5000). Racking was provided by Harmonic Resolution Systems ($55,440 total) and cabling was Kubala-Sosna's Elation series ($92,500 total).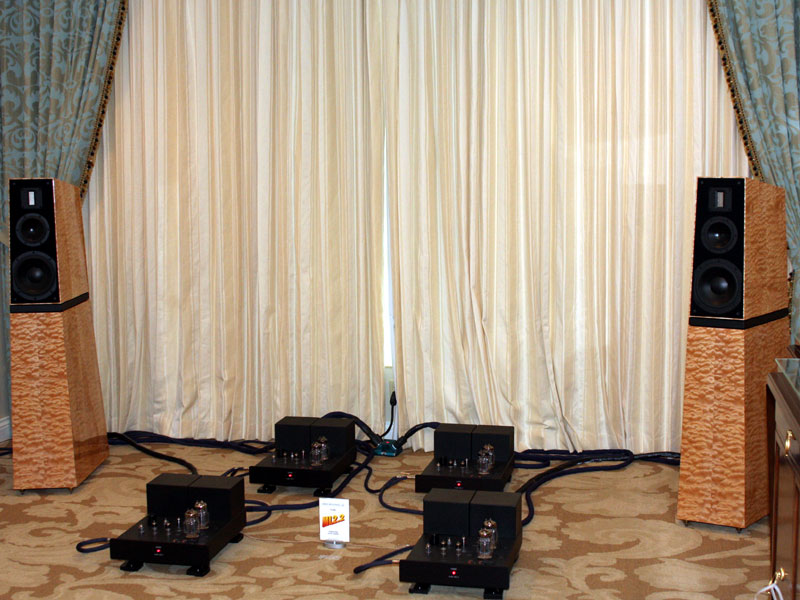 The other Lamm room featured two pairs of ML2.2 amplifiers ($37,190/pair) biamplifying Verity Lohengrin II loudspeakers ($95,995/pair), but what stopped me in my tracks the moment I walked into the room was the Kronos turntable ($28,000). The stunning Kronos, equipped with a Graham Phantom II Supreme 12" 'arm ($5800) and a Dynavector XV-1s cartridge is to my eyes one of the most gorgeous turntables that has ever spun an LP. It is, according to designer Louis Desjardin, the world's first turntable to combine a suspension with a counter-rotating platform -- which precisely duplicates the size and weight of the platter -- in one unified design.
Through a system consisting of Lamm's LP2 Deluxe phono stage ($7995), two-chassis L2 Reference line stage ($15,575) and the Lohengrins, Desjardins spun old favorites and some stunning test pressings from Ying Tan's Original Recordings Group, including the justly renowned London recording of La Fille Mal Gardee. The image stability, deep, perfectly pitched bass, and immense soundfield produced by the Kronos were ear-opining indeed. I am intimately familiar with Lamm electronics and Graham 'arms, and I have used the XV-1s as a reference for years, but this was something new under the sun.
There were, however, nits to pick in both Lamm rooms, but at these ionospheric price points perfection is expected. I have heard the Onedof 'table on two occasions now, and on both I have heard a slight dry hardness in the upper midrange/lower treble in very different but highly revealing systems. The sound of the Lamm/Wilson room with the NeoDio digital gear was basically beyond rational criticism, however. When one only hears the ML3 once a year, one forgets how truly special it is. The Verity Lohengrins are in many ways superb speakers, but I got a distinct sense of a very slight discontinuity between the mid/treble unit and the rear-firing bass section. I had not heard this from the big Lohengrin IIs last year, so perhaps the Kronos 'table's remarkable abilities showed up a minor flaw in either the loudspeakers or the room itself. Had the Kronos been present in the room where the ML3s and Wilson speakers were set up, I may well have levitated off the couch.
Bob Carver is or should be a name familiar to most audiophiles, and after a long absence from the scene he has returned with a pair of sexy-looking tube monoblocks, the Cherry 180 ($7400/pair) and Black Beauty 305 ($12,900/pair), the model designations reflecting the per-channel power of the amps. Paired with the Purity Audio Design Silver Statement line stage and cables and the Chinese-made King Sound King II full-range electrostatic speakers ($11,500/pair), the Black Beauties produced a well-balanced and transparent sound. The Carver amplifiers' pricing is extremely reasonable for such powerful, US-made, all-tube amplifiers.
Other particularly noteworthy introductions included Manley Labs' versatile new Chinook phono stage and the Reference Line III Music Center from Germany's Burmester. The highly flexible Chinook is an all-tube direct descendant of the long-established and highly regarded Steelhead, but it costs less than a third as much as its elder sibling, at $2250. Burmester's impressive-looking music server/digital control center is a most imposing product that contains more features than I could list even within the wide confines of this article. Suffice it to say that it will be able to handle every conceivable digital source material and in native 24/192 format and is everything that one would expect from the company that has designed some of the world's highest-end audio components and sound systems for the Porsche Panamera and Bugatti Veyron. It includes in its estimated $50,000 price an Apple iPad that controls all of the unit's functions, including Internet radio through Burmester's own apps.
Best sound
Sometimes there are exhibits that simply stand above and apart from all others at a show, as was the case with the VTL room at last fall's Rocky Mountain Audio Fest. In all honesty I cannot single out just one room as the standout of show week. My most compelling moments were (1) the thrilling choral music in the Venture/Weiss room, (2) the remarkable Julie Driscoll/Brian Auger track in the Audio Research/Sonus Faber room, (3) the Duke Ellington lacquer and Mario Biondi track in the VTL room, (4) MSB's stunning way with the Harry Connick Jr. track, and (5) the consistent excellence of Nola's presentation. None of this meant to slight any of the other outstanding exhibits I heard.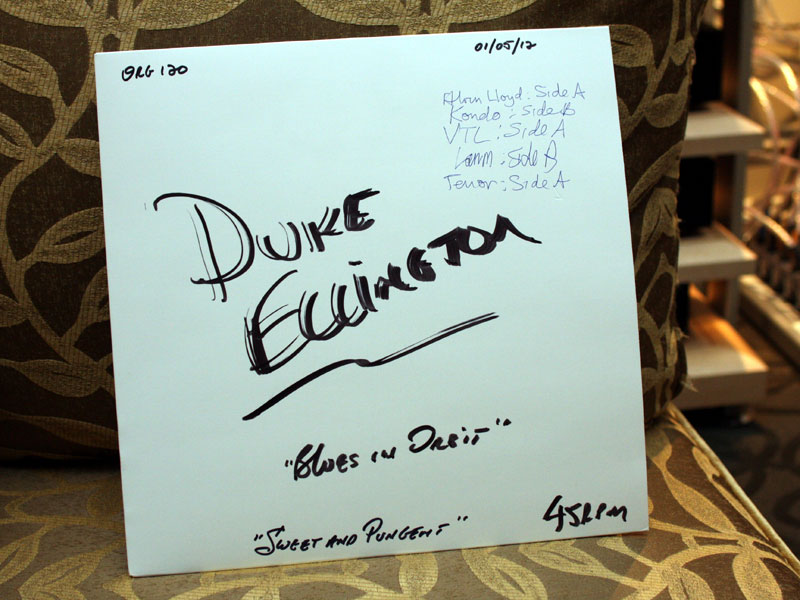 I was genuinely surprised by the high quality of the sound in so many rooms this year, and when there is such a concatenation of excellence in one place it is not easy to come to firm conclusions about the relative qualities of so much different equipment in so many different rooms of varied shapes and sizes. Call this a cop-out, then, but when there is such an embarrassment of riches, choosing just one finalist is impossible. This is truly a wonderful time to be an audiophile.