First Sounds: Wilson Audio Alexandria XLF
by Marc Mickelson | December 26, 2011
s I listened to Dave Wilson talk about the various tweeters arranged on his kitchen countertop, I remembered a similar meeting with him a few years earlier. I was at Wilson Audio then, and Dave was surrounded by blocks of MDF and other speaker-cabinet materials as well as graphs of their resonance characteristics. Then and now, I was reminded of a facet of his personality that goes unrevealed as you talk with him in general terms about his speakers: a meticulousness that comes from his background in research and hard science. To explain his design approach in simple terms, Dave has often said that he makes speakers that he likes, but this glosses over all that goes into designing and manufacturing those speakers -- so much of which comes from another side of Dave, Meticulous Dave.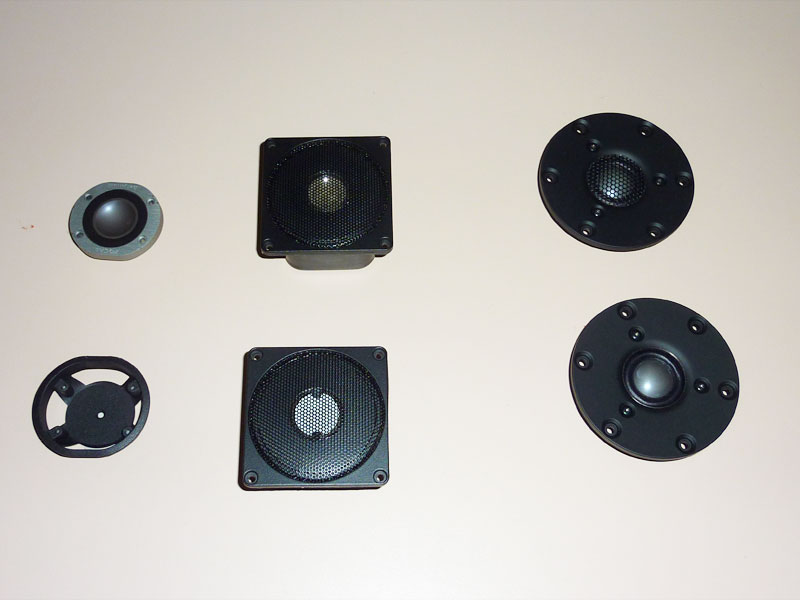 "Four great tweeters and one good one."
Tweeters were his subject the morning I visited his home last week, an outgrowth of the research he did for his latest speaker, the $195,000-per-pair Alexandria XLF. On that countertop were, as Dave put it, "four great tweeters and one good one," each the product of esoteric materials and manufacturing processes, some the current darlings of speaker designers and the audio press alike. Missing were tweeters that employed technologies Wilson Audio had espoused in its earliest days -- and later in its history. There was no fabric-dome tweeter, which was used in the first version of the WAMM; Dave wistfully recalled that Braun made this tweeter and ADS distributed it in the US. Also missing was the Focal inverted-dome tweeter that Wilson Audio has used in one form or another for decades. After its logo and the configuration of its iconic two-cabinet WATT/Puppy loudspeaker, the most recognizable symbol of Wilson Audio may be this tweeter. It was first used in an early iteration of the modular WAMM system, and it has appeared in nearly every Wilson Audio speaker since, including every version of the WATT/Puppy.
What Dave Wilson was seeking from the tweeters spread out on his countertop was a driver that improved upon the Focal tweeter in two areas: dynamic contrast and harmonic expression. Neither of these things would be easily recognizable from the spec sheets of the tweeters; they are matters of quality, not quantity. While Meticulous Dave knew each tweeter's measured response and sensitivity, Discerning Dave needed to hear each driver to determine if it had potential. Then Wilson Audio would redesign and remanufacture the driver to tease the potential out of it.
Of the five tweeters, three had beryllium domes, one had a diamond dome and one a ceramic dome. Each had certain characteristics that Dave Wilson sought, but each also had issues that made it less than promising. Among these were low sensitivity (which reduced dynamic contrast); limited frequency response at the bottom end of its range, which affected its ability to transition to Wilson Audio's 6 1/2" midrange driver; a character to its sound that disqualified it; or some seemingly non-audio consideration, such as suspect reliability or materials that raised question of their future viability.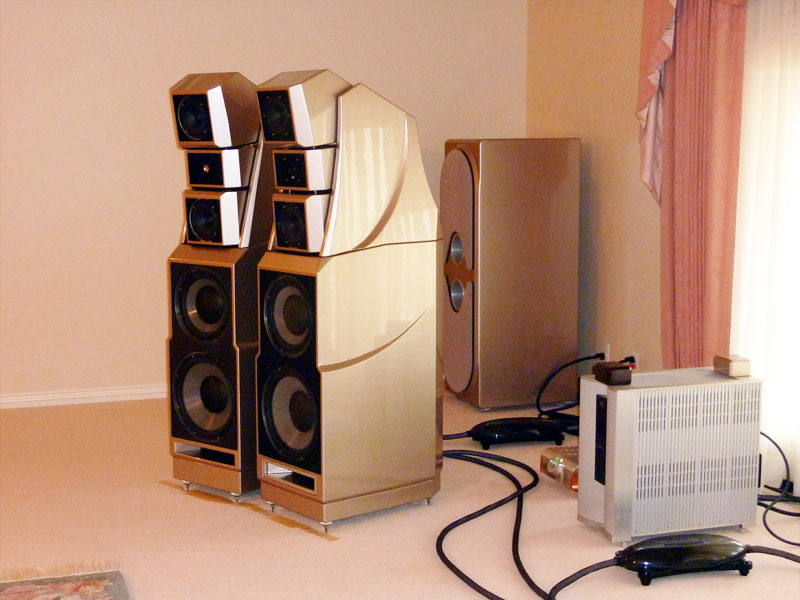 The Alexandria XLF (right) and Alexandria X-2. The XLF cabinet is the deeper and wider of the two.
It is ironic, then, that the two-year quest for a new tweeter would come back to a technology Wilson Audio had used decades earlier. The Alexandria XLF uses a silk-dome tweeter designed by Wilson Audio and partially manufactured by Scan-Speak. "Partially" means that Scan-Speak manufactures the dome, magnet, and flange to Wilson Audio's specs, while Wilson Audio manufactures all of the rear elements of the driver. However, this tweeter is only part of the Alexandria XLF story. There was also the desire to rethink the bass output -- discover a way for the speaker to reproduce very deep, very powerful low frequencies in a wider variety of rooms. The Alexandria X-2 was front ported, while other Wilson Audio speakers had rear-firing ports. The Alexandria XLF's Cross-Load Firing system allows either front or rear configuration of the port, depending on room characteristics. As with the speaker's adjustable driver modules, the port orientation is determined when the speakers are set up in the listening room. All of these things together make the Alexandria XLF the most adaptable and room-friendly speaker in existence.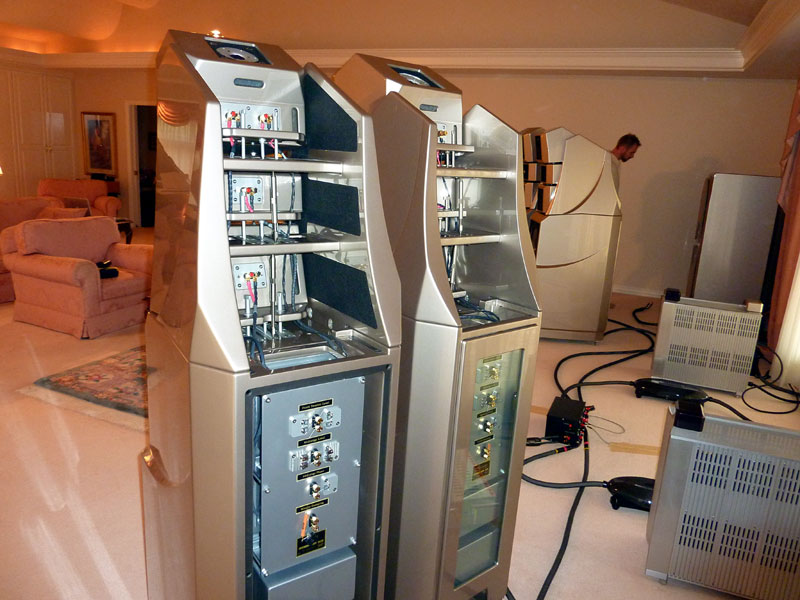 The Alexandria XLF (left) and Alexandria X-2.
While there are other differences between the Alexandria X-2 and XLF, I hesitate to point them all out because the two are distinct products. The X-2 remains in the Wilson Audio line, and for good reason. As a side-by-side demonstration in Dave Wilson's very large purpose-built listening room revealed, the X-2 Series 2 remains a spectacular-sounding speaker, one whose bandwidth, dynamic capabilities, coherence and natural detail retrieval remain at the edge of the speaker art. All of these things applied to the Alexandria XLF as well, but with a few new wrinkles. The new speakers were quieter -- even compared to the very quiet X-2 -- the music emerging from a deeper, more silent place. Along with this, the treble was more composed; by this I mean that it seemed to display less energy and more detail at the same time. This quality meshed even better with the speaker's midrange, which has much the same character. In the bass, it wasn't that the new porting system made for more prominent bass, but rather that the bass had greater power in the upper part of its range, where kick drum and upright bass, among other instruments, derive much of their presence.
Perhaps the most interesting bit of comparative listening was between the Alexandria XLF and the Yamaha Disklavier baby grand player piano in the back of the room. Many years earlier, pianist Hyperion Night was captured playing "Embraceable You," a performance that the piano mimicked. Then, with the Alexandria XLFs, a recording of Knight playing the same number in Salt Lake City's Symphony Hall was played. The idea was to consider the scale of the live piano versus that of the recorded instrument. Not only were the presentations right in terms of size, the speakers' ability to release the music from that exceedingly black background transported Symphony Hall's spatial signature into Dave Wilson's listening room. Dave and crew were careful to set up this comparative demo so that neither the speaker nor the piano was favored in any way. The collision of Meticulous Dave and Discerning Dave meant that the audio system had to yield important data as well as play music in expert fashion.
The scientific method isn't about proving a series of assertions; rather, it's a means of testing them, and that's just what was happening in Dave Wilson's listening room. I will test them further when the Alexandria XLFs land in my listening room sometime after CES.