CES & THE Show 2012 • TAB's 2011 Awards
by Marc Mickelson | January 12, 2012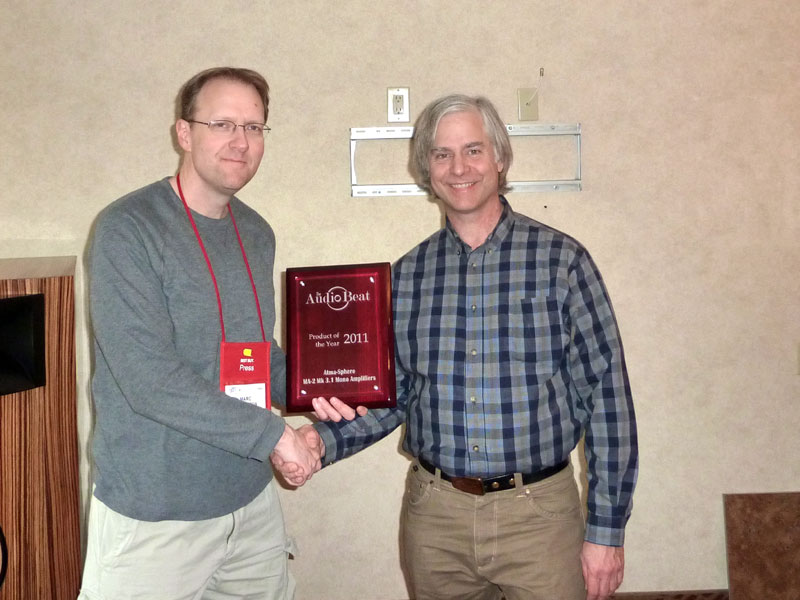 I played little-league baseball, and each year, after the season, our team would have a "post-season banquet" during which awards would be given -- to everyone on the team, no matter if he played every inning of every game or got to bat twice the entire season.
This is rather like what year-end awards from the many audio publications have become. Because there are so many given out, they've lost their meaning; nothing is special if everything is special. In fact, given the multitude of awards bestowed, it sometimes seems like losing is a more difficult feat than winning.
For this reason, we at The Audio Beat went in the opposite direction, presenting awards for best audio product and best recording only, instead of Best Anything and/or Everything Related to Audio.
In terms of equipment, Ralph Karsten's Atma-Sphere MA-2 Mk 3.1 mono amps were an easy choice -- they would be the amps I'd choose to live with for the long haul. Ralph is on the right in the picture above, in case you've never seen him. You definitely should try to hear his work.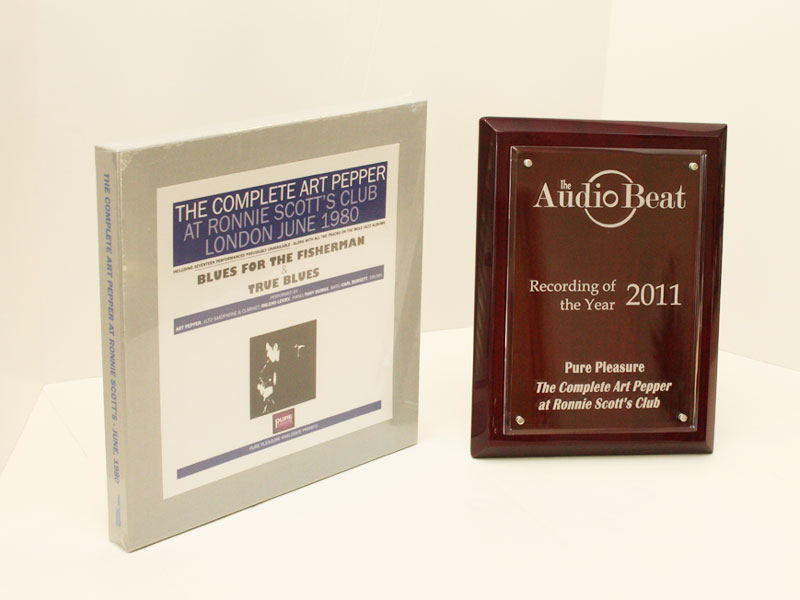 For music, we had a tie -- for reasons that I hope will be clear.
If I had to choose only one recording from this past year to live with for the long haul, it would be Pure Pleasure's impressive boxed set, The Complete Art Pepper at Ronnie Scott's Club. It collects two somewhat unfamiliar albums of Art Pepper's live material, Blues for the Fisherman and True Blues, recorded during his stint at the famous music club in London. Also part of the package are 17 never-before-released numbers that come courtesy of Pepper's widow. The set's booklet includes a biographical essay on Pepper and interviews with him. Criterion Collection has pioneered this sort of exhaustive treatment for movies, and it's good to see it happen for obscure but vital music.
Tony Hickmott, head of Pure Pleasure, didn't make it to CES, so we show the award along with the handsome boxed set.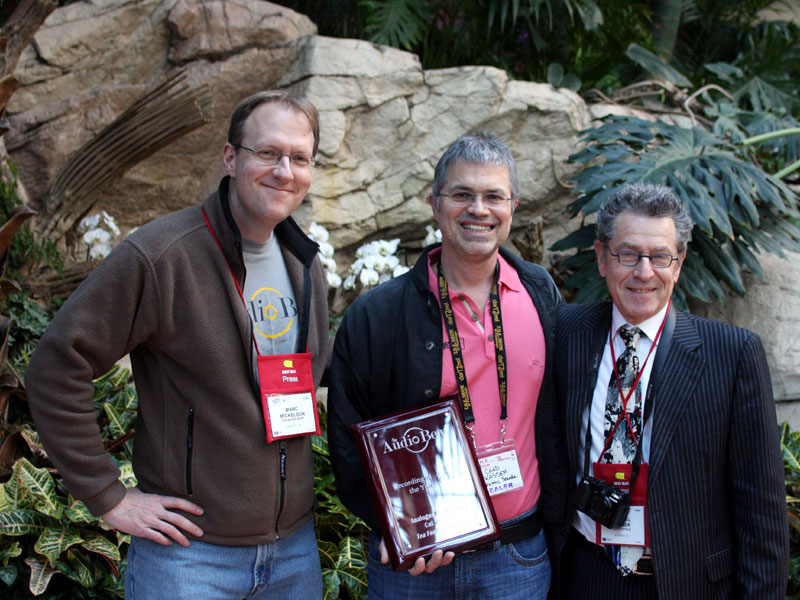 Last but not least is the co-winner for Recording of the Year: Analogue Productions' version of Cat Stevens' Tea for the Tillerman. Keen-eyed readers will note that we didn't review this LP. We base our honoring of it, therefore, on the fact that it was the very first release from Chad Kassem's new record-pressing plant, Quality Record Pressings, a million-dollar venture that is already paying dividends: it produces records that rival the best pressed anywhere in the world.
So while we didn't write about this winner, Michael Fremer, shown far right, was the first member of the press to receive and review it, so we include him in the picture. This award is as much for lifetime and future achievement as a single record.
My congratulations, Ralph, Tony and Chad. Thank you for making 2011 a very good year for sound and music.