Rocky Mountain Audio Fest 2012 • Three Days in Denver: Sunday
by Paul Bolin | October 26, 2012
On Sunday afternoon I finally made it into the Apex Audio room on the Marriott's mezzanine level, and I heard the financial antithesis of the wonderful little Parasound/Silverline rig. Two complete systems were set up, one based on Air Tight electronics, which I did not hear, and the other a monster consisting of the Transrotor Tourbillon turntable ($55,000) with Graham Phantom Supreme tonearm and Air Tight PC-1 Supreme cartridge ($5500 and $9000, respectively), Soulution's 750 phono stage ($32,500), 745 CD/SACD player ($80,000), 720 line stage ($45,000) and a pair of the hulking 700 mono power amplifiers ($130,000/pair). Power conditioning was courtesy of Running Springs Nikolai Reference and Maxim Statement ($8000 and $6100), cables were from TARA Labs' Gold line and racking was by Critical Mass Systems. At the business end of all of this was a pair of Focal Stella Utopia EM loudspeakers ($95,000/pair), which appear to be the lineal descendants of the Nova Utopia Be speakers I reviewed (and loved) nearly a decade ago in Stereophile.
In previous years I have heard the Soulution electronics demoed primarily on YG Acoustics speakers and have found them to sound a bit dry and cool, but no one could ever accuse this system of sounding anything but tremendous. Detail retrieval was extraordinary and there was a full-bodied, fully dimensional character to the sound that grabbed my attention immediately and kept me glued to the chair for the better part of half an hour. There was little more one could possibly ask for from a hi-fi system than what I heard here. Megabucks systems do not always work. This one did, and exceedingly well.
mbl of North America came loaded for bear and then some. A full complement of the German manufacturer's Reference Line components was on display, including the 1621A CD transport ($28,000), 1611F DAC ($28,700), 6010D preamplifier ($26,500), immense 9011 monoblocks ($106,000/pair, 440W into 8 ohms, 840 into 4 ohms, or 1390 into 2 ohms) and 101 E Mk II Radialstrahler omnidirectional loudspeakers ($70,500/pair). The sound was what I have come to expect when the Radialstrahlers are properly set up in a room that gives them space to breathe. Vast dynamics, superb resolution, and a rather freakish soundstage that does not vary with the listening position are mbl's calling cards. Sitting so far off-axis as to be outside of the physical boundaries of the speakers still results in a strikingly realistic, see-into-it stage with molecular-level micro-details seamlessly woven into the whole of the presentation.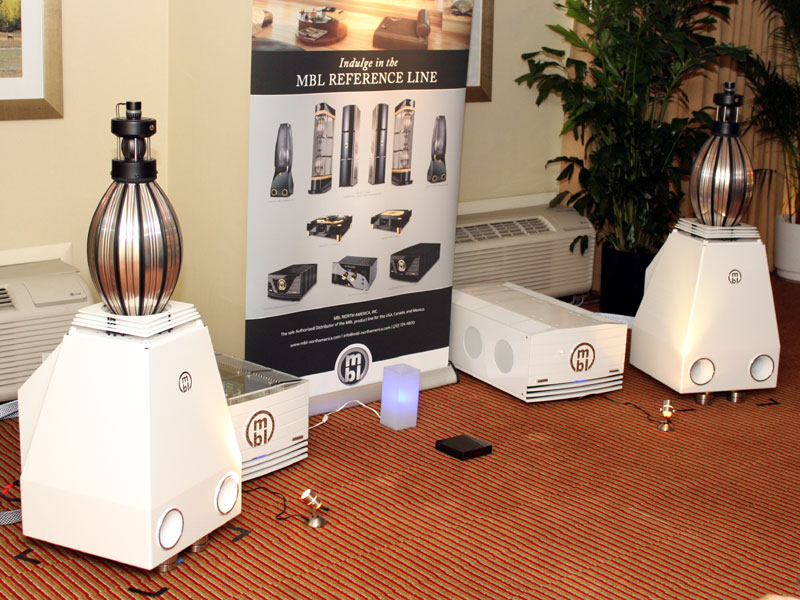 My notes on the Auger/Driscoll track here were simple: "WOW! Julie swoops and soars. Auger's Hammond sounds as good as I have ever heard it." When some enlightened soul played the Stones' "Can You Hear Me Knockin'" I was equally blown away. The guts and grit of Keith Richards' rhythm guitar was explosive and visceral. The weave of Nicky Hopkins' piano and the sheer power of Bobby Keyes' sax solo were utterly exemplary, and the trademark silk-and-ground-glass sound of Mick Taylor's exquisite guitar solo was all that anyone could ask for. The sleekly sinister chugging rhythm set by "Keef," Charlie Watts and Bill Wyman behind Taylor had unimpeachable clarity and forward drive. mbl provided one of the finest sounds I've heard at a show in some time.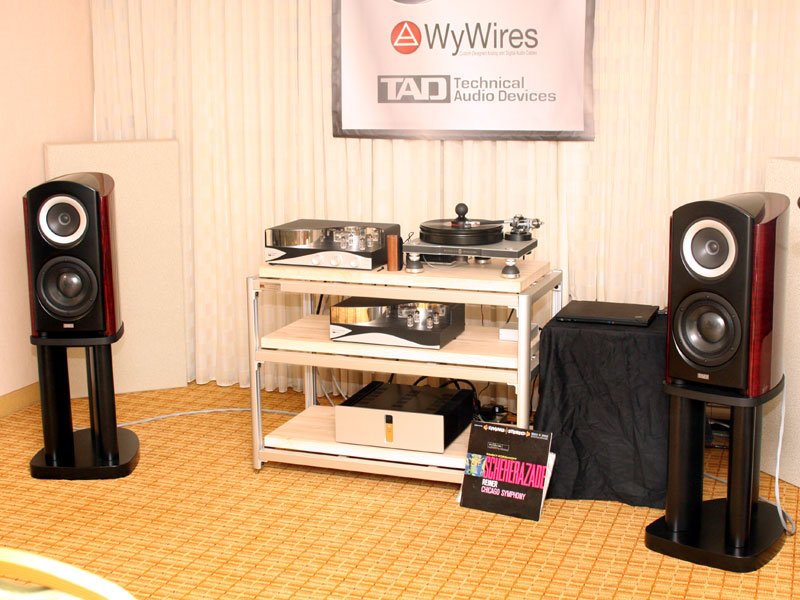 I was also very favorably impressed with the system put together by Zesto Audio at THE Show in Las Vegas last winter, and most of that excellent system was once again at RMAF. Consisting of a Merrill-Williams REAL 101 turntable ($7200) with a Triplanar 'arm ($5800) and Dynavector XX Mk II cartridge ($1985), a Lindemann DAC ($1099) handling computer-stored files. Zesto's Andros PS 1 phono stage ($4300) and Leto line stage ($7500), GamuT D200 power amplifier (200Wpc, $6000), the TAD Compact Reference 1 loudspeakers ($42,000, stands $3600), WyWires cables and a Steve Blinn Designs equipment rack finished things off. This system was polished and musically well bred. While there was a bit of lumpiness in the bass, this can be attributed to the considerably smaller room than the one Zesto had in Las Vegas, where no such thickness was to be heard from the TADs, which plumb true depths like few stand-mounted speakers ever have.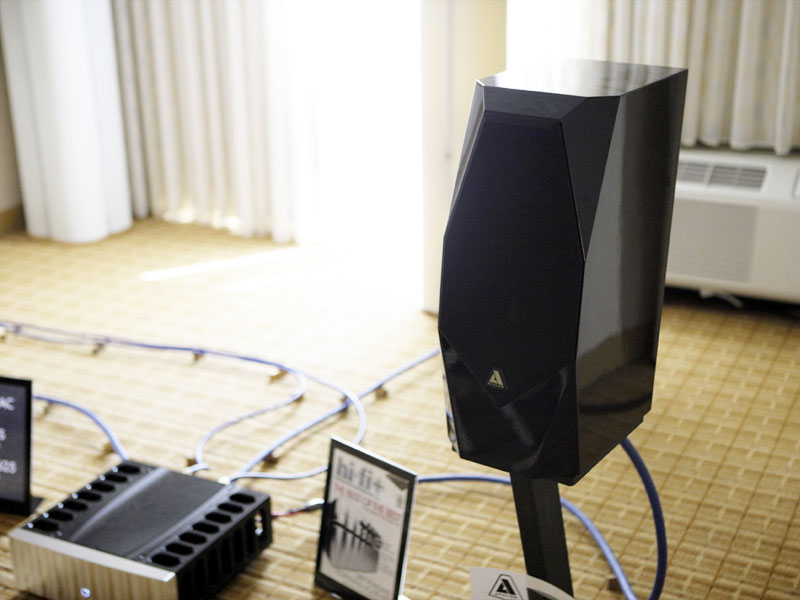 Avalon's Mixing Monitor ($12,995/pair) is a stand-mounted unit designed, as you might have guessed, for monitoring and mixing recordings. Jeff Rowland Design Group furnished their Aeris DAC ($9800), Corus preamp ($12,800), and 300Wpc 625 stereo amplifier ($13,500). A dCS Puccini transport spun CDs when music files from a laptop were not being played, and Cardas Clear cabling provided the connections.
Transparency was the calling card of this system. All of the best things I have come to associate with Avalon and Jeff Rowland were there in abundance, even with this relatively simple system. Much to my surprise, I noticed a CD of Ian Dury's New Boots and Panties on the table and asked Jeff Rowland's marketing director Brandon Kelley to give it a spin, which he obligingly did. "Wake up and Make Love with Me" had great rhythm and pace, as our English colleagues put it, and it was impossible not to tap my foot. This is a dryish studio recording that is not overly burdened with compression or effects, and every instrument carved out its own space. Drums were crisp and taut, and Norman Watt-Roy's bouncing bass line had plenty of substance. Dury's voice was dead-bang on. Most impressive all around.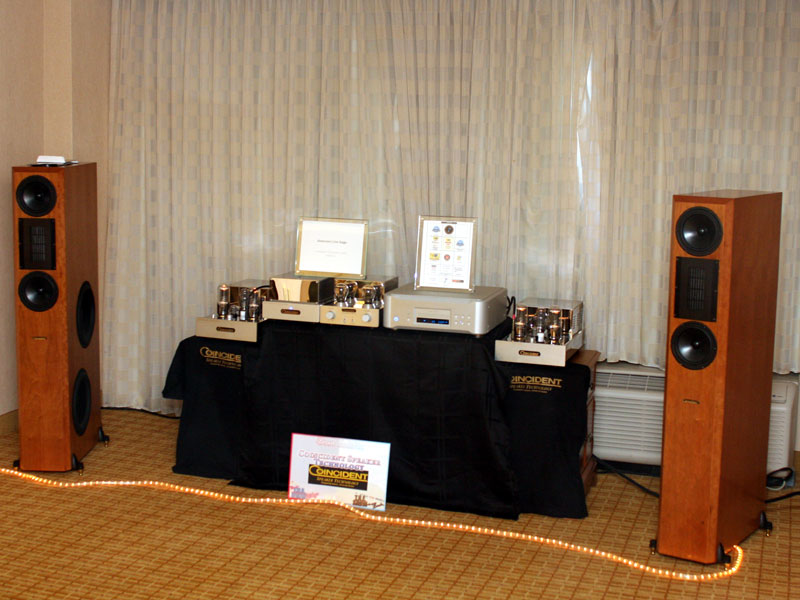 It had been a few years since I'd visited a Coincident Speaker Technology room and was delighted to find Coincident's driving force, Israel Blume, in fine fettle with plenty of new gear to hear. An Esoteric K-01 CD/SACD player ($19,500) fed Israel's Statement line stage ($5499), Dragon Mk II PP 70-watt mono amplifiers ($10,999/pair) and Total Victory V speakers ($14,999/pair). Coincident's own cable tied the whole system together. There was nothing soft or reticent about this system, as the Dragons boast 500 joules of power-supply capacitance, and the 94dB/W/m, 14-ohm Total Victory lets those 70 potent watts sound even bigger and badder. This was a fast, highly dynamic, and impactful system with potent bass and a most extended top end courtesy of the Total Victory's side-mounted dual 12" aluminum woofers and ribbon tweeter. Big fun and, while a power-music freak's delight, well balanced and capable of great subtlety.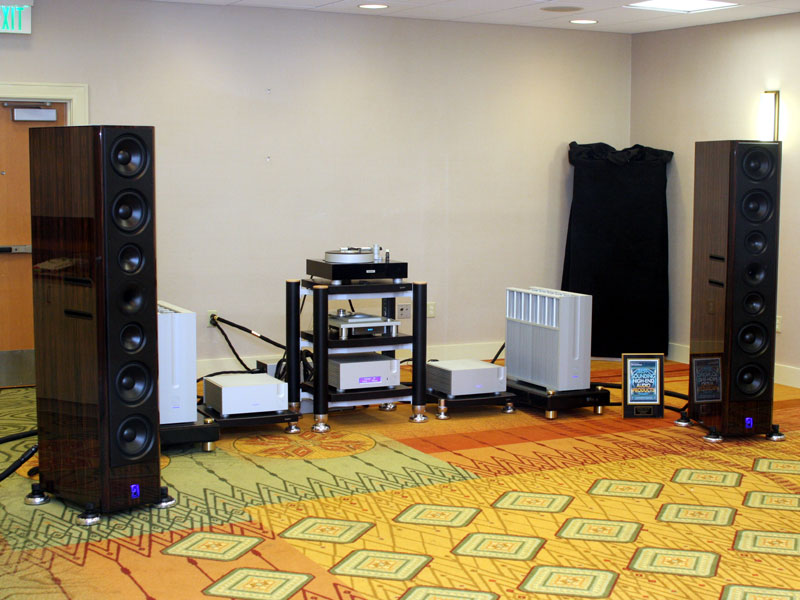 Lastly, Brian Ackerman of Aaudio Imports transplanted to RMAF the entirety of the extraordinary Bergmann/Ypsilon/Lansche system Marc and I heard at his home and reported on here, with splendid results. The big Lansche speakers appreciated the extra breathing room, and a violin concerto sounded very relaxed and highly involving.
Best of show
In any other year the spectacular presentations by mbl, VAC, Apex Audio and Audio Research, to name but a few, would have been easy choices for the toppermost of the poppermost. This year, however, there was no real competition for the world debut of Wilson Audio's boundary-smashing Alexia loudspeaker ($48,500/pair) in the VTL/dCS/Transparent/Spiral Groove room. Accompanying the Alexia were the Spiral Groove SG 1.1 turntable and Centroid tonearm ($31,000) with Air Tight's PCM 1 cartridge ($6800), and dCS's Vivaldi system, consisting of the Vivaldi transport ($39,999), DAC ($34,999), upsampler ($19,999), and clock ($13,499). Amplification chores were dispatched with supreme ease by VTL's TP-6.5 Signature phono preamplifier with step up MC transformer ($10,500), TL-7.5 Series III Reference line stage ($20,000) and colossal (in every way) 600-watt Siegfried Series II Reference monoblocks ($65,000/pair). Cables were Transparent Audio's Opus MM2: interconnects and speaker cables ($108,625 per four pairs), power cables (a dozen at $42,850 total) and digital interconnects (ten at $17,600 total).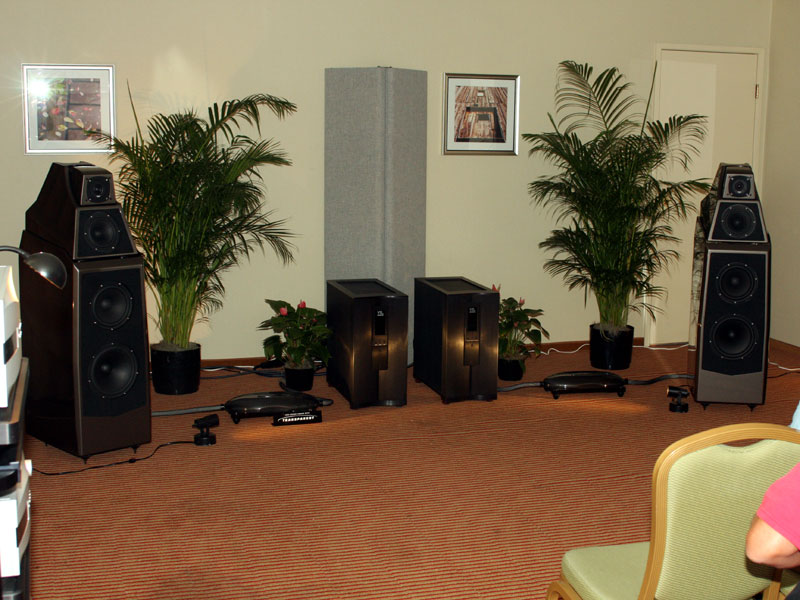 The Alexia is nothing less than Dave Wilson's attempt to pack a wildly disproportionate share of the Alexandria XLF's cutting-edge performance into a roughly Sasha-sized box. The Alexia is only nine inches taller, two inches deeper and two inches wider than the Sasha W/P, though it should most definitely not be thought of as a bulked-up Sasha nor as a baby MAXX. The Alexia was from the beginning a new concept from the ground up, and Dave Wilson and his team started with only an idea and a blank piece of paper. Its cabinet is made entirely of the fourth generation of Wilson's proprietary X material, a resin-based composite, save for the midrange-driver's baffle, which is machined out of the S material first introduced with the Sasha W/P.
Like its big sisters MAXX 3, Alexandria Series 2 and Alexandria XLF, Alexia incorporates two woofers of differing dimensions, in this case 10" and 8" drivers, in an elegantly tapered and spacious cabinet atop which sit two fully adjustable cabinets for the midrange driver and Wilson's new-in-2012 Convergent Synergy silk-dome tweeter, developed for the Alexandria XLF. As such, the Alexia can be adjusted to provide the same degree of time alignment, or Aspherical Propagation Delay in Wilson-speak, as its massive siblings.
On Friday afternoon VTL's Bea Lam lassoed me and told me she had brought a record just for me to hear: an original British 1969 EMI LP of the Beethoven Triple Concerto with the Berlin Philharmonic conducted by Herbert von Karajan with soloists David Oistrakh (violin), Sviatoslav Richter (piano) and Mstislav Rostropovich (cello). Truly, there were giants on the earth in those days. Bea always seems to know exactly what music to play to push all of my buttons, and the performance (one hesitates to call it a mere recording when heard on a system like this) was breathtakingly beautiful, strikingly lifelike and just plain fabulous.
As impressive as this system was on Friday, by Sunday afternoon it was doing things that were simply beyond the pale of the audiophile vocabulary to describe. The only audio system that I have heard which bettered this one is in David and Sheryl Lee Wilson's own purpose-built music room. That VTL electronics and Wilson Audio speakers go together like Bogie and Bacall, always bringing out the best in each other, is not exactly a secret. Dave Wilson has used Siegfrieds, and now Siegfried IIs, on his personal Alexandrias for years. On the Alexia, this system truly had it all and transcended sonic considerations entirely. This was music, complete, pure and simple. The Royal Ballet, JŠnos Starker playing the Bach G major suite, Keith Richards' "Words of Wonder" from Main Offender, the soaring, huge Above and Beyond remix of Ayumi Hamasaki's "M" from Ayu Trance 2 [Avex Trax 10135], Ozric Tentacles' "Dissolution" from Pungent Effulgent [Original Masters 1 5545 2], the list went on and on, each piece as transcendent and intoxicating as the last. Nothing was missing anywhere, in any way, at any time.
The VTL electronics have endless dynamics of both micro and macro sorts and a tonal completeness so effortlessly presented they seemed almost offhanded. There was resolution to burn, while the superb analog and digital front-ends did vastly more than merely hold up their end of the bargain. I hesitate to say this, but the Alexia may in many ways mark the highest peak of David Wilson's long career of creating enduring audio milestones. That a speaker of this relatively modest size can bring so much of the sound of real music to life in the listening room is a stellar achievement -- even by Dave Wilson's standards.
Jottings
Fan-Ya Lin's dazzling pianism on the Steinway Model D set up in the Marriott's lobby was a wonderful and rather sobering reminder of the sound of live music in real space.
Exhibitors without a list detailing everything in the room, and the prices thereof, preferably including cabling and racks, get less attention from the press in show reports. It's not difficult to figure out why: people -- press and showgoers alike -- want to know all about everything in a system, and when that information is not readily available, they move on. Is it that hard to compile a one-page sheet listing all the gear in the room? C'mon, people!
The people who run and staff RMAF have to be the friendliest and most helpful organizers ever associated with an audio show. Take a bow and give yourselves a hearty round of applause!