Audio writers are regularly roasted, trolled and slammed for focusing on extremely expensive gear. And so many of us do, for the same reasons that Road & Track and Motor Trend focus on exotic automobiles: It's fun to experience the very best. Distributor Audio Summa's room provided the most perfect antidote to gigantism and massive expense I have heard in many a year. A perfect little minisystem consisting of Parasound's Z-series components -- Zcd player ($400), Zdac 24/192 D/A converter ($450) that includes a USB input, Zpre2 line stage ($400) and Zamp v.3 ($350 each, two were run here as monoblocks) -- drove a pair of Alan Yun's Silverline Minuet Supreme Plus micro-minimonitors ($699/pair in rosewood). This would be a dream system for any music lover with a limited budget and/or living space; just add stands, some solid entry-level cabling from the likes of Nordost or Kimber and true high-end sound is yours for the taking -- and I am deadly serious. For the vinyl-inclined, there is also a Zphono MM/MC phono stage at a similarly attractive price.
I am familiar with the Silverline MSPs, as Alan sent me a pair early this year just to see what I thought, and I fell for them hard after connecting them to my regular reference system, which at that time included an Aesthetix Calypso Signature line stage and Lamm M1.2 Reference mono amps. It did seem a bit odd to hook up the Silverlines with my longtime reference Nordost Odin speaker cables, which cost roughly 41 times what the speakers sell for, but there was no arguing with the results. They absolutely vanished as apparent sources of sound and were, as David Letterman used to say, "more fun than humans should be allowed to have," especially for their pocket-change price.
The little, and I do mean little (5 1/2" wide, 9" tall, and 7 1/4" deep) MSPs do everything that a high-end speaker is supposed to do -- within their limits. There's no deep bass, but Yun seems to have badly bent, if not broken, the laws of physics, with this little gem. At RMAF, on the Parasound Zsystem, there was a solid kick drum and upright bass on Peggy Lee's "Fever," sweet, extended highs, imaging and soundstaging that would be impressive in a speaker costing several multiples of its price, and a wonderfully spooky "thereness" to the overall presentation. Everything the little Silverlines do they do very well indeed. "Destiny" from Zero 7's Simple Things [Quango QMG 5007-2] spotlights the quite delicious vocals of Sia Furler, and this minisystem did this lush and dreamy song more than proud. Many audiophiles have spent many multiples of this system's cost and wound up with far less musicality and pure pleasure. Add a good small subwoofer and this is something anyone -- at least anyone without a big room -- could listen to and luxuriate in for years and years. I am about as spoiled as audio writers come, and I was absolutely thrilled and delighted with this wondrous little system.
So who says high-end sound needs to cost as much as a car (or a house)?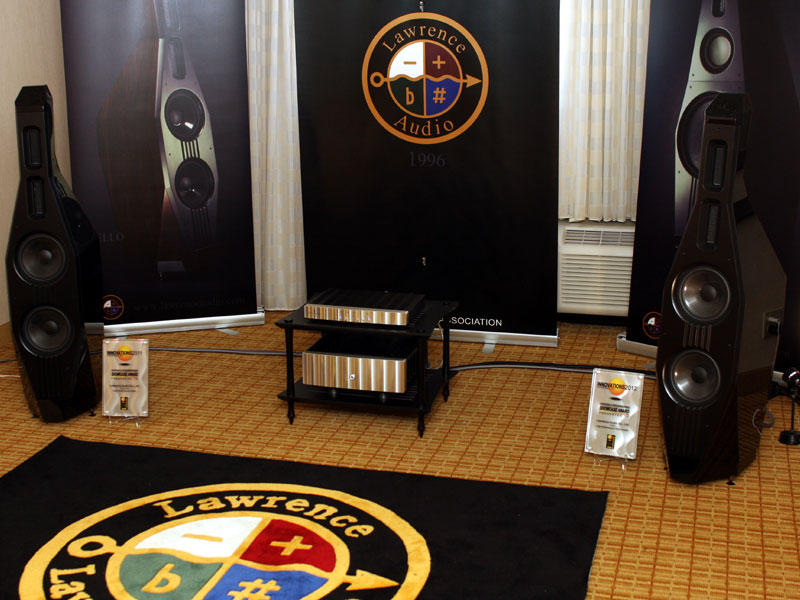 Taiwan's Lawrence Audio made a highly fortuitous paring with Jeff Rowland Design Group's Aeris DAC ($9800) and 625 stereo power amplifier (300Wpc, $13,800). Lawrence's floorstanding Cello loudspeaker ($18,500/pair) is a 3 1/2-way design featuring a pair of 8" woofers, an air-motion tweeter and a rear-firing ribbon tweeter. While the bass was more lithe and fast than room-shakingly deep, a solo piano recording selected by Jeff Rowland himself had a strikingly convincing presence that placed me squarely in a smallish recital hall, neither too close to nor too far from the piano, and surrounded it with ambience. A piece featuring solo tenor with choral accompaniment was also very fine, with real space and air around the singers and a well-defined and convincing soundstage.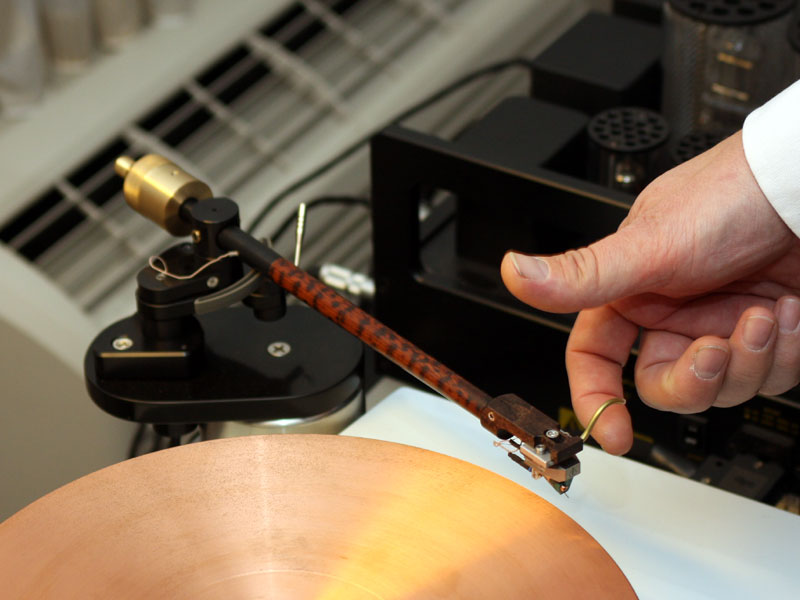 One of the RMAF's real eye-openers was found in the Xact Audio room. Xact is the distributor of Frank Schröder's acclaimed pickup 'arms, and Schröder brought with him the new LT linear-tracking tonearm ($8900) that is mounted conventionally on a turntable. Unlike any other linear-tracking 'arm on the face of the planet, the LT uses no air bearings, mechanical servos or other similar devices. The LT uses a patent-pending magnetic mechanism that "moves the foot point (base) of the tonearm" so as to maintain perfect tangency to the groove and allow no longitudinal loading of the stylus cantilever, eliminating the need for and application of anti-skating force. Armwands are handmade snakewood or grenadillo and carry a headshell made of proprietary material that "combines stiffness, low mass and high internal damping."
This innovative -- and very cool -- 'arm carried a Lyra Atlas cartridge ($9500) and strutted its stuff in a system comprised of a Kodo The Beat magnetic-drive turntable ($26,500), Allnic's H-3000 phono stage ($11,900) and L-5000 DHT linestage ($19,000), Coincident Frankenstein M300B power amplifiers (8Wpc, $5900/pair) and Zu Audio's Definition Mk IV speakers ($13,000), which were recently reviewed in these very e-pages by Roy Gregory. Cabling was provided by Echole and Zu.
Schröder proceeded to play some LPs guaranteed to unearth any mistracking on the innermost grooves, and his 'arm sailed through them like a ship on calm seas. Frank is my kind of guy, as anyone who will play Einstürzende Neubauten at an audio show has real style. With the classic "Stolen Moments" from Oliver Nelson's The Blues and the Abstract Truth, the system provided solid imaging, a gently swinging beat and vivid, engaging tonality that allowed me to hear deeply into the music. There was the slightest trace of heat on Eric Dolphy's flute, but that was the only nit I found to pick.
Veloce Audio debuted their Lithio Series Saetta monoblocks (320Wpc/8 ohms, $16,000/pair), which uses a 6H30 tube as the driver stage, which is transformer coupled to a bridged, class D solid-state output stage. Only pure DC from lithium-iron-phosphate batteries powers the audio circuits, and the amps draw only 20 watts per pair from the wall when playing music. The Saettas were teamed with Veloce's own Lithio Series LS-1 line stage, a PS Audio Perfect Wave transport and DAC, YG Acoustics Kipod loudspeakers and Kubala-Sosna Emotion cabling. The sound on the Driscoll/Auger track was well defined and quite neutral, though I have always found YG speakers to consistently sound rather dry.
For years I have made it a habit to pop into the Acoustic Zen/Triode Company of Japan (Tri) room, as I have never failed to find consistently good sound there. As usual, Tri importer Santy Oropel and Acoustic Zen's Robert Lee provided a quiet oasis where music was firmly to the forefront. Tri's TRV-CD55SE transport ($3200) and TRV-DAC 1.0 ($2499) punched well above their weight class, providing a deep soundstage and a crystal-clear presentation on François Kevorkian's mighty remix of Femi Kuti's "Sorry Sorry" from Hotel Costes: La Suite (French CD [Pschent 543 361 2]). Paul McCartney's voice and acoustic guitar on the demo of "Mother Nature's Son" was unforced, open and very, very natural. Accompanying the Tri digital gear was the Japanese company's TRX-I tube preamplifier ($3200) and massive TRX-M84455SE mono amplifiers ($22,500/pair), which deliver 50 pure class A watts provided by a pair of 845 tubes driven in a parallel single-ended circuit. Acoustic Zen's Crescendo speakers ($16,995/pair) and Absolute Copper interconnects ($1488 /one meter pair with RCA connectors) and digital cable ($498/meter with RCA connectors), Hologram speaker cables ($1048/8' pair) and Gargantua power cables ($1488/6') completed this exceedingly satisfying and musical system.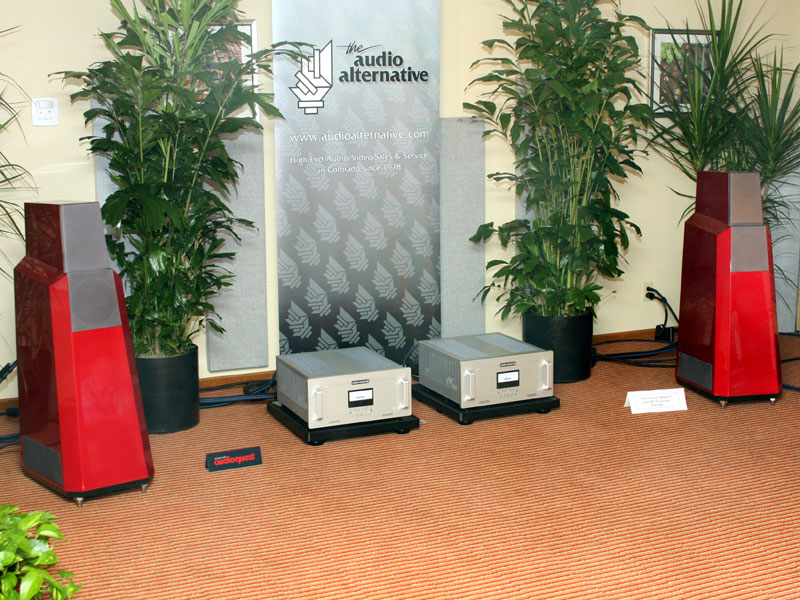 Denver's Audio Alternative always puts together a top-rank system, and this year Audio Research introduced the new two-box Reference 10 line stage ($30,000) in the company of their Reference Phono 2 SE phono stage ($12,995), Reference CD8 player/transport ($9995), Reference DAC ($15,995), and Reference 250 amplifiers ($25,990/pair). Analog was provided by an AMV Viella 12 'table-and-'arm combo ($18,500) carrying a Lyra Atlas cartridge ($9500), and speakers were Vandersteen 7s with M7 crossovers ($50,000/pair). Cabling was AudioQuest and racking came from Harmonic Resolution Systems.
The Reference 10 is a direct descendant of the epochal Reference Anniversary line stage (reviewed by Marc Mickelson) and it was sneaked out with almost no word of advance warning. Audio Research's Warren Gehl had told me several months ago that "something big" was brewing but offered not even the slightest hint that this was it. The most visually arresting features of the Reference 10 are its 7" touch screen, which controls every parameter of the preamp, and [gasp] an off-center Audio Research logo. Dave Gordon of Audio Research gave me the Cook's tour of the touch-screen display's features and explained that the Ref. 10 builds on everything that was learned in the development of its limited-edition predecessor, including new capacitors, an even larger power supply, as well as other proprietary tricks and tweaks.
The LP sound on Ernie Lancaster's Ernestly was pure liquidity, with crisp transients, deeply saturated tonal colors and stinging, lifelike Fender Stratocaster sound in a warm and well-defined studio environment. Paul Simon's "Diamonds on the Soles of Her Shoes" was beautifully floated in space, and Bakithi Kumalo's bass guitar had pop and growl in abundance. Jimi Hendrix's "Up From the Skies" had a jaunty bounce and genuine immediacy. It was quickly and abundantly clear that the Ref. 10 is a more-than-worthy successor to the Reference Anniversary. I only wish I'd had the chance to hear more music in this room!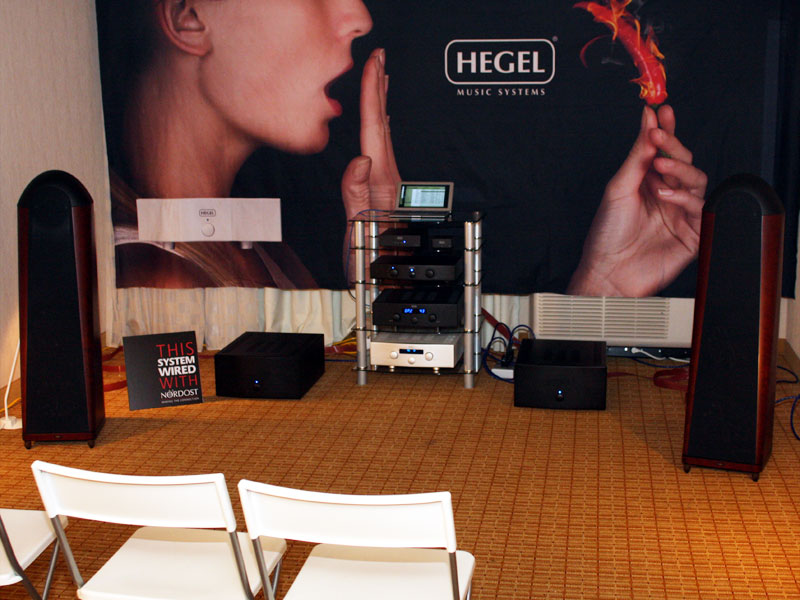 Norway's Hegel Music Systems presented a pair of systems with Thiel Audio's CS2.7 ($9900/pair) and CS3.7 ($13,000-$15,000/pair depending on finish) speakers. Hegel's marketing director Anders Ertzeid held forth, letting me hear first a system comprising the HD11 DAC ($1200, including asynchronous USB input) playing files off a PC, and robust new H300 integrated amplifier/32-bit DAC ($5500). In the second system, Hegel's P30 line stage ($7500) paired with the H30 1100-watt monoblocks ($15,000/pair), which can each also be configured as a 350Wpc stereo amplifier. Both configurations sounded excellent, with seemingly limitless power and bold, substantial soundstaging. The HD11 and H300 are, to my ears, utter steals given their sonic capabilities. These Norwegians mean serious business.
McIntosh, which was acquired on the eve of the RMAF by the Fine Sounds Group, owners of Audio Research, Wadia, Sonus Faber and Sumiko, had a roomful of gear ranging from the one-piece desktop McAire system to a very large rack full of the latest separates. This system included the MR88 AM/FM/.XM/HD tuner, ($4000), C50 preamp ($6500), MCD301 CD/SACD player ($4500) and MC452 amp (450Wpc, $7500), along with the McIntosh MEN220 room-correction system ($4500). Rounding out the system were the company's XR100 speakers ($10,000/pair) all hooked up with Mac's own cabling.
I was somewhat surprised by a bit of very un-McIntosh-like edginess shown on the trumpet part in Alan Hovhaness' Khrimian Hairig for string orchestra and solo trumpet [Naxos 8.559294], though the XR100 did have a very solid and bloomy bass foundation and quite a lovely way with strings.
On hearing Santana's Caravanserai, my all-time favorite Santana album, I followed the music to its source, a room where Simaudio and Sonus Faber had assembled a fine system featuring the Canadian company's new Moon 640 preamplifier ($9500), 380D DAC ($3900), and 870A power amplifier (300Wpc, $20,000), and Sonus Faber's lovely Ellipsa loudspeakers ($22,900/pair). These were joined by a Pro-ject Signature turntable ($12,000) carrying what appeared to be a Sumiko Palo Santos cartridge. Also on display was the new Moon MiND music streamer ($1200), which may also be had as an integral part of the 380D. This system had a very relaxed and well-synergized sound.
TAD showed up in Denver with a new loudspeaker, the E1 ($30,000/pair), as well as an entire suite of electronics that were new to me: the D600 CD/SACD player ($35,000), C2000 DAC/line stage ($29.000) and M2500 250Wpc power amplifier ($24,000). Like the acclaimed Reference One, the E1 uses TAD's point-source midrange/tweeter driver, here teamed with a pair of 7" Multi-Layered Aramid Composite Shell woofers. The D600 can also be used as a standalone DAC, sports a hefty external power supply and is built like a battleship, weighing in at 58 pounds. The amplifier uses totally balanced class D circuitry and completely dual-mono construction from the power cord forward. TAD's system also used Straight Wire cabling and an Audience Adept Response power conditioner.
The sound of the TAD system was big, vivid and very dynamic, capable of both surprising intimacy and walloping power. Imaging on the Auger/Driscoll track was solidly three-dimensional. This was a very impressive system, and one of my favorites at the show. TAD's electronics have to be counted as being as impressive as their speakers have always been.
Despite the fact that the Aeris was set up in one corner of a massive ballroom that held several systems, it still managed to sound lovely with Starker's Bach sonata and rattled the walls with "O Fortuna" from the Marin Alsop/Bournemouth Symphony & Chorus recording of Carmina Burana [Naxos 8.5700833]. The ambience of the recording venue around Starker's cello, placed appropriately by Mercury's engineers rather than thrown in your face, was nailed by this system, as was the master cellist's superb tone and technique. This is a speaker I would very much like to hear at length in the future.