CES and THE Show 2014: Less Is Sometimes More
by Paul Bolin | February 7, 2014
was happier than usual to head for sunny Las Vegas and high-end audio's annual soiree, for a simple reason: The night before I left saw a brisk and invigorating temperature of -24 Fahrenheit, and when I sprinted from my front door to an airport-bound cab the next afternoon it had warmed all the way up to 15 -- below zero, that is. Woo hoo! Though I am Minneapolis born and raised, I am getting too old for this kind of weather. When it is so cold that your face hurts when you go outside, Mother Nature is telling you to move somewhere warmer.
I was somewhat surprised to see that there were appreciably fewer exhibitors at both the Venetian and the Flamingo than had been present for the last several years. Perhaps the proliferation of smaller, more regionally oriented audio shows has made the substantial expense of CES optional for some of the smaller manufacturers. The monumental snowstorm that paralyzed every northern airport east of Chicago also played its part in tamping down attendance.
Fewer exhibits did not mean lesser sound or less interesting products. In fact, I can seldom remember hearing so much genuinely excellent sound at a show, so to paraphrase Greg Lake and Peter Sinfield, Welcome back my friends to the show that never seems to end. I'm so glad I could attend, come inside, come inside.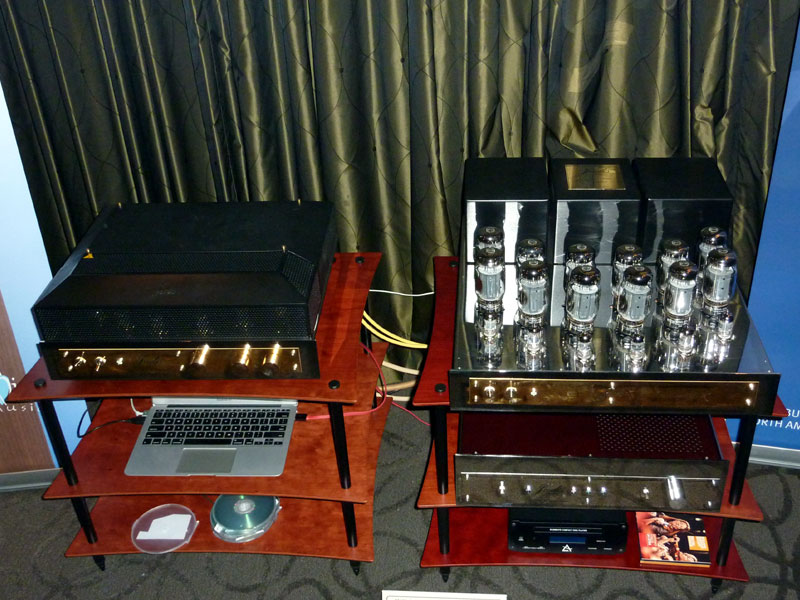 Bluebird Music had two very well-equipped rooms. Bluebird returned Jadis electronics to North America a couple of years ago and the legendary French components were very much to the fore in the first of their rooms. More recent converts to high-end audio may not recognize the rather unique place Jadis holds in the high-end lore. For years Jadis gear was the stuff of many audiophiles' fever dreams, including mine, both for their remarkable beauty and silken, seductive sonics. Various complications led to the company's wares being unavailable in North America for years, a situation that has finally been resolved by Bluebird's Jay Rein. A MacBook fed Jadis' JS2 Mk III DAC ($6700), PRE 1 line stage ($11,900) and PA100 stereo amplifier ($15,900), while Spendor's surprisingly potent D7 floorstanding speakers ($6495 per pair) and van den Hul 3T cabling (approximately $5000 worth) completed the system.
Jadis components have always offered tube mavens the ultimate in sheer indulgent physical beauty that is second to none and posh sonics to match. There was no disappointment to be found here. The PA100 will sing an irresistible song to anyone who loves old-school tubes with its luxuriantly appointed chrome-and-gold chassis, which holds a dozen KT120s and produces a beefy 150Wpc. The sound of this system presented lively dynamics, a deliciously tactile and lifelike midrange, very sweet and extended treble and solid imaging. I really need to get my hands on some Jadis gear -- and soon.
Across the hall Bluebird showcased a system based around the powerful, very new-school electronics from Great Britain's Chord Electronics, to wit their DSX 1000 Network Music Player ($13,000), massive two-chassis CPA 8000 line stage ($45,000) and even more massive 1000-watt SPM 14000 Mk II power amplifiers ($86,000 per pair). The Chord components feature designer John Franks' unique approach to power-supply design and no less than 64 of the company's proprietary output devices per channel. I reviewed the previous edition of this beast back in my Stereophile days and to say it was impressive in every way is an understatement of massive proportions. Also on hand were the ravishing Jadis Thalie turntable/tonearm ($59,900), with a Transfiguration Orpheus cartridge, and Chord's Symphonic phono preamp ($5000). This imposing assemblage of gear was connected with Kubala-Sosna's Elation-series cables and spoke through a pair of Estelon Diamond X loudspeakers ($69,900), themselves a lovely piece of sculpture.
It all added up to a very suave, musically compelling system. Mario Biondi's gruff, soulful voice was full-bodied and subtly textured on "This Is What You Are" from his Handful of Soul album, the rhythm section having just the right combination of bounce and forward propulsion. The Chord/Estelon system even brought fresh new insights and life to a somewhat played-out audiophile classic, Stevie Ray Vaughan's "Tin Pan Alley," and that is saying something. My former TAB and Stereophile colleague Michael Fremer played a CD he ripped of the Beach Boys' "In My Room" from his advance copy of an upcoming Analogue Productions LP, and the true stereo mix was absolutely gorgeous with harmonies that induced tingles.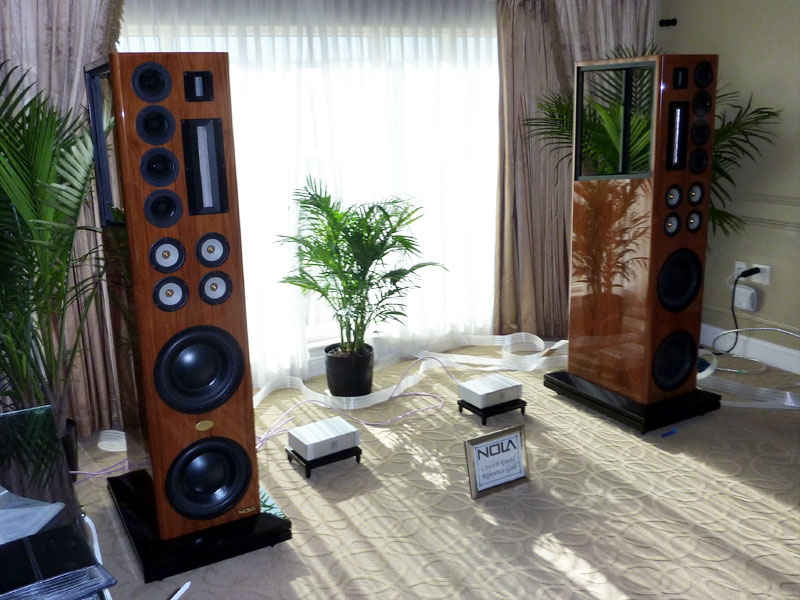 Nola debuted the Concert Grand Reference Gold ($197,000 per pair), which features significant updates to the crossover and ribbon drivers. Electronics were Audio Research's Reference 10 line stage ($30,000), Reference CD8 digital player ($10,000 when still available), and a Reference 75 power amp ($9000). All was wired and powered up with Nordost Odin cabling and Quantum power products. A new addition to the Nola room was a United Home Audio Phase 11 open-reel tape machine ($24,000) with UHA's new Outboard Power Supply ($4000). While I was in the room copies of masters of The Beatles' White Album were playing, and "Ob La Di Ob La Da" and "Dear Prudence" gave me the unmistakable sensation of sitting in the control room and watching the Fab Four play on the other side of the glass. The resolution of McCartney's Rickenbacker bass guitar on "Prudence" alone was the stuff of which musical dreams are made. Eerie and spectacular in its immediacy. As good as the original Concert Grands were, Carl Marchisotto has made incremental yet plainly noticeable improvements to this outstanding, and unquestionably world-class, speaker system.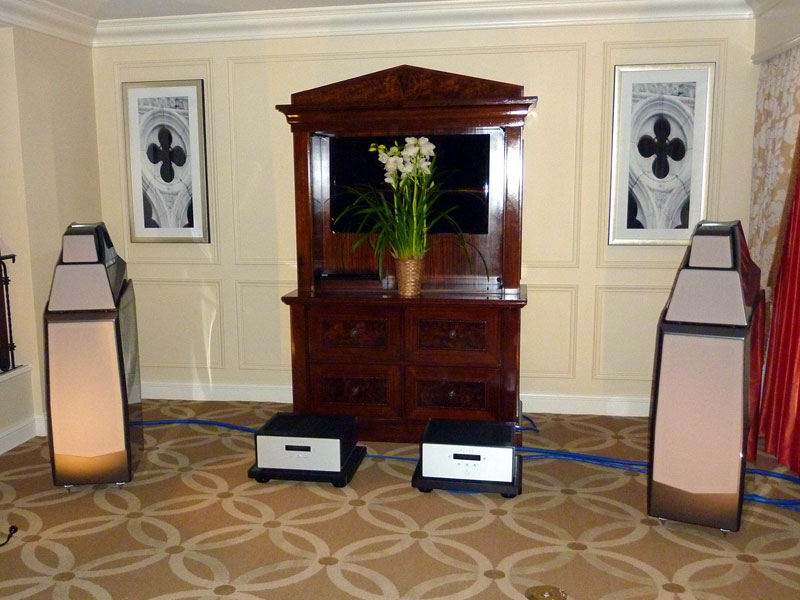 Musical Surroundings put together yet another fine-sounding system. Records were spun on a Clearaudio Master Innovation Wood turntable ($26,400) sitting atop the German company's Everest Wood stand ($13,400) fitted with the massive new Clearaudio TT-1i tangential-tracking pickup 'arm ($30,000) and Goldfinger Statement cartridge ($15,000). Aesthetix supplied their new Romulus Signature digital player ($10,000), Io Eclipse phono stage ($15,500), Callisto Eclipse line stage ($19,000 including remote control) and Atlas Signature hybrid mono amplifiers (300 watts, $16,000 per pair). Cardas Clear cabling connected all of this to a pair of Wilson Audio Alexia speakers ($48,500 per pair) in a good-sized room that let the speakers breathe.
I have long thought that Aesthetix does not get the notoriety it deserves. For some fifteen years now designer Jim White has been quietly producing tube electronics that stand with anything in the business. The Aesthetix sound is not easy to pigeonhole, and while Jim's gear ticks every single one of the boxes on the anal-retentive audiophile checklist, the consistent impression I have drawn from Aesthetix components, both at shows and in my home, is of musical naturalness above all else. And so it was here. The presentation was undeniably very high-resolution but maintained a relaxed and effortless flow that made forgetting about audio as audio almost absurdly easy. Be the source material analog or digital, this system let me kick back into the music and groove on whatever was being played. Getting this kind of "at home" quality at an audio show is not an easy thing at all and speaks definitively to the quality of the system. The Alexia is sufficiently revealing to let anything that is amiss upstream come through unhidden, but there was not one thing to complain about in this excellent room.
Absolare has made powerful impressions on many members of the audio press at several recent audio shows, though this was my first hearing of their wares. This is beautiful, and beautifully made, gear. Kerem Kucukasian, the head man at both Absolare and Echole cables, walked me through the features of the Passion Signature preamplifier ($32,500) and Passion 845 Signature mono amplifiers (52 watts, $48,500 per pair), which use a pair of 845 tubes with a pair of 6SN7 drivers per chassis and are internally wired with Echole's Obsession cabling.
I then sat down for a listen. To be honest, I have always approached SET amplifiers with a certain wariness, finding their midrange timbral characteristics and transparency to be seductive in the extreme while being dissatisfied with their lack of extension and control at the bass and treble extremes, particularly when paired with legitimately full-range loudspeakers of the non-horn persuasion. The Passion amplifier is definitely not yesterday's SET amp and exhibited fine bass control and a lovely, extended top end through Magico's S5 loudspeakers ($29,400 per pair). More than that, the Absolare electronics exhibited a truly eye- and ear-opening transparency to the music.
The rest of the system consisted of equally stellar components, including the Kodo The Beat turntable ($24,000) fitted with a Frank Schröder tonearm ($9900) carrying Lyra's Atlas phono cartridge ($10,000) and Allnic Audio's H-3000 phono stage ($11,900); and the superb MSB Data CD IV transport ($7995, the companion Diamond Transport Power Base is $5995), and Diamond DAC Plus with MSB's Femto-Second Galaxy Clock and Diamond DAC Power Base ($35,990 and $5995, respectively). Also on hand were Absolare's Bybee Purifier to clean up the Venetian's AC power, and Speaker Bullet "purifiers" ($3995 per set of four) and everything was connected with Echole's Omnia cabling. Expensive this all may be, but this was one of the finest and most refined sounds to be found in Las Vegas.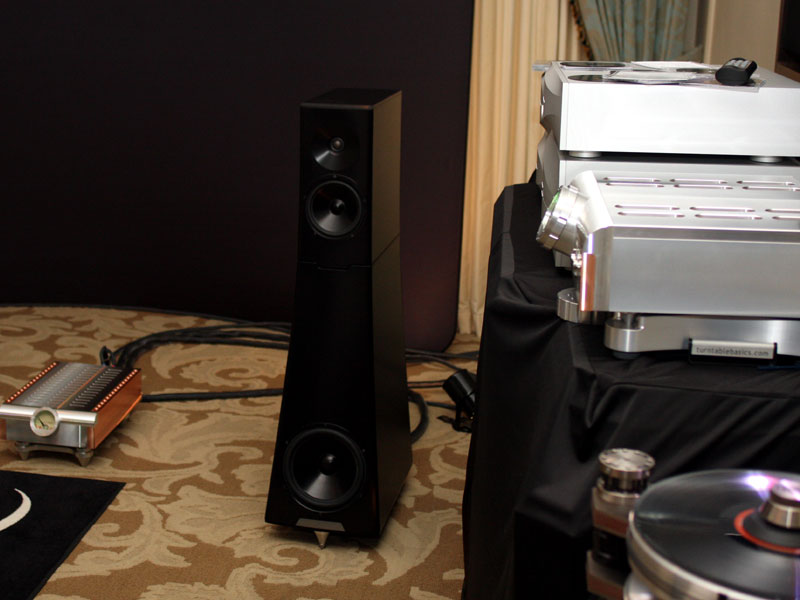 Just a year ago YG Acoustics debuted the superb, and very expensive, Sonja 1.3. This year found the brand-new Hailey ($42,000 per pair) holding pride of place. The Hailey, named after Yoav Geva's daughter, features virtually all of the technology developed for the flagship Sonja save for the double-welded cabinets. It consists of two cabinets, a smallish two-way atop a passive woofer cabinet.
Fronting the sleek new Hailey were the Kronos Turntable ($33,500) sporting the André Theriault Black Beauty tonearm ($8500 and a stunning piece of carbon-fiber engineering), Air Tight PC1 Supreme phono cartridge ($8500) and the Soulution 750 phono stage ($32,500); digits were processed by the dCS Vivaldi stack described below ($108,500). Dan D'Agostino's striking Momentum line stage ($32,000) and Momentum mono amplifiers ($55,000 per pair) rounded out the electronics. The system was completed by Kubala-Sosna's Elation cabling (approximately $85,000) and XTC Rack Designs amp stands ($6000).
The sonics here were very nearly as impressive as those provided by the Sonja 1.3 at the 2013 show with a similar though not identical system. The Haileys had a nearly electrostatic seamlessness and ability to resolve the finest threads of music. The longer I listened to this system the more impressed I was, and piano recordings played on the Kronos let it shine with particular brilliance. For those entranced by the Sonja but unable to afford their price of admission, I suggest you hear the Hailey as soon as possible. It offers far more of the Sonja's character and performance than its price, though admittedly high, might suggest. It is a thoroughly wonderful loudspeaker, and YG Acoustics is clearly on a roll.
At THE Show, Wendell Diller of Magnepan has made a habit in recent years of demonstrating the latest from the venerable Minnesota company behind scrims and inviting guesses as to what he is hiding. This year's demo bordered on the overwhelming, with a capella voices floating in the room as life-sized as you might ever desire and organ pedals rolling across the floor in potent waves. Images were as solid as statues, and the staging and dynamic range were more than surprising in their capaciousness. A rather nondescript Oppo digital player, a Bryston multichannel processor and what I would bet were Bryston amps hidden behind the scrim were the ancillaries.
Knowing Wendell as I do, I knew we were being bamboozled in some way as to what was behind the curtain and guessed $5200 for some combination of Magnepan speakers in a three-channel configuration. After the show's end Wendell revealed on Magnepan's website that we heard a pair of Super MMGs with a pair of Bass Panels and the MMG C and MMG W in the Tri-Center configuration costing $2375 total. Ho-lee cow. This was the runaway winner of the Bang for the Buck award of the show.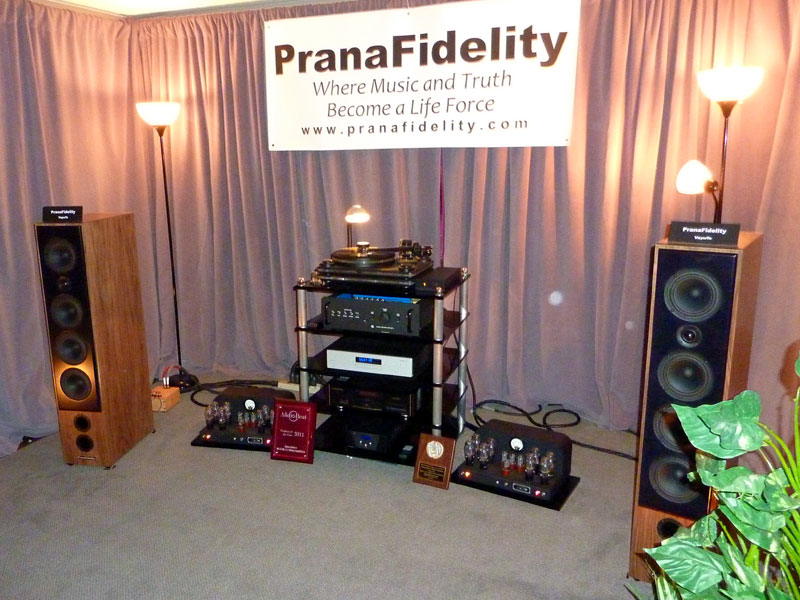 Also on hand at the Flamingo was a wonderful room featuring PranaFidelity's new Vayu speakers ($6950 per pair). PranaFidelity's Steven Norber will be familiar to many high-enders from his years with Edge Electronics, but he has been the prime mover behind PranaFidelity for the last few years. Last year he introduced the Fifty/90 stand-mounted speaker, and I was duly impressed. This year saw the wraps come off the floorstanding Vayu, a slender and rather unprepossessing tower speaker. The Vayu is a two-way "quasi-line array" design and features four 6" woofers and a 1" silk-dome tweeter. There are also rear-mounted switches that subtly vary tweeter roll-off.
The Vayus sat at the business end of a system featuring a Kuzma Stabi M turntable with Kuzma's 4Point tonearm and a Denon DL-103R cartridge modified by Steven, an Aesthetix Romulus CD player ($7995), Atma-Sphere's MP-3 Mk III.2 full-function preamplifier ($5600 and up depending upon options) and M-60 Mk III.2 60-watt monoblocks ($7200 per pair) wired with Audio Connections cabling.
I have heard many big, expensive loudspeakers and have lived with some very distinguished examples of the breed, so one might say I am a bit jaded. But I had an absolute ball listening to this system. I know Atma-Sphere electronics very well, and the Vayus let their trademark speed and intensely saturated tonal colors strut their stuff effortlessly. Bass was surprisingly deep, and I attribute a very occasional wooliness to the small room as it came and went depending on source material. The Vayus could play very loudly with no sign of audible distress and threw a soundscape that one would not expect to hear from speakers of such modest appearance. The Vayus made a great impression, and I have already requested a pair for review.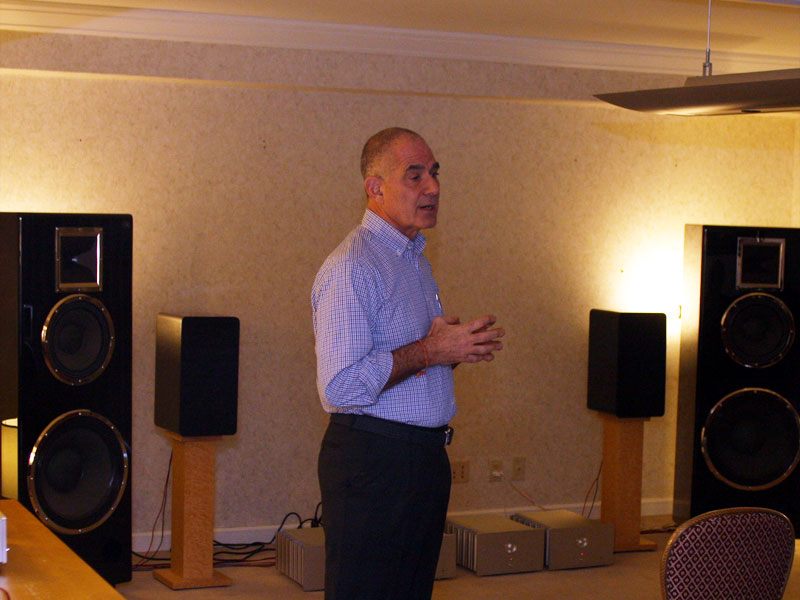 Speaking of systems that could deliver the dynamic goods leads naturally to the latest endeavor of Mark Levinson -- the man, not the brand -- and that is Daniel Hertz, LLC. Based in Switzerland, this company is waging the latest assault on the highest of the high end. Everything here actually started with the software running on a MacBook, a proprietary music player called Master Class, which is, in essence, a software-based and vastly more sophisticated version of the legendary Cello Palette equalizer. The system consisted of a Master Class-equipped MacBook feeding the USB input of the M6 1 MegOhms line stage ($12,000, all prices approximate), M5 Telikos mono amplifiers, which produce 400 watts of pure class-A power into 8 ohms ($25,000 per pair), and the imposing M1 loudspeaker ($120,000 per pair).
At the end of the demo I attended, Levinson played an outtake/live-in-the-studio versiion of Tower of Power's "Diggin' On James Brown" at live-performance levels that had to hit 110-115dB. There was immense bandwidth, tremendous power, bang-on timbres and ambience to burn. What there was none of was any hint of compression, dynamic restriction, or anything that could be called the slightest sign of stress. There was nothing except unvarnished music and one of the handful of most impressive demonstrations I have heard in many a CES. The Daniel Hertz system had previously handled a solo recording of a Chinese string instrument that sounded like a koto with supreme delicacy and ambient resolution.
Also shown were a forthcoming M8 integrated amplifier/DAC and some highly appealing stand-mounted speakers that showed a great deal of promise. Levinson stated that this combination will be available for around $7000.
Acoustic Zen and Triode Company of Japan (Tri) have been getting consistent and superlative sound from the same basic system for several years now, and this year was no exception. Tri's Eq3SE phono stage ($3150), the forthcoming Junone Ultimate reference line stage ($15,000 and a stunning looker quite unlike the traditionally straightforward, open-tube Tri design) and M845SE 50-watt single-ended triode monoblocks provided the motive power for Acoustic Zen's Crescendo Mk II loudspeakers ($18,000 per pair). Naturally enough, Acoustic Zen's Absolute cabling was used throughout.
The digital source was the Tri CD5SE CD player ($3200), which has a tube output stage, headphone jack, accepts optical, USB and coaxial inputs, and resolves up to 24 bits/192kHz. This is a player that sonically punches well above its price point and is definitely worth hearing.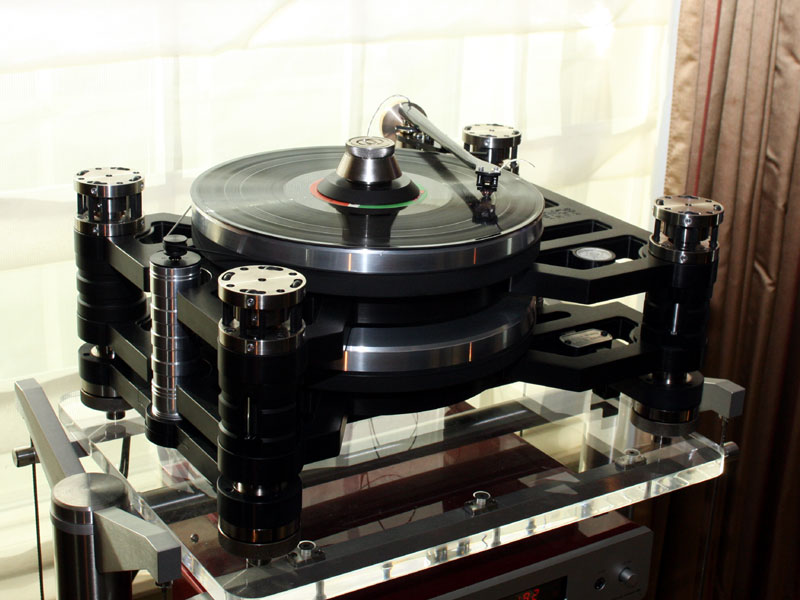 The analog source was the spanking-new Kronos Sparta turntable ($21,500) featuring an André Theriault Helena tonearm ($6500) with a Dynavector XV-1t cartridge ($9250). The Sparta is the latest brainchild of Kronos's Louis Desjardin and is a somewhat simplified, and also somewhat improved version of the original Kronos 'table. While it retains the dual counter-rotating platters, the Sparta has a two-level, rather than three-level, chassis, a smaller footprint and a completely new scheme for damping the plinths. Louis played me the first two movements of the splendid early-1960s Bruno Walter performance of Beethoven's "Pastoral" symphony and I was thoroughly smitten with every note I heard. Lightning has struck twice for Kronos Audio.
Audio Research debuted the exceedingly cool SP20 full-function preamplifier ($9000), which Marc Mickelson previewed late in the summer, in concert with the new CD6 digital player ($9000) on Sonus faber Olympica III speakers ($13,500 per pair) that were biamped with a pair of Reference 75 power amplifiers ($9000 each). Shunyata Research cabling and power conditioning completed this satisfying and enjoyable system. The SP20 has styling cues that are a shout-out to classic Audio Research preamps of the past such as the SP2 and SP3, but it also features a central touchscreen like the top-of-the-line Reference 10 and a headphone jack. How any veteran audiophile can resist the siren song of a new, honest-to-Pete Audio Research preamplifier is beyond me.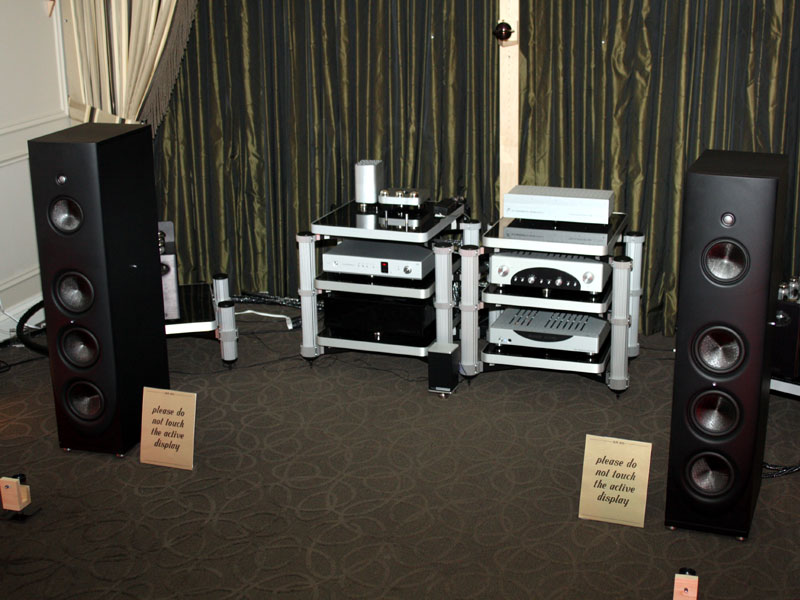 Synergistic Research did their usual fascinating and sometimes immensely frustrating thing. The system consisted of a Western Digital 2TB hard drive and a stock Mac Mini driving a Luxman DA 06 DAC ($5000 plus $1000 in Synergistic Research fuses and HFTs), Rogue Audio's Hera II line stage ($8995) and Special Edition Apollo "Dark" mono amps (250 watts each, $10,995 per pair), and Magico Q3 speakers ($39,500 per pair). Racking was a pair of Solid Tech three-shelf racks ($1799 each) and amp stands ($799 each), with all eight shelves carrying a Synergistic Tranquility Base XL electrical/mechanical isolation platform ($2995 each). Synergistic Research Galileo LE-series interconnects ($7500 for the first meter) and speaker cables ($15,000 per eight-foot pair), the active-shielding systems of which were powered by the Transporter ULTRA SE ($2895), connected everything. AC cords were Synergistic's Galileo LE Digital and Analogue ($5600 per five-foot length), and power conditioning was via a Galileo LE PowerCell ($10,000).
The room and system treatments included six boxes of Synergistics' High Frequency Transducers ($299 per box of five), which can be placed on cables, walls, speakers or other components; two FEQ Frequency Equalizers ($995 each), small, soft-sided boxes with who-knows-what inside that plug in to wall sockets in the same room as the audio system; a full set of ART System room treatments ($5600); and, finally, the new XOT Crossover Transducers ($399 per pair), which one installs on the terminals of loudspeakers via their spade lugs or banana plugs.
The system sounded wonderful, and Synergistic's Ted Denney always plays fun music, including a fairly lengthy session of really slamming trance and techno one evening. What was infuriating was his demonstration of the effects of the HFTs, FEQs and XOTs. Real-time immediate A/B comparisons with these devices in and out of this very fine-sounding system were infuriating beyond words. The removal of one HFT from the FireWire cable going into the DAC had a clearly deleterious effect on the sonics, and the removal of the XOTs from the speakers led to a substantial soundstage collapse, quickly rectified by their reinstallation. Shutting off the FEQs also muddled things a bit. Denney categorically refuses to discuss what is in these devices, but Marc Mickelson and I heard exactly what they did and agreed completely about what we heard while Ted's evil laugh cackled in the background. I have issued a standing invitation for Ted to come to my listening room and do the voodoo that he did in the Venetian with these frustrating yet undeniably effective tweaks. I double-dog dare ya, Ted. Bring it on!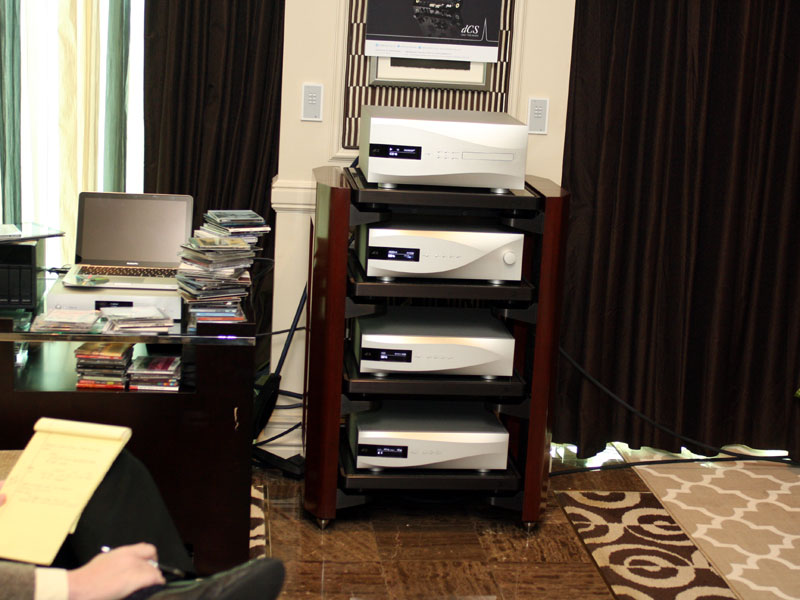 England's dCS has been for some time now one of the leading lights among manufacturers working at the bleeding edge of digital technology and maximizing the potential thereof. Their latest assault on the state of the art is the Vivaldi stack of exquisitely made components. This four-box beast comprises of the Vivaldi transport ($39,999); DAC ($34,999, and which is as close to a truly universal digital decoder as exists on the planet as it handles everything from MP3 files to 24-bit PCM, DXD and DSD); digital-to-digital upsampler ($19,999), which can resample virtually any digital format to 24 bits/384kHz or even DXD or DSD should you so desire; and Master Clock ($13,499), which allows the user to select from two banks of clocks which can generate completely independent frequencies to sync everything else together into the most minute subdivisions of the time domain. That adds up to $108,496 and that ain't hay.
Given the boggling amount of technology and number-crunching horsepower in that $108 grand worth of Vivaldi boxes the rest of the system had the simplicity of a Zen rock garden: a pair of VTL's wonderful MB-450 Series III Signature power amps ($18,000 per pair), a king's ransom in Transparent Audio's top-of-the-line Opus MM2 cabling and Wilson Audio's superb Alexia speakers ($48,500 per pair). The Vivaldi DAC handled preamplifier functions. The sound of this system when playing back the peerless live recordings of Wilson's Peter McGrath left Marc, Jim Saxon and me looking at each other in varied states of complete disbelief. Yes, it was that good. Massively three-dimensional soundstage when called for? Check. Rich timbral saturation? Double check. Rock-solid holographic imaging? Triple check. The dCS components are crazy expensive, to be sure, but stand with few others at the leading edge of digital sound reproduction. I suppose one could start out with the Vivaldi DAC alone driven by a computer or transport and slowly work one's way up to the whole imposing stack.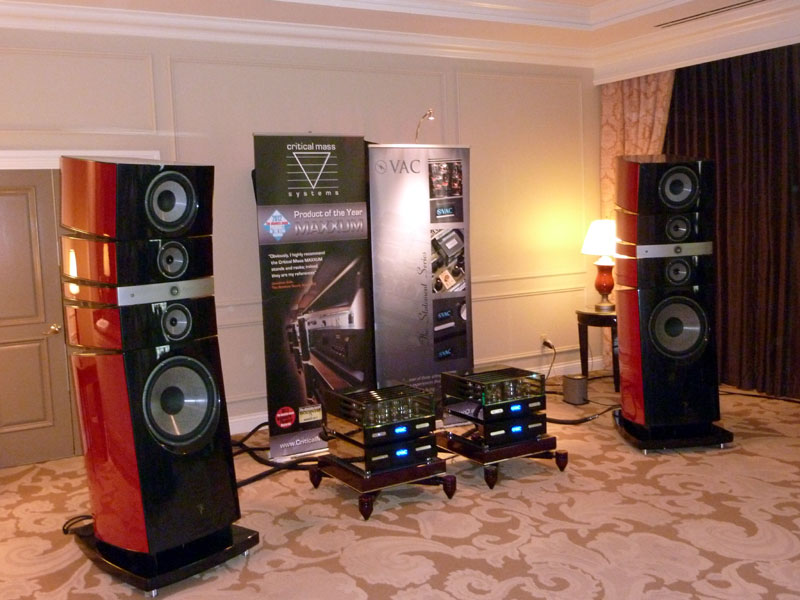 Valve Amplification Company (VAC) and Critical Mass Systems put together one of the more ambitious systems of the show. A Transrotor Rondino turntable fitted with an SME 5009 'arm and Air Tight PC1 Supreme phono cartridge and Soulution 750 CD player drove VAC's Statement-series phono preamp ($70,000), line stage ($66,000) and 450 IQ monoblocks (450 watts each, $116,000 per pair) and finally Focal's immense Grande Utopia EM loudspeakers ($180,000 per pair). Shunyata cabling made the connections and Critical Mass Systems Maxxum Critical Component Supports ($5600 per component) supported the lot. Shunyata power conditioners were also in service.
This huge system proved itself capable of surprising delicacy in addition to the expected huge dynamics, and showed a balanced and highly revealing character both with my own CDs and the LPs that were played. Huge can be impressive though not necessarily musically correct, but here both were neatly managed with no compromises or concessions. Dynamic and spatial scaling were handled with great dexterity, and timbral balance was exemplary.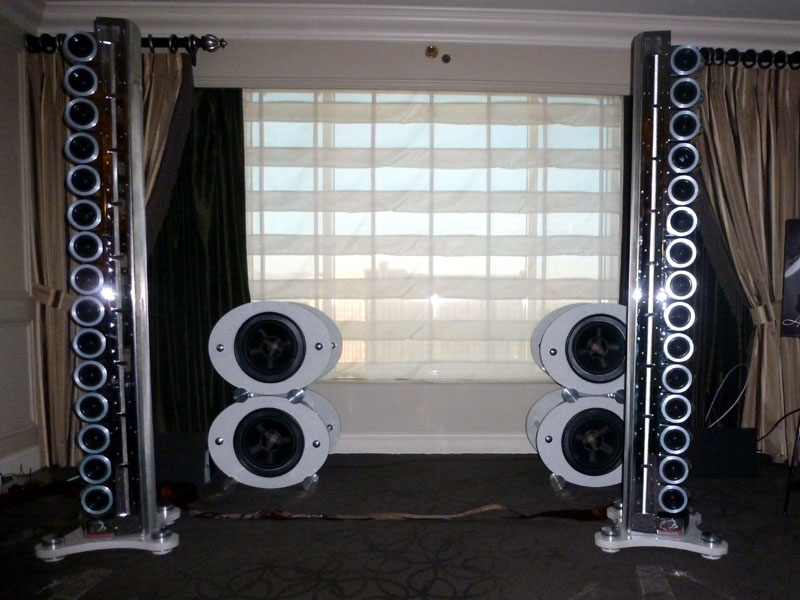 Scaena teamed up with Swiss electronics manufacturer Audio Consulting for a return to form after a somewhat off 2013 CES. Scaena's newly revised Spiritus speaker system ($76,000, including four Crown mono woofer amplifiers and active crossover) is now fitted with four 12" woofers, which replace the former quartet of 18" bass drivers. There has been no loss of low-end extension, but there has been a considerable increase in both speed and pitch definition. Scaena speakers have always been particularly notable for their effortless dynamics, superb low-level resolution and ability to throw a soundstage so convincing it feels as though one could walk between and among the musicians. The source material was supplied by the Mainframe music server designed by Scaena's Sunny Umrao, and a Bohmer DAC. The Audio Consulting Silver Wire Gain Line Amplifier (or SWGLA, $22,500) line stage is a wood chassis, battery power supply and volume control based around a silver-wire-wound transformer, and the Mains Independent Power Amplifier (MIPA, 30Wpc stereo and 120 watts mono, $53,000) features a pair of mono battery power supplies, point-to-point cryogenically treated silver wiring and a wood chassis like its SWGLA sibling. Prototypes of a new silver ribbon cables from Silversmith Audio tied everything together. The sound was lithe, fast, full-blooded and exceedingly dynamic, even with the demanding dance/trance tracks I threw at it, and a return to Scaena speakers throwing such palpable and lifelike images into a seemingly real space that one is tempted to try and walk amongst the musicians.
Towards the end of the show I moseyed into the Bel Canto/Joseph Audio room, intending to listen for a few minutes and move on. I stayed for 45 minutes, always a sign of something special going on. In this case it was the introduction of the new Bel Canto Black electronics on Joseph's severely underappreciated and quite wonderful Pearl 3 loudspeakers ($31,500 per pair). This room was bristling with interesting technology, with a Brinkmann Oasis turntable ($13,700) and 10.5 tonearm ($6300) carrying Soundsmith's SF SF230 strain-gauge cartridge and its companion full-function preamplifier ($12,900), and the brand new Bel Canto Black Asynchronous Stream Controller (ASC) DAC/line stage ($20,000) and PowerStream mono amplifiers (400 watts, $30,000 per pair). The ASC has nine digital inputs and one analog input; as I understand it, the ASC digitizes an analog signal and is able to manage more or less every digital format including Ethernet UPnP/DLNA streaming up to 24 bits/384kHz PCM and DSD, then transmit it to the PowerStreams via cables carrying not an electrical signal but rather via Light Link cables that transmit only photons. The PowerStreams then reconstruct an analog signal, using proprietary technology, amplify it and send it on to the loudspeakers. Cardas Clear Beyond and Clear cabling made the non-Light Link connections, Shunyata supplied the power conditioning, and Harmonic Resolution Systems stands supported the ensemble.
A test pressing of some very early, true-stereo Elvis soon to be released by Analogue Productions rose out of a totally silent background and was disconcertingly, enticingly real-sounding, as was all the music I heard through this system. Bel Canto's John Stronczer is clearly on to something with this uniquely advanced technology.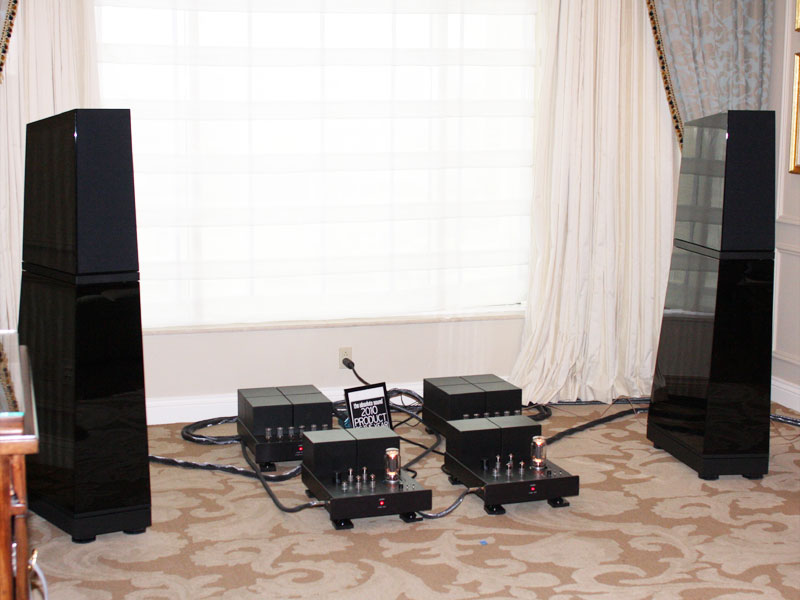 Lamm Industries did their usual two-room presentation. The first held a Tech DAS AirForce 1 turntable ($100,000) with a Graham Elite tonearm ($14,000) and Tech DAS TDC 01 MC cartridge ($11,000), Neodio's stunning Origine digital player ($42,175), Lamm's own three-chassis LP1 Signature phono stage ($33,790), four-chassis LL1 Signature line stage ($42,790) and four-chassis ML3 Signature amplifiers ($139,490 per pair). This was completed with Verity Audio Lohengrin IIS speakers ($120,000 per pair), Kanso Audio racking ($16,226) and approximately $75,000 worth of Kubala-Sosna Elation cabling. The sound, as might be expected, was generally excellent in terms of space, dynamics and resolution, though I heard more than a whiff of a recessed quality to vocals with my own CDs. This struck me as highly unusual, as I am acquainted at great length with Lamm electronics and also know the Origine quite well and I have never heard this from them before.
Room two greeted me with yet another pair of Wilson Audio Alexias, this time in the company of an older CEC TL-1X belt-drive CD transport feeding the new Tech DAS D-7 Supreme DAC ($8600), a Tech DAS turntable that was not functioning, and Lamm's new LP2.1 Deluxe phono stage ($8690, sadly unheard), two-chassis L2 Reference line stage and M1.2 Reference monoblocks ($26,990 per pair). As in the other room, Kanso Audio stands ($9641) and Kubala-Sosna cables, this time the Emotion series ($47,200), completed the ensemble.
Having spent literally years with the combination of the M1.2s and Wilson Sashas, I had a very good basis for considering this system, and the results were superb. The title track from Under A Violet Moon by Blackmore's Night and "Tiny Dancer" from a remastered Japanese CD of Elton John's Madman Across the Water were sonically seamless and absolutely captivating. This system was marvelous.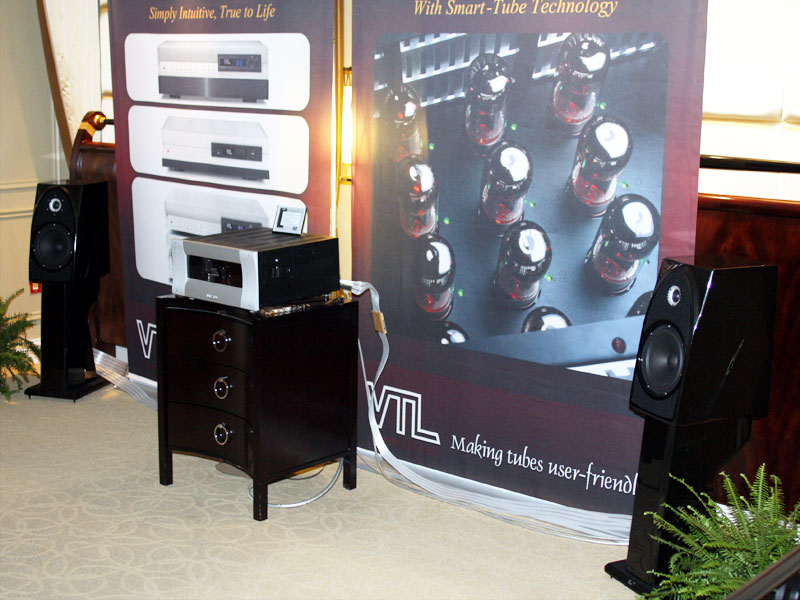 VTL has had the wisdom to show in the same type of room at the Venetian year after year, and practice has made for consistently good sound. Two systems were on display, the "smaller" one featuring a Feickert Blackbird 'table and Jelco 'arm ($12,995) with a Dynavector TeKaitora Rua cartridge ($3500) in front of VTL's TP-2.5 Series II phono stage ($2500 and silly good, as I can vouch from personal experience), TL-5.5 Series II Signature line stage ($7000) and S-200 stereo amplifier (200Wpc, $10,000) driving Wilson Audio Duette 2s ($19,900 per pair) via Nordost Odin and Valhalla cabling. The stands of the Duette 2s are an integral part of the speaker, and connections are made at the base of the stand; they are also designed to be placed very close to the wall behind them. Music was balanced and mellow with this system, and the Duette 2s appeared to bend some laws of physics with their profound reproduction of double bass.
On the lower level the big guns were brought to bear with a Spiral Groove SG1.1 turntable and Centroid 'arm ($31,000) and Lyra Etna cartridge ($6995), VTL's TP-6.5 Signature phono stage with MC transformer ($10,500), TL-6.5 Series II Signature line stage and the new S-400 Series II Reference stereo amplifier (400Wpc, $33,500), Transparent Opus MM2 cabling and Wilson Audio Alexia speakers ($48,500 per pair). dCS's Puccini transport/DAC and U-Clock ($24,998 for the pair) handled digital playback chores. Bea Lam played me a couple of my favorite classical demo LPs, to which she introduced me at prior shows, and I was swept away into the impeccably presented music. The S-400 has power that is apparently limitless, but for all its brute force it has a genuinely enticing way with inner orchestral detail and the subtlest of tonal colors. I have said it before, but it bears repeating: VTL electronics and Wilson Audio speakers dance together like Nureyev and Fonteyn.
Venture is best known for its imposing full-range speaker systems, which have made my "best of" lists at a number of shows. This year Didi Kong, auteur of all things Venture, loosed a much smaller system on the world, the Vici mini-towers and their companion AW500 woofer system ($32,000 total). The slim and elegant Vicis have four 4" underhung midrange/bass drivers with abaca graphite composite cones and a 1" tweeter of the same material. The accompanying AW500 features an integral 500-watt class-D amplifier and a pair of 10" woofers also of abaca graphite composite construction. The signature sound of Venture -- big, wideband and very expressive at both ends of the dynamic spectrum -- was very much present and accounted for.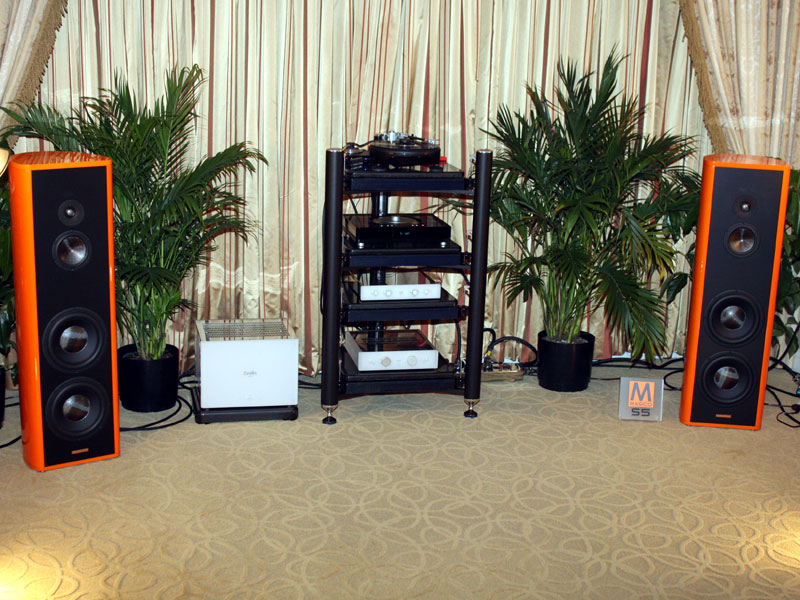 The Zanden room is always an oasis of calm in the sea of chaos that is a major audio show. Kazutoshi Yamada has a unique vision of how to bring sonic truth into the listening room, and I have yet to hear this brilliant designer fail to hit the mark. This year saw Grand Prix Audio's Monaco 1.5 carbon-fiber turntable ($23,500) carrying a Tri-Planar Ultimate 12" 'arm ($9800) and Blue Diamond MC cartridge (price not given) and Zanden's 2500S CD player ($22,000) driving Zanden's 120 phono equalizer/preamp ($7500), 3100 transformer-coupled line stage ($12,500) and 8120 100Wpc stereo amplifier ($20,990). Magico S5 speakers in a special high-gloss finish ($35,500 per pair), Grand Prix's Silverstone racking and custom Zanden cables completed the system.
I have for some years now always picked up a singular vibe from Zanden rooms. There is the aforementioned sense of calm combined with a remarkably detailed, finely rendered sound that is profoundly involving. A Zanden system never shouts at you, but invites you to participate in the musical equivalent of a perfectly executed Zen tea ceremony. Every small thing is done so well and blends into a seamless whole, a holistic experience, one that has to be heard to be understood.
MSB stands with dCS at the absolute summit of the digital mountain, at least to these ears, and they lived up to my high expectations. Their Universal Media Transport Plus and Signature Transport Power Base ($5995 and $3495, respectively) drove a Diamond DAC IV Plus ($27,995, plus optional $4995 Femtosecond Galaxy clock upgrade), Diamond Power Base ($5995) and MSB's Platinum 203 monoblocks (200 watts, $27,500 per pair), Analysis Plus Silver Oval cabling and YG Acoustics Sonja 1.2 speakers ($72,800 per pair). The sound here was as close to the best analog as can be found -- silky, highly resolved and very relaxed.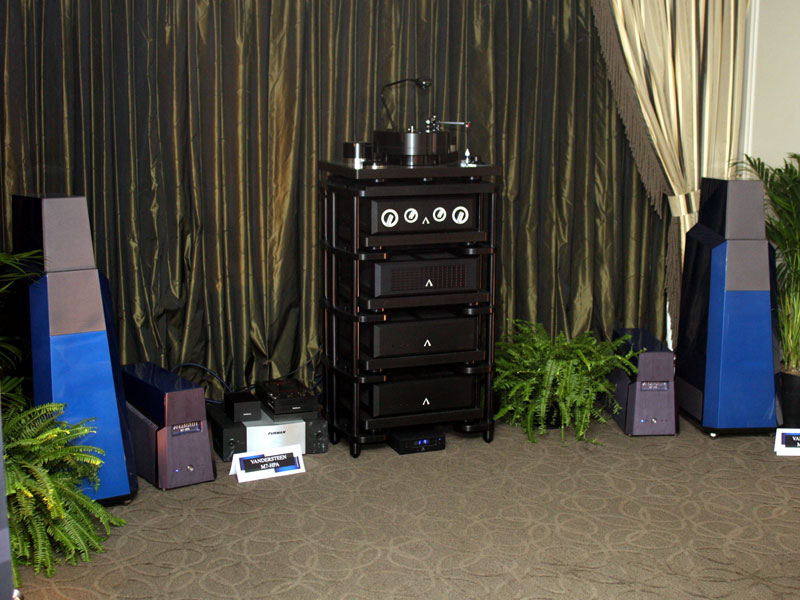 I have heard the Vandersteen 7 loudspeakers ($52,000 per pair with integral crossovers and subwoofer amplifiers) several times, but I have always respected them more than genuinely warmed up to them. This has been, I believe, a result of the speaker's brutally low 82dB sensitivity. It takes massive power to light the speaker's wick and at last I have heard an amplifier that does it. Oddly enough, it is made by. . .Vandersteen. It had been common knowledge that Richard Vandersteen was developing his own amplifier specifically for his 7 and 5a Carbon speakers, and CES saw the unveiling of the M7-HPA mono power amplifier ($52,000 pair pair). The M7 is anything but a conventional amplifier. It features a hybrid circuit, with tube gain/driver stages, ten separate power supplies and oil-cooled, exclusively N-channel bipolar output devices rated to deliver 600 watts into a nominal 4-ohm impedance, such as that of the Vandersteen 7. The power-delivery section of the amplifier is described by Vandersteen as "dual single-ended circuits connected by the speaker load" and the amp is said to have extensive internal vibration damping courtesy of Harmonic Resolution Systems isolators.
As demonstrated with a Brinkmann Audio Balance turntable ($23,700) equipped with a Brinkmann 12.1 tonearm ($7500) and Lyra Etna cartridge ($6500) and the Aesthetix Io Eclipse phono stage ($15,000) and Callisto Eclipse line stage ($19,000), this system demonstrated smashing, room-filling dynamics on large orchestral material such as "The Great Gates of Kiev" from the Mussorgsky/Ravel Pictures at an Exhibition and precise, nuanced focus on smaller ensembles and soloists. I have long suspected that this speaker was capable of this kind of performance and it was a treat to hear it finally realized.
Jottings
If one component could truly be said to be the star of the show it would be the Wilson Audio Alexia loudspeaker. It was omnipresent and never failed to sound superb. It also provided a rather useful constant in evaluating the contributions of sources and amplification in every system in which it appeared. I can never recall one product making such a profound impression on other manufacturers that it became a de facto standard of excellence, much less one that accomplished such a feat in so short a time -- the Alexia was introduced a little over a year ago.
I heard excellent sound in one of the Usher rooms, but no one in the room had enough English to answer questions, at least when I was there. Not cool. Not great for North American business either, I surmise.
Manley Labs showed a prototype of their still-under-development Heart DAC. EveAnna Manley told me that she and her husband, mastering engineer Dave Collins, have been schlepping the Heart around to the finest mastering studios in southern California for additional expert input and beta tests. What I heard in the Manley Labs room tells me this is going to be a monster when it finally hits the market.
Everyone has tablets or laptops. Every hotel has a business center. I mean this with the greatest of seriousness: For the love of whatever gods there may be, print out equipment lists with model numbers and prices for distribution to dealers and the press if no one else. There is no excuse for having to send out e-mails begging for this information in this day and age.
High-end audio has matured to a remarkable degree. There are no longer speakers that can be driven by one or two extant amplifiers, no tube amps that threaten to go thermally explosive when the most paranoiac attention is not paid to them, and no -- well, very few -- turntables that will go out of whack if a butterfly gets into the room. We are now dealing with a technology that has transcended limits believed to be innate a mere twenty years ago. The overall quality of sound in the most ambitious rooms is now so consistently excellent that choosing amongst them is like picking one's favorite Bond girl. It is purely a matter of taste rather than differences in quality. This is an extraordinary time to be a dedicated audiophile, and what is now available for relatively reasonable prices, and possible for an average person of the audio persuasion to set up, are things that were unimaginable fifteen to twenty years ago. And the best of the best exists in its own world entirely. Today's Kronos Sparta, dCS and MSB digital gear, or Wilson Audio Alexias could barely have been dreamed of even ten years ago.
Of all the rooms I visited not a single one qualified for TAB's dreaded Duck for Cover award -- the very definition of a great show.