Rocky Mountain Audio Fest 2013 • Hi-Fi and Headphones Galore
by Dennis Davis | October 28, 2013
n its tenth incarnation, the Rocky Mountain Audio Fest once again proved itself to be the class act of North American audio shows. While it has built on its many strengths, shows have popped up like weeds (or endeavored to endure) in San Francisco, Los Angeles, Washington, New York, Chicago, Toronto and Montreal. The RMAF has become an important annual event for the industry and the best place for consumers to meet and greet friends and industry insiders at a well-organized show in a spectacular setting. The two towers of rooms separated by a large ground-floor promenade ensure that at some point you could run into anyone attending the show.

The only downside of this year's show was what seemed to be a dip in attendance from prior years, leading to the inevitable question, "Are there too many shows?" Not to stretch a Carrie Bradshaw homage too far, but late in the show I got to thinking about relationships. Despite the drop in attendance, the Denver event has a vibe missing from other North American audio shows. At RMAF you couldn't help but think that even the most newbie of audio enthusiasts could walk into the scene and feel completely at home. After three days of roaming halls, you can return home feeling good about yourself, and if you found someone else who shared that appreciation, even better.

While much of the strength of RMAF resides in its ability to build upon its strengths, with a great network of dealers and manufacturer support, what was particularly noteworthy this year was the clear ascendance of a younger rearguard participation that will hopefully protect the aging core of the hobby from devouring its tail without re-creating itself.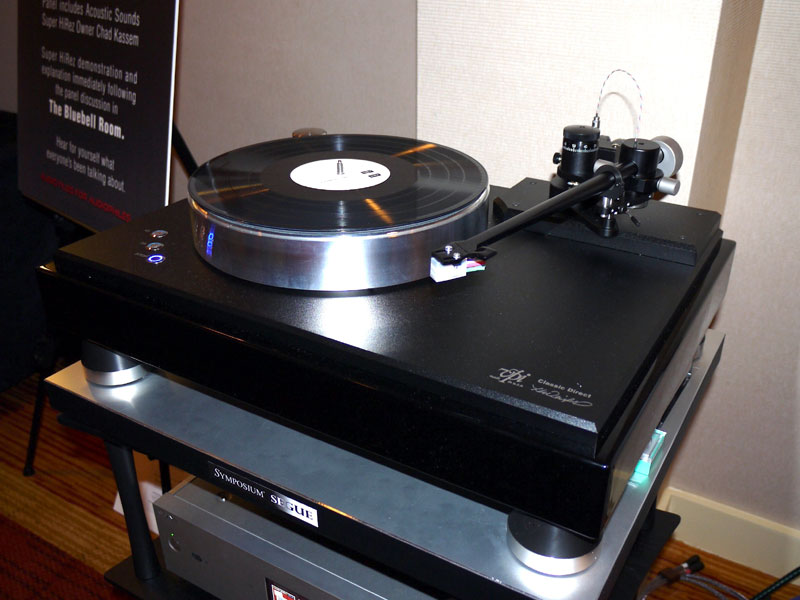 But there were hopeful signs of this rebirth. Harry Weisfeld's energetic son Mat installed many VPI turntables throughout the show. Not only were there VPI 'tables everywhere, but you could not turn around without running into Mat or finding yourself sharing a photo with him on Facebook. VPI's new direct-drive 'table with 3D printed 'arm ($30,000) was on display in two rooms. In one, it was a static display, with the turntable set up next to a poster for Acoustic Sounds' new DSD venture, juxtaposing the new high-res downloads with a turntable using direct drive, an "old as the hills" technology. In a second display room, featuring Joseph Audio speakers, the new 'table was perched on a too small rack, the support feet hovering over the edges of the top. While some felt the sound in the room impressive, I expect the new 'table has a lot more potential than was revealed.
New generations of familiar products were also stars of the show, with Lyra's newest cartridge, the Etna, doing duty in two of the best-sounding rooms. The $6995 Etna is rumored to be an Atlas killer, and its sound at the show did not belie that rumor.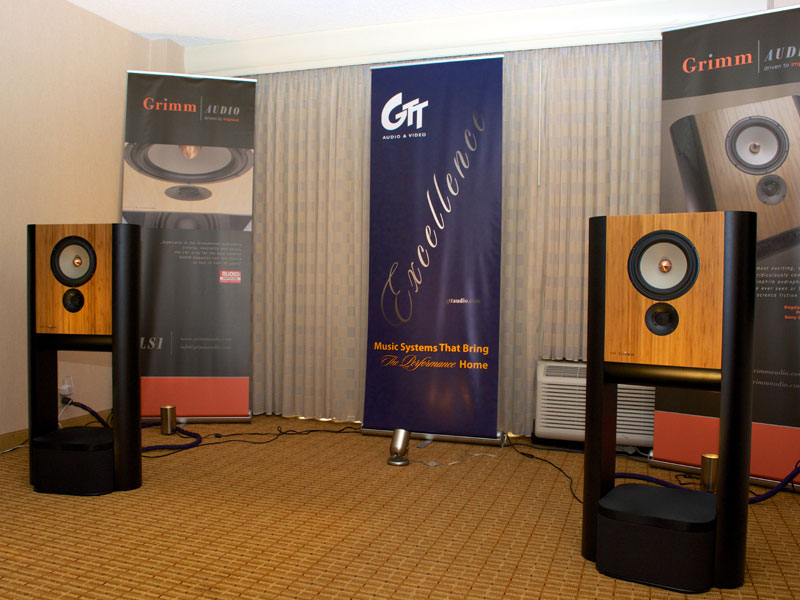 One of the more interesting and certainly different products on demo was the Grimm Audio LS1, literally an entire system (less source) in one enclosure. Eelco Grimm showed off his $39,000 three-way system in the GTT Audio & Video room. The system incorporates analog-to-digital and digital-to-analog converters, a CC1 clocking circuit, six NCore amplifiers (encased in the side columns), a DSP, a USB interface, a preamp/switcher/control unit, integrated bass modules and cables. The very compact and attractive package sounded very impressive and is much easier on the eye than the typical audiophile setup.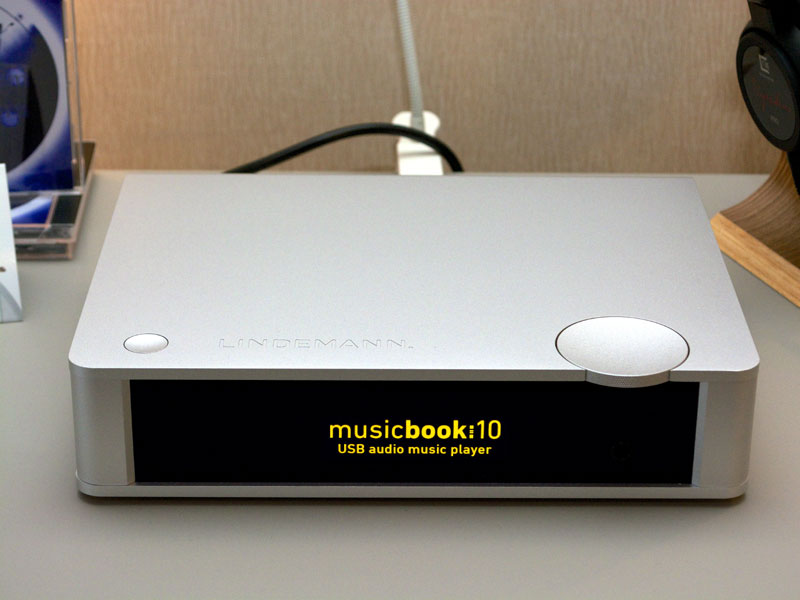 Equally pleasing to the eye as well as the ear was the combination of Lindemann electronics (distributed in the US by One World Audio) and Manger speakers. Lindemann was showing its Musicbook range of products, visually similar but each unique in function. The Musicbook 50 class-D amplifier ($2250) was on static display, as the Manger MSM s1 active floorstanding speakers (€15,000/pair) provided their own amplification. The heart of the system was the Musicbook 25 ($5500), a network music player incorporating a TEAC CD drive, a USB-A port, a 32-bit/384kHz DAC, a web tuner, a preamplifier and class-A headphone amplifier, with the option of control from a phone app or an included remote control. A stripped-down version, called the Musicbook 10 ($4000) dispenses with the networking capabilities. The two German products looked and sounded very promising together.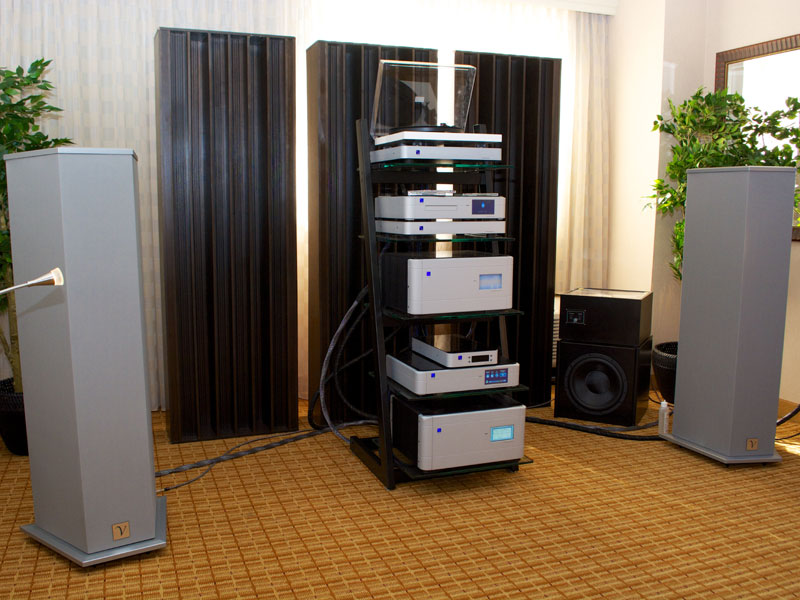 Looking equally sleek but hailing from the US were the line of products from PS Audio. The European look of the current PS Audio line fits in perfectly with the Von Schweikert VR-35 speakers ($7995/pair) and Pro-Ject turntable. Paul McGowan's prototype PerfectWave power amplifier ($5000 when available) was coupled with his PerfectWave P10 Power Plant power-regenerating system ($4995) and PowerBase vibration, isolation and power-filtration units ($995 each). CDs were spun in the PerfectWave PWT CD/DVD memory player ($3995). But perhaps the star of the show was his NuWave Phono Converter ($1895). If you haven't heard of a phono converter before, don't feel alone. McGowan has combined a phono preamplifier and analog PCM/DSD converter. Among other things, this allows you to use it to input digital or analog sources, and connect to a computer and rip LPs.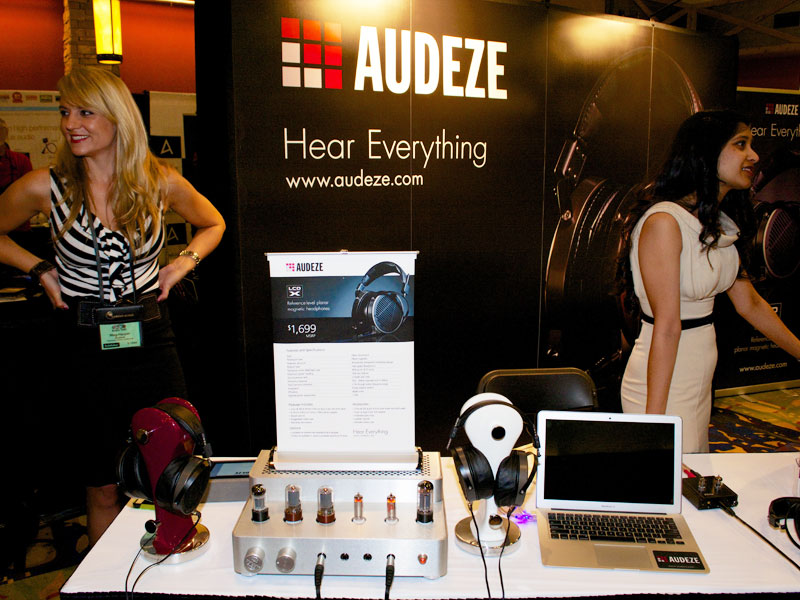 CanJam at RMAF has become a convention all its own. A few years back Jerry Harvey of JH Audio took a page out of the car-show playbook and brought in gorgeous models to show off his in-ear headphones. This year Audeze, which a couple of years back took the headphone world by storm with its LCD-3 headphones, kept the pressure on the competition with several new models, and was competing with JH Audio in the contest to come up with the most attractive sales force. Priced a few hundred dollars below its flagship, Audeze introduced its new LCD-X ($1799) and LCD-XC closed-back version ($1799) planar-magnetic headphones. These models can be driven straight out of an iPhone without a headphone amp. Nearby, Focal was showing its new (to the US) models, the Spirit Classic ($399) and Spirit Professional ($349). Both are extremely comfortable and provide excellent sound in their price range.
But the really big treat at CamJam was the proliferation of headphone amplifiers with DACs in small cases. Not so many years ago, portable headphone use took off with the development of miniature amplifiers, followed on by miniature headphone DACs, so going out and about meant rubber-banding two boxes to your iPhone (or other source). A few models starting appearing with amp and DAC in a single enclosure, and then this trend exploded, with some incredibly small packages, ranging in price from a few hundred dollars up to close to a thousand dollars. The best (and most expensive) models license the right from Apple to bypass the DAC in the iPhone.
Two standout models in this category were on display by Cypher Labs and Centrance. David Maudlin, CEO of Cypher Labs, was showing his Theorem 720 DAC ($899), which allows streaming using its 24-bit/192kHz DAC and asynchronous conversion of the Apple USB output; and perhaps most important to travelers, it will play up to 18 hours on a charge, while at the same time charging your iPhone or iPad, so you arrive at the other side of the planet with a full charge on your phone. Another unique touch is the miniature charger that has a red cable, to distinguish it from the other chargers that collect in the drawer.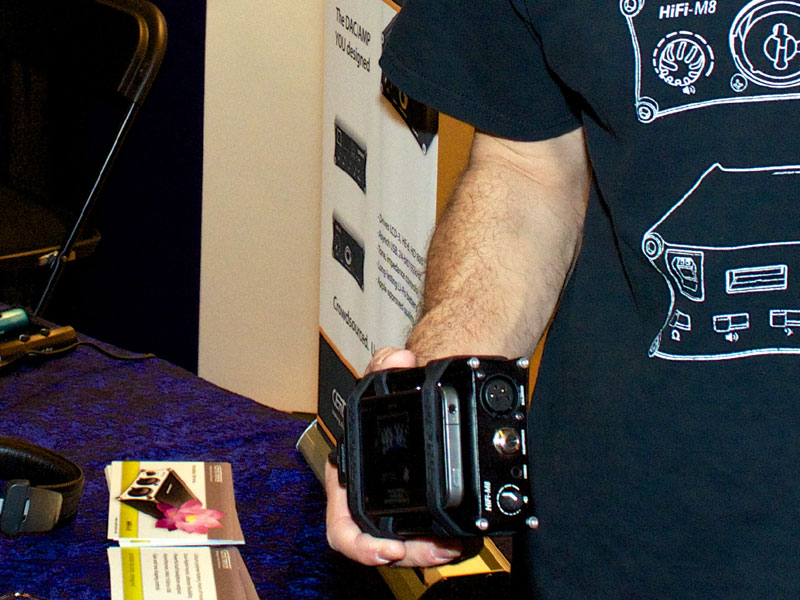 Centrance's managing director Michael Goodman was demonstrating the deservedly popular Hi-Fi-M8 (above, $699) portable DAC/amp, which comes in four configurations and is compatible with Apple. Although it does not have the charging capacity of the Theorem, it is the top choice of many headphone enthusiasts. Sony was showing its DAC/amp, the PHA-2 ($599), in prototype form, in the same "roll cage" as Sony's earlier models. Like the Theorem and HiFi-8, it feeds the asynchronous USB input from Apple and then adds what Sony claims is the highest-resolution DSD decoding on the portable market.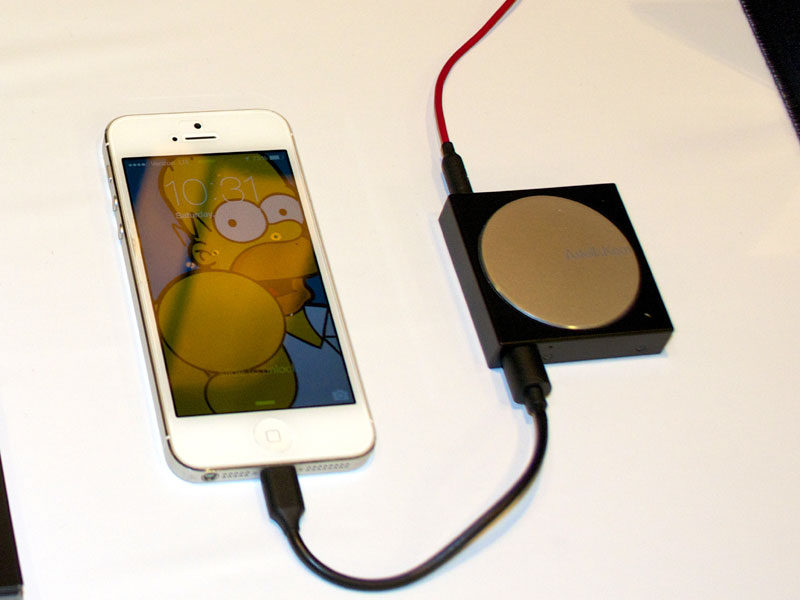 At the lower end of the price spectrum, and with fewer bells and whistles, was the very cute little ALO Island DAC/amp ($299), which comes in an array of colors. Dispensing with an amp and opting for truly miniature size, Astell & Kern's latest offering, the AK10 (shown above with iPhone, $299), looked promising -- it's so small you won't even need a rubber band to tie it to your phone, and its light enough that it should catch on with the jogging set. And if miniaturization is your goal, then in-ear phones were prominent at CamJam. JH Audio showed their new flagship, the Siren Series Roxanne ($1599 plus $200 for a carbon-fiber shell), and Ultimate Ears was busy fitting audiophiles on the run for earmolds for its competing models.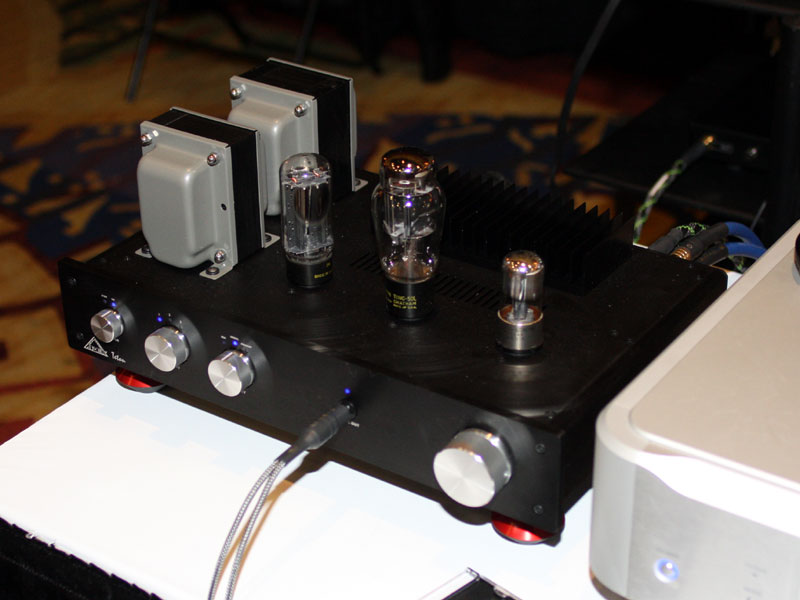 Of course, full-sized headphone amplifiers were also plentiful. Todd Green of Todd the Vinyl Junkie was showing the new Apex OTL tubed Teton ($5000), and it sounded spectacular. A stone's throw away was the king of CamJam, Head-Fi.org founder Jude Mansilla, dispensing wisdom on all things having to do with headphones.