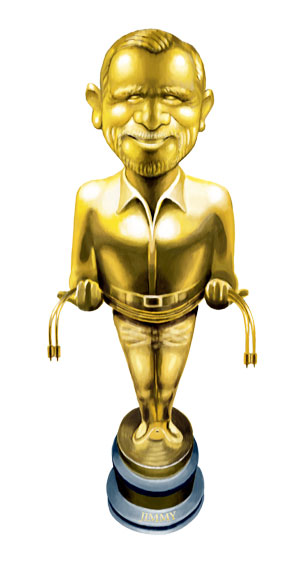 s a long and puzzling existence nears an end, I realize that my life has been an ordeal of criticism more than a passage of joy. Instead of absorbing a moment's pleasures, I have often asked whether the food is too bland, the drinks too watery, the girl I love too . . . whatever. As a result I have missed out on a robust enjoyment of life around me. In hi-fi matters, four decades of buying, analyzing, and selling off stereo equipment has not been a panacea for whatever ails me.

About a year ago, I decided to embrace the day with an open heart rather than observe it with critical eye. As a consequence, I now greet the commonplace with equanimity. My car horn, formerly a road-rage weapon, barely feels a weekly tap. Hi-fi systems that I and others own all sound reasonably captivating -- honest. The Roving Critic has received a complete makeover. On most days, I actually say to myself, "I feel happy!"

This new openness went with me to the CES. Instead of parsing the sound of every system, I let the senses rule. Upon detecting artistry, I felt happy. If not, I felt impatient. In rooms with silent displays, I let the old bond trader in me sniff value for money. Most importantly, I did not let outrageous price tags arouse my animosity. I simply applied the Saxon Happiness Index (SHI) and all was well.

In certain quarters -- for example, my home -- the SHI has become the gold standard by which experiences are judged. The SHI takes its inspiration from social media, where beautiful girls ask viewers to rate their photos. On a scale of 1-100 (higher is better), a negative score is not even contemplated. In real life, however, our activities encompass a broad spectrum of pleasure and pain. A hot cup of Joe at 6:00 AM might be worth 40 SHI points; a glass of strychnine, minus 60. Giddier experiences, such as driving a Ferrari or falling off a cliff, would tend to push the scores further in either direction.

In adapting the SHI for use at the CES 2016, I am pleased to say the scores of only a few unfamiliar exhibitors went negative. All established manufacturers were at least better than zero. Moreover, a number of product displays made me Happy, others had me clapping (as in Happy-Happy) and a few elevated me to utter Euphoria. The following is a recap of those moments.

The Happy group (SHI range 1 to 60)

AudioQuest's JitterBug, a serious component that sells for a measly $49, promises to reduce inherent noise at the output of a laptop-based stereo. Although the filter was not on active display, through the kindness of AudioQuest's VP of Development, Steve Silberman, I was able to take a 'Bug home.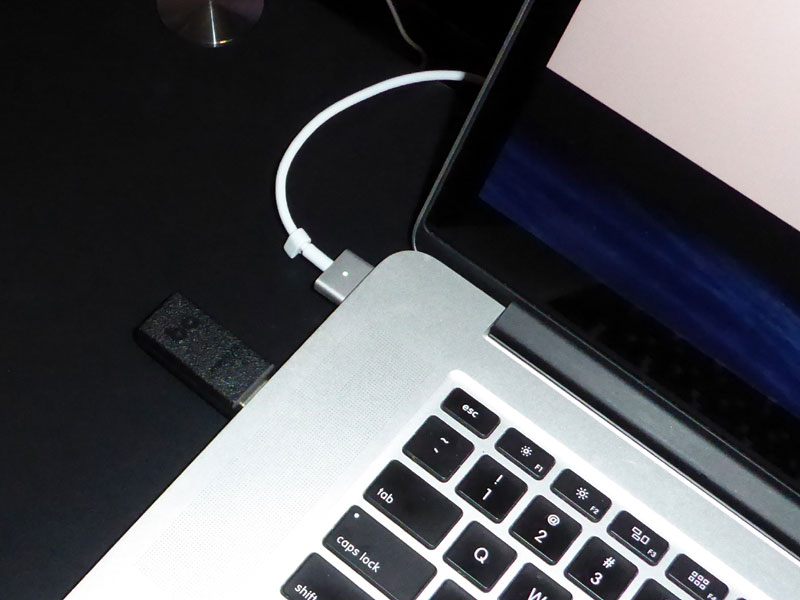 Bridging the gap between the computer's USB output and the DAC cable's input, the open-at-both-ends JitterBug eliminates sonic grit at the source, said to be an easier task than doing so at the DAC end. As TAB's Vance Hiner discovered in his admirable report on the device's technical and sonic aspects, the JitterBug works! Although computer jockeys have alerted me to the existence of competitive devices, I did not see any of them at the CES. For USB Innovation, the JitterBug wins a Jimmy Award.
For those who enjoy smartphone music, Dynaudio has the ideal loudspeaker. The Xeo 2 ($1600/pair) contains its own preamp, power amplifier, and room-equalization software. It functions in analog as well as digital domains and has self-evident hook-up cabling. Best of all, the Xeo 2 is wireless and multi-room capable. And there's more. At normal listening levels, the little guy sounds whisper-close to traditional passive Dynaudio floorstanding speakers: detailed, dimensional and emotionally involving. Bass rolls off at an astonishingly low 40Hz. Is there a credit union to finance the purchase of Xeo 2s by thousands of young women who are so exceedingly adept at smartphone use? The girls would love the speakers and the number of audiophiles in the world would double! Dynaudio takes home a Jimmy for Best Smartphone-Partnering System.
Though barely nudging the happiness needle past 10, the three electronics pieces from Mitchell + Johnson of the UK win a Jimmy Award for Best Entry-Level Stereo System at the CES. The company's throwback price list includes their SAP20IV integrated amp at $499, the CCD20V disc player at $399 and the WLD+211T Network Player at $599. Driving a pair of Golden Ear Triton 5 loudspeakers, ($1998/pair), the Mitchell + Johnson electronics made a presentation that was beguiling enough to appeal to the champagne-and-caviar tastes that sometimes go with beer-and-pretzels budgets.
After a six-year absence, Technics was back with a raft of silver-liveried products. The venerable SL-1200 turntable has been rigorously updated and should inspire a raft of knee-jerk purchases. However, the product that pushed my button was the ingot-like Ottava SC-C500 premium all-in-one hi-fi system ($2500). The Ottava system's top-loading CD player shares a chassis with a 100Wpc stereo integrated amplifier. An internal DAC supports half a dozen input formats, including DSD. Throw in a pair of prodigiously engineered bookshelf speakers designed to throw a wide sweet spot and it's no wonder the SC-C500 wins a virtual trophy for the Best Compact Hi-Fi System.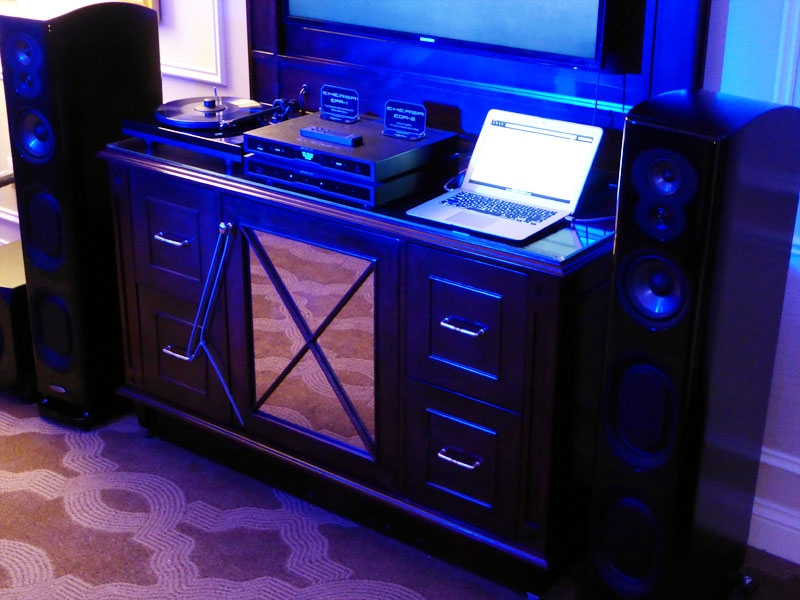 Congratulations to Emotiva of Franklin, Tennessee, the first of two companies to win multiple Jimmy Awards at the same show. Their sleek new Emersa "exec stack" was on silent display, but the knockout looks drew me over. Atop the stack is the EDA-1 preamplifier ($599), which includes a moving-magnet phono stage as well as a fixed 80Hz high-pass crossover for connecting a powered subwoofer, such as Emotiva's Airmotiv S12, a 12", 500-watt model ($699). The bottom component, the 150-watt EDA-2 amplifier ($599), contains an efficient ICEpower class-D module. Since I never met an ICEpower amp I didn't like, I assume the EDA-2 sounds as grain-free and ingratiating as its brethren from other builders. For Best Lifestyle Stereo Stack Under $1200, the Emotiva Emersa lineup lands a Jimmy Award.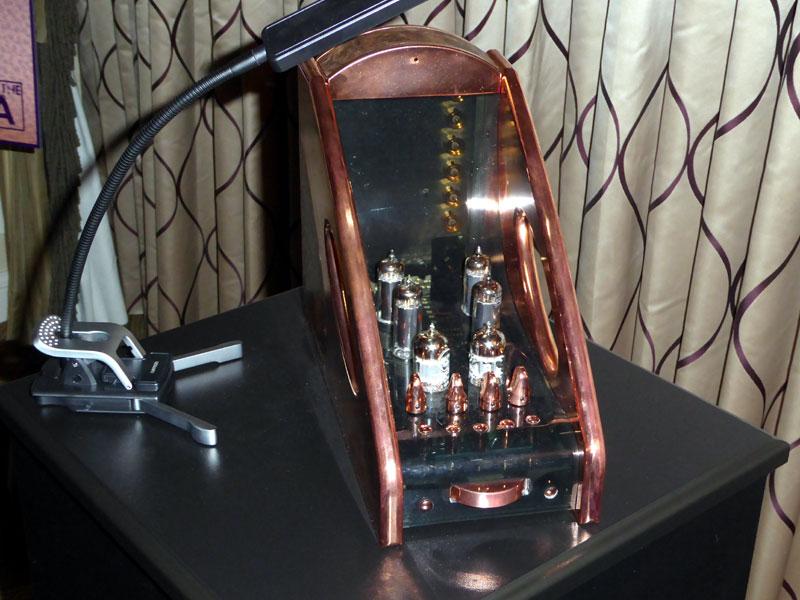 EveAnna Manley of Manley Laboratories is one of my favorite hi-fi personalities, but that won't stop me from praising her newest product, the Manley Headphone Amplifier ($2900 in gray or pewter aluminum chassis, $3400 in Mycenaean bronze). Bristling with half a dozen tubes, the MHA builds upon the success of the world-famous Manley Neo-Classic 300B headphone preamplifier. Like all Manley products, the MHA benefits from professional recording-studio experience. It can be used in single-ended or push-pull operation, has selectable headphone-load settings, bypassable purist tone controls, and user-adjustable headphone-overload protection. At 1 watt maximum, output power is more than enough to tickle the ears. To me, the MHA's most colorful feature is an output transformer trademarked as MANLEY IRON. Roll this all together and Manley Laboratories stakes a claim to the Most Virile Headphone Amplifier award.
Josefina Lichtenegger is an interesting figure on the hi-fi scene. We seldom see attractive young women devoting their talents to audio design. Ms. Lichtenegger's European Audio Team (EAT) builds a selection of turntables in the Czech Republic. The new EAT C-Sharp turntable ($4000 with tonearm) is one of those rare analog playback systems that doesn't require mortgaging the house. Although the noisy CES is not conducive to evaluating turntables, I assume the EAT C-Sharp does a competent job of spinning platters. Certainly the specifications are adequate, and the build quality compelling. Yet, the C-Sharp costs thousands of dollars less than almost all other belt-driven 'tables at the show and that makes me happy. Consequently, the EAT C-Sharp earns a Jimmy for Best Value in High-End Turntable Design.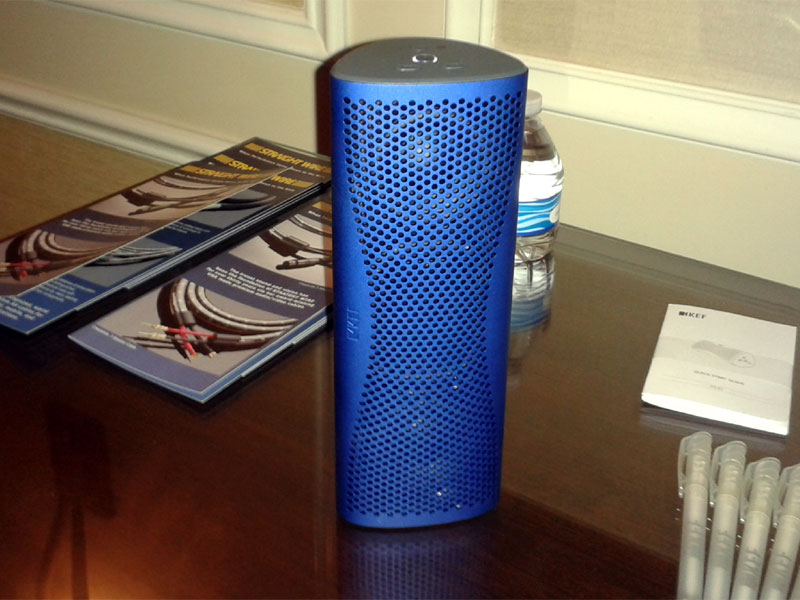 The KEF room had an astounding demonstration from a loudspeaker that's hardly bigger than a 16oz. can of beer. The Muo wireless Bluetooth speaker ($600/pair) operates for ten hours on a single battery charge and comes in an assortment of bold decor-challenging colors. A pair can be stood on end as flanking bookshelf speakers or separated, with one speaker placed flat for a single stereo channel, while its partner plays in a different room. During the demo, the KEF representative emphasized that sound quality was the main concern. He picked up one of the high-resolution channels as it was playing and passed it around the room. Cradling (nearly) full-range music in one's hand was a heady experience. For Best Wireless Streaming Loudspeaker Design, the KEF Muo garners a Jimmy Award.
As a tube-amplifier aficionado, I've been disappointed in the reluctance of manufacturers to embrace the recently developed Tung-Sol KT150 power tube. Apart from Audio Research, whose amplifiers employ the KT150 in detuned specification but to brilliant effect, I was unaware that any other US manufacturer had adopted the egg-shaped wonder-tube until the CES. There, in the Rogers High Fidelity room, on silent display was their two-tubes-per-channel EHF-200 Mk 2 integrated amplifier (price to be determined, guessing $20,000) dressed out in candy-apple red. I was smitten. Rogers products are conservative in design but fanatical in manufacture. Extracting 112Wpc from a pair of KT150s shows an appreciation of the tube's unprecedented power capability. For Going Boldly Where Others Fear to Tread, Rogers High Fidelity's EHF-200Mk2 cradles a Jimmy Award.
At the time I caught the hi-fi bug in 1980, British audio magazines preached the need to build a system from the source up -- in those days, a turntable, tonearm and cartridge. Although we are now transitioning from CDs to ethereal computer files and even back to vinyl, this doctrine holds true today. If I owned thousands of CDs and had a large short position in oil futures, I'd spring for a shining artifact from the CD era, a Metronome Technologie Calypso CD turntable with upgraded Electra power supply ($33,500). Like Metronome's reference player, the Kalista, the Calypso uses the famous Philips CDM12 PRO-2 v6.8 mechanism (rumored to be factory-discontinued) with Metronome modifications. The specs approach perfection: dynamic range, 175dB; distortion, -140 dB; internal operating mode, 32 bits; digital output resolution signal, 24 bits. To my eye, the Calypso's Spartan appearance trumps the portlier, pricier Kalista. Yet, I am confident that Calypso extracts new meaning from every playback. For pursuing the maximum capability of lands and pits, the Calypso earns a Jimmy Award for the Ultimate CD Spinner at the CES.
Ironically, the Jimmy Award for Most Promising Loudspeaker Company goes to Ryan Speakers of California who've been on the scene since the 1980s. Ryan's expertise in crossover design shows in this way: their curvaceous flagship Tempus II sounds great and lists for $15,995 the pair, while their traditional box speaker, the diminutive R620, sounds almost as great and sells for $3500 the pair. The similarity in performance suggests shared crossover expertise as well as internal parts. A champion of the underdog, I gravitated toward the sound of the little speaker, whose partnering components were, appropriately, smaller siblings of those used with the Tempus II. These included the Aurender N100H music server ($2700} and Aurender X725 integrated amplifier/DAC ($2500). The Ryan room was one of the few to list a power-line conditioner, which I regard as indispensable in the noisy electrical environment of the Venetian. In this case the Shunyata Venom PS8 with Venom Defender ($695) provided a quiet background. Cabling was the AudioQuest Diamond USB ($550) and Cardas Clear Reflection biwire speaker cable ($2650/pair). Now that Ryan Speakers are on my radar, I look forward to following their arc of product development.
The Happy, Happy group (SHI range 61 to 90)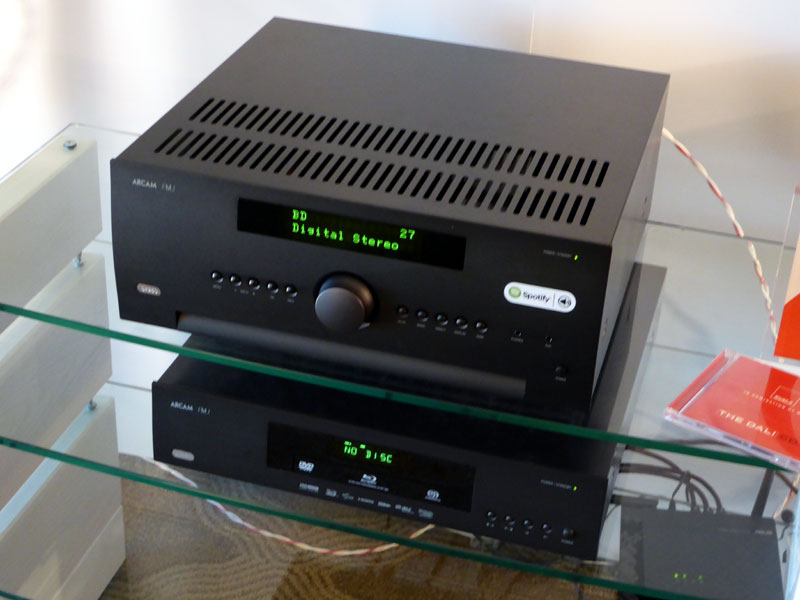 As in prior years, I walked past the Arcam room several times. On the last day this year, I decided to duck in. Glad I did! Arcam's uncluttered system consisted of a pair of stand-mounted ProAc D2 loudspeakers ($3400/pair) hooked up to a stereo A/V receiver, the Arcam SR250 ($3600) that took its signal from an all-encompassing digital source, the UDP411 ($1500) located on the shelf underneath. Although austere, this setup produced a layered soundfield thanks to the soon-to-be-ubiquitous Dirac room-correction system. Dirac measures multi-speaker room responses and produces software that goes into the two-channel receiver. The result is a dimensionality reminiscent of megabuck tube-based systems. The remote control's EQ button accesses the Dirac effect. With the button depressed, The Doors sounded as if they were playing "Riders on the Storm" under a canopy in a rainy parking lot. With EQ off, Jim Morrison's gossamer voice became brittle and the downpour lost its chilly moisture. Although $3600 seems like a lot to pay for a stereo receiver, the Arcam SR250 has no rivals. It wins a Jimmy Award for Best Stereo Receiver of All Time.
The Venetian provides suites for exhibition. A number of companies display their A-team in the living room and the B-team in a bedroom off the hall. Such was the case with Monitor Audio. Their six-foot-tall Platinum 500 II loudspeakers ($28,995/pair) commandeered the living room. Although the display was fine, on the way out my ear caught a more ingratiating melody from the bedroom. There, the diminutive floorstanding Platinum 200 II ($11,495/pair) was mated to Cyrus electronics to sterling effect. At a conversational volume level, the Platinum 200 II was tonally balanced and sweetly detailed, a panacea for overburdened auditory ossicles. My guess is that Cyrus's Stereo 200 amplifier ($3499) contributed greatly. The Stereo 200's clever impedance-detection circuitry enables the class-D amplifier to adjust the output where the speaker needs it most. A speaker-tracking power amp! Other Cyrus products included the CDi CD player ($1899), Pre≤ preamp with DAC ($1999) and two PSX-R≤ "enhancement" power supplies ($1399). For Best Bedroom-Sized Stereo System, Monitor Audio shares a Jimmy Award with Cyrus Audio.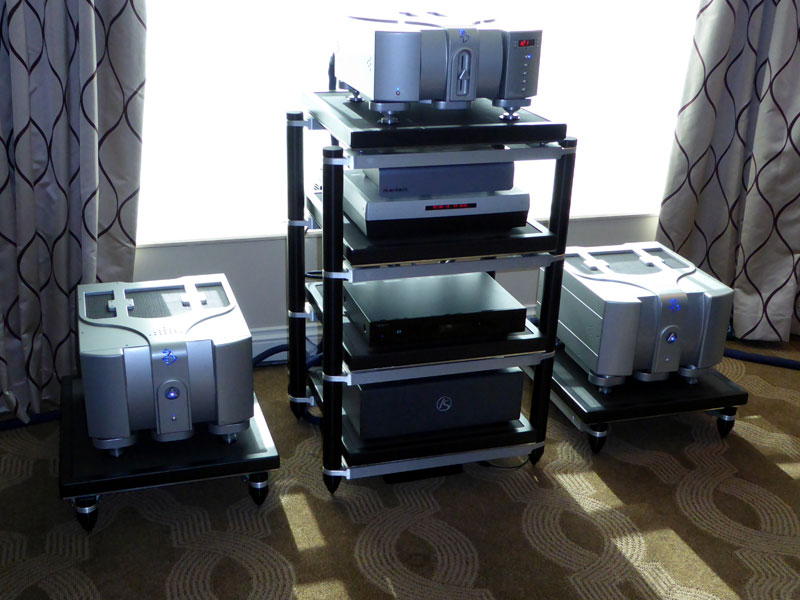 As the son of Krell's legendary founder, Dan D'Agostino, Bret D'Agostino was weaned on audio. He designs amplifiers in his sleep. His five-year-old company, BSC Audio, combines proven schematics with proprietary innovation to achieve the Holy Grail of solid-state design: high-powered class-A operation. The system Bret and his son Brandon brought to CES consisted of BSC Audio L5 stereo remote-controlled line-level preamplifier ($15,900), M5 mono power amps ($30,000/pair), and a Playback Design MPD-5 DAC ($13,000) hooked up to a laptop computer using JRiver media player interface ($49.98). Loudspeakers were Magico S5s ($32,400/pair). Given the M5's enormous 150-watt class-A power output (the groundbreaking Mark Levinson ML2 put out just 25 watts), I voiced concern for the amp's longevity. Bret assured me that his heatsink structure and overall layout will keep BSC Audio amps up and running indefinitely.
Such a guarantee inspired me to request playback of a test CD generously supplied by TAB's Marc Mickelson. Track 1 features Rickie Lee Jones singing a mind-bending acoustic version of "Sympathy for the Devil." The rococo rendition features maracas in the right channel, adding a Latinized syncopation that Rickie Lee exploits with vocal bumps and grinds. Over the course of the next few days I played the track in a number of rooms. Surprisingly, few systems conveyed the maracas' counterpoint in sufficient detail. I even went back to the BSC Audio room to verify my earlier impression. Sure enough, the maracas were there contributing handsomely. In appreciation of this enlightening portrayal, I hereby bestow a Jimmy Award for Most Rhythmically Detailed Solid-State Amplification on BSC Audio.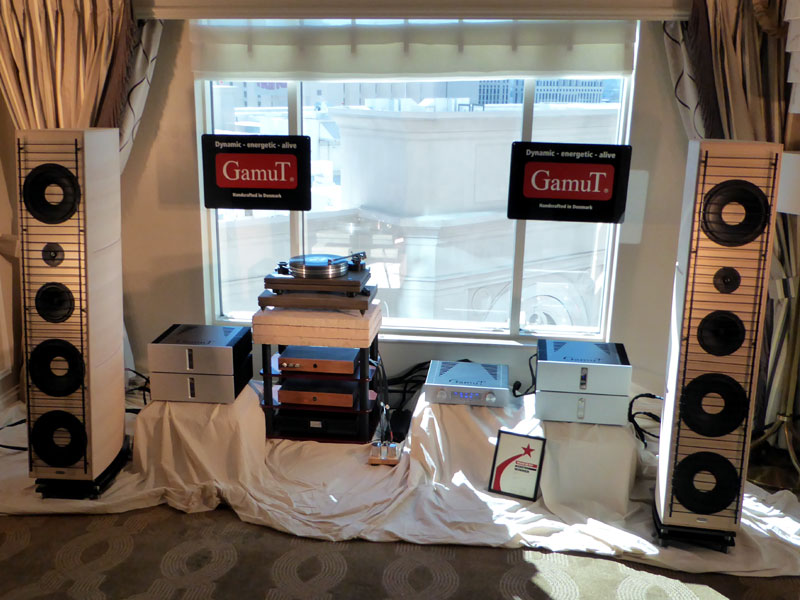 GamuT's flagship loudspeakers, the Zodiacs ($139,000/pair), feature grilles with horizontal dividing lines that remind me of a pair of Raggedy Ann's stockings. The sound, however, was anything but ragged. For the record, the list of GamuT products on demonstration was as follows: M250i mono amplifiers ($25,990/pair), D3 dual-mono preamp ($8390), Lobster chair ($4990 -- I kid you not), Reference speaker cables ($3990/1.5-meter pair), Reference XLR interconnects ($3990/two-meter pair), Reference RCA interconnect ($2990/one-meter pair), and Reference power cord ($4290 each). The record player was a Pear Audio Blue Kid Thomas/Cornet turntable/tonearm ($9990), Pear Audio Blue Reference phono stage ($6495) and Ortofon Cadenza Black cartridge ($2750). Although I enjoyed the rich tonal balance of the Zodiac speakers, I found their respiring woofers disconcerting. Maybe next year the woofers will stay put under stress. Still, I liked the sound enough to award a Jimmy to GamuT for Wildest-Looking Great-Sounding Speaker at CES 2016.
Constellation Audio's Dream Team of designers consists of stars in the audio firmament. Among others, John Curl, Bascom King, Peter Madnick, and the late James Bongiorno have contributed to various aspects of Constellation product design. The legendary Irv Gross handles sales and marketing. As one might expect, the pedigreed results are stunning. Driving a massive pair of full-range electrostatic loudspeakers, (MartinLogan Neoliths, $85,000/pair) was perhaps the most powerful pair of monoblocks on the planet. The 220-pound Constellation Hercules II ($180,000/pair) puts out 1500 watts into 4 ohms. That's two horsepower! As someone explained to me, the logarithmic need for short-term power can be enormous. A snare drum may require a thousand watts for a microsecond. Well then, in the quest for low distortion, let no horse be spared! Even at a reasonable 85dB peaks, the sound of unlimited power pleases the ear by its clarity and sense of limitless ease. To hear it is to want it. Mated to the Hercules II were the Constellation Altair II preamplifier ($87,000 with DC filter), Cygnus Media Server/DAC ($44,000 with DC filter), and Perseus phono stage ($38,000 with DC filter). Constellation used their own turntable brand for vinyl playback: the Continuum Audio Labs Obsidian turntable with Viper tonearm and Transfiguration Proteus cartridge (price to be determined). For Most Impressive Mega-Luxe Product Line at the Show, Constellation Audio wins its first Jimmy Award.
The rattle of machinegun fire drew me in to the SVS room where mayhem graced a large-screen TV. Sharp rat-a-tats with little distortion and zero overhang compelled me to loiter. Although SVS is known for their amazing subwoofers, they have embarked on an entire line of satellite systems that merit strong consideration. After listening to a second surround system -- huge soundfield from minimonitors -- and a stereo demonstration using a pair of entry-level towers ($999/pair), I solicited SVS to hook up their slant-back Ultra Tower speaker. The Ultra Tower has an aluminum-dome tweeter, two 6" midrange drivers and two 8" woofers per side -- all for the price of $998 each. Hooked up to Emotiva electronics. (XSP1 balanced preamp, $999, and XPA1 monaural amplifier, $2198/pair), plus an Oppo BDP-105 Blu-ray Disc player, ($1699), the startlingly quick Ultra Tower had tone aplenty. It was like listening to $20,000 worth of speakers and electronics instead of $6900. Unveiled from the Rickie Lee Jones track were the emphatic fractals that define high-end audio. The performance grabbed me by the heart as well as the purse strings. For 21st-century performance at 20th-century prices, I am giving out three Jimmy Awards: to SVS Sound Ultra Tower as the Best-Value High-End Loudspeaker, to Emotiva electronics (second award) for Best-Value High-End Amplification, and Oppo as Best-Value CD Player at the CES. I can't wait to hear the system SVS puts together next year.
Every year the good guys at Bel Canto Design team up with Joseph Audio to produce award-winning sound. This year was no different, although the dollar cost of the system may have reached an all-time low. Jeff Joseph unveiled his timbre-correct Profile loudspeakers ($6990/pair) and brought his own music files as well. According to Bel Canto's Michael McCormack, "We were running Roon on the computer through USB to the DAC2.7. This gave us all the music that was on Jeff's computer drive and we were streaming from Tidal. It was just that simple with great sound and connectivity to a huge music library, all at minimum CD quality." Since I happen to like CDs, I thought the sound was realistically large in scale. Bel Canto electronics system consisted of the DAC2.7 ($2495) and REF600 mono amplifiers ($4990/pair). Lashing the Profiles to REF600 was Cardas Clear Beyond speaker cable ($9500/pair). When I asked to hear an Elvis Presley track that Michael played in 2014, he spooled it up faster than I can say "Don't Be Cruel." That there Roon is quick. Despite the "minimum CD quality," Elvis was in the room. For capturing the King in all his vintage glory, the Bel Canto Design/Joseph Audio room scores a Jimmy Award for Most Accurate Timbre from Computer Files at the CES.
Cabasse brought with them a pleasant surprise. Although their spherical loudspeakers of past shows won awards, the giant-eyeball-on-a-sharp-stick look was disconcerting. This year, the grand, old French company unveiled a deceptively unconventional tower speaker, the Iroise 3 ($7600/pair in piano black). Although the speaker appears to be a two-way with a pair of woofers, it's actually a three-way design with a coaxial tweeter/midrange. Thus, the vivid point-source imaging of the eyeball endures in more discrete configuration. Cabasse shared equal billing with Esoteric electronics because the same US company, Integra, distributes both lines. In addition to the famous K-01X SACD/CD player/DAC ($20,000), Esoteric premiered the C-02X line stage ($20,000) featuring Grandioso super capacitors, and introduced the S-02 145Wpc stereo amplifier with balanced input stage ($20,000). Signal cables were by AudioQuest, while Shunyata supplied the AC cords and power conditioning. The room's sonic radiance beckoned me to request Rickie Lee Jones. Once again I became engulfed in the plaintive denunciation of human waywardness. The system's synergy was as if the same ear had tuned all the pieces. For providing the Best-Sounding Point-Source System, Cabasse and Esoteric take home a Jimmy Award.
Upon entering the Spendor room, I was transported back in time. The music had a pre-digital -- nay, pre-stereo -- warmth to it. My first thought was, Ah, the Real McCoy. That very instant I noticed a banner on the front wall that proclaimed The Real Deal. Spendor agrees with me! The question then became, if this lush, romantic sound is right, are all other systems wrong? Ah, there's a discussion for another day. Bluebird Music, Ltd., Spendor's US distributor, describes the new SP200 Classic ($24,995/pair) as a three-way "featuring two large 12-inch woofers [emphasis added] in an original Spendor '70s style-floor-standing enclosure." The SP200's -3dB low-frequency response is 20Hz, yet, despite all the woofing, the sound was clear and refined, if somewhat colored. Credit, or blame, may go in part to the lovely Leema Acoustics electronics. Designed by former BBC engineers, Leema's products use professional balanced circuitry and are overbuilt. For instance, their Hydra II stereo amplifier ($11,795 each, bridged for mono) features three toroidal transformers, two more than usual. The Pyxis preamp ($4995) is fully balanced, hard to do at the price. When used with Leema amps, the Antila IIS eco CD player ($4995) has a gain control forestalling the need for a preamp. Perhaps, the sound in the Bluebird room wouldn't appeal to most North American audiophiles, but as a lover of history, I could listen to Spendors forever. The Spendor-Leema exhibit deserves a JA for Most Nostalgic Sound at the Show.
The Bryston suite provided an opportunity to converse with one of the great men of high-end audio. While a number of visitors milled about, Bryston's vice-president and brain-trust, James Tanner, sat alone on a sofa rapt in music. I seized the opportunity to park myself next to him. James was in a cordial mood. Indeed, the smallest in the line of Tanner-sponsored loudspeakers rocked the house. The Mini-T ($3200/pair in standard finish) is the Baby Huey of bookshelf speakers. A three-way with 8" woofer, the Mini-T weighs in at 42 pounds. Shoving one onto a shelf could be a chore. James Tanner's design brief was, first of all, to eliminate compression. Mission accomplished! The Mini-T's dynamic capability rivaled that of loudspeakers twice as large and ten times the price. The second goal was to attain wide dispersion with a generous sweet spot. The Mini-T was not quite capable of three abreast imaging, but it was good for two. The Bryston electronics consisted of Bryston BDP2 digital player ($2399), BDA3 DAC ($3495), BP26 preamp ($3995) and new 7B [cubed] mono amplifier ($11,000/pair). Before the show, Mr. Tanner was on my list for a Lifetime Achievement Award, but based on the performance of the Mini-T, I see he's not done yet. For the Most Lifelike-Sounding Bookshelf Speaker, the Mini-T racks up a Jimmy Award.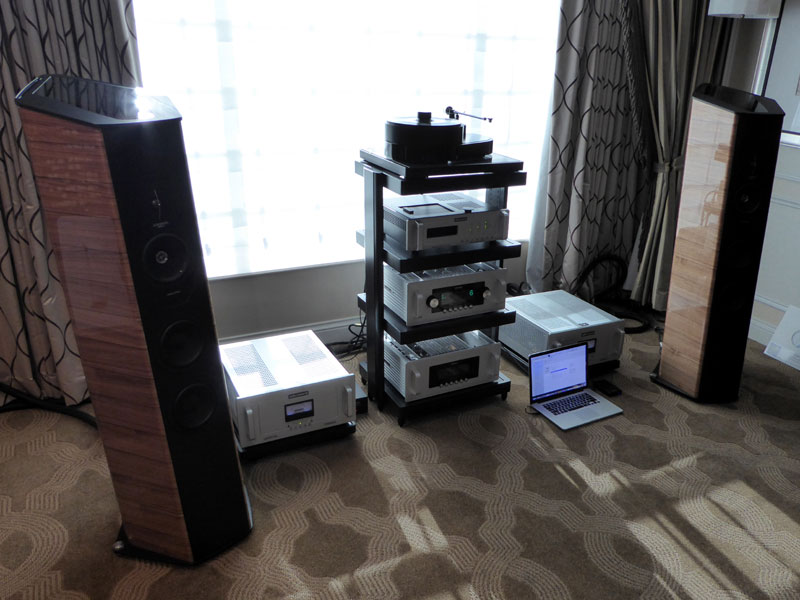 Audio Research Corporation brought with them two new tube components, the Reference Phono 3 phono stage ($14,000) and Reference 6 preamplifier ($14,000) to go with a pair of Reference 250 SE mono amplifiers ($34,000/pair). Audio Research's sister company, Sonus faber, unveiled a pair of five-sided blood-red (never mind the picture) loudspeakers lyrically called Il Cremonese ($45,000/pair). For vinyl playback, Audio Research enlisted the aid of components from Germany, including the AMG Viella V12 turntable and tonearm ($16,500) and the Clearaudio Goldfinger Statement cartridge ($15,000). The latter amount seems like a lot of money to spend on a "needle," but record collectors tend to be rich as well as fanatical.
Audio Research's sales director, Dave Gordon, introduced me to Mike Tsecouras, who's not only the president of Audio Research but also the chief technical officer. Given Mike's long career in the field of high-tech electronics, Audio Research's creative reins appear to be in excellent hands for years to come. Although the room was crowded and the music selection unfamiliar, I sensed that the sound was a tad more neutral than in years past, thanks in large part to the new loudspeakers. For keeping pace with the times, Audio Research and Sonus faber earn a Jimmy Award for Leadership Excellence in the Field of High-End Audio.
Euphoria (SHI range 91 to 100)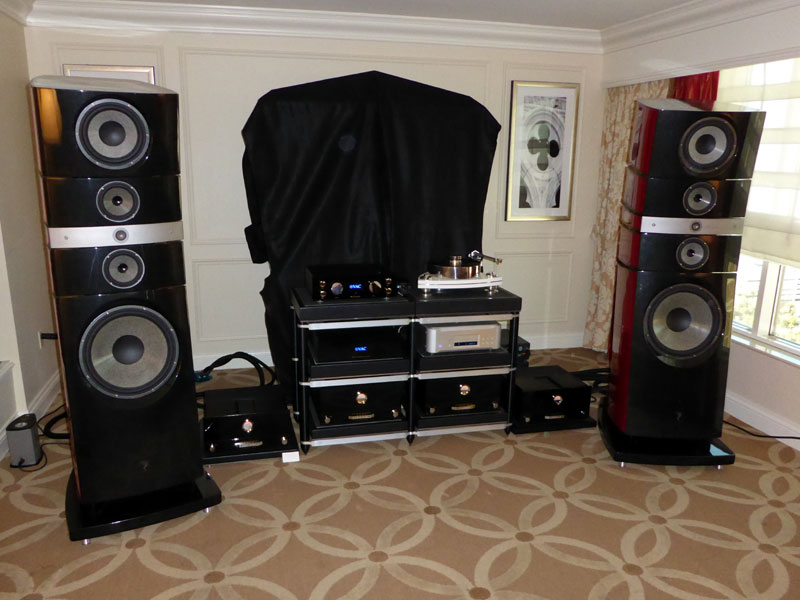 Valve Amplification Company managed to pull off a neat trick. Kevin Hayes' reasonably priced but awesomely implemented tube gear made the monstrous Focal Grande Utopia loudspeaker ($195,000/pair) mind its manners. The key to control was the VAC Signature 200 IQ amplifier with patented constant stable-bias technology ($14,000 each, four in use!) The IQ monitors output-tube bias changes even as the music is playing and corrects them to within 0.5 milliampere -- fanatically high technology in the service of hi-fi. The VAC Master Preamplifier with phono stage, ($40,000) was the company's only other piece. The playback source was a Transrotor Rondino turntable ($14,000) with TR-5009 tonearm ($3500) and an Air Tight PC-1 Supreme cartridge ($11,000). The VAC room was one of the few that used, or acknowledged using, power-line conditioning, in this case Shunyata's Triton and Typhon (original versions, $4995 each.). The musical result reminded me of Gene Tunney in a tuxedo -- suave but powerful when called to action. For stuffing a monstrous pair of speakers into a living-room-sized venue and producing a sweet tonal balance with life-sized, but no bigger, imaging, Valve Amplification Company wins a Jimmy for Most Well-Controlled Sound at the Show.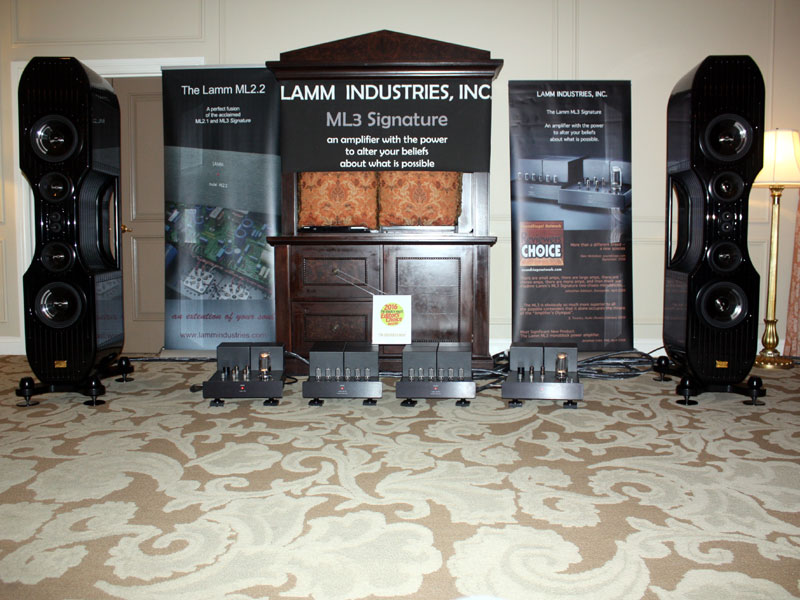 The Best Full-Range Loudspeaker at the Show was the Kharma Exquisite Midi Grand ($225,000/pair) so bountifully employed in the Lamm Industries room. Of course, the price is outrageous, but these awards are about happiness, not penny-pinching. Besides, I love the weird use of the French word "midi," which I take to mean "midday" as in, "Honey, bring me my midday speakers." Nevertheless, the Kharma EMG performs better than any box speaker I've ever heard. The openness and dimensionality rival that of Nola's open-baffle bipolar designs. Center imaging is pinpoint like that of a minimonitor but tall and meaty. Apparently, the key to the EMG is the new Omega F-Driver, four of which grace the loudspeaker's baffle. This dismisses iron from the magnet motor system, which raises the question, what's a magnet without iron? Eliminating Eddy currents from the voice coil allows the driver to move freely in response to the signal, unhindered by a magnetic counterforce. The result is increased transient speed, lower distortion and less coloration. The result is a spectacular sense of realism. Driven by Lamm electronics, the Kharma Exquisite Midi Grand was like listening to no speaker at all.
After four years at the top, my favorite loudspeaker manufacturer slips to a highly respectable second place in the race for best sound. This tiny decline is not a negative reflection on the wonderful Nola Metro Gold Reference loudspeakers ($33,000/pair), which sounded ravishing. Nor did the change of past shows' partnering electronics from Audio Research to Valve Amplification Company's excellent tubed electronics (VAC Master preamp, $28,000 and VAC Signature 200 IQ stereo amplifier, $14,000) make any difference. Rather, the room that aced out Nola consisted of the finest electronics on earth costing a minor fortune to assemble. The legerdemain of that assemblage enabled one of history's greatest tenors to arise from the grave and sing to his heart's content. Still, my second-most-memorable experience at the CES occurred when Nolas's designer Carl Marchisotto told me to stay for one last tune. He sauntered over to the Audio Research Reference CD8 ($9000 when it was available) and inserted a CD (my favorite medium!). As I resumed my seat, the first notes of Carlo Santana's "Black Magic Woman" wafted into the room. Once again, the Nola magic show was on. If I could relive a moment from the 2016 CES, it would be listening to Santana standing there playing guitar in the Nola room. For that lucid memory, the Nola Metro Reference Gold wins a Jimmy Award for Most Holographic Loudspeaker of All Time.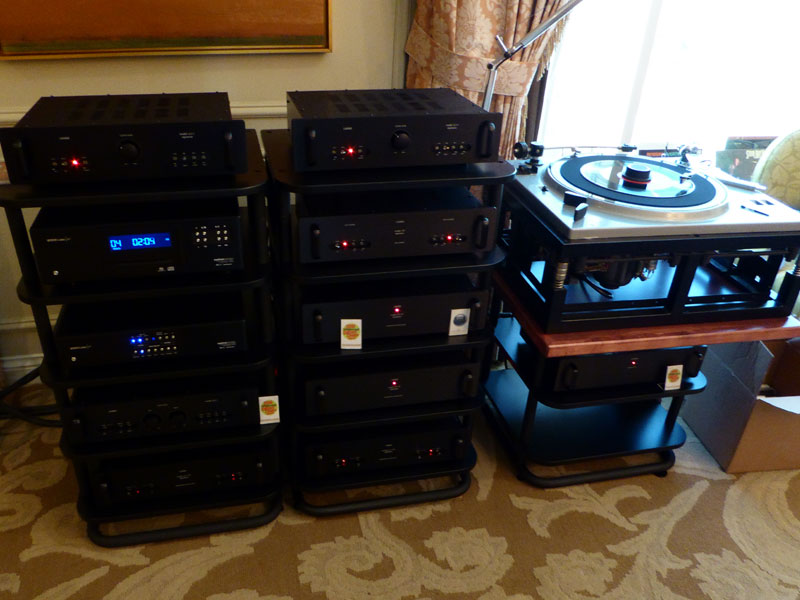 In an unprecedented development, Lamm Industries swept the award cupboard bare. Their big room hosted the Best Full-Range Speaker (Kharma Exquisite Midi Grand) and launched the world premiere of the four-chassis Lamm LL1.1 Signature line-level preamplifier ($45,390, including two separate power supplies). The LL1.1 debut couldn't have been more impressive. Mated with Lamm's award-winning LP1 Signature phono stage ($35,690 for three-box set) and driving the ML3 Signature single-ended triode 32-watt mono amplifiers ($139,490/pair), the new preamp was, despite the name, virtually without signature. The perfect answer to the question "How did it sound?" is "Couldn't hear it." The Best Preamp at the Show, by far, was the Lamm LL1.1 Signature.
Playback source in the big room was an out-of-production EMT turntable ($50,000) and SME 3012 tonearm ($3000) along with an in-production ZYX UNIverse Premium cartridge ($14,495). Toss in Kubala-Sosna cables valued at $130,000 and it's easy to see why the total cost of Lamm's big-room system pencils out at $733,880. (Note: Their small-room equipment tipped in at $658,106!) Was it worth it?
When I first entered the big room, a bit of boring, bombastic demo music, typical CES fare, was playing. I was contemplating lunch when I overheard Lamm's guiding light, Vladimir Lamm, say (ironically), "Single-ended triode amplifiers can't do bass." This understatement perked my attention. We all know SET amps are underpowered at 30 watts or so max. How on earth did the "little" Lamms control such big speakers? That's when I decided to stick around and learn something.
With unhurried fingers, Mr. Lamm removed a record from the sleeve and cued up the needle. It was opera, not my favorite genre, but the power of the music was overwhelming. It was like witnessing Fourth of July fireworks from an unsafe distance. I was transfixed. Repeating the cueing up ritual with another record, Mr. Lamm sensed it was time for a showstopper. The next selection was Josť Carreras's "vesti la giubba" from Leoncavallo's opera Pagliaci. I'd never heard a tenor sound so real, so drenched in pathos. When the legend launched into the famous lyric "Laugh clown at your broken love, laugh at the grief that poisons your heart," I became dismayed. My mind's eye caught the image from The Untouchables where Robert DeNiro wipes away crocodile tears as Sean Connery is gunned down in his apartment. I was filled with anger, a need for revenge! Every hair on my hirsute body stood on end.
Now, that is how a stereo system should evoke emotion. Subsequent tracks had a more cerebral effect on me, but the damage had been done. Lamm Industries sews up the 2016 Jimmy Award for Best Sound at the Show.