Rocky Mountain Audio Fest 2015 • TABlog
by Roy Gregory | October 4, 2015
hile the arrival of Devialet's Phantom has been characterized by a tsunami of hype (remarkable even by the standards of the audio industry), underwhelming performance and overwhelming bass -- neither of which were changed by the RMAF experience -- the massive marketing spend and the sheer volume of the noise it has created have served to focus attention on the whole category of self-contained, or source-plus, systems. These twin-cabinet setups contain everything you need to make music -- except your chosen source. They'll accept multiple inputs, decode digital signals, offer system control -- and even in some cases make the tea. They generally claim to offer some kind of groundbreaking technology or topology that promises superior sound, often from an unfeasibly small enclosure.
RMAF offered two contrasting iterations: one a clever, compact model that goes head to head with the Devialet design, the other the latest version of a more ambitious system that was one of the early pioneers in the field.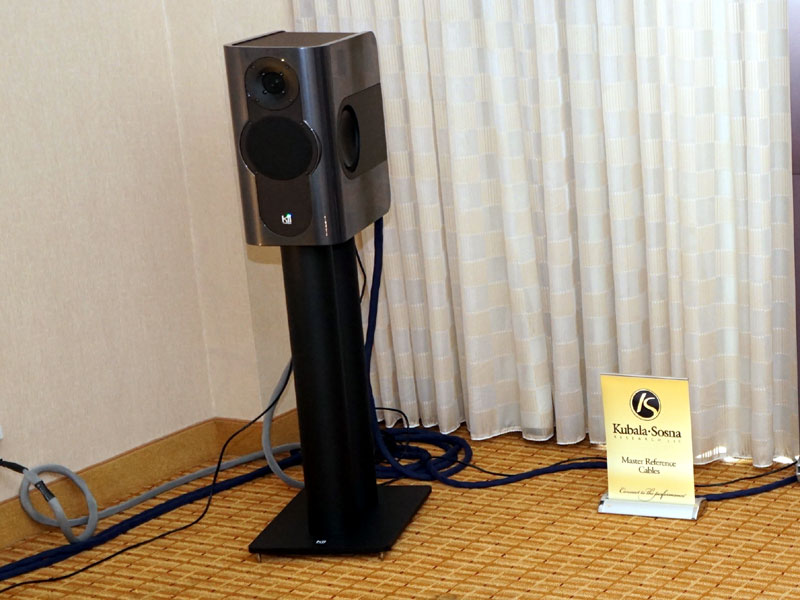 The Kii Three: the one that actually delivers what the Phantom promises. Kii is a German company, producing a compact speaker designed in Belgium and manufactured in Holland. But what is perhaps more significant is that it stems from the fertile pen of Bruno Putzeys, best known as the man behind Ncore digital amplifier technology. The speaker itself is both extremely modern and, to my eyes at least, extremely attractive, especially in the standard white finish. It offers a narrow 8" face to the listener and a square, 16" aspect to the side, with drivers on all the vertical faces. The 1"/26mm aluminum-dome tweeter is paired with a 5"/127mm midrange unit (about which Putzeys is rather coy) and two side-firing and two rear-firing drivers. Each driver is driven by its own 250-watt Ncore amplifier, with a choice of either analog or digital inputs allowing you to run the speakers in a range of different configurations. Bandwidth is claimed to extend down to 20Hz ±0.5dB, with a sustained output capability of 105dB and a 115dB peak capability.
Those are some pretty remarkable numbers, at least in part born out by the levels and scale achieved in the demonstration at RMAF. But perhaps what was most impressive was just how controlled those low frequencies were. The active drive is DSP controlled to create a cardioid-pattern, controlled-directivity bass output that helps prevent unfortunate room reinforcement from walls or corners. It's early days, but the Kii Three certainly shows every sign of being a very clever little product indeed. A pair of speakers will cost you $13,900 and deliver high-quality high SPLs of serious musical integrity -- in stark contrast to the bloated and impenetrable noise generated by the Devialet alternative. This is definitely one to watch.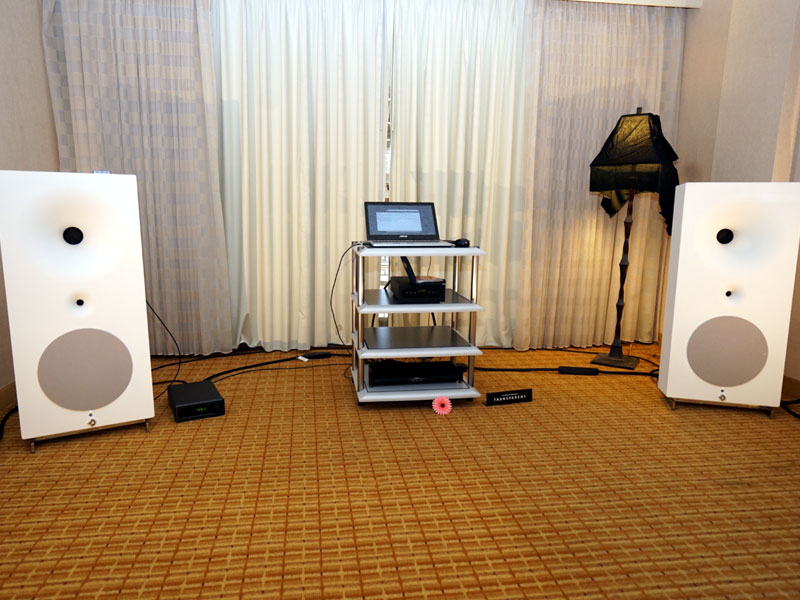 The Avantgarde Zero 1 XD: the one that takes things several steps further. The Zero 1 first saw the light of day at Munich two years ago. It's a remarkable package, consisting of two cast baffles that incorporate spherical-horn mouths for the mid and treble drivers (both driven by class-A amplifiers with linear power supplies) and an actively driven, DSP-equalized 12" bass unit, to create a stylish, compact but seriously potent active speaker system. The incredibly smooth transition between baffle and horn makes photographs difficult and slightly disconcerting, but it looks beautiful in the flesh and contributes mightily to the speakers' sense of expansive dynamics and integration. The master speaker accepts and controls source inputs and can feed the signal wirelessly to the slave, eliminating speaker cables from the equation. A series of options have been added since launch, and these have now been combined into the new XD model, which offers superior wireless transmission and also accepts both digital and analog inputs. The price in the US is $21,950 and the available finishes are white and dark gray.
The system at the show achieved impressive results driven directly by a laptop running Jplay software or a $1400 Bel Canto CD3T feeding the Zero 1's AES/EBU input. With multiple input options and a clean, modern appearance, this is a remarkably capable system with true high-end pretensions and potential. Avantgarde have been making hybrid spherical-horn systems work for decades, but in many respects the Zero 1 XD is their most remarkable product since the original Trio.