Rocky Mountain Audio Fest 2015 • International Hi-Fi Press Awards
by Dennis Davis | October 12, 2015
he first annual Rocky Mountain International Hi-Fi Press Awards (IHPA) were launched at this year's 12th annual Rocky Mountain Audio Fest. Voting in the awards were ten publications from around the world: Audio Video (South Africa). AVMENTOR.net (Greece), Digital Audio Review (Australia), FIDELITY Magazine (Germany), Head-Fi.org (United States), Hi-Fi+ (United Kingdom), Innovation & Tech Today (United States), STEREO (Germany), Stereophile (United States), and The Audio Beat (United States).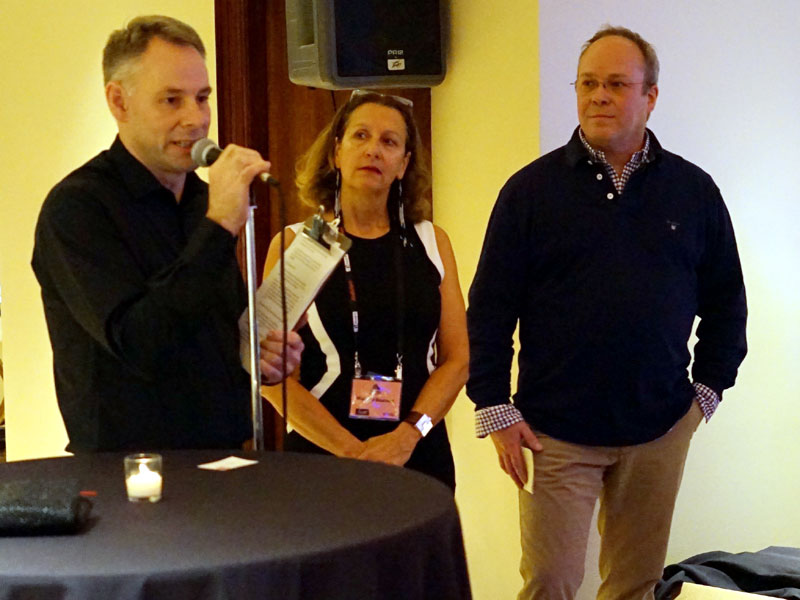 The awards were presented by Roy Gregory of The Audio Beat (left), Ingo Schulz of Fidelity Magazine (right) and Marjorie Baumert of the Rocky Mountain Audio Fest. The ceremony was held on October 2, 2015 at the Hyatt Regency Tech Center near the Marriott Tech Center, where the RMAF was staged.
The categories and winners were:
CD player: Aesthetix Romulus Signature
D/A converter: PS Audio DirectStream
Music servers and computer-based audio: AURALiC Aries
Mobile player: PonoMusic PonoPlayer
Turntable: VPI Industries Classic Signature
Pickup cartridge: Lyra Etna
Tonearm: VPI Industries JMW-3D
Phono stage: Rogers High Fidelity PA-1A
Integrated amplifier: Devialet Expert 200
Preamplifier: Audio Research Reference 10
Stereo power amplifier: PS Audio BHK Signature 250
Mono power amplifier: Ayre Acoustics MX-R Twenty
Bookshelf loudspeaker: KEF LS50
Floorstanding loudspeaker: KEF Blade Two
Headphones: HiFiMAN HE1000
Headphone amplification: MOON by Simaudio Neo 430HA
Power cable: AudioQuest WEL Signature
Signal cable Analogue: Nordost Valhalla 2
Signal cable Digital: Atlas Mavros Ultra S/PDIF
Power conditioner: IsoTek EVO3 Aquarius
Racks, platforms & supports: Harmonic Resolution Systems RXR Audio Stand
Best audiophile recording (Digital): Chesky Records, David Chesky & Jazz in the New Harmonic: Primal Scream
Best audiophile recording (Analogue): Analogue Productions, Roger Waters - Amused to Death
Innovation: Master Quality Authenticated MQA
Value for money: AudioQuest JitterBug
Lifetime achievement: Dieter Burmester of Burmester Audiosysteme GmbH
The organizers followed the awards ceremony by meeting with an aim toward refining the categories and voting process and expanding the number of publications involved in the voting process.