Rocky Mountain Audio Fest 2012 • Three Days in Denver: Friday
by Paul Bolin | October 26, 2012
It is now apparent that the Rocky Mountain Audio Fest (RMAF) has become perhaps the most important show on the annual audio calendar, at least here in the US. What was only a few years ago a cozy little regional get-together for the two-channel high-end audio crowd has grown like Topsy into a true monster of a show. This year there were more than 170 (!) rooms and 400 exhibitors. Yet things still ran smoothly and efficiently, which is certainly a tribute to the fine folks at the Colorado Audio Society.
The annual Las Vegas gathering of the audio tribes at the Consumer Electronics Show may be bigger, but RMAF is truly a place where big things happen. How long it will be possible to limit this show to three days is becoming an open question. As has become the norm, some of the biggest names in high-end audio chose the RMAF to introduce flagship components and systems.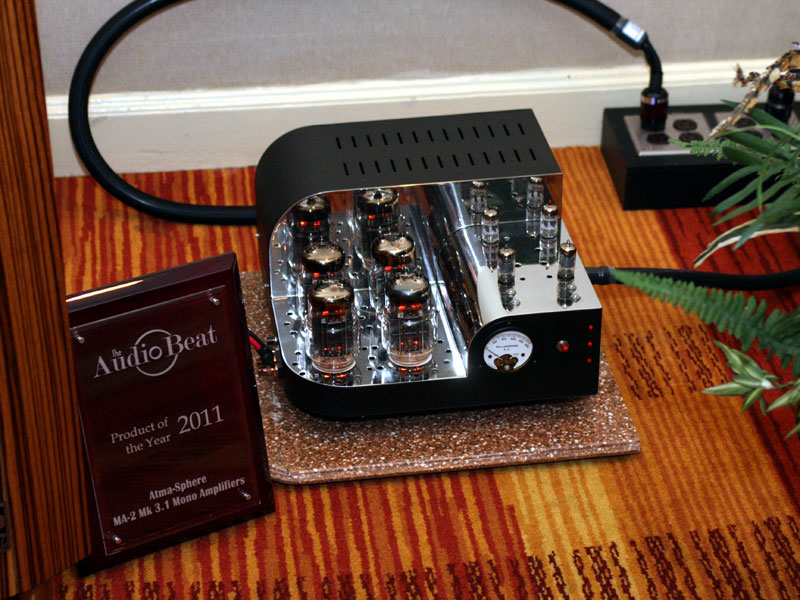 Atma-Sphere reintroduced its very rare (between 30 and 35 pairs were made in only two production runs) and increasingly legendary Novacron mono amplifiers ($12,000/pair). Like the originals, which sell for crazy prices on eBay these days, the new Novacron uses four 6C33 output tubes per side to provide 60 watts. The amplifier now features an improved voltage amplifier and individual bias controls for each power tube. It uses V-Cap copper-foil Teflon coupling capacitors and Teflon power-tube sockets. To my eyes it is the most seductive-looking and sheerly gorgeous tube amp that has ever been made, and it still sounds every bit as good as it looks. The interested should queue up immediately, as Ralph Karsten will again be producing only a limited run of these beauties.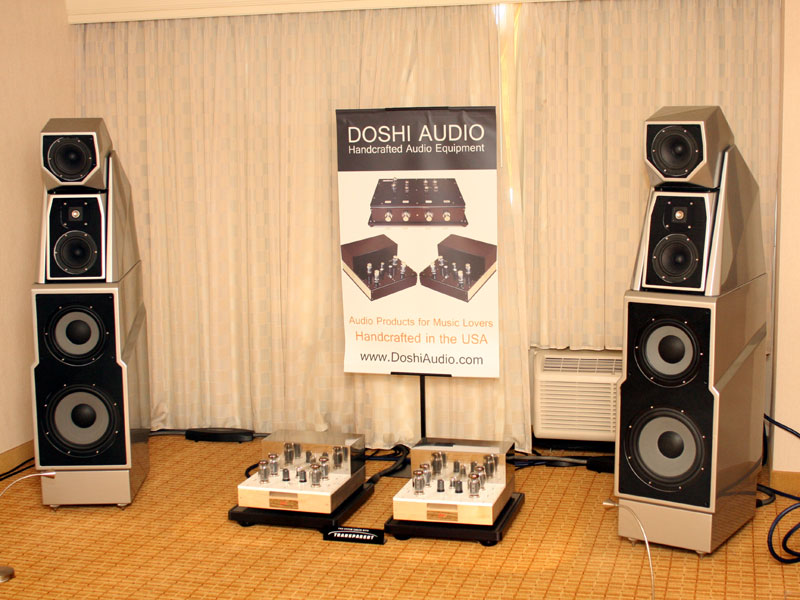 Nick Doshi of Doshi Audio is in the best possible way a throwback to an earlier audio time. He builds very attractive, excellent-sounding tube components one at a time by hand. I had been very taken with the sound of the Doshi gear on Wilson Sasha W/Ps at the 2011 RMAF, and this year it came back bigger and better. The new Jhor 160 monoblocks ($28,995/pair) were driving Wilson MAXX 3s ($68,500/pair). The Jhor 160s deploy a quartet of KT120 output tubes and put out 160 watts into a 6-ohm load. The 160's industrial design is strikingly cool-looking to anyone who, like me, is a tubeaholic.
Also on hand were Doshi's new Alaap v3.0 remote-control line stage ($14,995), Alaap v2.1 phono stage ($10,995), a Wadia S7i CD player ($13,950), and Playback Designs' MPD-5 Reference DAC ($13,000). Analog sources were an SME 20/3 turntable with a Series V tonearm ($15,500) carrying a Koetsu Urushi Vermilion cartridge ($5850) and a Technics tape deck, the electronics of which were completely bypassed in favor of Doshi's Alaap v3.0 NAB tape equalizer/preamplifier ($10,995). Cabling was Transparent Audio's Reference XL series, and Harmonic Resolution Systems provided the racks. Sound was lush, detailed, and enticing, but there was a bit of "too much speaker for a small room" syndrome in the bass. Apart from that, a very nice room indeed.
Distributor GTT Audio kitted out a pair of rooms. The smaller held PS Audio's PWT Memory Transport ($3500) driving a French-made Devialet D-Premier amplifier, which serves as phono stage, preamplifier, DAC and puts out 250Wpc while looking very Star Trek: The Next Generation. Speakers were YG Acoustics Carmels ($18,000/pair) and cabling was Kubala-Sosna Emotion (interconnects and speaker cables, $3000 for the first meter; power cords, $1100 for the first meter). With JŠnos Starker's performance of the Bach Sonata for Solo Cello in G [Mercury 432 757 2], one of my show staples, there was wonderful air and ambience but also an edge in the cello's upper register that seemed to pull it forward in space. On the demo version of "Mother Nature's Son," there was more emphasis on pick hitting string than seemed entirely natural to my ears.
The much larger second room displayed an Accuphase DP-600 SACD/CD player ($21,000), Veloce Audio LS1 Mk II line stage ($18,000), Tenor Audio 175S stereo amplifier ($55,000), YG's Anat III Studio speakers ($74,000/pair) and Kubala-Sosna's Elation cabling (interconnects and speaker cables $6000/first meter and power cords $1800/first meter). A well-defined stage and solid imaging were surely present, but the same the upper midrange edge as in the other room was still present. There was a coolness to the presentation of the splendid cover of "Light My Fire" by Brian Auger and the Trinity with Julie Driscoll (Streetnoise [Ghost Town QSCD 4031]), which was a go-to track for me at RMAF, as if an emotional step had been taken back from the immersive presentation I'd heard in other rooms.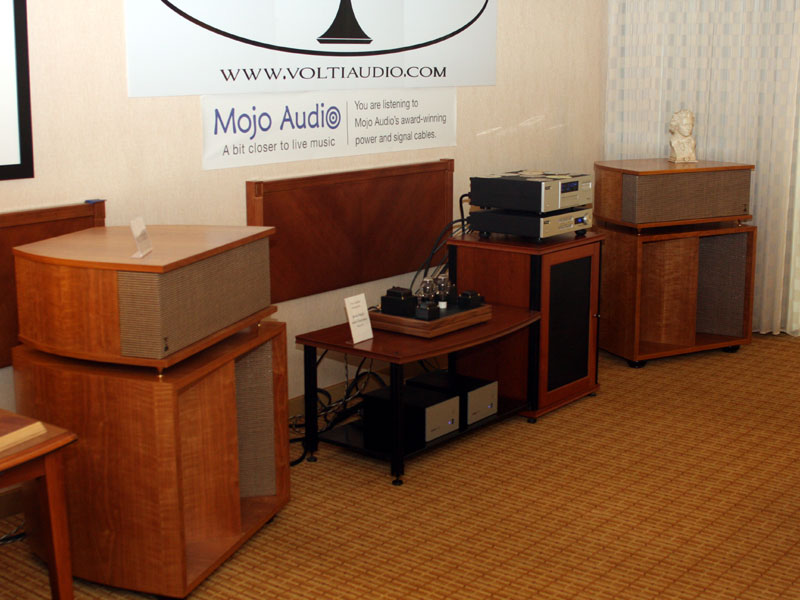 Last year Marc Mickelson told me that I had to hear the Volti Audio room, and I was glad that I did. This year Greg Roberts was back with the perfectly lovely sounding Vittora ($15,000), which resembles more than slightly the very old-school Klipsch Belle and La Scala, a similarity that is entirely intentional. The Vittora features a 15" bass driver in a single folded-horn enclosure, a 2" compression midrange driver and a 1" high-frequency compression tweeter. The latter two drivers are fitted to elliptical Tractrix horns built by Roberts. Amplification was Border Patrol's S20 single-ended 18Wpc 300B amp ($13,750), fronted by the EMM Labs CDSD SE player and DCC2 SE digital control center. Though Roberts claims only a 50Hz floor for the Vittora, it sounds as if it goes much deeper than that, and is as relaxing and engaging a speaker as one can find. There is nary the slightest whiff or hint of horn colorations, and jazz in particular was bewitching through the Vittoras. Marc said that he could "just sit there and listen for hours," and I fully concur. This is one of those speakers that simply makes you forget about hi-fi as such when you hear it. For those desiring more low-frequency oomph, a subwoofer featuring a downward-firing 18" driver is available for a mere $2400.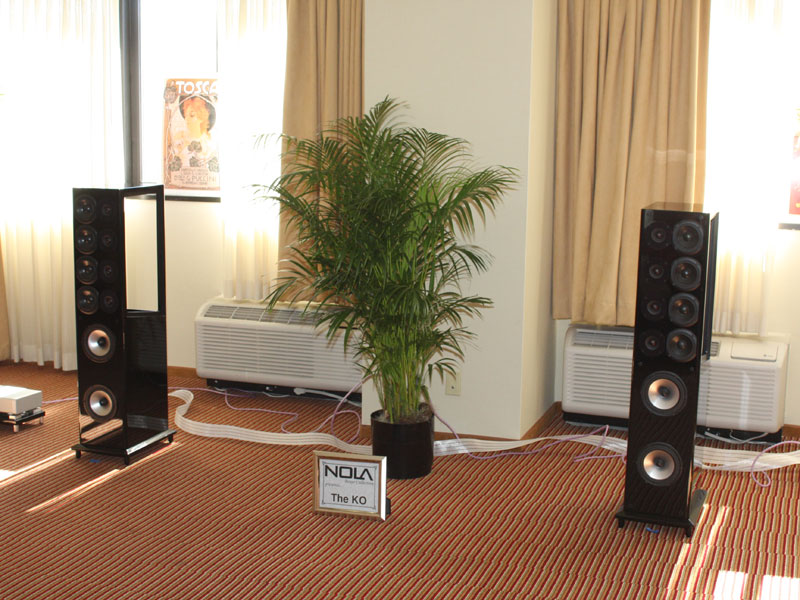 Nola showed their new-at-Newport Beach KO ($9800/pair), the top speaker in their Boxer collection, with the usual full suite of Audio Research Reference electronics, including the Reference 75 power amplifier ($9000) that I previewed a couple of months back as well as a full loom of Nordost Odin cabling and Quantum power products. The KO looks like nothing so much as a three-quarter-scale Baby Grand Reference, though it does not have the larger and more expensive speaker's ribbon tweeters, the highs being covered by four 1" silk-dome drivers. Like the BGR, it is an open-baffle speaker, save for the woofers. The KO produces a crazy-big and beautifully delineated soundstage on orchestral music, just like its big brother, and showed some eyebrow-raising dynamics from its pair of 7" metal-cone woofers, which operate in separate chambers. The KO is very refined, as are all of Carl Marchisotto's designs, and profoundly musical. Anyone looking for a gallon of performance in a pint pot should plan on hearing the KO as soon as possible.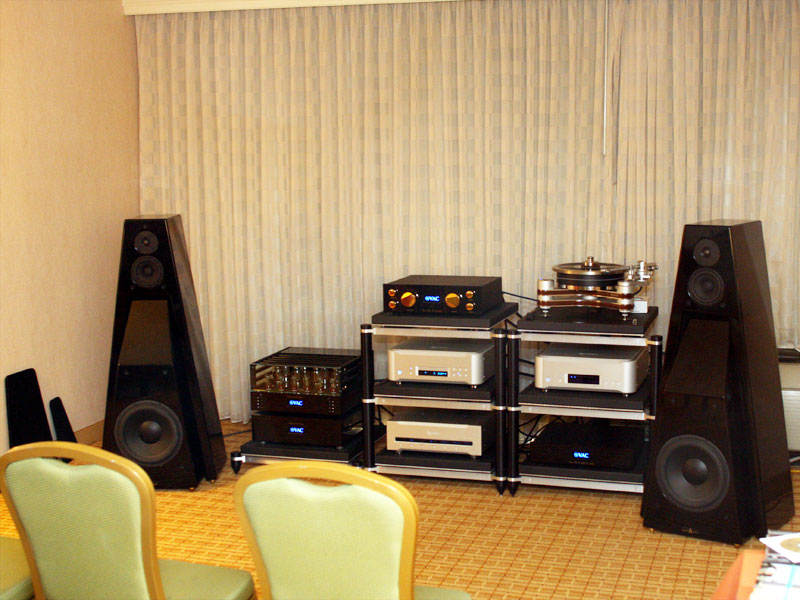 VAC and Gershman Acoustics made an excellent showing at RMAF. VAC's Signature Mk IIa full-function preamp (yes, a preamp complete with phono stage, $19,500) and Statement 450S Stereobloc 225Wpc power amplifier ($39,000) were partnered with Clearaudio's Innovation Wood turntable ($15,000), Goldfinger Statement cartridge ($15,000) and Outer Limit peripheral clamp ring ($1350), the Esoteric P-02 transport, D-02 DAC ($23,500 each) and G-0rB clock ($17,800) driving Gershman's Black Swan speakers ($45,000/pair). Critical Mass Systems stands provided support.
This was a very well-thought-through and polished system with fine imaging and excellent textures on Mark Knopfler's The Ragpicker's Dream and on the Auger/Driscoll track. There was a natural body and warmth to voice and guitars with no sacrifice of low-level resolution. This was a thoroughly musically consonant sound worthy of very high marks.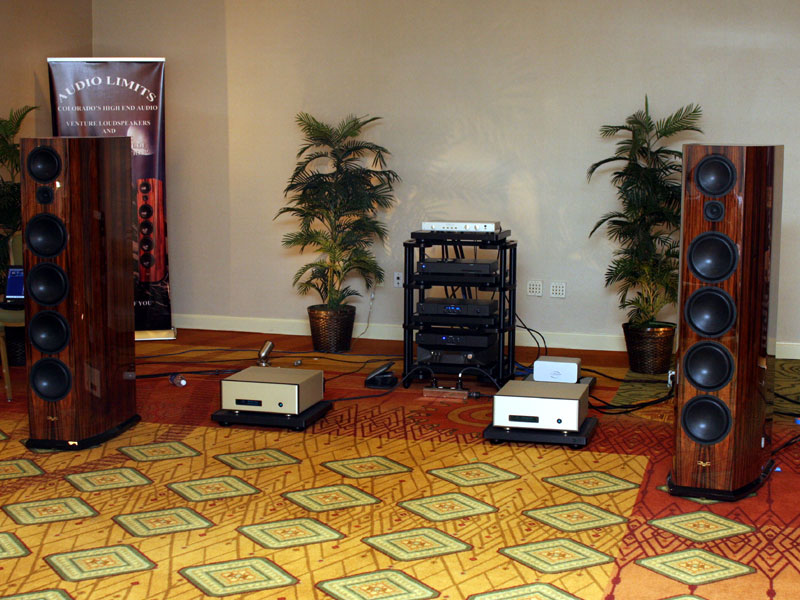 I ended Friday with an extended visit to the Audio Limits room, a large space which held the Weiss Jason CD transport, Medea+ DAC and MAN 301 network player ($22,707, $21,799 and $9083, respectively), an FM Acoustics 245 line stage ($25,800) and 115 monoblocks (275 watts each, $108,200/pair) powering Venture Ultimate Reference speakers ($135,000).
This system was a pleasure to listen to, despite some residual room-related darkness, with limpid, lifelike mids and a pure and grainless extended top end. Audio Limits has been importing the FM Acoustics line for several years now, and this system reminded me of why I regard their electronics as being quite possibly the finest solid-state gear in the world. Years ago I had the chance to live with an FM Acoustics 222 phono stage, 255 line stage and 611 power amp for a couple of months, and they made an indelible impression on me. There is a quality that can only be described as silkiness about Manuel Huber's remarkable electronics, and this eludes virtually every other manufacturer of solid-state equipment whose wares I have heard. Not that FM gear sounds like tubes, either, though it and the very finest tubes resemble each other far more than they differ, particularly in their ability to get instrumental textures so nearly perfect. The big Ventures are stunningly beautiful both visually and sonically, and this system was like a perfectly drawn bath at the end of a very busy day: enveloping and relaxing while remaining able to resolve the tiniest of details as a part of the overall musical tapestry, with life-sized images and utter listenability. Ah, bliss.