Rocky Mountain Audio Fest 2012 • TABlog
by Marc Mickelson | October 20, 2012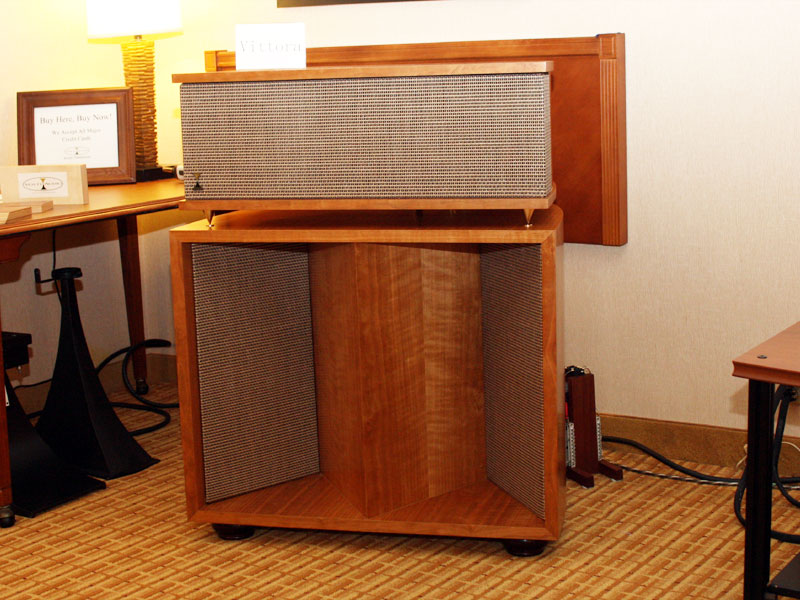 "Big, honkin' speakers" is a colloquialism that sums up my feelings about horn-loaded speakers. I understand their appeal and have found their sound impressive on occasion. However, I have never, ever been able to accept their sins of commission, including the omnipresent horn colorations, in trade for their blazing dynamics, let alone the ability to drive them with a handful of watts.
But I'm beginning to soften, mostly from multiple encounters with two rather different horns. Last year at the RMAF, I heard one that I could envision living with: the Volti Audio Vittora (above). This Klipsch-inspired design made by master woodworker Greg Roberts -- he creates the cabinet with a vacuum bag, which he uses to bend multiple layers of birch plywood -- was back and just as impressive a year later, although its price has gone up to $15,000 per pair. Yet, when you see the craftsmanship that goes into this speaker, let alone hear its unhonky sound, you may think, as I do, that it represents amazing value.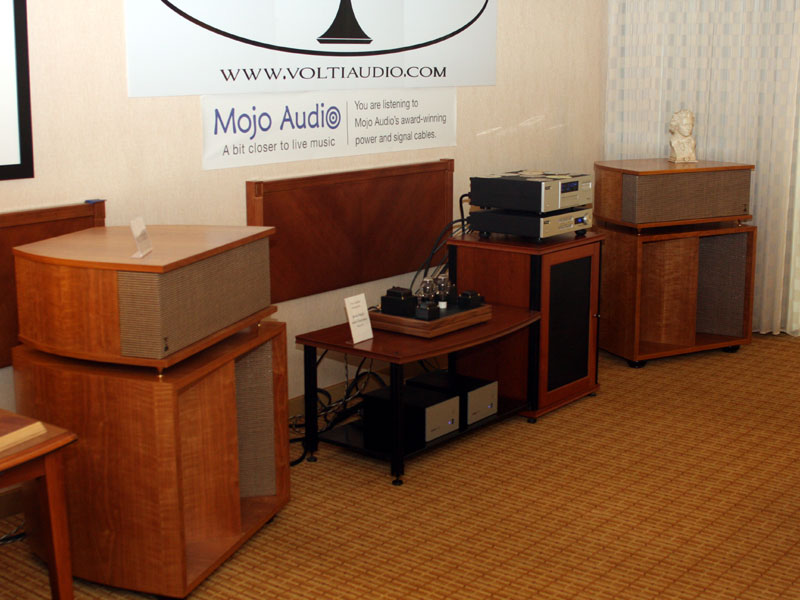 Like the legendary Klipschorn, the Vittora needs to be used near a room's corners, this placement augmenting the speaker's bass output. Volti Audio also offers a matching subwoofer for the Vittora ($2400), extending bass down to 30Hz. With everything from Time Out to the cuts from my CD-R sampler, the Vittora sounded effortless and, more importantly, showed none of the typical horn colorations.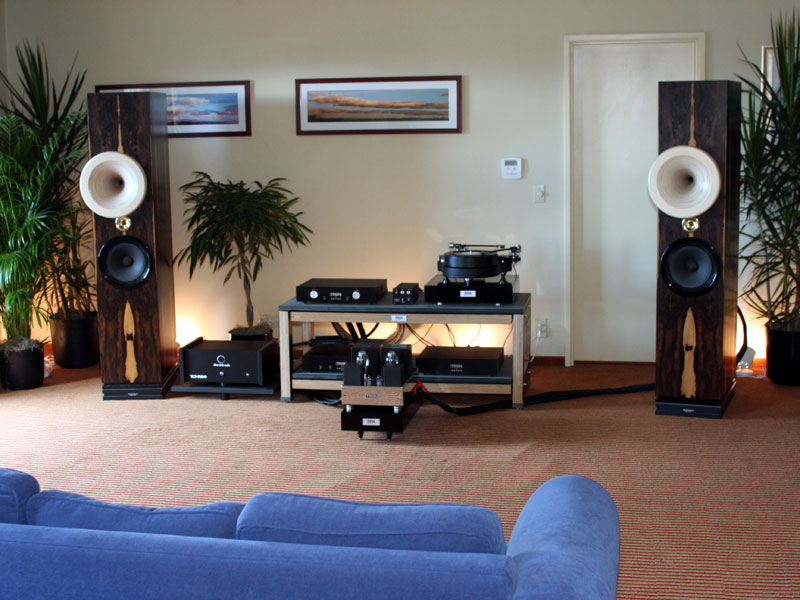 Another horn in the same vein is the Cessaro Affascinate, which is quite a bit more dear, at $64,000 per pair. While I've not heard this Cessaro speaker before, I am more than a little familiar with the brand, which has been part of a few "Best of Show" systems. Like the Vittora, the Affascinate is blazingly fast into and out of each note and soars with just a fraction of a watt behind it. It also doesn't hurt that the US distributor is Jeff Catalano of High Water Sound, who also distributes TW-Acustic analog goodies and plays LPs exclusively. One of the treats of visiting the High Water room is poking through Jeff's albums.
Given my praise for Volti Audio and Cessaro speakers -- multiple times -- I probably need to retire any leftover disdain I have for horns. Both of these horns are big, but they do without the honkin'.