"Unlimited Class" Speaker from Magico
by The Audio Beat | December 27, 2011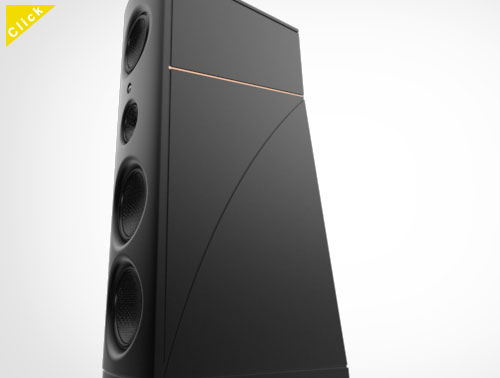 he second Magico speaker released this month is the Q7 ($165,000/pair), a five-foot-high, 750-pound, four-way, sealed-enclosure design that Magico calls "the finest unlimited class loudspeaker in the world."
Like other Magico speakers, the Q7 uses Magico-designed drivers that feature the company's Nano-Tec cones, this time for Magico's largest drivers to date -- the Q7's dual 12" woofers. Also used are a 1" tweeter, a 6" midrange and a 10" midbass driver, the latter two also having Nano-Tec cones. To achieve the Q7's 94dB sensitivity, each of the drivers uses a new motor system that features neodymium magnets whose flux is said to be ten times greater than the industry norm.
The Q7's cabinet comprises more than a hundred aluminum, copper and stainless-steel parts and 650 fasteners. Magico used Advanced Finite Elements Analysis to study driver behavior within the cabinet, and this led to the use of construction techniques that better addressed driver-to-enclosure interaction and the inclusion of a "floating" cavity for the midrange driver. Ultra-high-precision resistors, capacitors and coils were designed for the Q7's "elliptical" crossover network.
The Q7's stated frequency response is 20Hz-50kHz, and the speaker is said to be a 4-ohm nominal load as well as to require 50-1200 watts of power. Like the S5 announced earlier this month, the Q7 will debut at the CES in January and begin shipping in the second quarter of 2012.