THE Show Newport Beach 2014 • Best of Show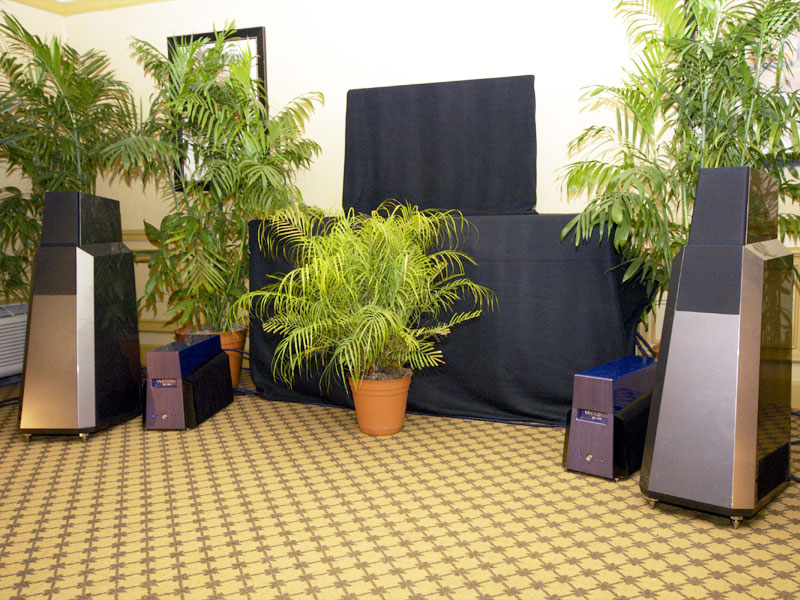 Local dealer Optimal Enchantment assembled two systems mating Vandersteen speakers and Audio Research electronics. In the larger system, the star of the show was Vandersteen's new M7-HPA mono amplifiers ($52,000/pair), which drove Model 7 speakers (also $52,000/pair). The amps were introduced in prototype form at CES, but these refined, near-production models got their first public introduction at Newport Beach. One can't help being drawn in by the unique shape of the amplifiers, which echoes the shape of the Model 7 speakers. The two function as a pair as well: the M7-HPA covers the range from 100Hz up, exactly the point where the speakers' powered woofers come in.
In front of the amps was an over-the-top selection of electronics supported by Harmonic Resolution Systems racks. A Lyra Atlas cartridge ($9500) was installed on a Basis Audio Inspiration turntable with Superarm 9 ($64,995), driving, in turn, Audio Research's Reference Phono 10 phono stage ($30,000) and Reference 10 preamplifier ($30,000). Digital was delivered via Audio Research's Reference CD9 transport/DAC ($13,000). All cabling was courtesy of AudioQuest.
On opening day, things had not yet settled in, but by Saturday the system was pulling into the competition as a Best of Show contender, sounding vivid and very dynamic. By Sunday, this had become one of a handful of rooms that were hard to leave.