National Audio Show 2012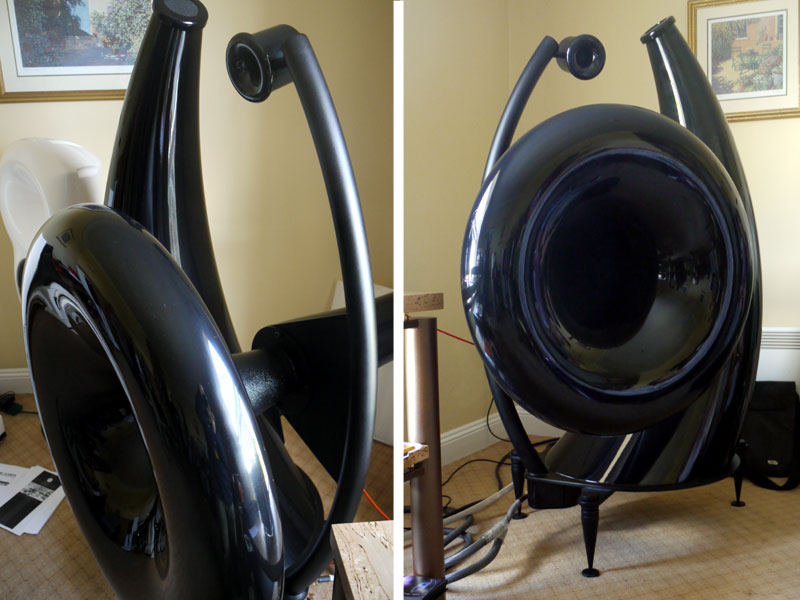 The engaging Greg Drygala is owner/operator of new distributor GPoint-Audio, another outfit specializing in Eastern European (largely Polish) product. His show system barely scratched the surface of a product range that includes just about everything you need to assemble and install a modern digital system -- including power cords (Ansae), signal cables (Albedo), racks (Rogoz Audio) and equipment couplers (Franc Audio Accessories). The source was an Ancient Audio Lektor V CD player built into a granite plinth (£5000) feeding a Lampizator Level 4 DAC/streamer (£5800) and Absolutor fully balanced tube line stage (£2800) and a pair of My Sound 18-watt EL84 amplifiers (£4000/pair). But the undoubted star of the show was the AutoTech Universum 3 three-way horn loudspeakers. These pair spherical horn midrange and treble units with a downward firing quarter-wave active bass unit containing a 15" bass driver, adjustable for phase, gain and roll-off, to deliver a 95dB sensitivity and a claimed bandwidth of 30Hz to 20kHz -- all for £12,000/pair! And if you just have to have those extra 10Hz at the bottom end, separate SUB1 active units can be added for £1250 each.
The whole system had a strikingly tactile and immediate presentation, while the speakers showed excellent integration and bandwidth, even without the auxiliary subs. For all those who have long craved a pair of Avantgarde's superb Trios, it looks like there might well be a more affordable alternative in town -- aesthetically speaking at least. The AutoTech speakers are also considerably more compact, and if the evidence of the show is anything to go by, they seem happy in smaller rooms. Fit, finish and presentation were all first class, making this a brand to watch for all lovers of spherical horns.