Vanessa Fernandez • When the Levee Breaks
Groove Note GRV-1088-3 & GRV-1088-45
Hybrid SACD & Triple 180-gram 45rpm set
2016

| | | | | | | |
| --- | --- | --- | --- | --- | --- | --- |
| Music | | | | | | |
| Sound | | | | | | |

by Marc Mickelson | April 14, 2017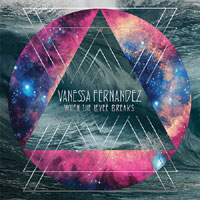 his is the second collaboration between producer Ying Tan of Groove Note Records and vocalist Vanessa Fernandez. The first, Use Me, gathered songs

written by Al Green, Isaac Hayes, Donny Hathaway, Al Kooper, Tony Joe White, and Bill Withers, all of which were somehow associated with Curtis Mayfield. This framing device gave the music its

R&B and soul leanings and worked well with Vanessa Fernandez's emotive vocals.

When the Levee Breaks is also a collection of covers, but the level of difficulty here is much higher: it collects some of Led Zeppelin's best-known works. Putting aside the "classic" status that so many of these songs have earned, the testosterone-soaked, electrified originals present a special challenge to a female vocalist and a session band: it is difficult to cover music that is so firmly burned into people's memory. Musicians will often try to be faithful to the originals or to make the tunes completely their own. Both approaches are fraught with peril.

But this album works, precisely because Fernandez and the band, which features veterans such as Jim Keltner on drums and Chris Chaney on bass, simply let the interesting new arrangements, by Tim Pierce, do the work while remaining true to the spirit of Led Zeppelin and its music. There is plenty of grinding intensity here, and even when you recognize the guitar licks, you still appreciate the reshaping of each song. Fernandez's voice isn't overwhelming in any way, but she is an effective, and affecting, singer, and that goes a long way toward making this album a success. On first listen, it is interesting to hear where "Immigrant Song," "Kashmir," "Whole Lotta Love" and all of the other cuts go, but after the initial novelty has worn off, the arrangements and interpretive choices reveal their own charms, no matter how many times you've heard the originals. I was more than a little surprised by this; it's like adding an impromptu back flip in the middle of a tumbling run and still sticking the landing.

As with its predecessor, When the Levee Breaks is all analog; engineer Michael Ross recorded to 30ips 1/4" tape. In every sonic sense, it is an extraordinary recording, with vast dynamic range along with inherent smoothness, weight and presence. All of this applies to the hybrid SACD, but the the RTI-pressed 45rpm LPs sound even better -- more resolved and natural -- and they include a couple of extra cuts not on the SACD. This is demo material in either format, but I haven't heard an LP that sounds as good since Use Me.

On its face, When the Levee Breaks has some huge obstacles to overcome, especially among audiophiles who are familiar with great-sounding recordings of questionable musical worth. Because of this, its success is even more impressive. It defies expectations in so many ways; you'll want to play it for friends and family, in order to show off your system, and you'll want to listen to it yourself when only some Zeppelin in vivid, state-of-the-art sound will do.