Vanessa Fernandez • Use Me
Groove Note GRV-1050-3 & GRV-1050-45
Hybrid SACD & Double 180-gram 45rpm set
2014
| | | | | | | |
| --- | --- | --- | --- | --- | --- | --- |
| Music | | | | | | |
| Sound | | | | | | |
by Marc Mickelson | March 26, 2015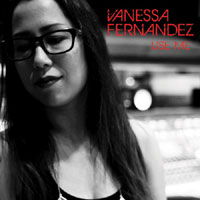 first heard Use Me almost a year ago during THE Show Newport Beach. Ying Tan, president of Groove Note and the album's producer, brought a test pressing of it to the show, and I was sitting in the center chair as he was just about to play it. Josh Bizar, the marketing director for Music Direct and Mobile Fidelity, was also in the room, and before the music began, he made a short speech about the album. I can't quote him reliably so long after the fact, but his point was that amongst so many reissues and re-reissues, the new record we were about to hear reminded us why we were audiophiles: for the music. Amen, I thought, followed by, This had better be something special.
It was -- a tasty mixture of R&B and soul with simmering vocals and expert playing. However, it was only after receiving the SACD and LPs that I discovered the roots of the accomplishment. Ying Tan first heard Jessica Fernandez sing on YouTube, although she's a well-known vocalist and DJ in Singapore, where he lives. After reissuing many jazz and classical chestnuts on his Original Recordings Group label, Ying was interested in producing a session of new music for Groove Note, the label he founded nearly twenty years ago. Fernandez's previous recordings were rooted in ambient music and electronica, but she and Ying discovered that they shared a love of Curtis Mayfield. They initially planned an all-Mayfield session, but this evolved into a mix of tunes "associated with Curtis," as Ying put it, including songs written by Al Green, Isaac Hayes, Donny Hathaway, Al Kooper, Tony Joe White, and Bill Withers. "It took us around two years to decide on the song list," Ying told me, but "I think we got a really splendid group for this album."
At least a couple of the songs will be familiar, but the session's intimate, unplugged vibe gives deeper insight into their structure, their soul. Fernandez avoids vocal ostentation, and the songs are all the better for it. I could call Mayfield's own "Here But I'm Gone" my personal fave from Use Me, but the rest have a way of slowly getting under the skin, which is a way of saying that they are "a really splendid group" and hold together as a collection. Veteran Los Angeles session players, including Leland Sklar on bass, comprise the backing band, and, as with Fernandez's singing, they play with restraint and feeling.
Engineer Michael Ross recorded the music to 30ips 1/4" tape, and the all-analog pedigree is evident. The sound is smooth, dynamic and big, with massive weight and presence. I listened first to the SACD, thinking that it would be hard to improve upon, but the RTI-pressed 45rpm LPs offered even greater resolution and naturalness, neither to the detriment of everything the SACD does so well. Use Me is demo material in either format, but if your analog rig is up to digging everything out of the groove, you won't hear a better-sounding record this year or next.
"There will definitely be a second album," Ying told me. Great news, because, like other Groove Note releases, such as Roy Gaines' remarkable I Got the T-Bone Walker Blues and Anthony Wilson's underappreciated Jack of Hearts, Use Me isn't typical audiophile fare. The spectacular sound only enhances the finely wrought, infectious music. Let the countdown to the follow-up begin.