Jack DeJohnette • Return
Newvelle Records NV002LP
180-gram LP
2016

| | | | | | | |
| --- | --- | --- | --- | --- | --- | --- |
| Music | | | | | | |
| Sound | | | | | | |

by Dennis Davis | August 3, 2016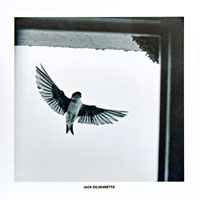 his is the second release from Newvelle Records, a label devoted to recently recorded jazz released exclusively on vinyl and available only by subscription. The higher-than-normal cost of subscribing demands high-quality music and sound to match, and Newvelle's second effort scores in those categories as effortlessly as with its first release. The lineup of talent for the next first four records is absolutely stellar. The third album, by Noah Preminger (with Ben Monder, John Patitucci and Billy Hart), has already been delivered, and still coming are albums by the Don Friedman Trio, the Ben Allison Trio, and Leo Genovese with Esperanza Spalding and Jack DeJohnette.

Although the jazz world knows DeJohnette from his years as a drummer with Charles Lloyd, Keith Jarrett and Miles Davis, and his countless appearances on ECM releases over the last 45 years, his first love was the piano, and Newvelle has given him the chance to return to his roots. He plays ten of his own compositions on Return -- two new numbers and eight reinterpretations that span his career. "I was just going for a mood -- I didn't try to intellectualize anything," says DeJohnette about this recording, and he nails that feeling. The album has a very spiritual sense to it and almost demands to be listened to in one uninterrupted session, followed by a period of silence to let the experience sink in. Unlike some of today's more heady pianists, DeJohnette creates a more impressionistic atmosphere, at once personal and universal. These are interpretations that I'll be coming back to time and again.

Newvelle Records is unique in every way and echoes what Coup d'Archet has been doing for some time: offering fine LPs in deluxe packaging with gorgeous artwork. The first thing you notice is the sheer beauty of the cover. Instead of the traditional LP cover art, with a photo of the artist and liner notes about the music, the Newvelle team elected to use the cover as a canvas to display artwork. Bernard Plossu's black-and-white photo shares the front cover only with DeJohnette's name, with the album title displayed on the spine. Inside the foldout cover is a beautifully rendered mood-setting photo. The back cover displays the artist's name and the list of compositions, with a link to Newvelle's website for liner notes and other information. The inner sleeve reproduces a poem by Tracy K. Smith. The typography, paper quality and printing are all of the same high artistic level, recalling the days of printing presses and fine bindings.

The album cover is slightly larger than standard, making removal of the LP pain-free and lessening the odds of split seams. At the same time, if you store your LPs in polypropylene sleeves, a Newvelle release requires you to find a source of oversized sleeves, a small price to pay for such quality and originality in packaging.

Pianist and composer Elan Mehler, one of the founders of Newvelle Records, spent a dozen years in New York before relocating to Paris, and his love of the piano shows through in the label's production. A 9' Fazioli Pianoforti was used for Return. This handmade Italian piano produces a gorgeous sound with dynamics rarely found on piano recordings. The music was digitally recorded at 24 bits/88.2kHz by Marc Urselli at Eastside Sound in New York and mixed to vinyl with an analog console. The LP was pressed on clear 180-gram vinyl at MPO in France. Return is an elegant package in every way.