Frank Kimbrough • Meantime
Newvelle Records NV001LP
180-gram LP
2016

| | | | | | | |
| --- | --- | --- | --- | --- | --- | --- |
| Music | | | | | | |
| Sound | | | | | | |

by Guy Lemcoe | May 26, 2016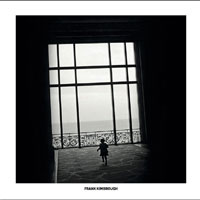 he record club, once a fixture for music buyers, returns in the form of Newvelle Records, which grew out of a successful Kickstarter campaign. Jointly founded by pianist and composer Elan Mehler, who is located in New York City, and Jean-Christophe Morisseau, who is in Paris, this new label features the work of recognized jazz artists, including Frank Kimbrough, Jack DeJohnette, Noah Preminger, Don Friedman, Ben Allison, and Leo Genovese. Membership costs $375 and entitles you to receive six vinyl-only releases. If you became a member during Newvelle's startup in January 2016, the following month pianist Frank Kimbrough's Meantime, a quintet session, was delivered to your door. Return, Jack DeJohnette's solo-piano album, was the April release, with Noah Preminger's quintet release coming in June. Others will follow every other month, but if you wait to join until all six albums have appeared, you'll pay a $125 premium.

Meantime opens with the 1930's Weill/Brecht stage tune "Alabama Song," here a languid, searching lament featuring the soulful sax of Andrew Zimmerman. Its sleepy pace is replaced by the jaunty, neo-bop swinger "Laughing at Gravity," a feel-good tune. The noir-sounding "Twenty Bars" is followed by Andrew Hill's "Laverne," a classic straight-ahead swinger. Closing the side is the dreamy, dirge-like "Elegy for PM."

Riley Mulherkar's trumpet and Zimmerman's sax are featured on side two's opener, "Katonah," a bouncy, slow-burning tune revealing Latin roots deep in its DNA. "Meantime" follows, a loose ensemble sound leading this number, evoking '50s free-jazz efforts -- more a statement than a song to my ears. The more traditional "Four By Four" features an inventive solo by Zimmerman laid down over a deliberately plodding rhythm. The leader contributes a fine solo here. Finally, the only ballad on the album, Harold Arlen's "Last Night When We Were Young," features Mulherkar's mournful trumpet and Zimmerman's sax over light, gauzy piano fills from Kimbrough. This song is achingly beautiful and my favorite on the album.

My first impression after the stylus touched the groove was that Meantime was one of the better-sounding recordings I've heard in some time. The perspective is up front and personal -- in a good way -- and the recording oozes texture and tonal truth. The dynamic range and freedom from artifacts were also notable. The 24-bit/88.2kHz digital recording was made by multi-Grammy-winning Marc Urselli at East Side Sound in Manhattan. Vintage microphones, some of which sport tubes, were used, and the signal was fed through analog preamps into an all-analog console. The mixdown was done with such care and attention to detail that it begs comparison to that of the best completely analog recordings. Scott Hull and Alex DeTurk's mastering at Masterdisk is top notch.

The 180-gram pressing, courtesy of MPO in France, was quiet and flat, and the entire presentation, fashioned by Parisian designer Antoine Leroux, is exquisite. A Cartier-Bresson-like photograph by Bernard Plossu appears on the sturdy gatefold jacket, and the inner sleeve is graced with poetry by Pulitzer Prize winner Tracy K. Smith.

If you appreciate prescient jazz with a decidedly New York flair, this is one record club you will not regret joining. Your senses will be richly rewarded.