Roy Gaines • I Got the T-Bone Walker Blues
Groove Note GRV-1002-1
Double 180-gram 45rpm set
1999/2013
| | | | | | | |
| --- | --- | --- | --- | --- | --- | --- |
| Music | | | | | | |
| Sound | | | | | | |
Doug MacLeod • There's A Time
Reference Recordings

RM2507
Double 200-gram 45rpm set
2013
| | | | | | | |
| --- | --- | --- | --- | --- | --- | --- |
| Music | | | | | | |
| Sound | | | | | | |
Otis Rush • Right Place, Wrong Time
Bull Frog/Pure Pleasure PPRLP301
Single 180-gram LP
1976/2013
| | | | | | | |
| --- | --- | --- | --- | --- | --- | --- |
| Music | | | | | | |
| Sound | | | | | | |
Johnny Shines • Standing at the Crossroads
Testament/Pure Pleasure PPRLP2221
Single 180-gram LP
1970/2013

| | | | | | | |
| --- | --- | --- | --- | --- | --- | --- |
| Music | | | | | | |
| Sound | | | | | | |

by Dennis Davis | June 29, 2013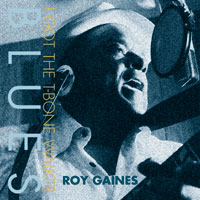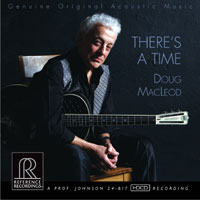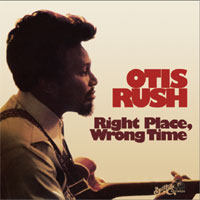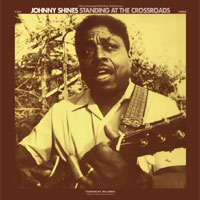 espite the explosion in interest in vinyl reissues, blues material remains underrepresented. Some of the great classical record labels are going around for a second spin on 180- or 200-gram vinyl. Titles from the Mercury Living Presence catalogue were released first by Classic Records and then by Speakers Corner, and Analogue Productions will soon re-release RCA Living Stereo titles. Of course, it sometimes seems like the entire jazz repertoire has been reissued in audiophile-grade editions. But what about all the great blues titles that are languishing in record vaults? Compared to classical music or jazz, reissued blues is quite rare, so it was with no small amount of pleasure that I found four new blues releases on my doorstep recently -- four remarkable musical documents that in some sense span the history of the blues from Robert Johnson up to the present day. And, as if great music alone were not quite enough, the quality of the sound is equally impressive.
Johnny Shines may not be a household name to many audiophiles, but to blues aficionados Shines is one of the true giants. Born and raised in Memphis, he toured with Robert Johnson between 1935 and 1937 and went on to make a series of recordings that were commercial failures. He gave up the life of a bluesman in the 1950s to work in the construction industry, until the blues revival of the 1960s resulted in the "discovery" of Shines and others. In 1966, Vanguard Records included some newly recorded Shines sides on Chicago / The Blues / Today!. This led to a series of recordings, some great and some merely good, but none combining good sound and great music better than Standing at the Crossroads for Testament Records. Much of Shines' finest material, like Last Night's Dream, Johnny Shines with Big Walter Horton and the aforementioned Vanguard sides, present him in an ensemble setting. But he also recorded two outstanding solo efforts: a live session recorded in Japan and this release. Testament Records founder Pete Welding recorded Shines at his home in November of 1970. Shines plays 11 classic Mississippi Delta blues tunes and turns in one of the masterpieces of the genre. The recording is both intimate and raw. Remastered by Ray Staff of Air Studios, the reissue hues close to the sound of an early original. This is a treasure not to be missed.
Recorded only a year after the Shines classic, Otis Rush's Right Place Wrong Time is very much of the right time. Where Shines looked back to an earlier time, Rush was very much of the current moment. He plays electric guitar, and his backing band includes horns and organ as well as a complement of drums, piano, bass and rhythm guitar. He plays high-energy traditional blues, much of it self-composed. This album is certainly one of Rush's finest achievements. It was recorded by Wally Heider for Capitol Records in Heider's legendary (but now gone) San Francisco studio. Capitol took a pass on releasing the session, but five years later the tapes were released by Bullfrog Records after Rush purchased them from Capitol, Alligator Records producer Dick Shurman interceding to save this sizzling music from oblivion. Kevin Gray remastered the reissue and it sounds fabulous.
Of more recent origin are two modern blues recordings that present a fascinating study of the differences between two stunning recordings: one on analog tape made at legendary Ocean Way Recording and the other recorded directly to high-resolution digital by Keith Johnson at George Lucas's Skywalker Sound in Marin County, California.
In 1998, Texas bluesman Roy Gaines recorded some of his hero T-Bone Walker's music for Ying Tan's Groove Note label. Gaines has more often taken the role of bridesmaid for a list of blues greats, performing with Walker, Big Mama Thornton, Bobby "Blue" Bland, and Junior Parker as well as providing session work for everyone from the Everly Brothers to Stevie Wonder. An insider's musician, Gaines produced a dozen individual releases that never attracted significant sales or provided him with a path to break out of his backing role, but this T-Bone Walker tribute should have done it. Gaines is backed by a full band of horns and a rhythm section -- the full T-Bone experience. Joe Harley produced and Michael Ross did the recording at Ocean Way. Mastered by Bernie Grundman, the original release featured nine songs cut for 33rpm along with a second 45rpm LP with four "bonus" tracks. It was a pretty impressive-sounding disc at the time. But Bernie Grundman's mastering chain saw some dramatic improvements in the early 2000s. Grundman remastered the session and cut the entire album at 45rpm, dropping only one alternate cut of "Stormy Weather" to make an even dozen tunes, three to each of the four sides. The new version is drop-dead gorgeous and its sound is of demonstration quality. I did a comparison of "The Hustle is On" at 45prm from both releases, and the new one is clearly superior, with more extended highs -- even though the earlier cut was spread out over a half side, while the new one shares a side with two other tunes. It shows what can be achieved with an Ampex ATR-100 two-track recorder, some excellent microphones and a lot of talent. It doesn't get much better than this.
But not everyone agrees that the old ways are best. Keith O. Johnson, for example, has long embraced the digital realm. He records at 24 bits/176.4kHz and prepares a separate master for use with CD, LP and HRx mastering. His newest work is Doug MacLeod's There's A Time, a half-speed-mastered double LP of 45rpm cuts mastered for LP by Paul Stubblebine and pressed on 200-gram vinyl at Quality Record Pressings in Kansas. This is the first blues release by Reference Recordings, and it's quite an accomplishment for a freshman effort. I've heard most of Reference Recordings' LPs over the years, and for my money this is the best-sounding yet. Forget the ones on your personal list; I'll wager that you will find the sound of this new release to be even better. It's just MacLeod solo on one of several guitars, with bass and drum accompaniment on a few tracks. The background is dead silent, allowing you to hear every low-level sound. The foldout cover describes and provides pictures of the Gibson and National guitars MacLeod plays, and they are so well captured that I found myself listening over and over again just to soak up the individual character of each instrument. How can digital sound this good? Release it on vinyl!
MacLeod has learned well from his predecessors, and I found myself ticking off the bluesmen whose sounds he has absorbed -- obvious influences such as Tampa Red and Lightnin' Hopkins, but also healthy doses of such disparate sounds as Charles Brown and Skip James. MacLeod wrote each song, and they range from excellent to unforgettable.