Chicago / The Blues / Today!
Vanguard/Pure Pleasure VSO-79216/7/8
Three-LP set
1966/2011
| | | | | | | |
| --- | --- | --- | --- | --- | --- | --- |
| Music | | | | | | |
| Sound | | | | | | |
by John Crossett | May 4, 2012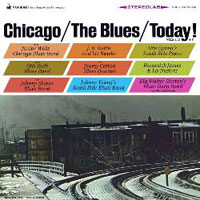 ox sets are ubiquitous today. Anyone who has recorded more than two albums likely has a box set of his own. Complete concerts are also packaged as box sets, and they often cause me to wonder why the music couldn't be put on a single CD or LP.
This box set is a different matter. It's a slice of time and place released initially as three separate LPs. They are now packaged together, revealing in detail the character of the blues in Chicago in the mid-1960s. Documenting the great -- Buddy Guy, Otis Spann, James Cotton, Junior Wells, Otis Rush, Willie Dixon, Charlie Musselwhite -- together with musicians who would be barely known outside the bars and lounges in which they played -- J. B. Hutto, Homesick James, Johnny Young, Johnny Shines -- means that this set offers a wide-ranging mix. These are studio recordings, with each artist contributing three to six songs. They offer an honest glimpse back in time, when the Chicago blues scene was populated with musicians who conveyed all the raw emotion, hopelessness and heartache of a future that looked as bleak as the cotton fields in the South. But you also hear the hope that the future will be better, if only time will allow people to reach it.
Chicago was the final destination of so many African Americans migrating north in hope of a better future -- and that included the musicians who founded the city's electric blues scene. When these albums hit the shelves, the blues was a music largely for black audiences. But white America embraced this music, hearing how deeply embedded it was in the rock'n'roll they were listening to. This is underscored by a picture in the booklet for this set: guitar god Jimi Hendrix holds Volume One along with other blues LPs.
This set is not a sonic blockbuster, but that was never the point. Don't be surprised to hear vocals coming from one channel and guitar, piano, or harmonica coming from the other. Although the stereo sound is rough, the tone and timbre of the instruments and vocals are accurate. Vocals are three-dimensional, and you can hear fine details, like breath being blown through a harmonica or fingers plucking and strumming guitar strings. Vanguard had a track record of producing good-sounding recordings, and while the stereo sound is the stubbed toe of this box set, the music remains vital and raw with emotion. It's easy to slip into the groove and simply dig the music.
Even with its sonic issues, I can't recommend this box set highly enough -- to fans of the blues in particular and music lovers in general.