Hong Kong Audio Visual Show 2012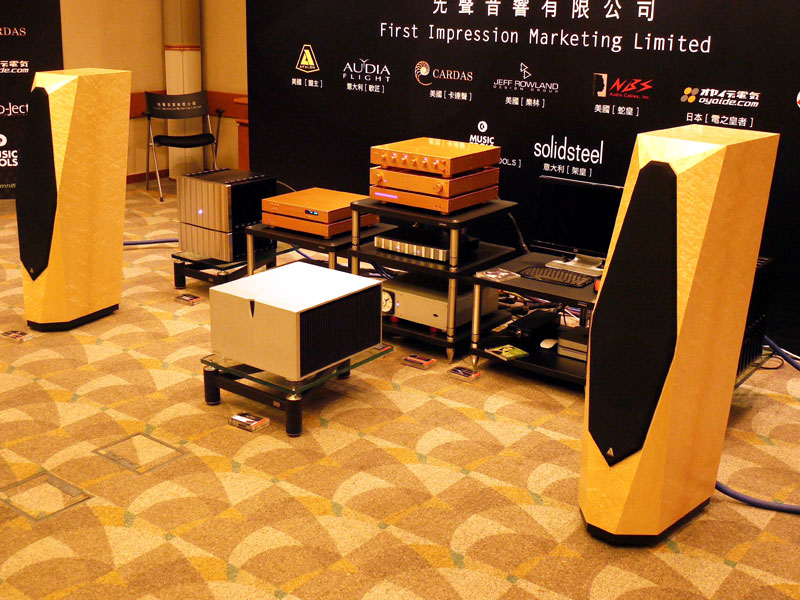 Avalon was one of the US companies to debut an important new product in Hong Kong. The Compás ($35,000 US per pair) is a large three-way floorstander that looks set to replace the Eidolon Vision in the company's range. Taller and slimmer than the Eidolon, it uses a revised faceting arrangement around the tweeter to further improve dispersion, while a longer grille adds to its svelte frontal appearance. As with all Avalons, you should use the Compás with the grille in place, but take a peek behind it and you'll see an all-new driver lineup and a distinctly different appearance. The latest-generation Accuton ceramic units now have black diaphragms, the models used here being a 1" concave tweeter, a 4" concave midrange and a pair of 9" ceramic honeycomb woofers loaded with Avalon's familiar downward-firing port arrangement. The specs indicate 91dB sensitivity, 4-ohm load and a -3dB point at 27 Hz, making this a potentially potent performer for the relatively compact cabinet dimensions (45"H x 11"W x 17"D).
Also new, seen (lurking behind the left-hand speaker) and heard driving the Compás, were the 925 twin-chassis monoblocks from the Jeff Rowland Design Group. These were early examples with some details remaining to be fixed, but expect a power output of 600 watts into 8 ohms and a price tag in the region of $30,000 US -- each! The system was fed from an NBS two-box CD player and two-box line stage, in each case the extra chassis housing an external power supply, and also incorporated an NBS equalizer in the style of the Cello Palette. At $25,000 US a section (source, line stage and EQ) that makes for a pretty pricy front-end. Cables were Cardas Clear throughout.
The system delivered a crisp, clean and musically explicit sound, with plenty of detail, separation and dynamics. This could be the Avalon speaker for all those listeners who have found the company's previous models a little too polite or cerebral for their liking, although with unfamiliar front-end components, amplifiers that are yet to be finalized and speakers that have barely had time to breathe, it's way too early to be drawing too many conclusions. Only time will tell, but the slender looks and distinctive presentation promise to make the Compás yet another fascinating study from Avalon.