High End 2017 • Hot Product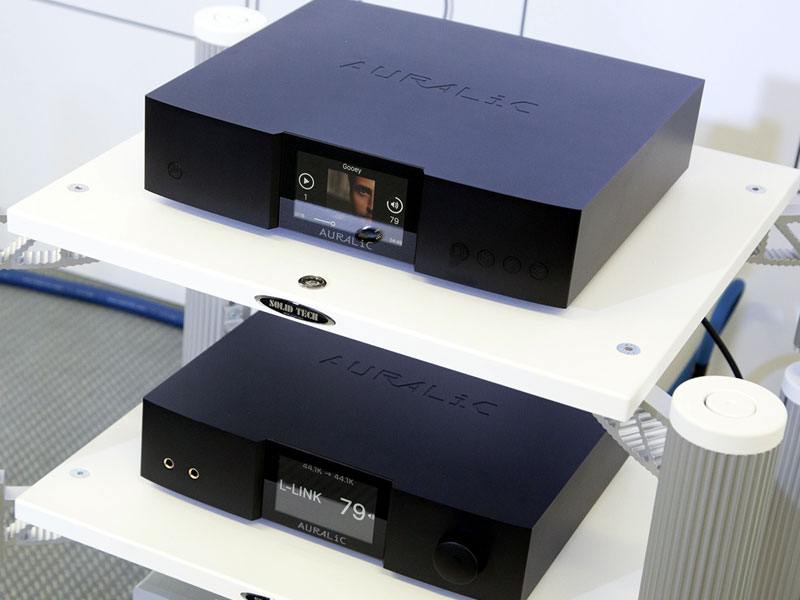 Auralic has been doing well at the affordable end of the streaming market for long enough to know when the time is right to up their game. This is what they've done with the G2 range of electronics. Housed in machined-from-solid casework and sporting a proprietary low-jitter connection via HDMI, this pair of products looks pretty serious.
The Aries G2 (top shelf, $3899) is a wired/wireless "streaming transporter" that can act as a bridge between storage and converter, but it also has the capability to work as a server. Install any 2.5" drive into it and you have a potentially serious music-storage system as well. Featuring galvanic isolation, femto clocks and a chassis designed to keep out EMI, the Aries G2 has USB connections for audio and external storage, AES/EBU, coaxial and optical digital outputs and an HDMI connection for the new Lightning Link. This is a bi-directional connection that carries signal and clocking data in an effort to get around the timing errors usually introduced by digital connections.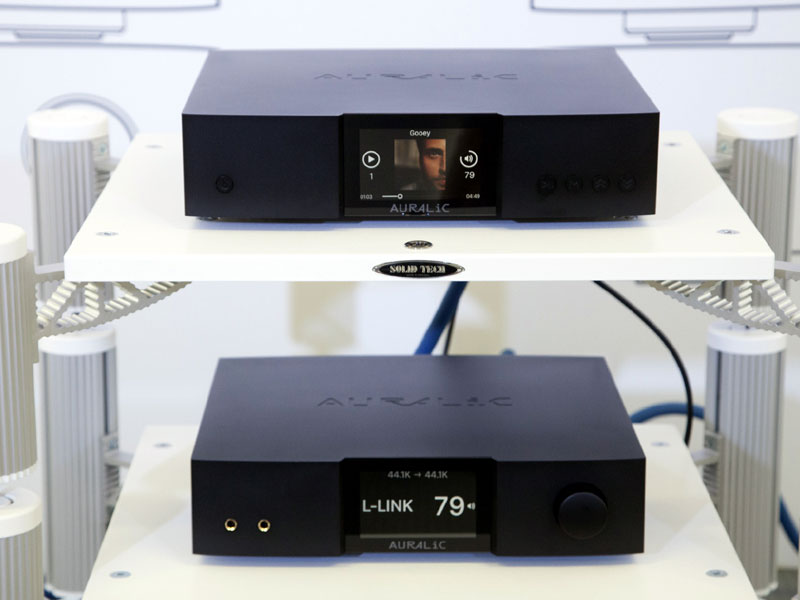 The Vega G2 (bottom shelf, $5699) inhabits the same chassis but takes the form of a streaming DAC/preamp that's good for DSD up to DSD512 and 32-bit/384kHz PCM. It's a Roon-ready streamer with Tidal and Qobuz services available and combines a single analog input with all varieties of digital inputs and a passive volume control. Dual femto clocks promise jitter-free operation when the Lightning Link is used, and a class-A output module should help the Vega G2 to sound as good as the specs suggest. The room was too noisy to judge the sonic side of things, but these pieces clearly have great potential.
Two more G2 products are due in November: the Leo G2 external clock and the Sirius G2 upsampling processor.