High End 2016 • Hot Product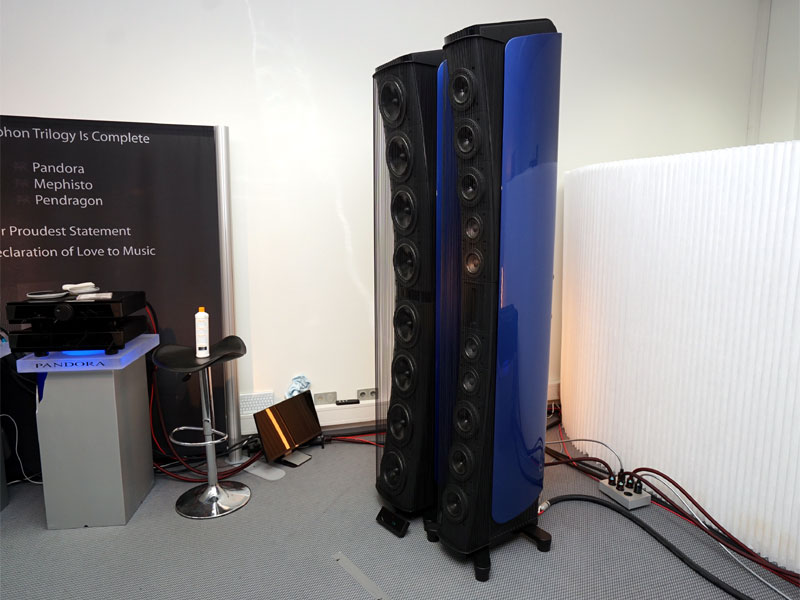 Few companies produce products as big, as heavy and as black as Gryphon, but the Danish high-end stalwarts sprung a surprise in Munich. The new Kodo speaker system (€220,000/pair) is certainly big, definitely heavy, but the show pair was also bright, bright blue. The massive four-box system stands 2.37 meters (or nearly 8 feet) tall, contains 38 drivers and boasts a one-ton shipping weight. Each D'Appolito mid/treble array consists of a Mundorf AMT tweeter housed in its own central enclosure flanked by symmetrical upper and lower cabinets, each containing two 4" midrange units and three 5" midbass drivers, each individually enclosed and loaded. The bass towers comprise two sealed cabinets with four 8" drivers. The lower cabinets also contain the Gryphon-built class-AB bass amplifiers capable of 1000 watts continuous output and 4.5 horsepower peaks.
The Kodo embodies all the familiar Gryphon design philosophies, with each driver independently mounted on its own separate baffle mounted on a curved substructure to create a focused field array. Crossovers are Dueland Constant Phase designs. Overall efficiency is a claimed 96dB, with an easy load that never drops below 4 ohms. The bass towers are remotely adjustable for level and Q, while system bandwidth is a claimed 6Hz (!) to 25kHz ±3dB. No prizes for guessing where the name originated then.
The enclosures are built from MDF laminated with 5mm aluminum, with machined aluminum interfaces and bases. The brightly colored cowl is separate, can be finished in any shade you choose and changed out if you update your décor, car or art collection. Every Gryphon Kodo owner won't just get the speaker installed by his local dealer. Three months after initial installation, he'll get a visit from a Gryphon specialist to check and fine-tune the installation and bestow membership into the Kodo owners club along with a ten-year warranty.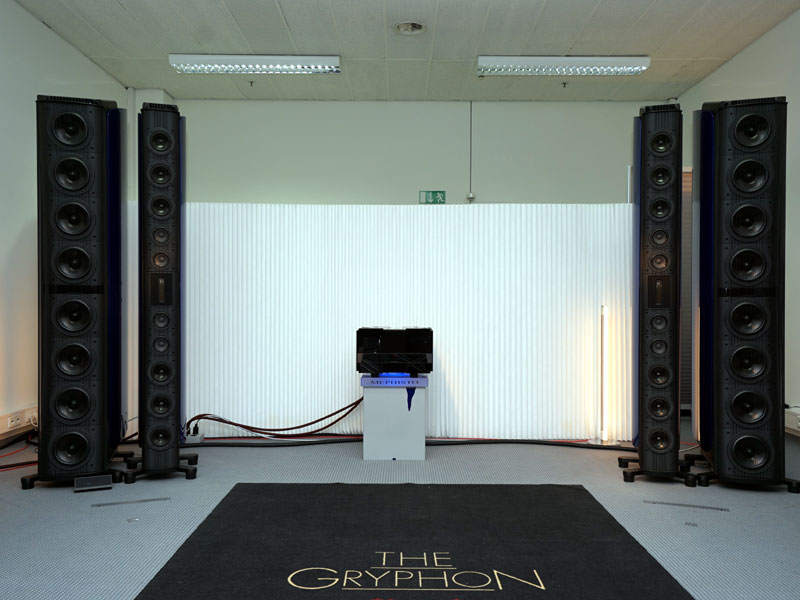 As you might imagine, the Kodo caused quite a stir, so much so that the only way to get a clean shot of the speaker was to arrive before the show began, while the Gryphon room was still being cleaned. The head-on image simply didn't do justice to the painted finish; such are the problems in trying to capture such an imposing and visually impressive product.