High End 2013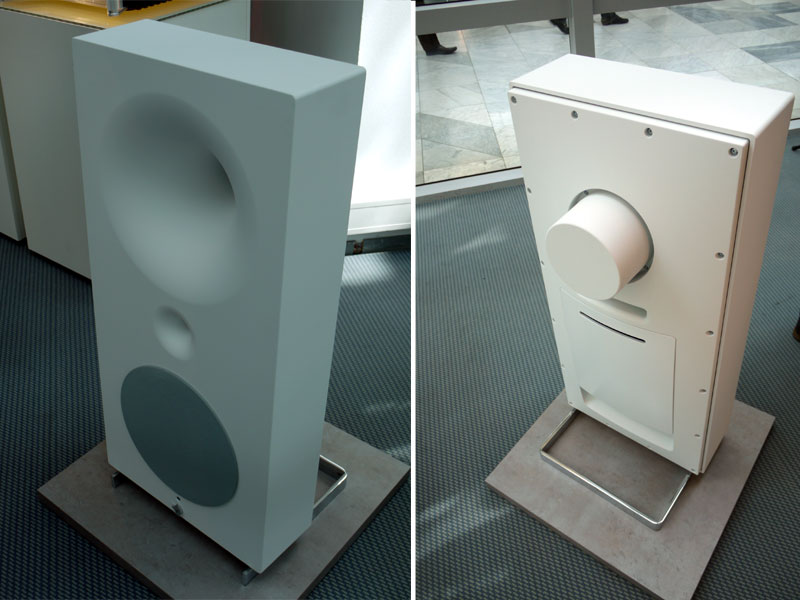 Avantgarde are well known for their well-regarded spherical horn hybrid loudspeaker systems, imposing and visually striking designs that mate brightly colored trumpets with active bass bins. Sonically and musically impressive, they're also well equipped to leave a substantial impression on your wallet.
What is less well recognized is the company's innovative range of electronics (review coming) and a smattering of other, equally inventive speaker systems, but few observers would have anticipated anything as radical as the Zero 1 system launched in Munich. This three-way speaker presents a distinctly different face to the market, but there's a lot more to it than that. The broad, rectangular baffle is formed as a one-piece, braced Polyurethane molding, including the wide midrange horn and smaller treble horn below it. In the bottom is a 12" bass unit. The whole speaker is actively driven, using a 400-watt FIR-derived class-D amplifier for low frequencies and 50-watt class-AB modules (based on the XA circuit) for mid and treble.
Where things start to get really clever is with the "master" speaker. The crossover is a DSP digital design, while the speaker accepts four digital inputs -- USB, TosLink and S/PDIF on RCA. Connection to the "slave" speaker is with a four-band wireless system, one band for each of the drive units and one to control overall level.
Pricing for this "add source" system? €9800 -- meaning that you can now own a genuine Avantgarde system for about half what they used to start at. And make no mistake, this really is a genuine Avantgarde. The sound was impressively dynamic, coherent and engaging, and if the looks proved divisive that's nothing new for the brand. Shipping should commence in around six weeks, with black (really a rather dark gray) and white as standard finishes -- although you could probably order anything from Avantgarde's extensive color palette, at a price.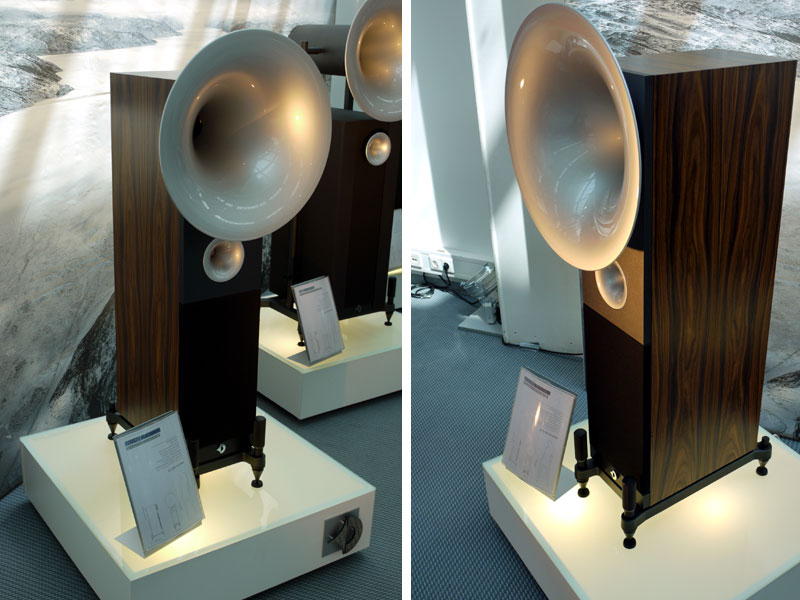 Another interesting new product (new to us, at least) was the Uno Fino. In essence, this is a reduced-scale Uno G2, using the same midrange and treble array, same active bass amplification and similar form factor, but in this case employing a slimmer woofer cabinet housing a pair of 8" drivers in place of the G2's 10" units and built onto a pared-down base. At €12,900 per pair, the Uno Fino saves a significant bit off the price of the G2, which makes it a pretty attractive addition to the range, particularly for smaller rooms where its svelte profile will make it easier to site and accommodate. Having said that, and although it gives away ultimate bass level and power to its bigger brethren, the Uno Fino is still remarkably comfortable in even quite large spaces. Combined with the imminent XA Integrated it should make a seriously potent musical combination, one that offers exceptional dynamic resolution, range and communication for the price.