CES 2016 • Awards
or the audio industry, the new year signals not just CES but awards season, when every publication honors products from the previous year. At The Audio Beat, we take the titles Product of the Year and Recording of the Year seriously. Early in TAB's history, we gave only two awards, one in each category, but we now have two editors, and it is more often the case that we have a tie for the site's top honors -- just because agreement among audiophiles, and especially audio writers, is rare, maybe even impossible.
With that in mind, the winners for 2015 are. . .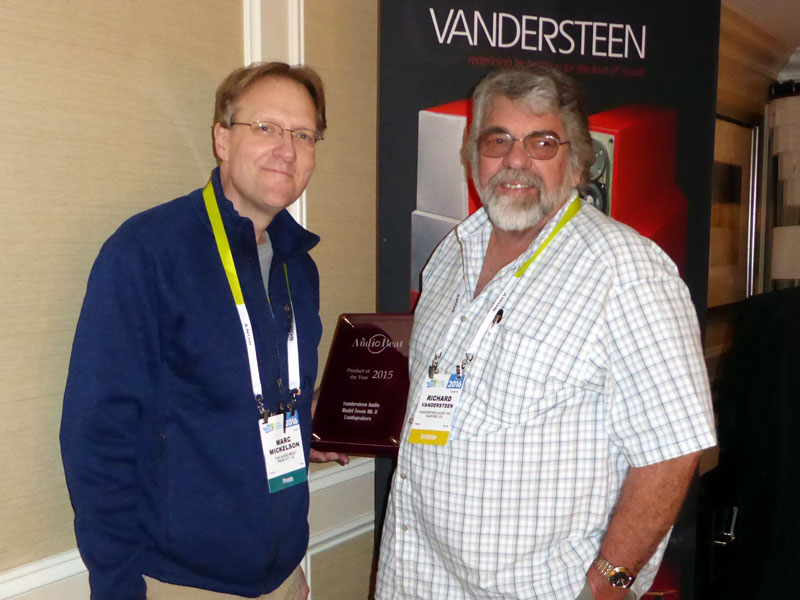 Marc Mickelson (left) presents the award to Richard Vandersteen.
There are many high-end products capable of achieving great performance, but all too often actually realizing that performance is quite another matter. Vandersteen's Model Seven Mk II stands out as a genuine high-end contender that isn't just capable of seriously impressive performance, Vandersteen works hard to make sure that owners actually get everything they've paid for. Compact, with a highly tunable, genuinely wide-bandwidth performance that is also widely system compatible, the Seven Mk II comes with precise setup instructions and dedicated tools to ensure that every pair works just the way it should. Throw in a price tag that's around half what's asked for so much of the competition and you have that rarest of beasts: a genuine high-end bargain -- and a shoo-in award winner too.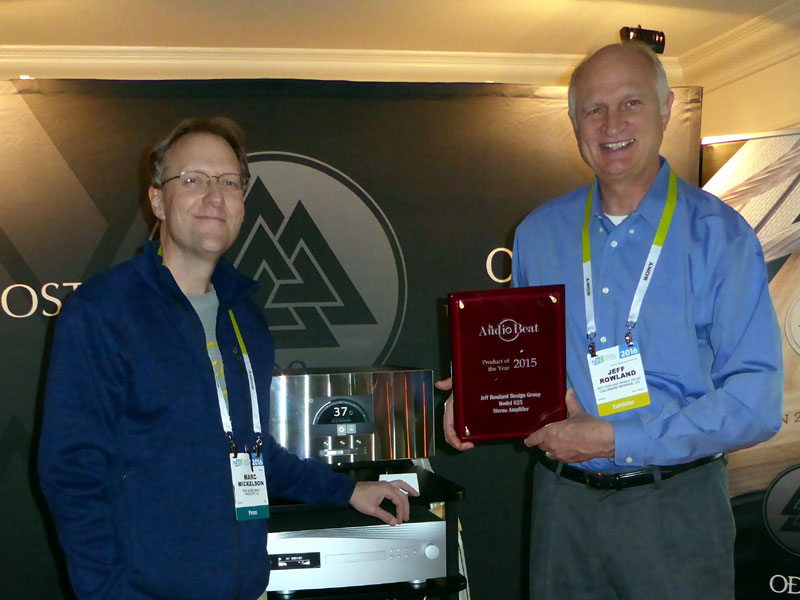 Jeff Rowland accepts the award.
One of the true delights of writing about audio products is being surprised by one -- especially when the source of that surprise is a circuit or feature that has disappointed in the past. This describes the Jeff Rowland Model 825 perfectly. A class-D amp with a robust separate power supply, the Model 825 doesn't sound like any class-D amp Marc Mickelson had heard, or any solid-state amp, and it doesn't sound like tubes either. Its clarity is enhanced by its preternaturally low noise; in fact, calling the Model 825 "low noise" understates how little noise is actually present. Added to this are speed, tonal refinement and grace. The Model 825 is the rarest kind of extremely powerful amp: one that delivers its power without ostentation.
Shane Buettner, the one-man band of Intervention Records, shows off the finely made covers of his records.
Finally, a reissue label with a difference. Rather than trawling the familiar waters of audiophile standards, Intervention Records has the stated aim of repressing musically significant recordings that were either poorly served by their original releases or not released on vinyl at all. The company might be young, CES seeing the appearance of the second, third and fourth titles (Ferguslie Park and two Everclear albums to follow the debut release, Stealers Wheel), but already Intervention's choice of material, the quality of the dead-silent records (cut by Kevin Gray and pressed by RTI) and the beautiful artwork have established the label as something special. Stealers Wheel was a revelation, and the follow-ups won't disappoint, especially Everclear's So Much For the Afterglow, which is all but unobtainable on LP. Producing great records of great music, Intervention is a worthy winner of TAB's Recording of the Year award.