Stealers Wheel • Stealers Wheel
A&M/Intervention Records 001
180-gram LP
1972/2015
| | | | | | | |
| --- | --- | --- | --- | --- | --- | --- |
| Music | | | | | | |
| Sound | | | | | | |
by Roy Gregory | October 24, 2015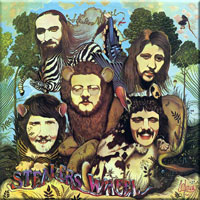 his is the first offering from new kid on the reissue block, Intervention Records. At first glance, it might seem like a strange choice for a debut issue. After all, Stealers Wheel are hardly a marquee signing -- no serious audiophile pedigree and far from collectible -- so the inevitable question is, Why bother? But listen and you'll immediately appreciate that the musical results speak for themselves. Intervention Records, as the name suggests, has set out to produce a program-led catalogue of reissues, bringing great sound to great recordings that deserve it. Stealers Wheel is arguably a perfect case in point: great music that has been unfairly forgotten, re-released in pristine sound -- with a pristine pressing and sleeve to match. The total lack of audiophile street cred just adds to the appeal.
Even by the chaotic standards of the rock world, Stealers Wheel (without the apostrophe) set records in terms of staff turnover. In a short, six-year life span, they produced three albums of consummate folk-rock while going through multiple changes in personnel. Rather than a band, perhaps they're better seen as a loose amalgam, drawn around the writing talents of Gerry Rafferty and Joe Egan, with other members coming and going, session musicians drafted in as required. In fact, as early as their second album, 1973's Ferguslie Park, they were already effectively a two-piece ensemble on their third lineup. Despite the revolving door that recycled an ever-changing cast of different band members, the songs managed to retain an instantly recognizable character and quality, founded in the gentle, almost wistful self-deprecation of Rafferty and Egan's lyrics and often plaintive, accompanying melodies.
That eponymous first album spawned its own devil child, the jaunty monster hit "Stuck in the Middle with You," later spookily reincarnated and given a savage twist by Quentin Tarrantino for Reservoir Dogs. In many ways, that's the obvious place to start: with the deftly layered production and arrangement (Leiber and Stoller no less), the mannered and accented vocal, that catchy, almost Dylan-like shuffle rhythm and tight playing. It's easy to hear why the single went big and the album went platinum off the back of it.
But there's more here -- a whole lot more -- than that one track. In fact, it's not even the best track on the album. Rafferty in particular never had much of an eye for the main chance (he refused to promote the album in the US), and commercial success seemed more like a happy accident than part of the plan. Instead, what you find here is ten beautifully crafted and captured songs that seamlessly meld acoustically tinged folk sensibilities and playing with perfect pop hooks. It's an album that warrants repeated listening, as you slowly peel away the instrumental and lyrical layers of each deceptively simple track. Those tracks range from the almost Eagles-esque rock of "Johnny's Song" or "Josť," to the stripped-back simplicity of "Gets So Lonely," the meandering funkiness of "Next To Me" to the bluesy "I Get By," all bound together by Rafferty and Egan's grasp of toe-tapping pace and structure, deft switches of density and catchy melodies.
This is a great album that was deservedly successful -- if latterly somewhat neglected. In that sense, at least, it fulfills Intervention Record's stated goal of rehabilitating forgotten classics. But that also presents a serious challenge: clean, early pressings of Stealers Wheel are not exactly hard to find (at least in the UK), nor are they expensive, especially when compared to the cost of a new 180-gram record. Why would you shell out for a pricey repressing when you can have the original? Which brings us to Intervention Record's other stated goal: the renovation of recordings poorly served by their original releases. You'll note that I pointed to Stealers Wheel's commercial success and popularity. I also said it was a great record -- not a great-sounding record. Well, now it is. The remastering and repressing (courtesy of the dream team of Kevin Gray and RTI, respectively) are a revelation, and this version buries my original. I always knew there were layers of depth behind the surface of these songs, but I never dreamed how many layers of musical subtlety were there. The increase in resolution, transparency, separation, depth, dynamic range and bandwidth is frankly remarkable. Tonality is much more natural, the sense and shape of the playing more obvious, rhythm and pace more explicit and insistent, the acoustic space captured in the arrangements cavernous in comparison. Much of this has to do with the bottom end that goes way deeper and is way more powerful.
As an example, "Next To Me," the album's unsung masterpiece, sounds winsome and aimless on the original pressing, which is part of its charm. The Intervention Records pressing gives it more shape and a more anchored sense of pace and forward progress, vocals that are more natural, expressive and immediate. There's more space between the voice and backing, better separation of the instruments back there and significantly more body. There's also a bass line that's gone missing on the original -- a recurring theme across the album. That greater sense of physical and musical presence gives the song a new sense of purpose, a refocused sense of loss rather than detachment, more immediate emotional impact and much greater power. It was good before; now it's great. Right across both sides you get a bigger, bolder sound with more color, presence and dynamic range -- and a lot more life. Is this an audiophile-standard recording? No -- it's a really good commercial rock recording, and this pressing screws every last ounce of quality out of it.
If you ever wondered where that haunting ear worm of a sax solo on Gerry Rafferty's "Baker Street" came from, now you can know. If your knowledge of the of Stealers Wheel is stuck at "Stuck in the Middle with You," here's the perfect vehicle to discover just how much is behind that familiar face. The band's even more sadly underrated Ferguslie Park is up next, followed by a couple of Everclear albums and then the first two Joe Jackson LPs. If Intervention Records can maintain this standard (and the test pressings I've heard of those upcoming releases definitely suggest they can), then their records will quickly become automatic purchases for those in the audiophile community who care for and about real music. I can see an album's presence on this label becoming a recommendation in itself, whether you've heard of the band or not, and that's a pretty good place for a reissue label to be.