CES 2015 • Big Systems, Big Sounds and Some Big Tubes
by Paul Bolin | January 31, 2015
his January saw perfect weather in Las Vegas, the disappearance of THE Show from the Flamingo -- its organizers are now focusing on their highly successful Newport Beach late-spring show -- and a somewhat smaller gathering than usual at the Venetian. Do not, however, mistake this for a less interesting CES. This was one of the most entertaining and interesting Consumer Electronics Shows I can recall since my very first back in 1997. There was a veritable plethora of new products from some of the most notable names in the industry. The landscape of high-end audio is changing in fascinating ways, and therein lies this tale. While imposing systems still hold the highest ground, genuine high-end sound in every sense of the term is becoming available in smaller and sometimes even very reasonably priced packages.
I've broken this lengthy report into three parts based, somewhat arbitrarily, on the sheer physical size of the systems, with a couple of exceptions. And as people always seem to most want to hear and see the biggest, baddest audio systems to be had at a show, let's start with. . .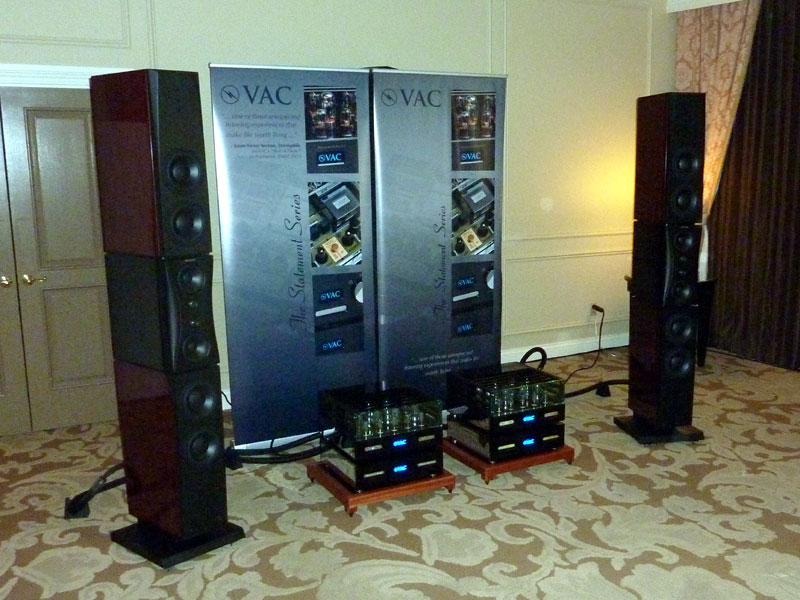 Valve Amplification Company (VAC) followed last year's fine CES showing with one of the most compelling systems in the upper reaches of the Venetian. This year saw the debut of the new Master preamplifier ($40,000 with phono stage, $27,000 without), which draws heavily on the technology developed for the Statement line stage ($75,000) and phono stage ($80,000), the latter two of which were in use when I was listening. Music was provided by dCS's Vivaldi transport ($39,999), DAC ($34,999) and master clock ($13,499); or Brinkmann's Balance turntable equipped with the German firm's 12.1 tonearm ($7500) and RöNt tube power supply ($4300), carrying an Ortofon MC Anna cartridge ($8925). Speakers were Dynaudio's Evidence Platinum ($85,000/pair) driven by VAC's Statement 450 iQ power amps ($120,000/pair, 450 watts each). Shunyata's latest Anaconda cables and Hydra power-conditioning devices (approximately $65,000 total) completed the system.
It's easy to put together a ton of wildly expensive gear and hope it all sings nicely together, although it often doesn't. Such was not the case here. This was a splendid example of what a carefully assembled megabucks system should do -- immerse the listener in the world of whatever music is played through it. Everything was present, nothing was either missing or exaggerated, whether the tunes were Shelby Lynne's "Just A Little Lovin'," Julie Driscoll and Brian Auger's supremely soulful take on the Doors' "Light My Fire," or some great 1970s fusion music from an English band called Cymande (which I intend to find ASAP), the last of which was played on a spotless original LP. "Turn off your mind, relax and flow downstream" was John Lennon's advice in "Tomorrow Never Knows," and this system made heeding that admonition as easy as drawing a breath. Wonderful in all ways, in every way, as it bloody well should be for more than $550,000.
Mentioning the grand scale brings to mind Lamm Industries, which always comes loaded for bear in their two rooms. The larger of the two rooms featured Lamm's LP1 Signature three-chassis phono preamp ($33,990), LL1 Signature line stage ($42,790), and both the ML3 Signature ($139,400/pair) and ML2.2 mono amplifiers ($26,700/pair) driving the top and woofer cabinets, respectively, of Verity Audio's Lohengrin IIS speakers ($120,000/pair). Analog was supplied by the ultra-high-tech air-suspension TechDAS Air Force One turntable ($100,000) fitted with Graham Elite ($14,000) and Phantom ($6800) 'arms holding TechDAS's TDC01 Ti cartridge ($12,500). EMM Labs' TDSX CD/SACD transport ($17,000) and DAC2X D/A converter ($15,500) handled the digital duties, and everything was tied together with Kubala-Sosna Elation power cables, digital interconnect, signal interconnects and speaker cables ($139,700 total) and rested on Sanus stands.
In their second room Lamm teamed the barely less complex TechDAS Air Force Two turntable ($50,000, with a more conventional, albeit exotically executed, suspension), Graham Elite 'arm, and ZYX UNIverse Premium cartridge ($13,995) and the same EMM Labs digital gear as in their other room, with Lamm's own LP2.1 phono stage ($8990), L2 Reference line stage ($15,990) and M1.2 Reference hybrid power amps ($27,190/pair) with Wilson Audio's wonderful Alexia speakers ($50,000/pair). Sanus racking and Kubala-Sosna Emotion-series cabling ($51,100 total) completed the system.
Lamm's systems have almost always counted among my best of show over the last fifteen years and nothing changed this year. The Verity system was marvelously expressive of all the nuances of music of all types. The Hot Club of San Francisco's "Nature Boy," with a guest vocal from Maria Muldaur, was as lifelike as the state of the art allows, which on music of this scale is very close indeed. There was an overwhelming effortlessness to this system, as there was to the big VAC/Dynaudio system, that comes only from superb sources and electronics paired with the finest in full-range speakers that are set up properly in a room with space enough for everything to breathe. This proved true whether the music was classical, jazz or amplified. My CD of Alan Hovhaness's Khriman Hairig, for orchestra and solo trumpet, put vast spaces, natural imaging and scrumptious string tones, airy and extended, directly in front of me.
The Lamm/Wilson system was no less impressive, with the Analogue Productions 45rpm reissue of Getz/Gilberto, and Astrud Gilberto in particular, on "The Girl From Ipanema" sounding absolutely scrumptious and tactile. I followed that classic by asking Elina Lamm to play "Solitude" and "Where or When" from the Jazz Track reissue (yeah, sourced from digital and not up to an Analogue Productions LP, but the music is brilliant) of Duke Ellington's Indigos. The Duke's piano and the full-band recapitulation of the theme on the former, along with Paul Gonsalves' breathy, buttery tenor sax on the latter, were beauty in sound. With the title track from Blackmore's Night's Under A Violet Moon, my notes say, "Nothing to say -- perfect to the recording," which about sums up both Lamm systems: Both were superb by any criterion one might choose to apply.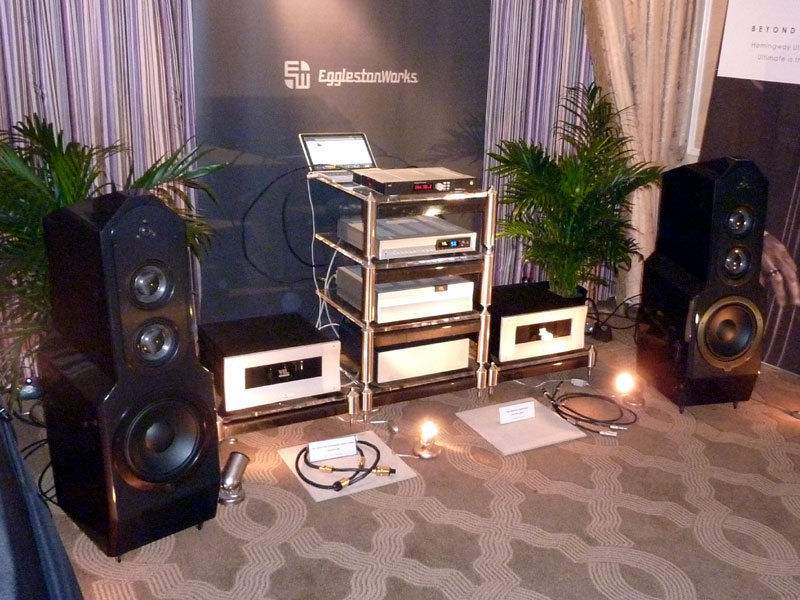 EgglestonWorks showed the Andra III speaker ($24,990/pair) with VTL's TL-7.5 III line stage ($25,000) and MB-450 III power amplifiers ($20,000/pair) and cabling from South Korea's Hemingway Audio. Music was provided solely by a laptop driving a Bricasti M1 DAC ($8599). Good thing I had ripped some familiar test tracks to a flash drive!
I reviewed the earlier Andra II some ten-plus years ago and found it a first-rate speaker, and nothing wrought by the evolution to the Andra III has done anything but improve my opinion of its musicality, superb dynamic capabilities, firm, well-defined bass, and ability to rather sweetly resolve gobs of unforced and well-balanced detail on all types of music. I had an extended opportunity to give this system a workout at the end of the day on Thursday, and it calmly handled everything I threw at it, from excellent-sounding orchestral pieces -- and big ones, principally the introductory two movements to Orff's Carmina Burana -- to large-scale dance remixes, electro-pop, and the acoustic but highly energetic Blackmore's Night. The Andra remains a graceful, deeply satisfying speaker on all levels, and its pairing with the superb VTL electronics was a wise and very successful choice for the EgglestonWorks team.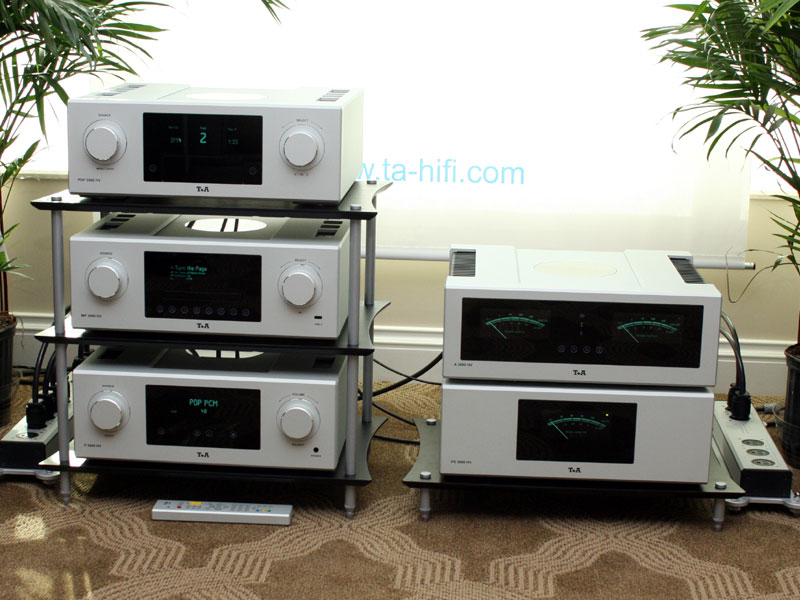 Germany's T+A Elektroakustic has been around for more than thirty years in Europe and their equipment is being imported to the US by Dynaudio North America. T+A introduced their new PDP 3000 HV digital player/DAC ($20,000), which features physically separate DSD and PCM signal paths and seven digital inputs; it is built like a battleship at 60+ pounds and bristles with the sort of fanatically executed over-engineering that is so very German. Considering the amount of high-powered number-crunching that is inside the '3000 its design and user interface are minimal and Euro-elegant. It was heard in tandem with T+A's P 3000 HV line stage ($15,000), A 3000 HV stereo power amplifier ($18,500, 300Wpc) augmented with the optional and equally massive PS 3000 HV power supply ($12,500), which takes over driving the amplifier's output stages while the amp's own internal power supply handles the input stages and high-voltage circuits. All of this horsepower was used to drive T+A's own Solitaire CWT 1008 SE loudspeakers ($55,000/pair) and was all wired with the German company's own interconnects, speaker wires, power cables and power distributors.
That there was sheer power, dynamic forcefulness, big bass and molecular resolution to be had from this system was never in doubt from the first note, though I found the speakers, which feature a large vertical electrostatic tweeter, to be somewhat hot in the lower treble. The room was rather small, I was listening in the extreme nearfield, and the speakers were toed in somewhat, all of which is not conducive to the best from any speaker. These are large speakers and need some room to breathe, but the system was otherwise impressive. What I heard made me want to hear this extremely potent and well-engineered system in a room more suited to its abilities.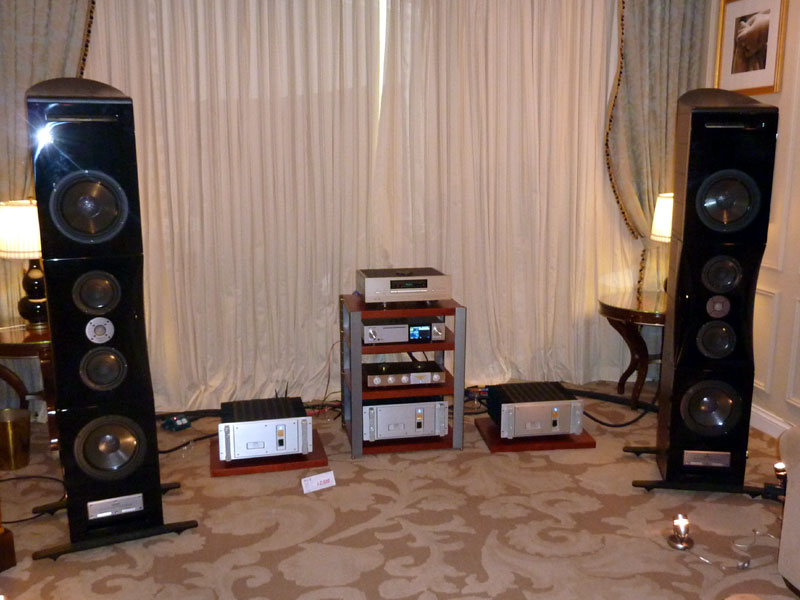 Taiwan's Usher Audio is represented in the US by Fred Katli of Katli Audio and the primary focus of their exhibit was, understandably, the seriously imposing Grand Tower loudspeakers ($35,900/pair), teamed with an Accuphase CD player feeding the digits to a British Cocktail Audio X30 streamer/DAC (approximately $2500) and Usher's own P-307A line stage ($2280), which Usher claims is based on the circuitry of the legendary and long-gone Cello Palette preamplifier. Power was provided via a pair of Usher's R1.5 stereo amplifiers ($2520 each, 150Wpc, and said to be a further development of the circuitry of the Threshold S-300 design) vertically biamping the massive speakers.
I have been a fan of Usher's speakers since I first heard them at a Stereophile show in New York City a decade or so ago. For those not familiar with Usher, their speakers are a trans-Pacific effort, with Dr. Joseph d'Appolito designing the crossover networks and doing final voicing on the designs of Lien-Shui Tsai, Mr. Tsai being the president and chief engineer of the company. The Grand Tower, at the apex of Usher's Dancer series, features the company's proprietary diamond/metal/diamond tweeter, two 7" midrange drivers developed and manufactured in-house and a pair of 11" Eton woofers per three-section tower. The finished product is six feet tall, and the Grand Towers tip the scales at a heavyweight 395 pounds each.
In spite of the unfamiliar electronics, the sound was mighty impressive, with forceful macrodynamics, refined microdynamics and a full-bodied, highly involving presentation of detail together with an easy way with the subtlest of tonal nuances. Candice Night's sibilants on "Under A Violet Moon" were natural-sounding, unforced and devoid of even the slightest hint of aggressiveness or bite -- just the way they should be but often aren't. This is a speaker I want to hear a lot more of.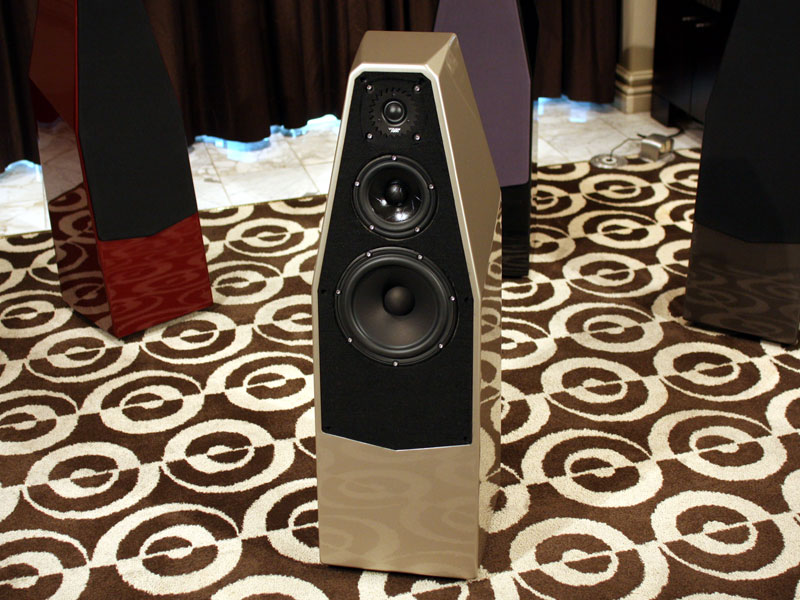 Wilson Audio unveiled the new Sabrina ($15,000/pair), a small-footprint floorstander that features driver technologies derived directly from its much larger sisters, the Sasha and Alexia. It is, dare I say, a cute loudspeaker, and I told Sheryl Lee Wilson it looks like it fell off an audiophile charm bracelet -- and fortunately for me she thought this was a clever remark. A charitable woman is she. Cute Sabrina may be, but if my past experiences of Wilson speakers hold true, she will play big and bold, with all the refinement that one expects from David Wilson's designs.
On passive display was a driverless mockup of the forthcoming "WAMM," the literal unveiling of which shocked a roomful of the most jaded and experienced audio writers in the US into a stunned silence. Marc Mickelson provides what information there was to be had about this glorious monster. When it exists in its final form this is a speaker that will set the world on its ear, pun intended.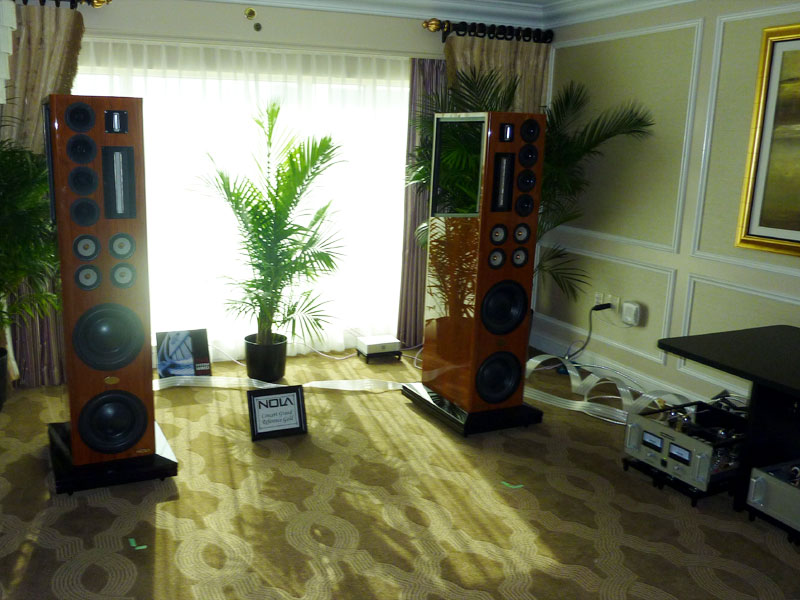 Exceptional sound in a Nola room is as dependable as the sun's rise on the eastern horizon, and Carl Marchisotto did not disappoint, but when does he ever? Back from last year were the Concert Grand Gold speakers ($197,000/pair) fronting Carl's favorite Audio Research electronics: the Reference 10 line stage ($30,000) and CD8 digital player ($10,000) sitting on a table and a Reference 75 power amp ($9000) with the usual Nordost Odin wiring and Quantum power distribution/conditioning magic boxes. Once again the Concert Grand Gold showed itself to be one of the most formidable and consistently impressive, musically convincing speakers to be found anywhere, though the big surprise from Nola is in the second part of my report.
Absolare's room blew me away at the 2014 show, yet Kerem Kuçükasian and company topped even that achievement this year. CES saw the launch of two new Absolare components, the Passion phono stage ($33,000) and the Passion 845 push-pull mono power amplifiers ($40,000/pair, 85 watts each). Both are strictly tube components, the phono stage being a two-chassis design with the power supply isolated in its own box, and like all Absolare components it features point-to-point wiring. A second input is an option, and there is no step-up transformer. The power amplifier was designed "to bring together the power of the push-pull [mode] with the finesse of the SET" and features a pair of EL34 tubes driving a pair of 845 power triodes. The EL34 is known for a silky, crystalline sound, and the venerable 845 is perhaps the most revered of all the old-school triodes and definitely a big tube.
Analog was provided by Steve Dobbins' Kodo "The Beat" turntable ($34,000) fitted with Frank Schröder's pivoted-but-linear-tracking LT tonearm ($8900, a fascinating thing it is and beautifully made) carrying a Lyra Atlas cartridge ($9500). The digital source was MSB's UMT V transport ($12,000 including separate power base) and Diamond DAC IV ($34,000, also including separate power base). Speakers were Rockport Technologies' superb Aviors ($33,000/pair), while cabling was all Kuçükasian's own Echole Omnia. Absolare's proprietary version of the Bybee power filter ($7500), Speaker Bullets "signal purifiers" ($5950/four) along with Stabilian racking ($9000) and Quatro Feet ($1200/set of three) completed the assemblage.
It has long been my thought that auditioning systems at shows is rather like speed dating. Impressions may be good or bad, but the strongest ones stay with you and, when favorable, can lead somewhere special. This room was, by any standards, nearly sublime in its effortless presentation of musical truth and brought me back several times. Ruth Moody's marvelous all-acoustic cover of Bruce Springsteen's "Dancing In The Dark" is gorgeously recorded and swept me away. My notes: "I cannot think of a musical or sonic virtue this does not have." Julie Driscoll and Brian Auger's cover of "Light My Fire" was impeccable, and a vinyl reissue of the classic The Weavers at Carnegie Hall, which I know as well as any recording I have ever heard, was astonishing. The layering of the crowd as they began to sing along with Pete Seeger, the delineation of the shape of the hall, the sheer intensity of the tonal colors, were breathtaking. This was such stuff as musical dreams are made of.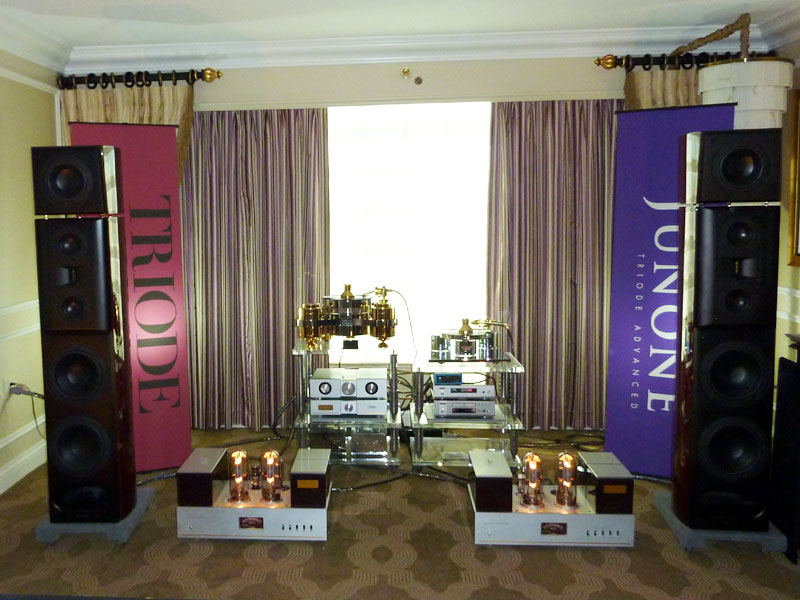 The subject of massive power triodes leads naturally to the Triode Company of Japan (TRI)/Acoustic Zen room, where the mighty 845 also made an appearance, but as a driver tube. TRI's CEO and designer Junichiro Yamazaki brought with him his latest and most striking audio toys, the Junone Reference One line stage ($20,000) and Reference M212 power amplifiers ($42,000/pair, 100 watts each), which Yamazaki-san describes as having a "parallel single-ended" circuit.
The Reference One is a true dual-mono design, with each channel inhabiting its own discrete half of both the power supply and control chassis. One must even select sources using two knobs. It features specially selected, mostly vintage tubes: four Raytheon 6KZ8 tubes, two Electro-Harmonix 6DJ8s and a pair of RCA 22DE4s, an ALPS volume pot and Mundorf capacitors throughout. The Reference M212 is a massive beast, using 310 triodes to drive a pair of 845s, which themselves drive the gargantuan 212 power tubes, which make the 845s look like 300Bs. It is also a very clean and attractive piece of industrial design, particularly if one has a serious tube fetish, to which I plead guilty.
The rest of the system began with a Triangle Art Reference SE turntable ($24,999) fitted with Triangle Art's own Osiris 12" tonearm ($5800) and Apollo MC cartridge ($8000) with a ZYX Artisan phono stage ($5000). Digital was provided by TRI's always good-sounding TRV-CD5SE CD player ($3200) as a transport and TRV-DAC1.0 ($2499, and this tandem is a steal), both of which sport 24-bit/192kHz resolution, digital inputs including USB and tube output stages. Speakers and Absolute-series cabling were by Acoustic Zen; while in the past AZ's always energetic Robert Lee has showed his excellent Crescendo speakers, this year he brought the top-of-the-line Maestros ($41,999/pair). The Maestros are big boys, 5 1/2-foot-tall, four-way transmission lines with a pair of 10" woofers. They weigh in at 225 pounds each.
The sound was somewhat overwhelming, as the Maestros are considerably larger than the Crescendos and may have been too much speaker for the room, but there was no mistaking the dynamic power, resolution and sheer force the system brought to bear on "O Fortuna" from the Alsop/Baltimore Symphony recording of Orff's Carmina Burana.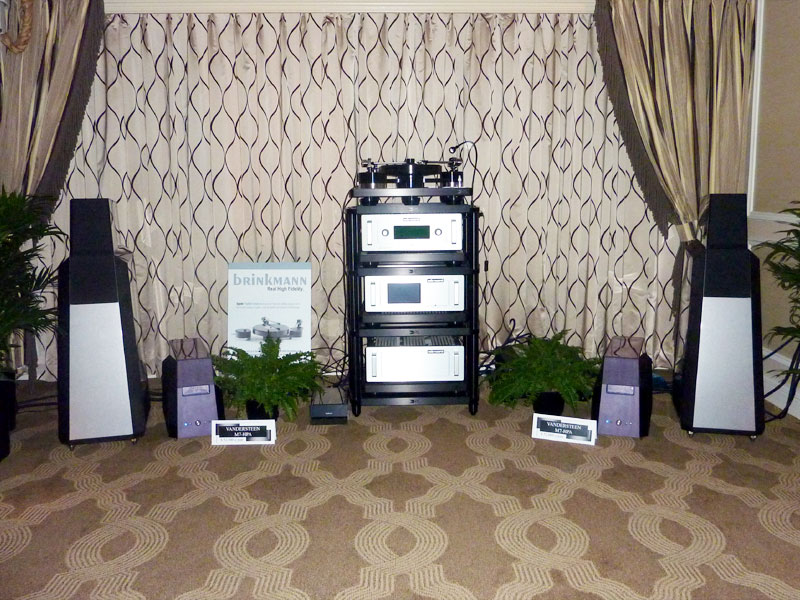 Vandersteen took the wraps off both the Model 7 Series II speakers ($62,000/pair) and, at last, the innovative companion amplifier they had shown in prototype form last year: the M-7 HPA monoblocks ($52,000/pair, 600 watts into 4 ohms). Richard Vandersteen's new pride and joy was teamed with the Reference 10 phono stage ($30,000) and Reference 5 SE line stage ($13,000) from Audio Research. In a show of just how serious Vandersteen was about this system, it was vinyl only. The sole source here was a Brinkmann Spyder turntable with two 10.5 'arms and RöNt power supply ($33,900 total) carrying Lyra Atlas stereo ($9500) and Kleos mono ($3500) cartridges. Things were completed by Harmonic Resolution Systems isolation stands/bases and AudioQuest cabling.
The M7-HPA amps are designed specifically to be used with Vandersteen's Model Five and Model Seven speakers, both of which employ integral amplification and equalization for their subwoofers, and the amps handle only frequencies above 100Hz. Their chassis are machined from solid aluminum billets and employ only N-Channel bipolar transistors, which are themselves oil-cooled in order to maintain a constant and controlled thermal state. As for the second generation of the Model Seven, Richard and Nathan Vandersteen revised the alignment of the midrange and tweeter to improve soundstaging and also tweaked the twin 12" subwoofers.
When I visited on the first day of the show I heard the entirety of the immortal Argenta/London Symphony Orchestra recording of Rimsky-Korsakov's Capriccio Espagnol, and it was simply magnificent. Reissued by Original Recordings Group, this timeless, sensational British Decca recording had it all: crisp, explosive dynamics, strings with remarkable sheen and body, and a massive soundstage in which each instrument was placed with the sort of natural precision one hears in the concert hall. I was bowled over.
When Marc Mickelson and I returned for a private listening session on the closing day of the show, the sound was even better. Much better. We were treated to a stunning selection of LP cuts, including "The Sound of Silence" from Simon & Garfunkel's The Concert in Central Park, the classic live version of "Stimela" by Hugh Masakela, and "Riders on the Storm" from Analogue Productions' 45rpm reissue of The Doors' L.A. Woman. Speaking frankly, this was one of the finest audio systems I have ever heard anywhere. That this was achieved under show conditions made the accomplishment all the more noteworthy.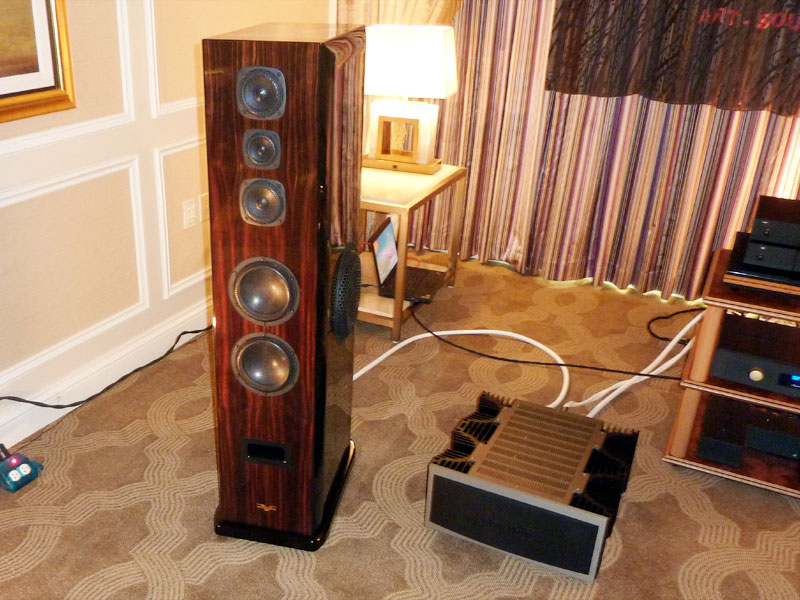 The ever-smiling Didi Kong of Venture debuted an homage to his company's earlier days, the Avantgarde Mk III speaker ($120,000/pair). The original Avantgarde was one of Venture's first generation of speakers back in the 1990s, and it has now been reincarnated with the best of the company's current driver advancements. A four-way speaker with one pair each of side-mounted 10" woofers, front-mounted 7" mid-woofers, 5" midranges and a single 2" tweeter (all made with Venture's proprietary AGC and CFGC cone materials), the Avantgarde III is a large, and large-sounding, speaker, as I heard it with Venture's own VP 100L line stage ($35,100), V200 mono power amps ($120,000/pair, 200 watts each), the Weiss Engineering Jason CD transport ($22,707) and companion Medus DAC ($21,799) and Venture's own cables. Appropriately, Didi was playing a lot of Sinatra when I visited the room, and the original Mister Las Vegas was suavely present, surrounded by a lush and wonderfully layered backdrop in a large soundstage.
Canada's Bluebird Music featured Chord Electronics' DSX 1000 DSD Network Music player ($13,000) accessorized with Chord's Synology NAS Drive DSD stream converter ($1500) and lovely tube electronics from France's legendary Jadis: the PRE I line stage ($11,900) and the swoon-worthy, lust-inspiring JA-120 mono amplifiers ($26,900/pair, 100 watts each, pure class A). Estelon's striking XA speakers ($45,900/pair) and Kubala-Sosna Elation cabling (approximately $10,000) completed this system. The Estelon speakers are packed with high-tech materials, from the crushed-marble composite used to make the very inert and elegantly sculptured cabinets to their custom-built ceramic drivers.
The pairing of the richly saturated, luscious Jadis electronics on the Estelons was a wonderful combination of a lacy transparency very reminiscent of electrostats with more timbral meat on the bone from top to bottom and an authoritative low end. On a CD of Rossini overtures this system was highly refined and revealing while remaining relaxing and involving, an apt combination of sonics and music. The Ruth Moody track was delicate and airy, but with full-bodied voice and instruments, and stringed instruments of all sorts were a particular strength, from the neatly layered violin and cello sections on the Rossini to the bluegrass-y band on the Moody cut and Ritchie Blackmore's dense, layered acoustic guitars on the title track of Under a Violet Moon. Candice Night's vocals were sweet and firmly present with no overcooked sibilants but plenty of air and ambience.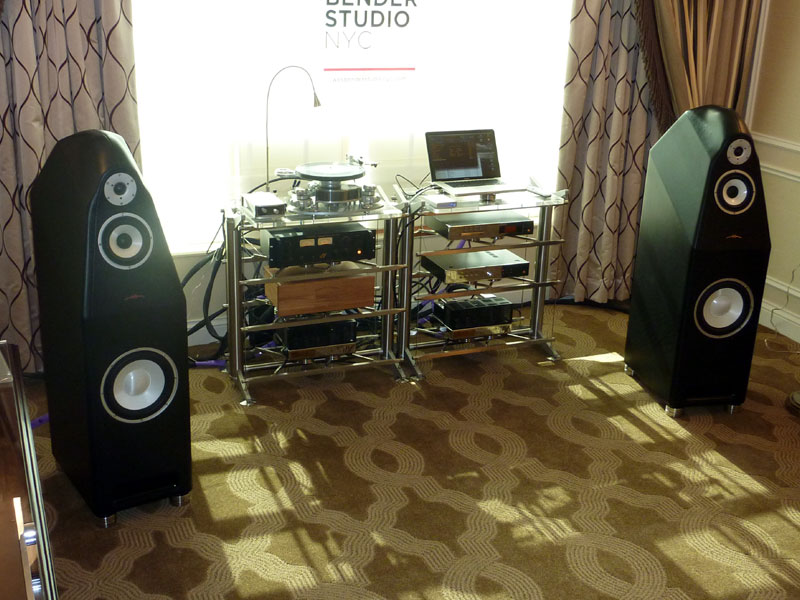 New York City's Wes Bender Studio had a fine room kitted out with E.A.R.'s Disc Master turntable ($28,500, sporting a pair of Helius Silver Ruby tonearms, $5225 each) Transfiguration Proteus ($6000) and SteinMusic Aventurin 6 MC cartridges ($6500) to play the LPs; digits were decoded on an EAR DAC 4 Acute transport that also served as a DAC for tunes played on a MacBook Pro running Sonic Studio Amarra 3.0 software ($189) as well as playing actual CDs. Electronics were EAR's 912 full-function preamplifier ($13,000 including phono stage) and 509 mono amplifiers ($15,700/pair, 100 watts each), both all tube. Cables were from Waveform Fidelity, and Stillpoints provided racking, isolation devices and room treatments. At the business end were the new Dragon Legend E speakers ($60,000/pair) from a resurgent Hansen Audio.
The Dragon's cabinet is made of a multilayer composite sandwich, and Hansen manufactures the 10 1/2" woofer and 7" midrange drivers in-house, carefully pairing them with the front- and back-firing tweeters. The sound on my assortment of demo tracks was fast, dynamic, big and bold. Resolution and air were present aplenty and a Yello track played by Wes Bender had massive bass synthesizer transients that were exceedingly potent and well controlled. Ruth Moody's and Candice Night's voices were on the mark and the soundstaging was also notably fine.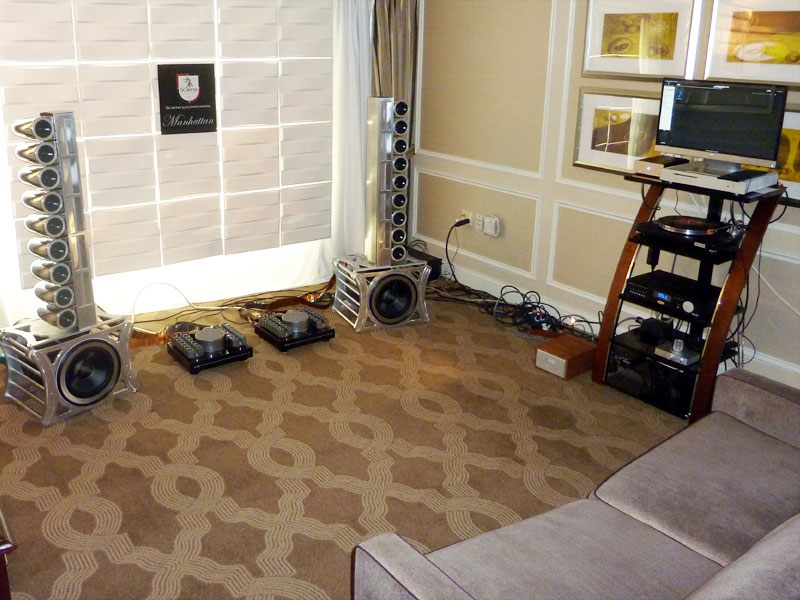 Scaena has radically rethought its remarkable line-source speakers, and the result is a massive step in the direction of practicality while losing nothing -- the tonal neutrality and unique imaging -- that has made their speakers so special for a number of years. The principal rethinking has been in the bass drivers and their placement. Where once Scaena used one (or multiple) 18" woofer(s) that were physically separate from and placed far behind the line-source towers, the move to a new 12" woofer with exceptionally high power handling has made it possible to integrate the entirety of the speaker system into individual towers. Additional woofer modules may be added (to Scaena's own speakers or others) depending on room size. The woofers continue to be driven by bombproof Crown pro audio amplifiers via a crossover.
The new Manhattan 9 ($32,000, nine pods on each tower, 12, 15 or even 18 are available) was driven by a Bohmer Audio time-domain-correction system/DAC/crossover ($3200), biamplified with Graaf GM 200+ power amplifiers ($25,000 each, 210 watts) and wired with Silversmith cable ($1500/two meters). Music was courtesy of the Mainframe by Scaena music server ($4400).
I wanted to give Sunny Umrao's new baby a workout, as I have heard Scaena speakers do amazing things in the past, and I was not disappointed. From the vast spaces of the Above and Beyond remix of Ayumi Hamasaki's "M" to Julie Driscoll and Brian Auger's soulfulness to the massive, whomping bass of Yello's "Oh Yeah" and Calvin Harris's "Let's Go" (featuring Ne-Yo), the Scaenas brought everything I have come to expect from them. The only problem here was a familiar one: the room was too small to let everything show its best.
MSB Technology consistently presents the finest that can be had from digital and did so once again. MSB's Universal Media Transport V ($6995) with the upgrade Dual Signature Power Base ($4995) and Diamond DAC V ($29,995) with the Diamond Power Base V ($5995) directly drove the Stereo S201 amplifier ($17,995, 200Wpc) and Voce Audio Trius speakers ($64,000/pair). The MSB room was also home to some particularly attractive equipment racks from Australia's SGR Audio. Their sleek appearance conceals some sophisticated isolation technology, while their eye-candy looks definitely draw attention. The big, three-way Trius, with its enormously dense and heavy resin/polymer cabinet, WyWires internal wiring and Furutech hardware, acquitted itself very well. The sound here was beautifully defined, liquid, seamless, and intensely natural. The nature of the source is entirely beside the point when the sound is this good. It either sounds like music or it doesn't, and MSB's gear always sounds supremely musical.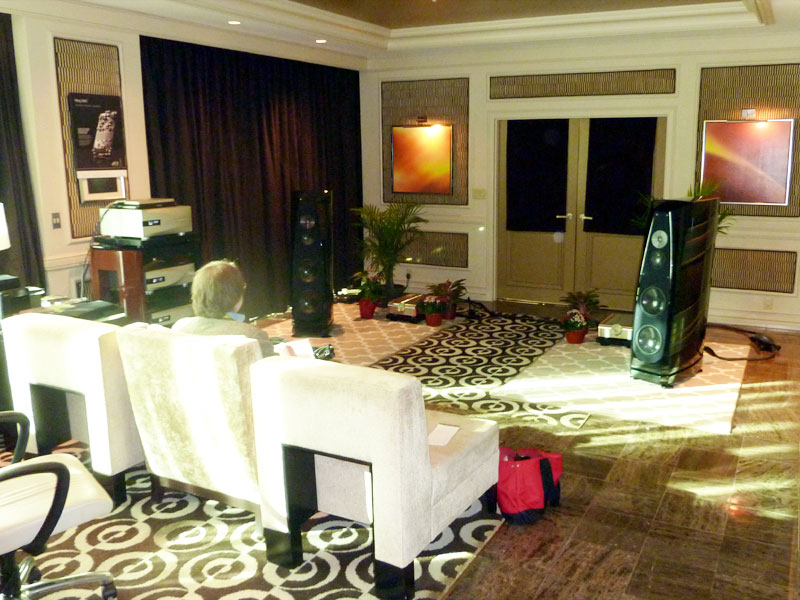 Over at the Mirage, Rockport Technologies showed the new Cygnus speaker ($62,500/pair) in stellar company: dCS's Vivaldi transport ($39,999), DAC ($34,999), digital-to-digital upsampler ($19,999), and Master Clock ($13,499), which allows the user to select from two banks of clocks that can generate completely independent frequencies to sync everything else together into the most minute subdivisions of the time domain, (that adds up to $108,496 worth of dCS gear if my Minnesota math still works), Dan D'Agostino's Momentum monoblock amplifiers ($55,000/pair, 300 watts each), and Transparent Audio's Reference MM2 cabling. As was the case last year, dCS once again very nearly stole the entire show, though I couldn't help but wonder what more there might have been had dCS been using the VTL MB-450 III Signature monoblocks they had at the 2014 show. I have heard the combination of VTL electronics and Rockport speakers do amazing things on several memorable occasions.
Marc Mickelson and I were given the exclusive run of this system for the better part of an hour courtesy of dCS's John Quick, and it was an experience not soon to be forgotten. Every track was, if not a revelation, a treat of the highest order. Ruth Moody, Driscoll and Auger ("When I Was A Young Girl" was bone-chillingly present in the room), Zero 7, Oscar and Diz, you name it -- this was the sort of system for which the term "high fidelity," in the dictionary sense, was invented. Spectacular.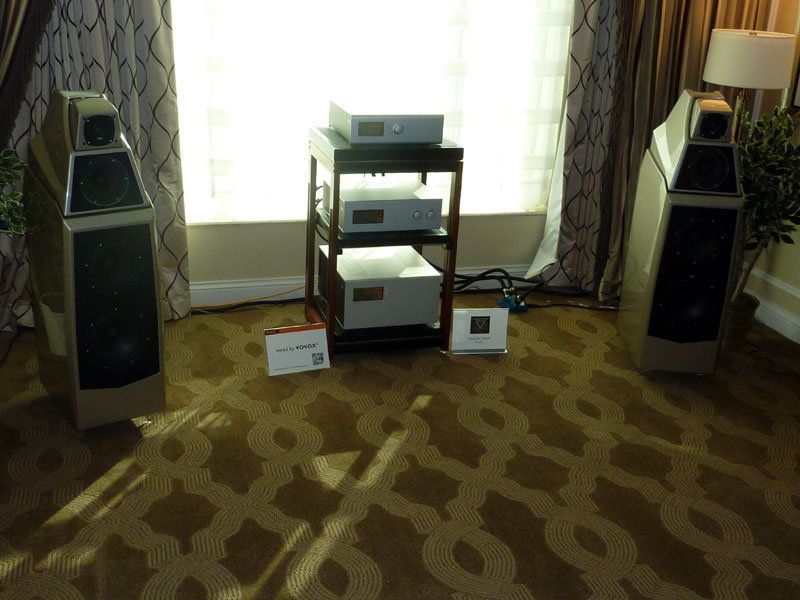 One of the most pleasant surprises to me was the Soulution/Vovox system. I've always found the very Swiss Soulution electronics to sound, well, very Swiss: supremely precise and organized but a bit chilly and clinical while respecting their ability to tick off every sonic attribute on the high-end checklist, but this was a new leaf, at least in my experience. Soulution's 560 DAC ($35,000, running tunes from the now ubiquitous laptop), 725 line stage ($55,000) and 711 stereo power amplifier ($55,000) drove a pair of Wilson Audio Alexias ($50,000/pair) through Vovox Textura Fortis cables ($17,400 total).
The excellent sound here was relaxed and, if anything, ever so slightly warm in just the right way. There was a rosiny sweetness to the orchestral strings on an excellent recording of Saint-Saëns' Danse Macabre and an Oscar Peterson trio cut was inviting, delicately resolved and intimately swinging. The Swiss Vovox cabling caught my particular attention. Designer Jürg Vogt comes out of a hard-headed and practical pro-audio milieu and focuses strongly on the scientific aspect of cable design. The cables have a solid-core construction and the speaker cables do hot have added lugs; the core of the cable is shaped into terminations and then rhodium plated. While not cheap, they represent a definite alternative to cables priced like mid-level (and even higher) sports sedans, and I want to hear more of them.