CES & THE Show 2012 • Hot Product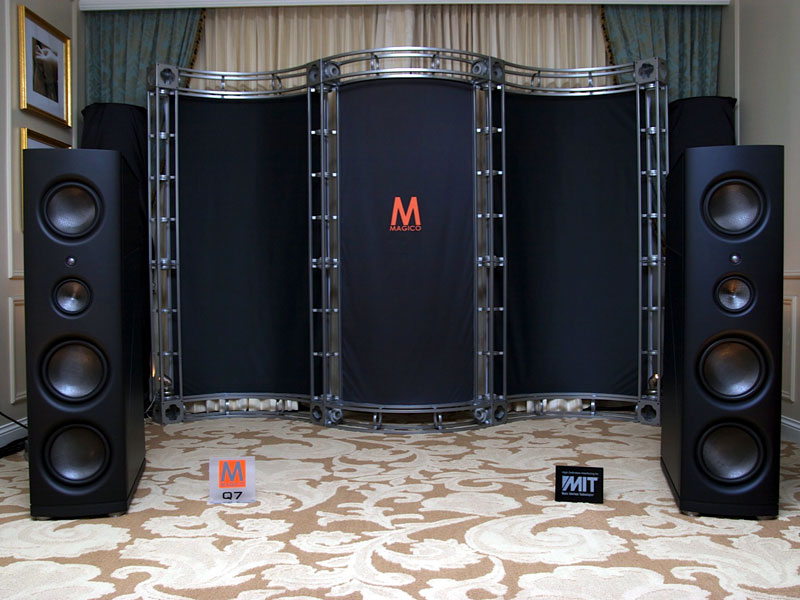 Magico made very persuasive sound with its new $165,000-per-pair Q7, the company's largest loudspeaker yet. Weighing in at 750 pounds, the Q7 achieves a sensitivity of 94dB, according to designer Alon Wolf, this thanks to magnets that have unusually high saturation. The motors of each of the Q7's two 12" bass drivers achieve a saturation of 0.95 Tesla, which is three times that for most drivers. The Q7 is a ground-up design; while it has similarities to the Q5, it is, in fact, a completely different beast, as the extra 10dB sensitivity suggests.

Magico was being very cagey about the equipment it was using for the demonstration, the only identifiable elements being a Pacific Microsonics DAC, which is a pretty rare beast these days, and a Spectral preamp. The source was an unidentified digital server, and the power amps were prototypes that were not in sight but apparently might be put into production at some point in the future.

The sound was pretty spectacular with a lovely bit of flamenco from a Dave Holland and Pepe Habichuela album called Hands. The bass in particular had a natural bloom to it that is very rare, and the speed and dynamics gave the music a vitality that is also rarely heard.