CES & THE Show 2011 • Too Marvelous for Words
by Paul Bolin | January 31, 2011
There were many excellent sounds to be heard at CES 2011, with Venture, Nola, VTL, BAT, Audio Research/Magnepan, Marten, and BAlabo/Tidal toward the head of a distinguished list. There were, however, two rooms that stood out from even the very stiff competition at this show. In both of these exhibits I heard sound at a level that was something well beyond anything I have experienced. These two very different rooms came closer to presenting live music as it really is, in all its dimensions, than any audio systems I have heard.
I have heard the Scaena speakers on a couple of occasions and been very impressed, but this year's exhibition was supreme. For those unfamiliar with them, the Scaenas are very narrow line-source towers (available with 24, 30 or 36 "pods" per side) supplemented with pairs, quartets or sextets of powered subwoofers that incorporate digital processing for room matching. The speakers shown at the show were 24-pod towers with two subwoofers per channel and go for $60,000/pair. A complete dCS Scarlatti digital front-end (some $75,000) and Scaena exec Sunny Umrao's laptop (fed into the dCS gear) supplied the tunes. Conrad-Johnson's 275W ART mono amplifiers ($33,000/pair) drove the main towers. Cabling was Nordost Odin from stem to stern.
The towers were set up in the nearfield on the higher part of the two-level room, with the subs located well back on the lower level. In the distance between was the single most freakishly holographic presentation of recorded music I have ever heard. Life-sized musicians were present, and the original recording's acoustic was authoritatively and utterly forced into the room. Timbres were superbly lifelike and resolution was phenomenal. As impressed as I was, Umrao was also sufficiently blown away by the Auger/Driscoll track to demand that he be allowed to rip it before I left the room.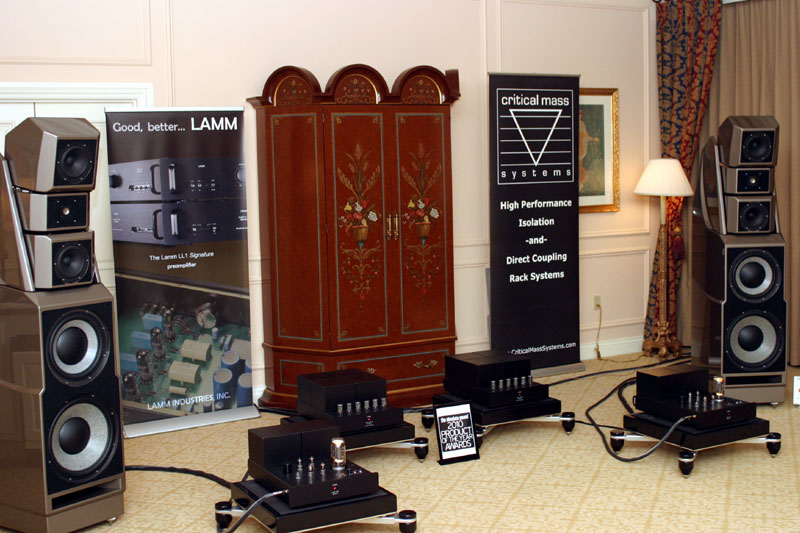 Vladimir Lamm somehow found a way to top his best-of-CES 2010 presentation by upgrading speakers from the Wilson MAXX Series 3 to the never-before-exhibited-at-CES Wilson Alexandria Series 2 ($158,000/pair). Partnered with the Alexandrias were Lamm's own ML3 Signature amplifiers ($139,290/pair), LL1 Signature four-box dual-mono preamp ($42,690) and a pair of LP2 Deluxe phono stages ($7590 each). Digital playback was courtesy of the NeoDio NR22T CD transport ($13,000) and NR22D digital-to-analog converter ($12,000), with an all-da Vinci analog rig ($109,204 total) providing LP sound. Kubala-Sosna Elation interconnects ($6000/meter pair), speaker cables ($7800/eight-foot pair) and power cords ($2300/two-meter length) were in use, as were Critical Mass Systems MAXXUM racks ($33,990 each) and platforms ($5650 each).
Through some fortuity granted to me by the Audio Gods, I was quite literally given the run of this system -- by myself, for more than an hour and a half. It was Saturday night in Las Vegas. I had arranged with Vladimir for some after-hours listening. This in and of itself would have been something special, though not out of the ordinary. Last year I spent an hour with Vladimir, his wife Elina and NeoDio's Jean-François Fronton in the same room with much the same system. This time, I popped into the room at six; Jean-François was playing LPs and CDs of classical music and vintage jazz, and I thoroughly enjoyed myself for the better part of an hour.
By around 6:40, most of the crowd had left, with only myself and three other guests remaining. Between tracks, Vladimir came over to me and asked if I would "like to close the room," as he, Elina and Jean-François had a dinner reservation with a distributor. Flabbergasted, I agreed. Vladimir gave me simple and specific directions: "When you are done, put in a CD, turn the volume down to low, make sure the door is securely locked." The three gents who were in the room with me played a track, then headed off for their own dinner reservation, and I was left alone.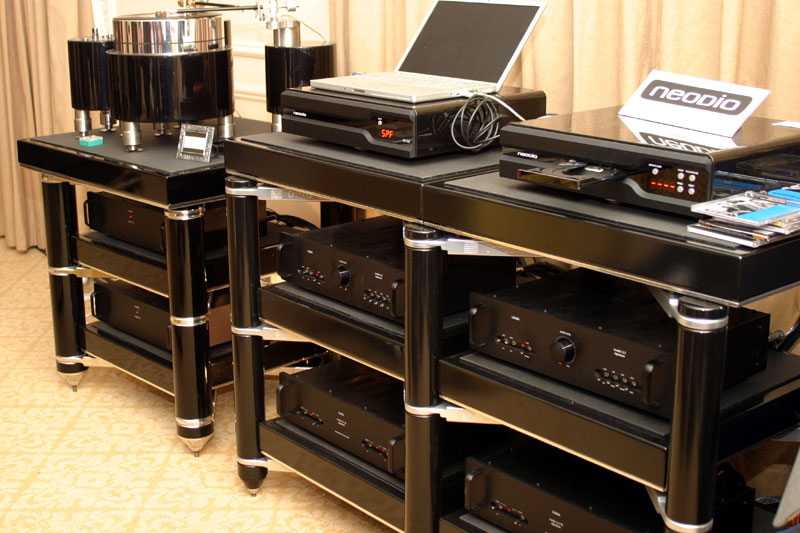 I dove into my CD wallet. As I'd already played the Auger/Driscoll "Light My Fire" and Hiromi's "Green Tea Farm," two of my main test tracks at this CES, I was able to experiment with some of the other music I brought along. First up was "Each Small Candle" from Roger Waters' In the Flesh. The sound of this disc is immense on any full-range high-end system (sorry, minimonitors and less-than-full-range floorstanders need not apply here), incredibly concert-lifelike and tonally luscious. The ambience of the recording venues had imposed itself on a number of good rooms at the show, but this was a different breed of cat altogether. The LL1/ML3/Alexandria 2 system hung a soundscape of astonishing size in the large room, with every image more dense and touchable than on any system I have ever heard. Closing my eyes, I was taken directly back to the sound of Waters' recent live The Wall 30th Anniversary show, which I saw in St. Paul in late October. It was that convincing. No suspension of disbelief was required. "Candle" falls within the general musical territory staked out by Waters' Pink Floyd days, and is big and dynamic as all get out, not to mention that it is an emotionally harrowing but ultimately optimistic and uplifting piece of music. The band is large, the mix complex, but this system sailed through it with complete, effortless control. It all soared, and the last line, spoken by Waters, was chillingly there.
The crushingly ominous quality of the main theme from the Twin Peaks: Fire Walk With Me soundtrack [Warner Bros. 26316] was a physical presence, but the Harmon-muted trumpet stood out as a precise and densely imaged point. The vibes that run through "Moving Through Time" had a verisimilitude and genuine fidelity that were beyond spooky. The delicate and touching sweetness and sheer heartache in "Laura Palmer's Theme" and the ethereal beauty of "Falling" from the "Montage From Twin Peaks" was emotionally overwhelming. Angelo Badalameni's music is all about moods, impressions and things not clearly seen. This system intensified and distilled all of that into the headiest and most intoxicating of brews, and did so with the greatest of ease.
One of the most disconcerting things that this system was able to do was scale images and recordings as close to perfectly as the current state of the art allows. It did not blow up the size of the vibes or acoustic bass on "Moving Through Time" from the Lynch soundtrack, or any voice or other solo instrument. Nor did it turn the Waters track into something that was huge but amorphous and ill-defined. Everything I heard, including Peter McGrath's beyond-superb live classical recordings, had life-sized images of lifelike density existing in the exact space in which they were recorded. It was fascinating and bewitching.
It must be admitted that the cost of this astonishing system is gasp-inducing and will draw hoots of derision from the uninitiated. But I have heard even more costly systems that cannot touch what I heard here, and I suspect that even more (!) might be there to be had with Nordost Odin cabling, which I use as a reference with my Lamm M1.2 amps and Wilson Sasha W/P speakers. The Odin meshes beautifully with both Lamm and Wilson products and exceeds the overall performance of any cables I have heard.
The big question: are the Scaena speakers better than the Wilson Alexandria 2s? To be brutally truthful, no. Different, yes, but equally compelling in many of the same ways. It isn't exactly a fair comparison, as I have heard more of the Alexandria 2s, and have heard them in situations where they were quite literally perfectly set up. Conversely, I have heard the Scaenas only twice -- both times in the exact same room at CES.
But something is clearly happening here, though what it is ain't exactly clear. These two loudspeakers stand by themselves in terms of sheer convincingness, though they have different styles. Oh, to have the time, space and money to spend several months deciding which I prefer. And then keep them both.