CES & THE Show 2011 • I've Got You Under My Skin
by Paul Bolin | January 31, 2011
I had seen and heard the name Bladelius Audio Design over the years, but I had never managed to hear any of the company's gear, a situation I remedied at CES. The Swedish company was showing a small-footprint-but-big-sounding system consisting of the Embla "playback system" ($6000-$9000 depending on configuration) and Ask stereo power amplifier ($3995) driving MartinLogan Summit X speakers ($13,995/pair).
The Embla is a most interesting and versatile piece of equipment. It combines a CD player that can burn "bit-perfect, strict .wav PCM" copies to internal flash memory (64GB, upgradeable to a maximum of 2TB) for no-moving-parts replay at up to a 192kHz sampling rate, and a full-function preamplifier with analog inputs and full USB/Ethernet connectivity. All of this technological sophistication is housed in the sort of sleek and stylish package one associates with the best in Swedish design.
The Ask is also something out of the ordinary, offering green technology in the form of two completely different amplifiers in one Embla-matching box. The analog amp has a traditional JFET input stage mated to 16 "high speed, super linear" output devices to provide 165Wpc into 8 ohms and 330Wpc into 4 ohms. The entirely separate digital amplifier consumes much less power and delivers 140Wpc and 240Wpc into the same loads.
Taken together, this system was refined, detailed and extremely musically agreeable. While not cheap, this is precisely the sort of system made for the music lover who wants serious high-end performance, compatibility with a wide array of digital formats, and lifestyle-friendly footprints without having to delve into the world of hardcore hi-fi geekery. I suspect we will be hearing much more from Bladelius Audio Design.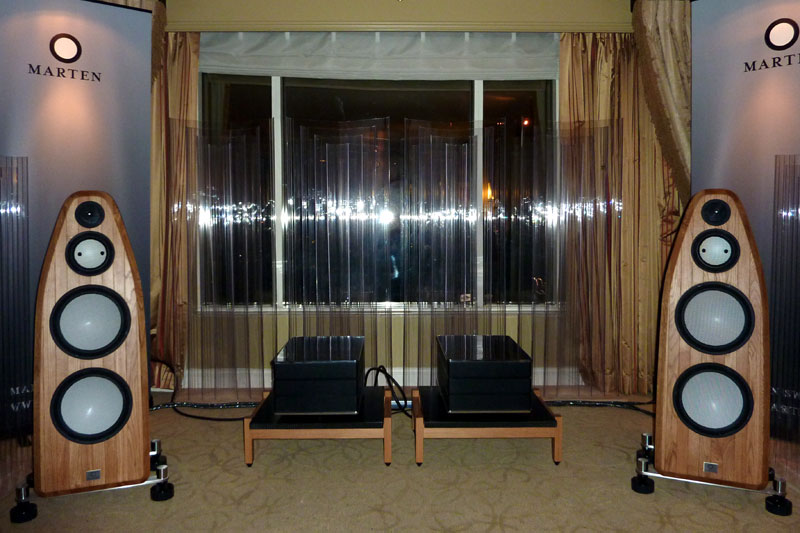 Another Swedish company making an excellent impression was Marten. An updated version of the much-lauded Coltrane loudspeaker, the Coltrane 2 ($95,000/pair), was debuted in tandem with brand-new mono amplifiers, the M-Amps ($45,000/pair), along with EMM Labs' XDS-1 CD/SACD player ($25,000) and Pre2 line stage ($15,000).
The Coltrane 2 now sports a carbon-fiber laminate cabinet with a beautifully finished wood front baffle, resulting in a surprisingly svelte 132-pound weight per very substantial speaker. The cabinet is 40% larger than its predecessor's and holds two newly developed 11" ceramic sandwich woofers, a ceramic midrange driver (all created in collaboration with ceramic-driver specialist Accuton), as well as a diamond tweeter.
The technical description of the M-Amp is complex, but here goes: its core is "an inverting globally self-oscillating class D stage [operating as] a load-independent wide-bandwidth first order modulator, switching at 600kHz, with a constant loop gain of 30dB all the way up to the switching frequency." The amplifier is fully balanced from input to output.
I played a longstanding favorite recording of Vaughan Williams' Five Variants of "Dives and Lazarus," Leonard Slatkin conducting the Philharmonia Orchestra [RCA B000003F9Q], and heard strikingly silky tonalities on the variegated string sections, delicate and subtle shadings of VW's inner countermelodies, burnished cellos and double basses and a marvelously resolved sense of space.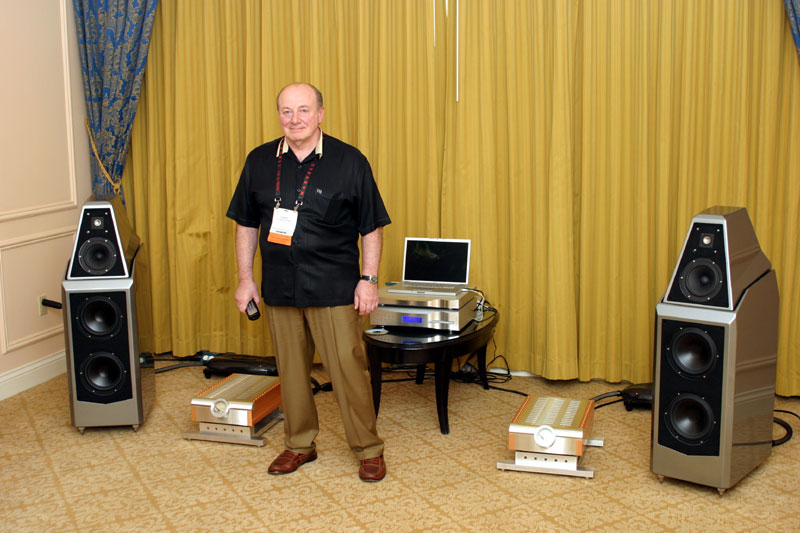 Dan D'Agostino is a name that should be familiar to everyone here. The founder and chief engineer of Krell, which he left in 2010 after a complex series of business machinations left him outside looking in at the company he founded and built, wasted little time in establishing Dan D'Agostino Master Audio Systems, which debuted the drop-dead-gorgeous Momentum mono power amps ($42,000/pair). Where D'Agostino's Krell designs tended towards the "big and brute force" school, the Momentum is a compact, exquisitely designed package. The 300/600/1200-watt (at 8/4/2 ohms, respectively) amp features a front-panel power meter that says "costly European watch" and polished copper heat sinks that form the chassis's side panels.
The room was completed with dCS digital playback gear, MIT cabling and Wilson Audio Sashas. A couple of visits showed the Momentum to have, to my ears, the most musically natural and relaxed sound of any D'Agostino-designed product I have heard while retaining its designer's traditional strong points of power, composure and bass performance. A matching preamplifier was announced, though not shown. I am hoping to secure a pair of these beauties for review in the next several months.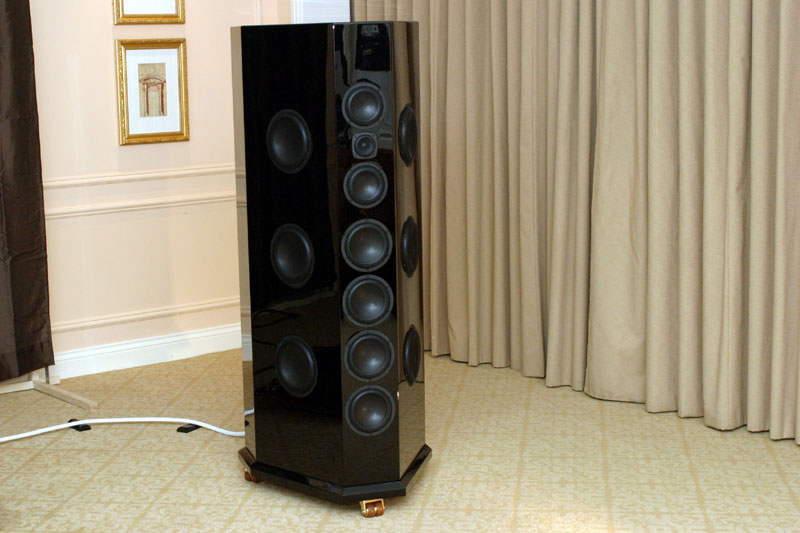 I have long admired Venture loudspeakers, and the Belgian company came loaded for bear at CES. Mr. Njoo Hoo Kong, Venture's owner and designer, was personally present to debut the massive new Xtreme loudspeaker ($199,000/pair) accompanied by the omnipresent Spiral Groove SG1.1/Centroid 'table and 'arm fitted with a Decca/London cartridge, the latest versions of Weiss Engineering's Jason digital transport ($20,000) and Medea DAC (price expected to be approximately $18,000), Venture's own VP 100P phono stage ($26,871), VP 100L line stage ($35,100), and 100W V 100A+ mono power amplifiers ($62,000/pair). Venture cabling tied everything together.
This was a serious room. It was also a very large room festooned with a lot of drapery and as such quite acoustically dead. The Xtreme lived up to its name. It is a huge loudspeaker that is shaped rather like home plate on a baseball diamond, albeit with a truncated and flattened point. That truncated front panel contains four 7" carbon-fiber midrange-woofers and two 5" midrange drivers, all featuring carbon-fiber composite cones, and one 2" tweeter with an abaca-graphite composite cone located between the midrange drivers in an MTM configuration. On the angled sides adjoining the front panel are three 9" carbon-fiber composite woofers per side. All drivers are made by Venture.
I popped in for the first time on Thursday afternoon after hearing the familiar strains of Pink Floyd's "Another Brick in the Wall" as I walked the 34th floor of the Venetian. The children's chorus was wholly life-sized and eerily present. Within minutes of my entering, a Well-Known Reviewer of ultra-high-end equipment arrived and proceeded to take over the premises for the next half-hour. At first he played a lovely excerpt of Jascha Heifetz on Prokofiev's Second Violin Concerto from an original RCA Shaded Dog LP. The sound was convincingly lifelike and spacious, and I was duly impressed. This was followed by a couple of tunes from Talking Heads' live The Name of This Band is Talking Heads, which were equally great -- at least to begin with. Mr. Well-Known kept demanding more and more volume in that dead room, and by the time he was pleased with the bone-crunching loudness level, I was wincing as the amps audibly bounced off their rails at the loudest moments. I later confirmed this in a conversation with Mike Slaminski of Precision Audio & Video, importer of the Venture and Weiss lines and an all-around nice guy.
In addition to that massive system, a second room held another system that embodied the essence of what I think of as Swiss engineering. Here, Weiss's MAN 202 Music Archive Network Player (price to be announced, controlled from an Apple iPad, which is not included) was teamed with Weiss's FireWire-capable DAC 202 AES/EBU digital converter ($6670) and ATT 202 Passive Attenuator ($7178). The small, beautifully designed and finished Weiss components fed a 180Wpc Hegel H20 stereo power amp ($6000) and Venture's Encore loudspeakers ($39,900/pair). The sound was precisely detailed and very dynamic. Like the Bladelius gear, this Weiss equipment combines impeccable high-end sonics with compact size and a very user-friendly interface.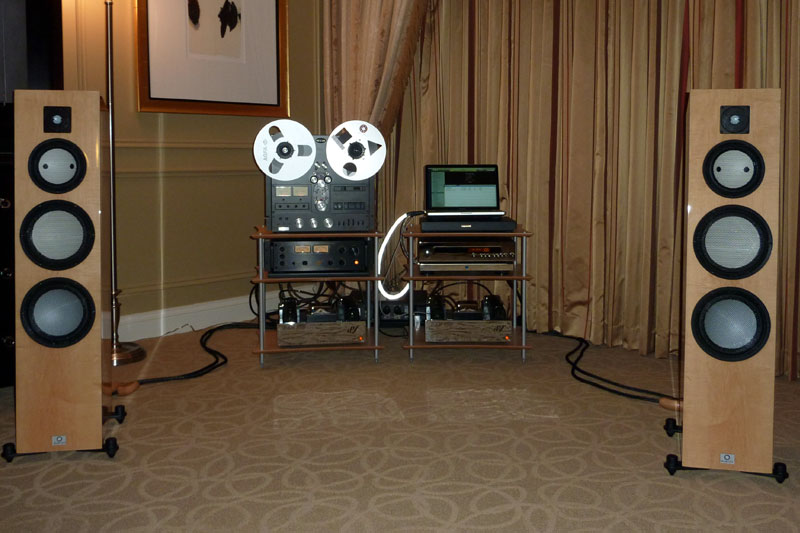 Tim de Paravicini builds some of the world's finest analog mastering tape decks and is also the man behind England's EAR. I haven't heard EAR gear in a number of years, and was greeted by the Acute III CD player ($5895 in black finish, $700 more for chrome), 912 preamp ($12,500) and 890 power amplifiers ($7995 each) driving Marten Getz speakers ($20,000/pair) via Jorma Origo Unity speaker cables and interconnects (price to be determined). Also on hand for analog-tape playback was an EAR/Technics open-reel deck ($7500). My notes described the system as "easy sounding, free-flowing and luscious" -- and in fact it was just that.
Magico unveiled its new Q3 speaker ($34,000/pair) with Soulution's 710 amp ($40,000, 120Wpc), 720 preamp ($40,000) , MIT cabling and a one-off music server built by an outgoing chap named Matan Aral, who told me somewhat resignedly that as good as the music server is, it would be so prohibitively expensive to manufacture that it was not a viable commercial product. The Q3 features an heroically built internal aluminum framework, displayed in-room and explained to me in detail by Magico's exceedingly knowledgeable and friendly sales manager, Irv Gross. All of the machining for this highly complex infrastructure is done in-house, and it is largely responsible for the four-foot tall floorstander's hefty 250-pounds-per-speaker weight. As with the framework, Magico also assembles every driver in house; the Q3 sports three 7" bass drivers and a 6" midrange, all made with Magico's proprietary Nano-Tec material, along with a 1" tweeter. Even the most cursory examination of the Q3 reveals a fanatical attention to and execution of every detail.
I was not able to play any of my own music here, but my impression was one of extraordinarily clean and resolved midrange and treble and a great sense of background calmness. Bass was a bit heavy in the low and middle ranges, and I suspect that room interactions were the culprit, given the excellence of the presentation in all other respects.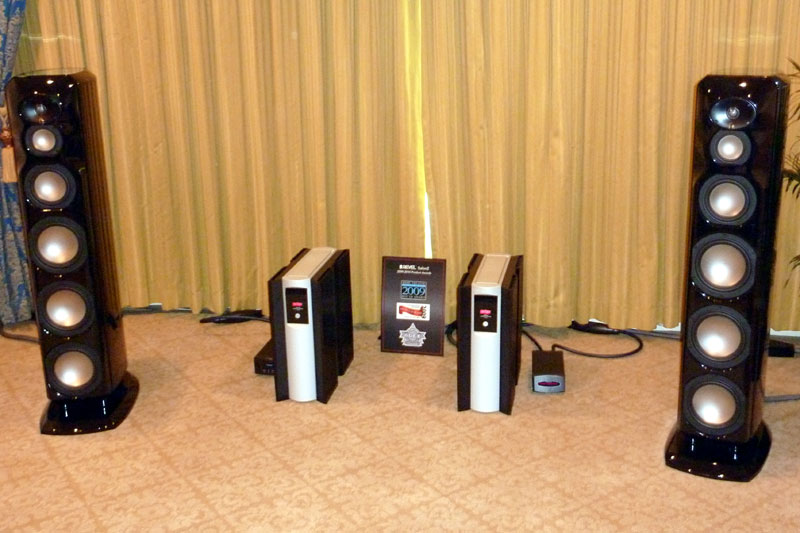 I made two stops in the Harman room, where the system included a Mark Levinson No.512 CD/SACD player ($15,000), No.502 Media Console ($35,000), and No.53 monoblocks ($50,000/pair) driving Revel Ultima Salon 2 speakers ($21,995/pair). On both occasions there was a sizable crowd milling around and chatting rather than listening to music. Nonetheless, what I was able to hear of the system made me wish I'd had more of a chance to experience it unobstructed.
Symposium Acoustics, best known for highly regarded stands and isolation devices, brought a most interesting loudspeaker to Las Vegas, the Reflection TLS ($29,995/pair). VAC's Signature Mk II preamp and Phi 200 amplifiers held down the fort, AMR's CD-77 played the discs, and Siltech cabling connected everything. The Reflection is a three-way, three-driver speaker with a sophisticated transmission-line subwoofer augmenting the two-way Reflection, which is available separately. The Reflection consists of an 8" woofer/midrange and a fascinating planar-magnetic driver, the UMD. The speaker incorporates all of Symposium's well-proven and most effective isolation technology as an integral part of the package. On the Hiromi track, the Reflection TLS showed itself to have excellent dynamics and tremendous speed. Bass went very deep, though there seemed to be some room interactions adding some woolliness to the upper-bass range. Still, most interesting and promising.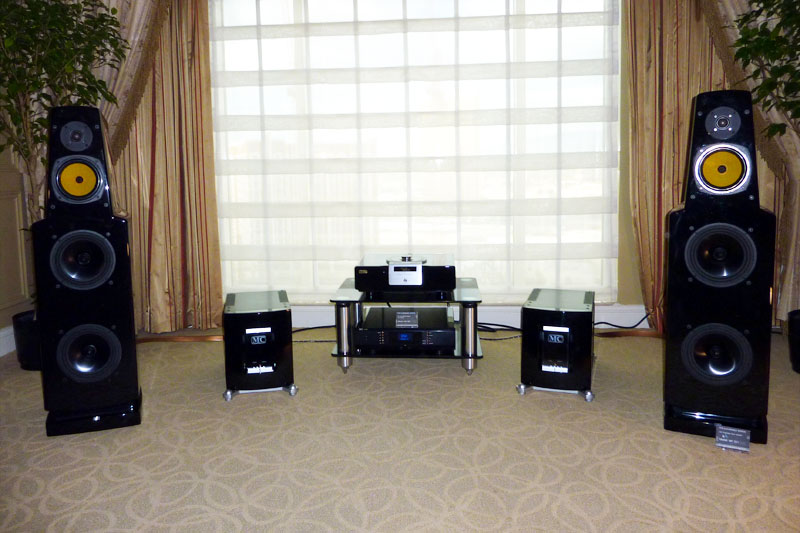 Occasionally one finds a familiar and friendly face in a completely new setting, and so it was when Wolfgang Meletzsky, the former head honcho of mbl, buttonholed me outside a room with the sign MC-Music Culture. It turned out that Wolfgang sold mbl in the last year or so and established Music Culture to bring the excellence and quality of his legendary mbl designs to a broader range of music lovers. The MC products share the sleek and classically European industrial-design sensibility of Meletzsky's former company, and while not cheap, they are much more affordably priced than those from his prior enterprise.
The system I heard consisted of a CD player from a company called Onix (which Meletzsky co-designed, $4000), along with MC's 601 preamplifier ($3500), 300-watt 811 mono power amplifiers ($16,000/pair) and 331 speakers ($9800/pair). The sound struck me as slightly warmer and more refined than the precise and finely resolved sound that has been Meletzsky's trademark, with all of his superb engineering baked into the pie to boot. The compact, potent and gorgeous 811 amplifiers in particular caught my attention, and follow-up is definitely in the cards.