More of the Best Music You May Have Missed
by Vance Hiner | December 27, 2016
t has been six months since the last installment of this ongoing blog, and the world is a very different place. Between Brexit and the US elections, it's safe to say that everyone could do with a little tension relief right about now. For me, music has always been exactly what the doctor ordered during times like these. Great art has the power to heal wounds, fire us up and refresh our entire perspective. It's in that spirit that I offer a collection of new music that might have gotten lost in the Sturm und Drang of 2016. If you read the criteria for my previous selections, you'll understand why this is a fairly short list of recordings and that it is not intended to be a complete survey of all the great music released during the past 12 months. I've been careful to recommend material that's not only well recorded but also rewards repeated listening.
So, sit back, pour your favorite drink and enjoy some of this year's good stuff. I'll be back in 2017 with another round.
Lucy Dacus • No Burden
Matador OLE 11152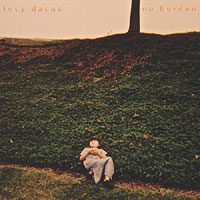 Something tells me this won't be the last time you read the name Lucy Dacus. I've been wrong before, but this 21-year-old songwriting bandleader from Richmond, Virginia, simply crushes most of the indie-rock competition this year. While everybody is justifiably buzzed about Car Seat Headrest's Will Toledo, Lucy Dacus is over in her corner launching power ballads like "Strange Torpedo." The song's jangly, rock-steady guitar work serves as a solid backbone, while her voice warbles and wobbles up and down and in unexpected melodic directions. That unpredictability is what makes her songs deadly. The vibes of Sharon Van Etten and Angel Olsen will come to mind, but such comparisons don't do justice to the stunning songcraft and phrasing that are uniquely Dacus. Sure, there are tinges of the Velvet Underground and early Nirvana throughout the record, but Dacus manages to make all the usual indie flavors taste fresh again. When you listen to cinematically arranged songs like "Map On a Wall," remember this: Dacus recorded the entire album in ten hours with a band she'd thrown together days before the session. That takes guts and serious talent.
The utter transparency, space and weight captured on this recording put a number of high-budget rock releases to shame. The strikingly realistic quality of bass, drum and guitar tracks on cuts like "Direct Address" prove that newbie producer/engineer Colin Pastore is a natural behind the console and has a gift for microphone placement. It also can't hurt that rock-mastering legend Alan Douches was in charge of final touches.
Creative forces like Lucy Dacus usually flash brightly and then quickly fade away. I'm hoping she'll beat the odds and produce another stunner when she returns to the studio. The next one might take her a whole two days to make.
Carl Broemel • 4th of July
Stocks in Asia SIA 01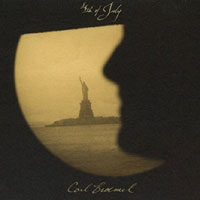 If you haven't followed the trajectory of legendary alt rockers My Morning Jacket, you can be forgiven for not knowing about Carl Broemel. He has been the band's guitarist since 2005 and has carved out a cult following among guitar enthusiasts for his fingerboard gymnastics and fiery live sets at festivals like Bonnaroo. Were it not for My Morning Jacket, I imagine Broemel would have no shortage of work as a session musician. Whether it's the neo-psychedelic swirls of the album's title track or the Chet Atkins-style acoustic runs of "Crawlspace," Broemel's work is economical in the best sense of the word: he never uses six notes when three emotionally compelling ones will do. Broemel enlists the help of friends like Neko Case and Laura Viers on this outing and gives production duties to blues guitarist Teddy Morgan. The result is a well-balanced, natural sound. While decidedly less experimental than My Morning Jacket's collective work, this second solo effort by Broemel is just as rewarding. Think of Broemel's music as the friendly McCartney-esque yin to MMJ founder Jim James' more cerebral John Lennon yang. In fact, I was struck several times by how much this album reminds me of McCartney's first whimsical solo album. Add to that the kind of subversive charm of Harry Nilsson's early-'70s work and you have an album that, I predict, you'll find yourself returning to like a set of comfortable weekend clothes.
The Brad Mehldau Trio •Blues and Ballads
Nonesuch 7559794650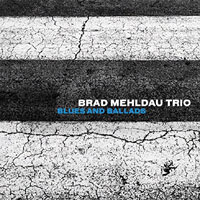 The Brad Mehldau Trio requires no introduction to modern jazz fans, but the group's latest release deserves an even wider audience. For anyone who loves the piano, Mehldau's performance on this disc is a master class in subtlety, intonation and interpretation. In the hands of Mehldau and his trio, Buddy Johnson's "Since I Fell for You" distills all the flavors of New Orleans jazz, deep Delta blues and the Great Southern Songbook into a smooth glass of aged bourbon meant to be sipped at the end of the day while watching a sunset on the meandering Mississippi. This is the kind of rare music that both soothes and inspires. I suspect Debussy fans will be impressed. Like cutting-edge sous chefs, drummer Jeff Ballard and bassist Larry Grenadier help Mehldau deconstruct and then wonderfully reassemble familiar musical structures that in the hands of lesser musicians would become repetitive and bland. During Cole Porter's "I Concentrate on You," the trio tease out a Latin lilt that I'd never noticed in this torch-song standard. Mehldau is one of the finest interpreters of other people's music currently working in the jazz vernacular. While there isn't anything here as boundary-pushing as his famous reinventions of Radiohead melodies, Mehldau does manage a wonderfully contemplative and complex rendition of Lennon & McCartney's "And I Love Her."
If all of this beauty weren't enough, Blues and Ballads is an utterly luscious recording. Microphone placement perfectly captures the entire tonal pallet of Mehldau's Steinway and careful engineering allows Ballard and Grenadier's interplay to gracefully weave in and around Mehldau's fluid melody lines. Blues and Ballads is easily one of the trio's best recordings, even after more than 20 years working together, and definitely one of the truly great jazz releases of this decade.
John Prine • For Better or Worse
Oh Boy OBR 044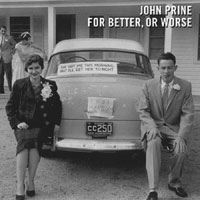 I was first introduced to John Prine many years ago when my super-cool uncle gave me Prine's first album for my 14th birthday. Even at that tender age, I could tell Prine was somebody special, and I proceeded to wear that album out, quite literally. The intervening years haven't dissipated Prine's powers, even if bouts of neck and lung cancer have put some warble and gravel in the friendly voice you'll hear on his 22nd album. While this follows the same approach as 1999's In Spite of Ourselves [Ulftone UTCD 008], Prine's first album of duets, I prefer For Better or Worse because the material is just as strong and the recording quality is not only better than on the first release, this time around it's downright flawless. Whether it's the hilarious "Who'll Take the Garbage Out" with Iris Dement or the disarming "Falling in Love Again" with Alison Krauss, the vocals of Prine and his illustrious partners are more warmly and intimately presented. Every instrument is fully present, resonant and perfectly placed within the mix. Recorded at Allentown Studios in Nashville with Jim Rooney at the helm, the sessions sound like they were captured on the very best 1960s analog equipment. A crack team of Nashville session musicians along with Prine's always-clever touch make this a must-own disc for anyone who loves classic songcraft and singers who know how to sell a song.
Imarhan • Imarhan
City Slang 68163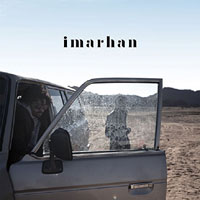 If you're not familiar with Saharan Desert rock yet, the band Imarhan would be a great place to get your feet dusty. If there were any justice, this ensemble of young, leather-clad Tuareg musicians from Northern Algeria would be the talk of Paris in much the same way Jimmy Cliff and Bob Marley were in 1970s London. Imarhan's bass-heavy, raga-like music is perfect for the dance hall and ripe for all kinds of EDM remixes. The primary obstacle is that Imarhan's infectious, syncopated songs are sung in Tamarshek, the group's native tongue. But if you're the kind of person who can let a music's spirit sweep over you, I predict the band's eponymous album will have your hips and feet moving before the second track is over. The thundering bass, cavernous kick drum, and haunting vocals make Imarhan's music both seductive and hypnotic. When listening to these songs, it's easy to believe that the pentatonic melodies within them are the likely taproot of what later became the American blues. Like a loping camel ride through the desert, the rollicking rhythms of the track "Tasha Tadagh" start the record's journey through the culture and landscape of Northwest Africa. Interspersed along the way are contemplative dirges like "Ibas Ickikkou" that bring you back to the warm and welcome evening campfire.
The sound quality of this disc is rich and dynamic; I can find no fault with the live, yet intimate production style that comes courtesy of Tuareg rock legend Eyadou Ag Leche of the Mali-based band Tinariwen. Imarhan's thrilling debut earns a place next to masterpieces like Habib Koite' and Eric Bibb's Brothers in Bamako [Stony Plain SPCD 1362] and Tinariwen's Tassili [Anti- 87148-2] as one of the very-best-recorded world-music albums I own.
The Handsome Family • Unseen
Loose Music VJCD 229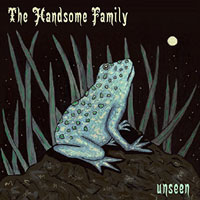 Fans of the HBO series True Detective will immediately recognize the mournful baritone of Brett Sparks, who, along with his wife, Rennie, founded The Handsome Family and were responsible for the series' haunting theme song. Those sweeping, cinematic spaces and mystical lyrics continue on this album, the group's tenth. The disc's opener, "Gold," starts with a twangy Fender-guitar run and a choir of singers worthy of Ennio Morricone, followed by this strikingly visual line sung by a dying thief: "Got a tattoo of a snake and a ski mask on my face, but I woke up in a ditch behind the Stop 'n Go." Like a great Robert Altman film or an Elmore Leonard novel, "Unseen" is a collection of gritty, broken characters who are longing for something better and more meaningful. The musical setting is very much the Southwest, where the Sparks currently live. You can almost see the tumbleweeds blowing and hear the coyotes howling as echoey steel guitars and driving bass lines underscore the pathos of each song's quirky narrative. Given the wide-open spaces and expansive sound of the album, I was surprised to learn that it was recorded entirely in the Sparks' home studio. Unseen is yet another example of how independent musicians are painting sonic landscapes that make many big-budget studio releases sound flat and one-dimensional. That's a trend worth supporting.
Phronesis • Parallax
Edition Records / Harmonia Mundi EDN 1070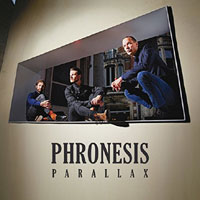 One of my favorite jazz albums of the last ten years is Walking Dark [Edition Records EDN 1031] by the Anglo-Scandinavian trio Phronesis. When I cued up the opening track on their brand-new studio album and heard drummer Anton Eger's composition "67000 MPH," I knew I was in for another treat. Eger's driving, quantum-fast percussion work is known for propelling Phronesis to improvisational heights that match and sometimes exceed those of the greatest trios in jazz. When listening to tracks like "Just 4 Now" words like protean and muscular come to mind. But then, on a number like "A Silver Moon," pianist Ivo Neame and bassist Jasper Hoiby conjure up the delicate and lyrical spirit of Bill Evans and Scott LaFaro. Phronesis is an ensemble that thrives on rhythmic and melodic change-ups, sometimes even within compositions. On "Manioc Maniac" the band members are at their contrapuntal best, chasing each other down ever-twisting and tightening turns.
As for the recording, it was completed in one day at London's Abbey Road Studios and sounds as live as anything I've ever heard on CD. I suspect that there's even more detail and joy to be found beyond the limits of my room and speakers. I'd love to hear the thundering drum and bass lines and crystal-clear piano tones of these musical magicians through some statement speakers like the Wilson WAMM MCs in a reference-quality listening space. Get this album if you're a fan of progressive jazz and turn it up, way up.