First Sounds: Art Loudspeakers Alnico 12
by Roy Gregory | January 4, 2016
ou could be forgiven for feeling that the last thing the audio world needs is another new loudspeaker company, but then Art Loudspeakers isn't new and isn't just another speaker company. Art was founded in 1998 as the speaker arm of well-established and highly respected turntable manufacturer Systemdek, itself one of the original Scottish "big three," along with Ariston and the usurper, Linn. That's some serious audio engineering heritage, and brothers Derek and Ramsay Dunlop have spent their entire working lives in pursuit of audio excellence. Given the furor that surrounded the late '70s and early '80s turntable wars in the UK, perhaps it's not surprising that the Dunlops are happy to fly below the radar, quietly going about their business in a low-key and unassuming fashion.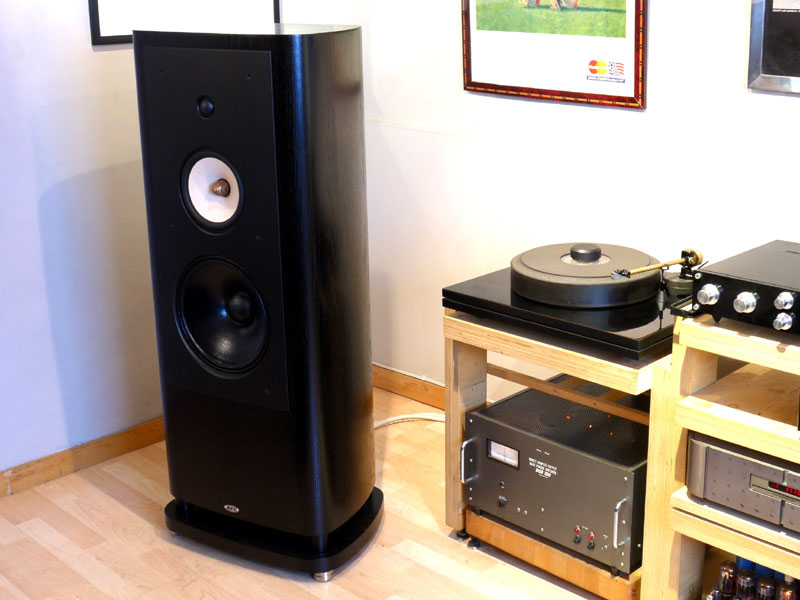 I recently had cause to visit Kevin Walker, lover of the off beat, the unfashionable, the eclectic, but above all those rarest of audio animals, the ones that deliver solid, unpretentious musical value. Just see his blog on the entirely infra-dig subject of moving-magnet cartridges to get a feeling of where he's coming from. Sitting in his listening room, larger than life and twice as solid, was a pair of Art's Alnico 12 loudspeakers (£25,000/pair). Now, I'd be lying if I said that at first glance they struck me as any more imaginative or impressive than their name, but that just goes to show how misleading first impressions -- and especially appearances -- can be. Look a little closer at the Alnico 12 and you soon realize that it's quietly confident and decidedly different.
First up is the finish, which can be either beautifully applied veneers or automotive paint, offsetting the micro-ridged and subtly curved aluminum baffle plate. The cabinet stands 1270mm (50") tall and unusually, at 485mm (19") wide and only 355mm (14") deep, is broad and shallow. Its curved corners might look familiar, but unlike so many boat-backed cabinets these days, this is no bent-ply construction. Instead, it uses a mixed-material construction, with a stack of MDF profiles wrapped in a 6mm plywood skin, an approach that seeks to make the most of both materials by eliminating large MDF panels and creating a constrained layer around the stacked sections. The end result is rigid, heavy and seriously reluctant to resonate. The 30mm baffle plate is clamped against the front face by three compression rods terminated with large stainless-steel bosses on the rear panel. The internal volume is reflex loaded by a large downward-firing port that vents between the cabinet base and the spaced plinth, itself standing on four substantial, adjustable stainless-steel feet. Each speakers weighs in at a substantial 90kg -- or almost 200 pounds -- which gives you some idea of just how much material there is in there.
But the thing that really sets this speaker apart is its driver complement. The heart of the design is a SEAS 220mm (8 1/2") papyrus-coned midrange driver, driven by an Alnico magnet motor assembly, teamed with a 300mm (12") doped-pulp cone bass unit from French pro-audio company PHL and (wait for it) a 35mm (1") soft-dome tweeter -- again, sourced from SEAS and with an Alnico magnet doing the driving. Crossovers feature high-grade Jensen parts, slopes are shallow and the 8-ohm load is non-reactive, which combined with 91dB sensitivity makes this one very amp-friendly loudspeaker. All internal cabling uses Art's own silver ribbon conductors.
So far, the basic concept -- big box, retro drivers, easy load -- isn't that unusual. But the quality of the fit and finish certainly is, as is the claimed bandwidth: 24Hz to 20kHz ±3dB. That's a pretty potent package, especially given the claimed 8-watt minimum amplifier requirement -- making this a realistic option for single-ended 300B tube amps, at least on paper.
In this day and age, it's safe to say that those inured to ribbons, diamond domes and beryllium bowls barely even consider a 35mm soft-dome deserving of the label tweeter. Indeed, rather like the Dynaudio Esotar before it, this driver majors on a warm, rounded and natural tonal balance rather than bite, attack, focus and extension; but that didn't stop me loving the Sonus Faber Amator Electa and it doesn't stop me seriously enjoying this speaker either. There are those who will -- quite reasonably -- point a suspicious finger at even its fairly modest claims for top-end extension. What can I tell you? This speaker doesn't possess the sheer air, transparency and resolution of so many competing models, speakers that seek to impress with a laser-etched spray of top-end detail and energy. But what it does is arguably more important and ultimately far more satisfying in the long term.
There are a lot of paper-coned, high-efficiency loudspeakers out there, and most of them sound lively, immediate but also overly boisterous -- reflecting the ragged out-of-band output of their drivers and relatively poor integration. Throw in a large cabinet with poorly damped or controlled panels and you've got a design that is long on excitement but flawed in terms of refinement and linearity. It would be easy to look at the Art Reference (£25,000/pair), mentally classify it in that category and move on -- but that would be a big mistake. Actually listen to this speaker and you soon realize that it is something quite different and rather unusual: a loudspeaker that manages to be genuinely refined, musically coherent and tonally sophisticated, while at the same time offering a serious sense of presence and immediacy as well as unimpeded dynamics and rhythmic flow. What the Dunlop brothers have done here is successfully trade efficiency for extension without losing the sense of musical presence and purpose that go with paper/pulp cone drivers -- or compromising the integration and refinement of the system as a whole.
Listening to albums like Nick Cave's The Boatman's Call [Mute Records Stumm 142] and Neil Young's Sleeps With Angels [Reprise 9 45749-1] demonstrated the big Art's ability to capture the mood of different tracks, to match measured tempi with power and drama, rather than letting them sound slow or draggy, while allowing that slashing guitar or sharp piano note or phrase to coexist naturally, stark in their speed and contrast. With the speakers driven by Kevin's 30-year-old Croft OTL rig, dynamics were sudden and uninhibited, but backed with real substance, rhythms sure-footed and bass tactile.
But the jewel in the Art's crown is the reproduction of voices. Familiar vocals had an instantly recognizable quality, a sense of presence and substance, clear diction and articulation, a directness of communication that brought each singer into the room and made each song seem as if it were being sung just for you. On that old audiophile chestnut "Diamonds on the Soles of Her Shoes" from the CBS/Sony reissue of Paul Simon's Graceland [Legacy 88691914721] the arc of voices arranged behind the lead vocal has rarely seemed so clearly defined, so natural in terms of scale or tonal separation, the acoustic space so apparent or utterly divorced from the speakers generating it. Mind you, the Clearlight Recovery turntable, Breuer 'arm and Decca London cartridge might also have had a bit to do with that. As I said, nothing if not eclectic!
Where so many speakers seem to sit on a sonic seesaw, sacrificing immediacy, presence and excitement in the name of resolution, neutrality and bandwidth -- or vice versa -- the Art speakers suggest that it is possible to have your sonic cake and eat it. Beautifully integrated, beautifully constructed but above all beautifully invisible, it is remarkable that such large speakers seem able to sonically disappear at will, leaving living, breathing music in their place. The bottom end is impressively agile, and if the top is definitely a shade rounded off and shut in, the complete absence of glare or edge, even at high levels, offers some serious compensation. There's nothing fashionable (or affordable) about these loudspeakers, but there's no ignoring their ability to get out of the way and deliver the musical message -- and do it with almost any amp you care to choose. When the Systemdek III was one of those few turntables that challenged the lightweight direct-drive dogma that dominated the market, it succeeded simply because it was able to expose the shortcomings in the existing technological hegemony and the assumptions that went with it. Perhaps it should come as no great surprise that in many ways the Dunlops' speakers are extending that same furrow, putting the musical performance and careful execution before high-technology materials and justifications. They certainly provide food for thought.
The last couple of years has seen the reemergence of Dunlop-designed turntables, once again carrying the Systemdek name -- apparently as a result of popular demand on the part of art loudspeaker owners. These are serious beasts, a world away from the budget brilliance of the IIX (a design subsequently sold to AudioNote UK), but, given the performance and sensibilities displayed by the Alnico 12s, they present a mouth-watering prospect.