Bedazzled: The YG Acoustics Sonja XV
by Paul Bolin | September 19, 2016
uring the last couple of days of the Consumer Electronics Show in January 2013, I was buttonholing friends and acquaintances, Marc Mickelson, Jim Saxon and my old boss John Atkinson among them, and demanding that they head for the YG Acoustics room as soon as their schedules would permit. The reason was YG's marvelous, bewitching, just-introduced flagship speaker, the Sonja 1.3. While hardly cheap, at some $106,800/pair, the Sonja 1.3 did things I had previously heard from speakers nearly twice its price. My enthusiastic judgment was later confirmed by reports back from the aforementioned gents and others.
So when Marc asked me if I wanted to head out to GTT Audio for the unveiling of the sparkling-new four-tower Sonja XV ($265,900/system), I pounced on the chance. One question nagged at me, and when arranging my trip I put it to YG's director of sales and marketing, Dick Diamond: "How could Yoav Geva make a speaker that is $154,000 better than the Sonja 1.3? I can't imagine it." Dick chuckled and told me to wait and hear for myself.
Thus, on a lovely weekend in early September, I set off for the airport and, in due course, the home/studio/showrooms of Bill Parish's GTT Audio, in a picturesque, semi-rural part of New Jersey approximately 40 miles west of Newark. Bill and Dick met me, gave me a tour of the GTT facility, and then it was time to get to work.
YG Acoustics' founder and head man Yoav Geva designed the Sonja XV to commemorate the company's 15th anniversary and to showcase the revolutionary new patent-pending tweeter he has been working on for the past couple of years, about which much more below. The fanaticism with which Yoav approaches the design and manufacture of his loudspeakers was detailed at length by Marc Mickelson during his visit to the YG Acoustics facility in Arvada, Colorado several years back. As the Coen brothers might put it, Geva is a serious when it comes to his loudspeakers.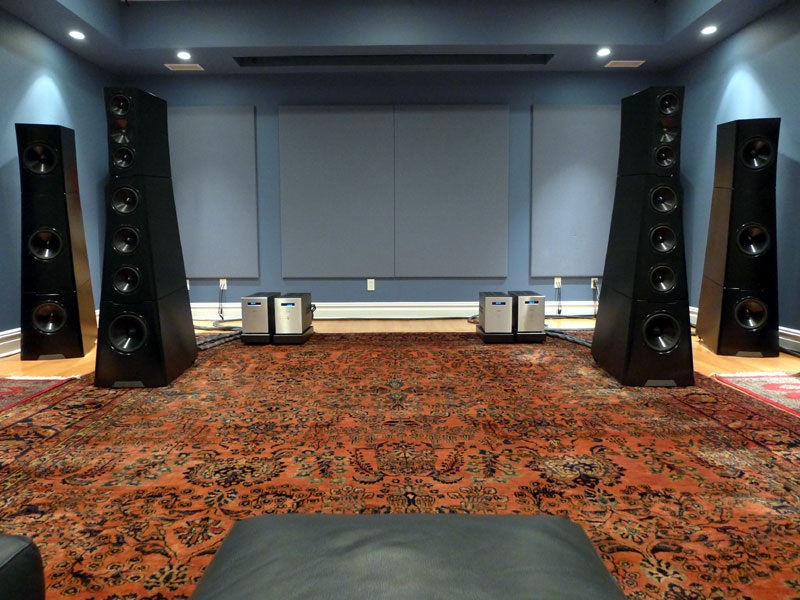 As can be seen, the Sonja XV superficially resembles a doubled-up version of the 1.3, but appearances are somewhat deceiving. Whereas the 1.3's full modular tower holds a pair of woofers, a pair of midrange drivers and a tweeter, the XV's full-range tower holds one woofer, three midwoofers (the same driver used as a woofer in YG's Carmel speaker), a pair of midranges and the new Billet Dome tweeter, while the outboard bass towers/subwoofers hold three more woofers each. As the system was configured in Bill's room, all of the woofers for each channel were amplified separately from the midwoofers, midranges and tweeters; the speaker provides numerous bi- and tri-amplification options.
Now, about that tweeter. For many years the primary debate among audio enthusiasts and speaker designers alike has been between adherents of hard-dome and soft-dome tweeters, the former most often using metal, the latter using silk. Silk domes provide, as a rule, well, silkiness, a lack of nodes that can sound harsh, and at their best a delicious and delicate tactile sweetness, although ofttimes with a concomitant lack of ultimate air and extension. Silk domes are often somewhat limited in their ultimate transient response and power-handling capability. On the other hand, hard domes can provide extremely extended frequency response (I think here of the beryllium dome tweeters of the Focal Nova Utopia Be speaker I reviewed for Stereophile back in the mid 2000s) and are well suited to dealing with prodigious power and transients, but they sometimes come with noticeable resonant peaks that can add harshness and grain, although not always.
Never the twain would meet -- until now. Geva refused to accept the compromises in adopting either and set out to combine the best of the two into one driver. Extensive, and expensive, research and development yielded something remarkable. The Billet Dome tweeter in the Sonja XV is, per YG, "a resonance-free soft dome supported by a stiff, light airframe machined from an aluminum billet." The "airframe" is said to weigh a mere 30 milligrams (about a thousandth of an ounce in English units), but its "critical sections" are 14 times thicker than a typical hard-dome tweeter's diaphragm for maximum strength and structural integrity, even under the stress of loud, high-wattage transients.
As is the usual YG Acoustics practice, the cabinetry is superbly machined and finished anodized aircraft-grade aluminum alloy of building-like solidity and exquisite attention is paid to every detail, however small. Set up in Bill's very sizable, acoustically optimized listening studio, one could hardly ask for a more inviting and comfortable place to make the Sonja XV's acquaintance.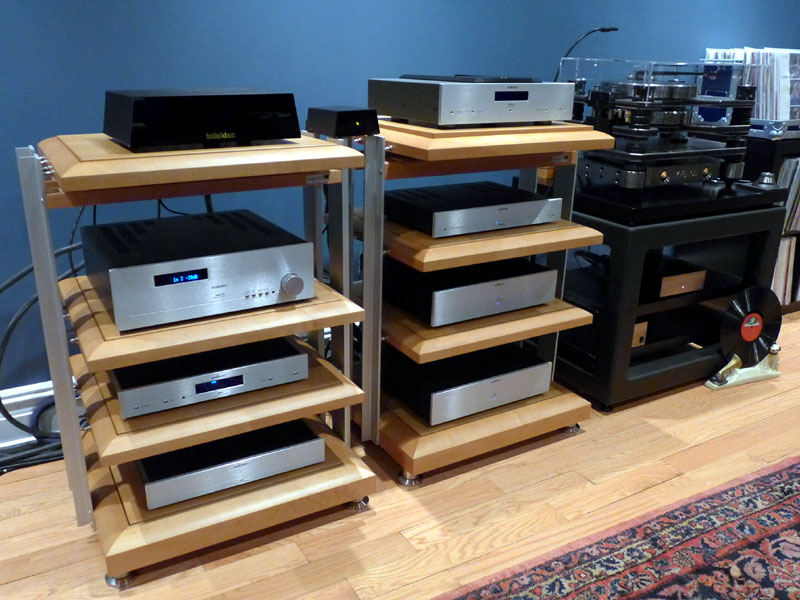 The rest of the system consisted of a complete suite of electronics from Germany's Audionet: the PAM G2 phono stage ($10,100) and ART G3 CD player ($12,200), both with outboard EPX power supplies ($10,100 each); DNC streaming DAC.digital network client ($10,100) with outboard EPS G2 power supply ($4050); PRE G2 line-stage preamp ($23,350); and two mighty pairs of MAX mono amplifiers ($30,500 per pair, 400Wpc into 8 ohms, 700Wpc 4 ohms). Holding pride of place at the front of the system was the Kronos turntable (now known as the Kronos Pro, $48,000 with Kronos Pro-specific Black Beauty carbon-fiber tonearm), about which I rhapsodized in its original form, but now sporting Louis Desjardins' latest upgrade, the SPCS-1 power supply ($13,500), which features enough capacitance to, in effect, completely decouple the turntable's motors from the wall socket, topped off with an Air Tight Opus 1 MC cartridge ($15,000). This imposing assemblage was tied together with Kubala-Sosna Research's Elation! cabling (speaker and interconnect, $6000 for the first meter and $1200 for additional meters; power cords $1800 for the first meter, $500 for each additional meter) from stem to stern.
We started with a duo -- Ray Brown and Laurindo Almeida's Moonlight Serenade [Jeton Musikverlag JET 33 004], featuring the two masters playing an arrangement of the first movement of Beethoven's Moonlight Sonata. It was immediately apparent that this was going to be something special. Two perfectly focused, life-sized instruments and their players materialized at the front of the room, their positions bearing no relation whatsoever to the four slim towers inhabiting the space. The harmonic structure of both double bass and classical guitar were simply real, and I once heard Ray Brown play bass closer than I was to the Sonja XV.
Moving on, Bill spun the title track of Mary Stallings' Fine and Mellow LP [Clarity Recordings CNB-1001]. As strikingly real and flawless as Ms. Stallings' voice and the saxophone were, what disconcerted me most was the sound of the cymbals. The fade of the gentle taps on the ride cymbal spooked me: They floated effortlessly up to the ceiling just the way live cymbals do. Believe me, I've stood next to enough drummers in my bass-playing life to know the sound. Geva's tweeter has accomplished the goals that he set for it. Another notable attribute -- and this comes from the Kronos Pro turntable -- was that there was zero "floating head/instrument" effect. Voice and instruments were all the product of human beings standing on the ground in a clearly defined real space.
When I walked into the room I immediately noted a copy of the Speakers Corner reissue of the legendary Mehta/LAPO recording of Holst's The Planets [Decca/Speakers Corner 6529] and suggested it to Bill as a test of the system's capabilities. The sense of a large concert hall is is not this LP's defining characteristic -- the acoustic of UCLA's Royce Hall was neither lively nor particularly spacious, but, lordy lu, the dynamics and the tonal saturation were ear-popping on "Mars." The repeated, staccato crescendos at the movement's end were like hammer blows. Every player in the massive orchestra had sufficient elbow room in a superbly delineated stage and every instrument had profound tonal integrity, though I must single out the tenor tuba (or euphonium) for special honors.
Next up was the greatest sonic spectacular of the evening -- the justly famed Ansermet/Suisse Romande recording of Manuel de Falla's Three Cornered Hat ballet, reissued by Original Recordings Group [London/Original Recordings Group ORG 10]. This LP throws a truly immense soundfield, and via the Sonja XV it simply blew the walls out of Bill's very large room. Closing my eyes was all that was required to completely obliterate my sense that I was listening to a record. Remarkable.
The 1977 Deutsche Grammophon LP of Martha Argerich's sublime performance of the Schumann Piano Concerto with Mstislav Rostropovich conducting the National Symphony Orchestra of Washington [Deutsche Grammophon 2531 357] slammed shut the massive soundstage heard on the de Falla. Being a 1970s DG, the recording displayed a soundstage that went to the outer edges of the main towers and resolutely refused to budge one inch further laterally. While the timbres were quite nice for a DG of that era, and they often tended toward the steely, most notably on any von Karajan disc, what captivated here was the superb presentation of Argerich's infinitely subtle shadings of tone and dynamics and passionate embrace of this most Romantic of piano concertos. If only the sound of the equally lovely yet quite different Janis/Skrowaczewski performance on the Mercury LP were to be had here. Yet everything this LP had was there to be savored, principally Argerich's exquisite pianism.
From the diametric opposite of the musical spectrum, I offered up Calvin Harris and Ne-Yo's "Let's Go" and the Above and Beyond remix of Ayumi Hamasaki''s "M" from the Japanese Ayu Trance 2 CD [Avex Trax AVCD-17200]. The Sonja XVs, and their distinguished co-stars, threw gigantically deep and wide soundstages and delivered the tightest deep bass I have heard anywhere. Even while generating 97dB levels at our seats, which were 22 feet from the full-range towers in a very large room, the entire system sounded as if it were merely loafing along despite the sheer intensity of this music. It was blindingly obvious that there were two or more gears at hand should they have proved necessary. You don't get this kind of sound in the most exclusive dance clubs in the world. Or perhaps anywhere else.
This went on for nearly five hours, with me calling requests, none of which stumped Bill, who even managed to produce an original pink-label UK Island pressing of Fairport Convention's Liege and Lief [Island ILPS 9115], one of the ten albums I would take with me were I exiled to the moon. Listening to "Come All Ye" and "Matty Groves" via the Kronos Pro was astonishing. It was as if the six members of the band, Sandy Denny front and center, were playing live in the studio some twenty feet from me. This was a new experience under the sun with a record I have known and loved for 40 years. The immense space and shadowy melancholy of the opening sections of Pink Floyd's "Shine On You Crazy Diamond" were respectively cavernous and overwhelming. And Bill joined the ever-lengthening list of people who have demanded to know the particulars of Brian Auger and the Trinity with Julie Driscoll's Streetnoise [Ghostown Records QSCD-4031] after hearing the flabbergasting version of "Light My Fire," which might be the best and most natural-sounding rock recording ever. I could go on, an at considerable length, but I would only be repeating myself.
While I was familiar with the sound of the Sonja 1.3 and know the sound of the original Kronos turntable intimately, I knew nothing of Audionet electronics before hearing them at GTT. They were seemingly free of any discernable character, identifiable neither as tubed nor solid state (they're solid state) but capable of offering up dimensionality, soundstaging and timbral correctness/completeness at as high a level as I have heard.
What this system did was provide more difference maximization, from recording to recording, than any other I have heard. Even very good systems can sometimes tend to homogenize recordings of similar type -- acoustic band, jazz trio, orchestral pieces, rock'n'roll. The great systems individualize each and every recording, make every piece of music an unmistakably unique event created at a particular place and time. In that respect, this stunning system warped Einsteinian space-time itself. I am not speaking here of mere resolution. I can think of speakers, and systems, that have molecular resolution but simply do not play music. Music requires an integration of parts into a coherent whole, something the Sonja XV and Kronos Pro did effortlessly.
I have been privileged to hear some magnificent systems in my two decades as an audio writer, but here the cardinal virtues of all those other standouts were here combined into an utterly seamless and thoroughly convincing holistic rightness. Here there were no "buts," "ifs" or "maybes," and every last thing was done not merely very well, but at the highest levels imaginable. This system was limited only by the recordings which were played on it, and the finest recordings required only closing the eyes to suspend disbelief. To hear this system was to be transported through time and space to the performance itself, regardless of the type of music, the loudness level -- or relative lack thereof -- within the limitations of the recording, especially when listening to the best LPs played on the peerless Kronos Pro turntable. Failings lay solely with the recordings, not with their reproduction.
I will not shilly-shally, evade or prevaricate. This was unquestionably the finest and most lifelike audio system I have ever heard -- and by a significant margin. And yes, I am shocked to find myself writing that, but anything else would be less than the truth.