World of McIntosh (Among Others)
by Vance Hiner | July 8, 2016
few months ago, I was minding my own business and writing a music review when Marc Mickelson tossed me a plum assignment: a week at Forte Village resort in sun-soaked Sardinia, Italy. After spit-taking my morning coffee and making sure the calendar didn't say April 1st, I was off to the passport office and deep into background research. Two years ago, a management buyout resulted in bringing the audio brands of Sonus faber, McIntosh, Audio Research, Sumiko and Pryma under one roof. The corporate nameplate for these brands is now McIntosh Group, but its lifestyle marketing arm, known as World of McIntosh (WOM), was my host. It's a bit confusing, I admit, but just remember that WOM is the nameplate customers will see when they visit dealers and see store displays of some of the products I discuss below.
Back to lifestyle. It's not a word cynics cozy up to, and the mere mention of it can set off serious snark attacks from traditional audiophiles. However, during my time in Sardinia, I saw an audio lifestyle marketing blitz that rendered even my inner critic temporarily mute. The venerable houses of Versace, Gucci and Armani would've been right at home at the first-ever McIntosh Group convention, where Sonus faber, one of this international audio corporation's premier brands, unveiled its latest creation, the SF16.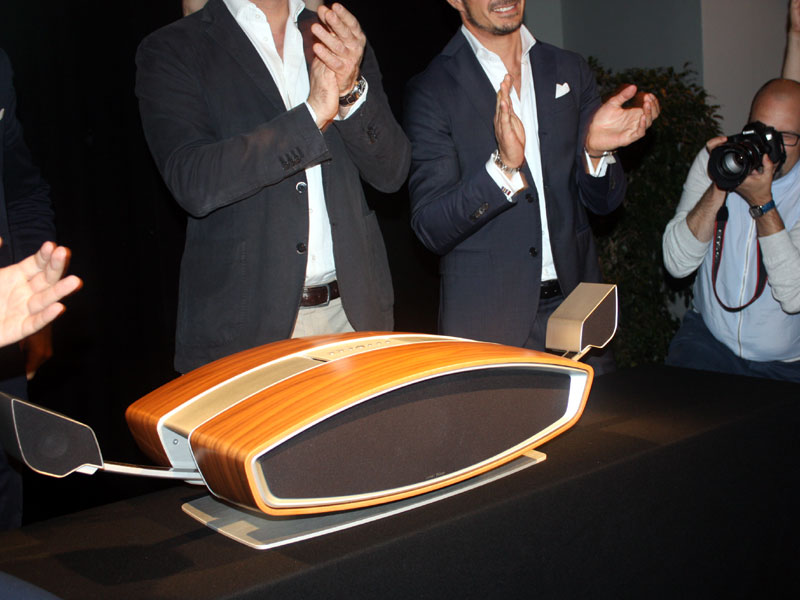 The assembled audio press and retailers surrounded the sleekly designed all-in-one audio system as though it were the new Lamborghini or Bugatti. Dozens of cameras flashed as designer Livio Cucuzza performed an introduction worthy of Steve Jobs in his heyday. His mastery of audiophile jargon and explanation of design philosophy were both commanding and inspirational. Throughout his presentation, Cucuzza made a point of honoring his company's legacy, saying that the initial inspiration for the FS16 was Sonus faber founder Franco Serblin's 1983 audio system known as The Snail.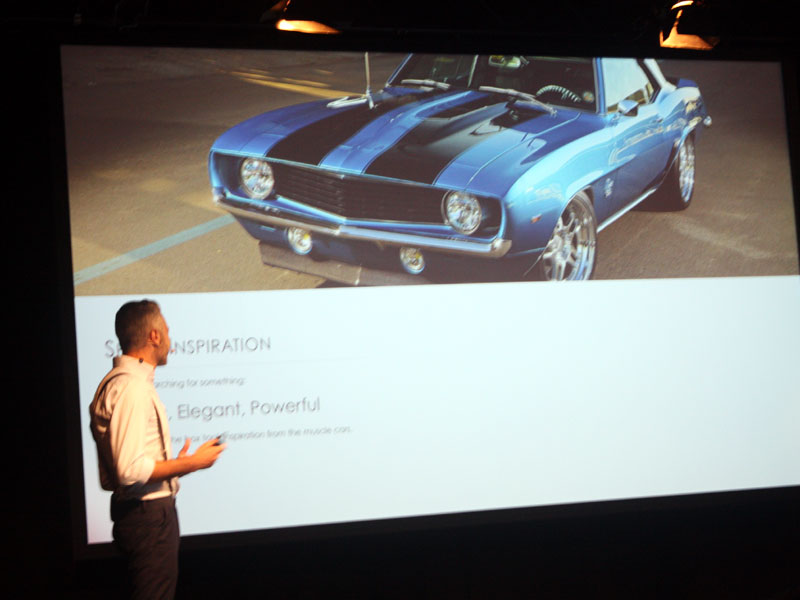 The focal point of the SF16 is a multi-ply, wood-encased grille (inspired by the '63 Chevrolet Camaro) that houses one front- and one rear-facing 5" bipole/dipole bass driver. Extending out from the bass unit are two satellites on mechanized, moving arms that each incorporate four 2 1/2" midrange drivers -- two of them facing forward and two facing the rear. These drivers feature neodymium magnets, and the cones are made of an aluminum/magnesium alloy. The highest frequencies are handled by a modified version of audio engineer Peter Larsen's 1/2" micro tweeter (Larsen is famous for his work for Vifa, Dynaudio, JBL, and KEF). Power is provided by class-D amplification, which Sonus faber says will deliver 1400 watts total.
Sonus faber recommends DTS Play-Fi, a new technology that enables wireless high-resolution transmission, as the SF16's source, but the unit is also equipped with optical, coax and RCA digital inputs. The SF16 DAC handles high-resolution audio up to 24 bits/192kHz and supports Tidal, Spotify, Deezer and Amazon Music apps. Sonus faber expects additional streaming services like Qobuz and Napster to sign on soon. It's worth noting that while DTS Play-Fi works with mobile Android and iOS platforms, it is not MacBook compatible.
All 200 SF16 units of the first year's limited run sold out before the sun set on Sardinia's coastline --at an estimated price of $9000 each. Owners, who will get their handmade Italian units customized with their own nameplates, should begin seeing them in their living rooms (or yachts) by September.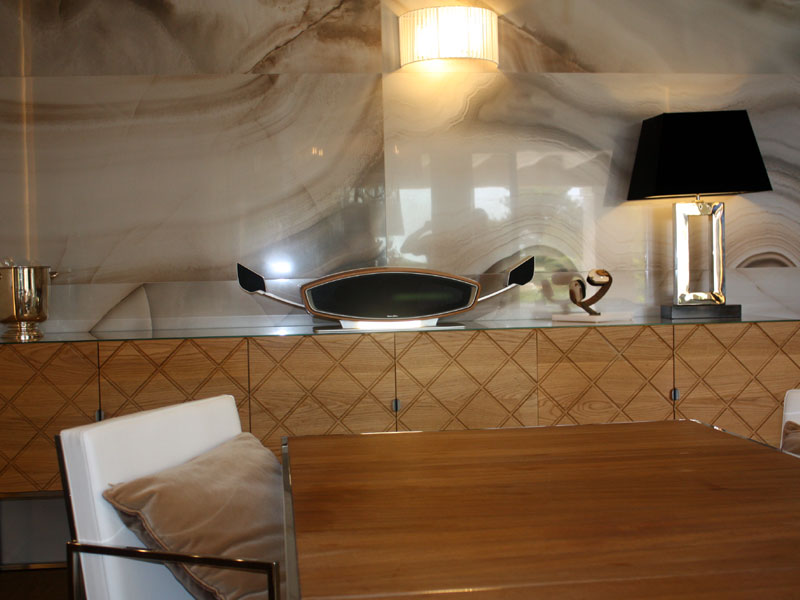 How did the SF16 sound? Listening to the Euro pop being played in the World of McIntosh villa, (yes, a villa), I was struck by how the SF16 sounded like what any decent system would in a house with marble walls and a host of other reflective surfaces. Even though this was not the ideal audio environment, I was surprised to hear delicate micro details while listening to the densely mixed synth dance tracks of the French pop group Phoenix. While there was some transient smear due to room challenges, when listening nearfield, there was decent integration of the frequencies from top to bottom and bass was not boomy at all. That's saying quite a bit when it comes to audio equipment this compact.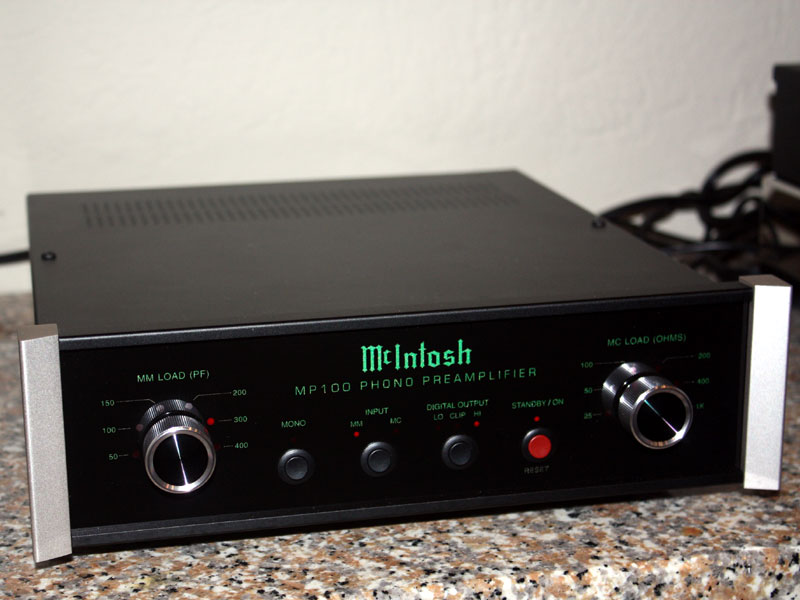 Almost lost in the flash and sizzle of the FS16 debut was the unveiling of McIntosh's first-ever phono stage, the MP100, which offers users the ability to digitize their records to 24-bit/96kHz files via USB. The MP100's other features include moving-coil and moving-magnet inputs as well as six settings for loading and a mono switch. The unit comes in a compact 3" high, 11 1/2" wide chassis sporting balanced and unbalanced analog outputs as well as optical, coax and USB digital outputs. The targeted price is $2000 with an anticipated August shipping date.
McIntosh also debuted the C2600 tube preamp -- intended as an update of the company's successful C2300 and C2500 preamplifiers. The C2600 includes an advanced digital audio section and upgraded tube circuitry that incorporates six 12AX7A dual-triode tubes: two for the preamp section, two for the MM phono and two for the MC phono sections. Sixteen inputs are available to connect analog or digital music sources. Analog inputs include three balanced, four unbalanced plus one each dedicated moving-magnet and moving-coil phono inputs. There are three optical, two coax, one USB and one McIntosh exclusive MCT digital connections. Three sets of balanced and unbalanced analog outputs can be used to connect the C2600 to associated systems. The C2600 features a 32-bit/384kHz PCM/DSD digital-to-analog-converter and is capable of decoding and playing DSD64, DSD128 and DSD256 plus DXD 352.8kHz and DXD 384kHz. For headphone listening, there is the addition of the Headphone Crossfeed Director (HXD) circuit. Expected retail will be $7000.
Finally, McIntosh launched the MVP901, its latest Blu-ray Disc player that is capable of handling CDs, SACDs and DVD-Audio discs via an eight-channel, 32-bit/192kHz DAC that's used in stereo quad balanced mode. While the MVP901 cannot handle 4K Ultra HD Blu-ray Discs (when they are available), it will upscale 1080P and lower resolutions to 4K. It can also pass the latest object-based 3D audio formats such as Dolby Atmos, DTS:XTM and Auro-3D to a compatible processor. The MVP901 is equipped with built-in decoding of Dolby True HD and DTS-HD Master Audio. The unit's target price is $5500. Both the MVP901 and the C2600 will begin shipping sometime in August.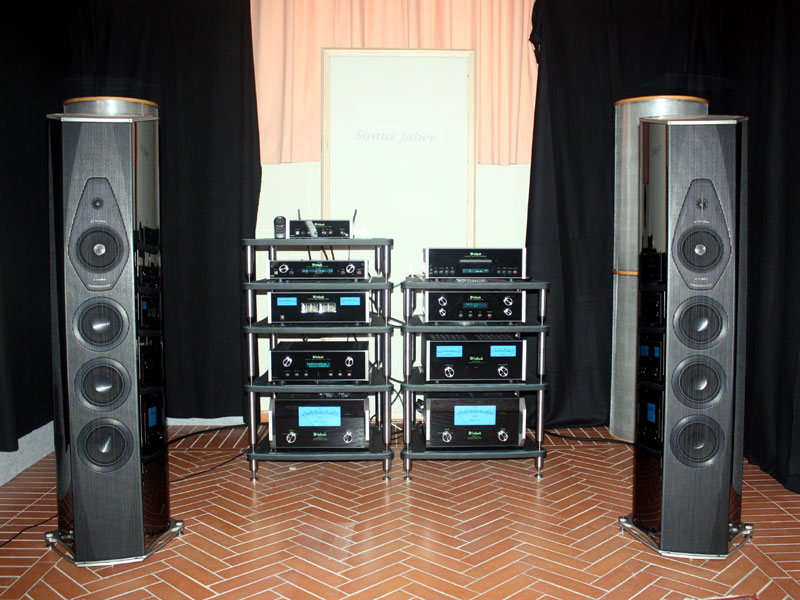 I heard an impressive complete system demonstration by McIntosh's Ron Cornelius. I've attended his demos before and they're always illuminating and instructive. On sample discs from the Cactus Blossoms, Andrew Bird and Eric Bibb, the McIntosh system presented a big-boned, analog-like sound that was reminiscent of previous McIntosh systems I've heard. This time, the sound was a tad more dynamic and spacious than versions of those albums we played via DTS Play-Fi. That said, DTS Play-Fi was the best sound I've heard from an iPhone streamed wirelessly to a component. It sure beats Bluetooth.
While the $70,000-per-pair Sonus faber Lilium speakers used for playback were probably too big for the room, Cornelius's judicious use of DSP created spookily holographic imaging. When he played an upsampled MP3 of the BBC Big Band Orchestra, I could've sworn it was a high-resolution reference track.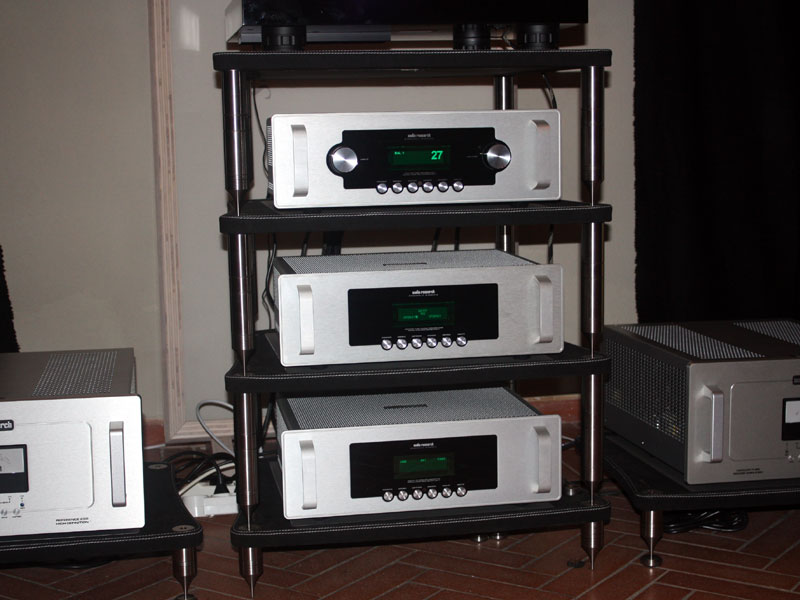 Skeptical audiophiles can't be faulted for wondering how a high-end institution like Audio Research fits into the lifestyle future being pushed at the McIntosh Group event. Based upon what I heard from CEO Mauro Grange and COO Charlie Randall, there's little reason to worry. Time and time again, the management team made the point, "We will never change the DNA of our brands." Even lead designer Cucuzza waxed romantic about having a childhood admiration of his father's vintage Audio Research gear and how it inspired his design update of Audio Research's Reference line and the creation of the company's new entry-level Foundation Series. Grange and Randall's commitment to investing considerably in R&D may be one of the reasons Audio Research can offer the new Foundation LS28 preamplifier at $7500 while claiming that it outperforms the discontinued and far more expensive Reference 5.
Based upon the demo I heard in a very challenging hotel basement space, Audio Research may be able to deliver on the promise of raising its price/performance bar. The LS28, when fed by the Foundation DAC9 (also $7500) and run through Reference 250 SE monoblocks ($34,000/pair) into some gorgeous Sonus faber Il Cremonese speakers ($45,000/pair), steered the music down a very coherent path. The soundstage was remarkably deep and wide, and tonal colors were rich but accurate. The Foundation Series' anodized aluminum chassis can also be ordered in black.
If the sound of the Audio Research and McIntosh systems is the consequence of the money raised through aggressive audio-lifestyle marketing, then I think this is a trend serious audiophiles should consider rooting for. If there's to be a future for high-end audio, someone has to enlarge the proverbial tent. The effort to synergize the substance of marquee brands like Audio Research, Sonus faber and McIntosh with savvy marketing psychology may well be the kind of jolt the audiophile world needs to bring it into the near, and distant, future.