Peninsular Phwoar: Ultimate Audio Expands in Lisbon
by Roy Gregory | June 16, 2015
ne of the more enjoyable fringe benefits of being an audio reviewer is the opportunity it affords to visit wonderful places, all in the name of audio enlightenment. Lisbon, capital of Portugal, is definitely one such place. But when Miguel Carvalho and Antonio Domingos, co-owners of high-end distributor and retailer Ultimate Audio, invited me to a double celebration marking both the opening of the store's new extended premises and the thirtieth anniversary of Gryphon Audio, their key brand, it was also a double opportunity: the chance to check out a growing trend in high-end audio retailing and the rare chance to hear Gryphon's mighty Pendragon flagship loudspeaker in the company of Gryphon-in-chief Flemming Rasmussen. A massive four-cabinet array in the style of Infinity's legendary IRS, coupling ribbon midrange and treble drivers on a wing-like open baffle, with woofer towers each containing eight actively driven bass units, the Pendragons were launched three years ago and have been a regular (but all too often silent) sight at shows. The opportunity to finally hear what this ambitious system might be capable of was simply too good to miss.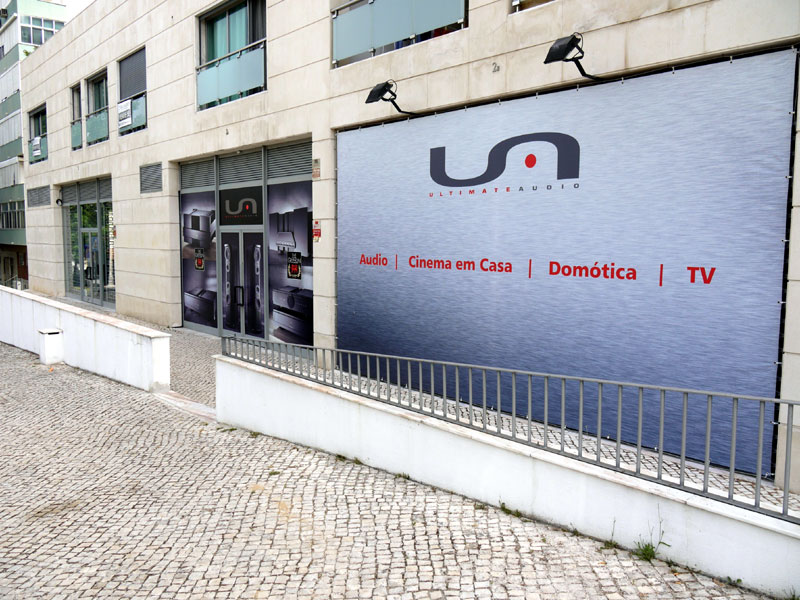 But what sort of store can stock or even accommodate such a monster speaker, not to mention the system that goes with it? Ultimate Audio was founded seven years ago, merging after four years with established business Audio Elite, a distributor with over 25 years of experience. Earlier this year, the principals expanded their existing premises to create a showroom with some 5000 square feet of display and demonstration space, split equally between the shop floor and four listening rooms. A permanent staff of six operates the three dedicated audio demonstration rooms and an equally impressive home cinema. Naturally, the three rooms vary in size to match differing systems and listening environments -- and equally naturally, the Pendragons were to be found in the largest of the three, a space 19' by 30' with a high and slightly sloping ceiling. The room (like the others) is fully acoustically treated, but with an emphasis on dispersion rather than excessive absorption, with little of the deadness that kills so many dedicated listening rooms and the music played in them. Remarkably similar in footprint and overall volume to my own LEDE (live end, dead end) listening room, it offered a fascinating difference in approach -- as well as offering the Pendragons plenty of room to breathe.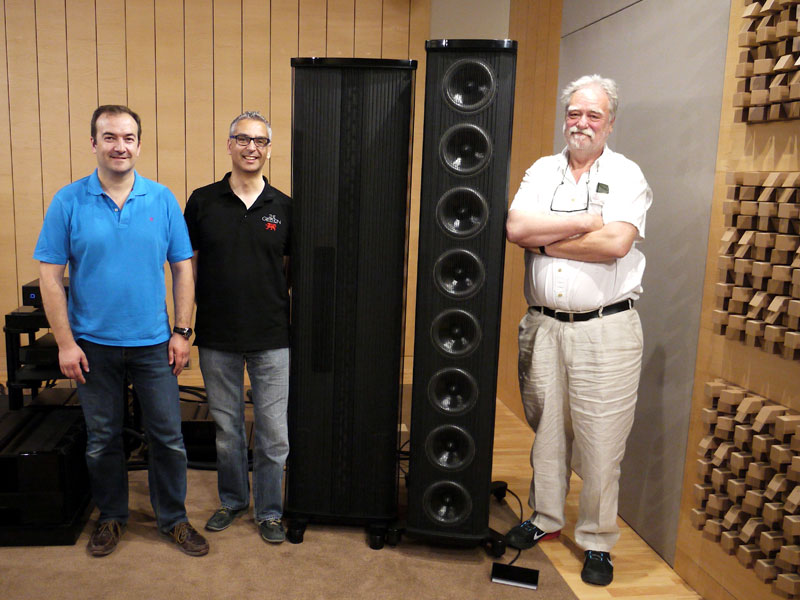 Miguel Carvalho (left) and Antonio Domingos (center) of Ultimate Audio with Flemming Rasmussen of Gryphon Audio.
Priced at a wince-inducing €150,000/pair, this is one speaker system that at least looks like the money. Each of the four driver arrays stands around seven feet tall -- satisfying the subconscious imperative buried deep within all loudspeaker designers, the need to offer at least one product that is taller than they are. The mid/treble baffle couples a single 6' ribbon with four AMT ultra-high-frequency drivers positioned alongside it. These open baffles reach down to 250Hz, where the matching woofer towers take over, the 16 8" drivers backed by a substantial electronics package built onto a full-height heatsink and offering 4kW peak output of genuine Gryphon power per channel, massive linear power supply, enriched class-AB operation and all. As with the Gryphon Tridents I reviewed, the considerable low-frequency potential of the system is remotely controllable, a small display that can be conveniently located showing current status for system level and Q.
Of course, the driving system was an all-Gryphon family affair, with a Mikado CD transport (€16,000), Kalliope DAC (€19,800), Pandora line stage (€24,000) and Mephisto stereo power amp (€45,000). The sole exception was an Aurender W20 server (€18,000) -- although its black finish meant that it fit right into the overall Gryphon aesthetic. Ultimate Audio's attention to detail and awareness of the critical importance of system infrastructure were apparent in the use of an HRS SXR rack and platforms, along with locally produced AudioFidem supports under the server and power amp. AudioFidem also provided the cables throughout the system, with a TriPoint grounding block and straps (€25,000) providing the last vital link in the chain.
With all that power built into the bass towers, you might question the requirement for the Mephisto's 175Wpc class-A output capability, but with a system efficiency that sits squarely in the late 80s (in terms of both historical norms and level) and given the difficulty of exerting dynamic control via the relatively loose electromagnetic coupling of the ribbon drivers, this is very much a case of the more power the better -- and the Mephisto definitely fills that bill! System bandwidth is a claimed 16Hz to 32kHz ±3db, while the tunable active bass means that not only do you have a better chance of actually realizing the system's low-frequency potential, giving the main amp an easier time should maximize dynamic range too.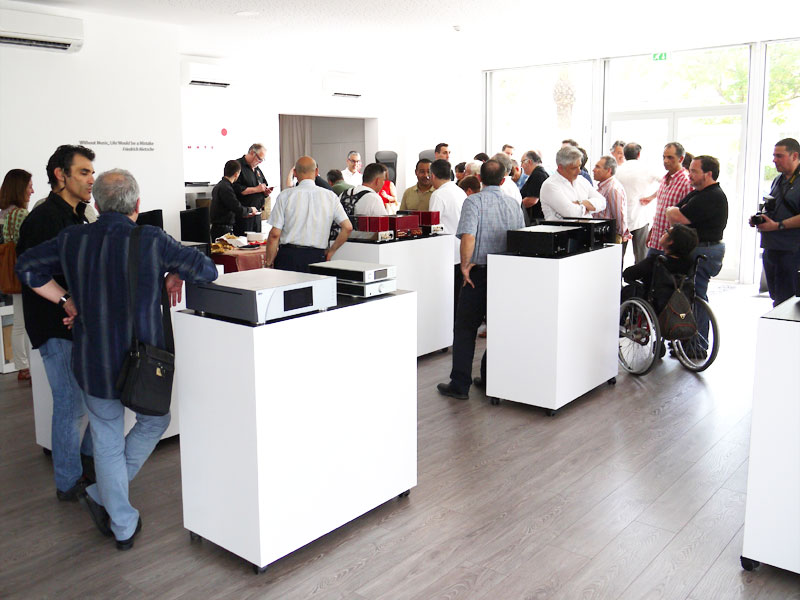 The best laid plans of mice and audiophiles rarely run true, and construction delays meant that the system was barely settling in as Ultimate Audio opened its brand-new doors to an expectant audience, but as the day progressed it started to hit its stride, and by the following morning it was ready to be tweaked for position and begin to seriously strut its stuff.
Confronted with such an imposing setup, there's an almost overwhelming temptation to reach for the biggest, baddest recordings around (duly fulfilled with the Gravity [Silva Screen SILCD144] and Thin Red Line [BMG 09026-63382-2] soundtracks) but as awe-inspiringly impressive as the almost physical musical results undoubtedly are, in many ways that's to miss the greatest strength of this system. Turn instead to the other end of the scale and the real magic is revealed. Lisa Batiashvili's performance of the Shostakovich First Violin Concerto (Echoes of Time, Salonen/SdBR, [DGG B0015203-02]) is the perfect showcase for her distinctive style. Play the third movement on the big Gryphon speakers and as impressive as the sense of acoustic scale and space, the effortlessly floated bass section, the coherent sense of orchestral spread and presence might be, these are not the things that make you catch your breath. Instead, it's the delicacy and sinuously elongated grace of the solo violin lines, the achingly beautiful tone, phrasing and vitality in Batishvilli's playing that arrest your attention and draw you in.
Normally, the music played at events such as this consists of short tracks or excerpts, cycling rapidly through style, artist and genre, yet 15 minutes in to what is essentially a solo-violin piece (but with a recording that also has to encompass a large orchestra) here was an audience held spellbound, holding its collective breath as the fragile melody of the lone instrument threads its intensely lyrical path, climbing to its wonderfully inevitable conclusion and release. As big as they are, the Pendragons perfectly captured the relative scale and fragility of the instrument, holding it poised, precisely in the huge acoustic space. These days, Batiashvili plays a Guarneri del Gesł in preference to the Strad that features on this recording. The Pendragons not only revealed her impeccable control and range of tone, but just as important, by doing so they left you in no doubt as to why she'd made that switch. This DGG disc isn't what I'd describe as a great recording, but it is a great performance -- and this Gryphon system left all hearing it in absolutely no doubt of that fact.
This ability to present the largest aspects of the recording -- its scale, power, dynamics, and the volume of the acoustic space in which it was made -- while simultaneously presenting its smallest, most intimate details is at the heart of any true state-of-the-art system's performance. Without it, all else is wasted energy, all the huff and puff that generate bandwidth and dynamic range undone by the inability to encompass the full gamut of musical expression. It doesn't matter how impressive a system sounds if it isn't able to communicate musically -- and that means revealing not just the colors and contrasts in the music, but the subtle vocal inflections, changes of bow pressure or sustain that are the performer's expressive language.
Having said that, once you are inside, all the other stuff certainly plays its part. So with Gillian Welch singing the title track from Time (The Revelator) [Acony ACNY-0103], the raw immediacy of the vocal is vital to the song's power and message, but so too are the attack and relentless intensity of David Rawlings' guitar work, acoustic playing that puts many a big-haired, tightly trousered electric lead to shame. The Pendragons delivered vocals with an effortlessly natural sense of scale, presence and communicative nuance that brought singers to life. The audiophile standards of whip cracks, castanets, stamping feet and beaten drums are all reproduced with the explosive speed and impact for which Gryphon are rightly renowned, but for me it was the system's ability to match the microdynamic scale and resolution of the instruments and voices, combined with the absolute stability and silent background that allowed it to fix them in space, that left me wanting more and more -- and more.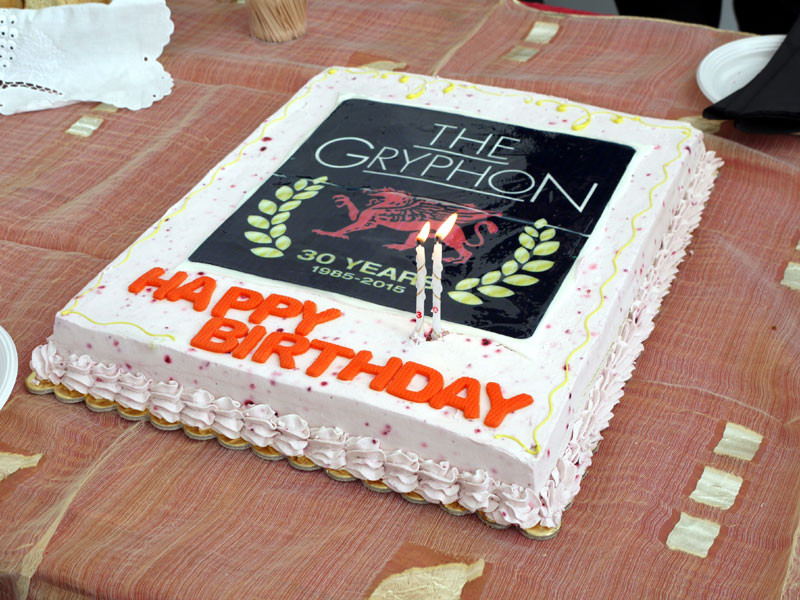 In a setup that was still finding its feet, the Pendragons showed considerably more than just a hint of musical magic. The longer the system played, the better it got, as the elements warmed up and the whole thing settled down. It might be early days for Ultimate Audio's new sound room and this, their flagship system, but the huge potential is already as clear as it should be unsurprising, given that it represents the culmination of Gryphon's thirty years in pursuit of cutting-edge audio performance. As is so often the case with such visits, the end result was as fascinating as it was frustrating, knowing just how much more there is to come. But in this instance, gratification should merely be delayed, with Ultimate Audio insisting that I return to enjoy the system again, once they've really dialed it in -- and had a chance to add one of the elegant Rui Borges turntables to the mix.
Which brings us to an interesting point. The creation of such stable, flagship systems, installed in purpose-built listening rooms is becoming an increasingly common feature of ultra-high-end audio retailing. By eliminating the performance compromises inherent in constantly shifting or altering a system's components it finally promises potential buyers the chance to really hear what the very best equipment is capable of -- while along the way creating a top tier of "destination" audio stores in attractive locations and with rooms and systems that are good enough (and expensive enough) to justify a trip just to hear them. With the Pendragons on the inside and Lisbon immediately outside, Ultimate Audio's front door offers a particularly appealing path to at least one potential hi-fi heaven.