A Fast Study and a Rising Star
by Dennis Davis | January 7, 2013
ne of my favorite records is Gary Burton's New Vibe Man in Town, which launched the career of the then 17-year-old Burton -- a career that is still going strong today. This record was brought to mind when I recently met one of the new faces in the audio world. Anyone who has attended audio shows over the last couple years, or read show reports, has heard of The Tape Project, which reissues classic recordings on reel-to-reel tapes that are second-generation copies of the master tape. The Tape Project has exhibited at several shows, many times represented by one Piper Payne, a young recording engineer who does the duplication for many of The Tape Project releases. She is equal parts technical wizard, music junkie and hard-working audio professional. Piper is excited by and knowledgeable about a technology -- analog tape -- largely written off before she was born. It takes very little time chatting with her to discover that The Tape Project is only one of one of many balls she keeps in the air, so TAB decided to visit Piper's studio in San Francisco to get a better handle on what makes her tick.
Piper grew up in the Detroit area, playing drums in high school bands, where she caught the audio bug, wondering why recordings made of her band by the school recording engineer didn't sound like Piper remembered the music live. When another engineer recorded her high-school rock band, and spot-miked her drums to much better effect, Piper's fascination with recording techniques was piqued. She attended the University of Michigan, where she received a Bachelor of Fine Arts in Performing Arts Technology-Media/Sonic Arts, paying her way through college in part by working as an engineer in the university's recording studio. From the U of M, she won a coveted slot (one of seven) in the graduate program at the University of Stavanger in Norway, earning a Graduate Studies Certificate in Music Production and Recording, while at the same time working at a mastering studio and learning analog-to-digital archiving.
After leaving the academic nest, Piper went to work in Florida with Bob Katz of Digital Domain, followed by a practicum with The Banff Centre in Alberta, Canada. The Banff Centre is an retreat center for artists of all persuasions. Recording-team members come in for a three-month term. Piper was invited back for extra terms and quickly promoted to the position of senior associate, recording everything from rock to classical. With free run of the studio, she also brought in her own big-band project to record.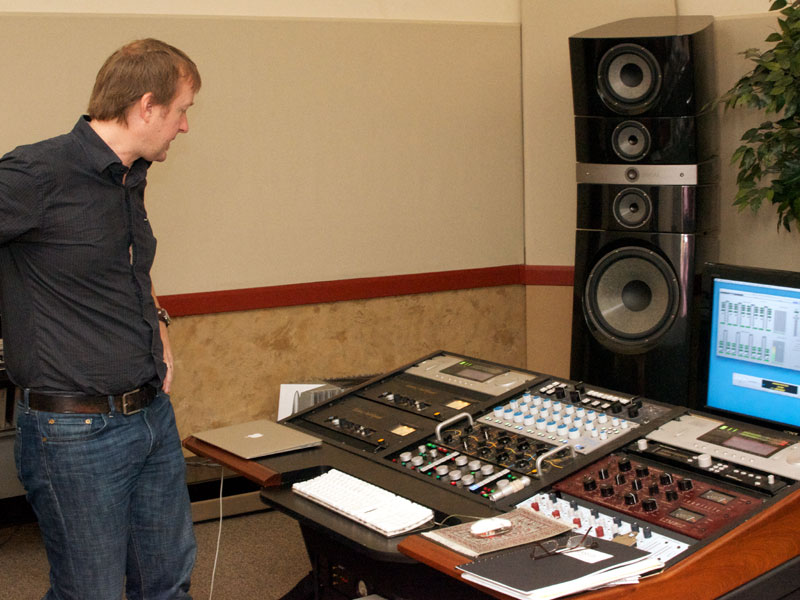 As that opportunity wound down, a new one knocked on her door when she was asked to join Michael Romanowski Mastering in San Francisco. Romanowski has a long background in the San Francisco mastering scene, starting with Rocket Lab (with Paul Stubblebine and Ken Lee), then as chief mastering engineer with Plant Studios (formerly The Record Plant), and finally back with Paul Stubblebine at Hyde Street Studios. In 2002, Michael and Paul took over the space at the Coast Recorders building in San Francisco, where they built a couple of mastering rooms. Coast Recorders has a storied history in the San Francisco recording scene. Bill Putnam remodeled the current recording facility in 1971 as the premier recording/tracking facility in the San Francisco area. Like most recording studios, it has had a history of ups and downs, and it experienced the decline that was the byproduct of the digital revolution that allows musicians to record at home.
Romanowski acquired the recording studio at the beginning of 2012. It had existed under a number of different names over the years, but he was able to bring the Coast Recorders name back to this historic place. Today, the building houses three different operations: Michael Romanowski Mastering, Coast Recorders and The Tape Project. Immediately apparent about the facility are the absolute dedication and energy of Michael and Piper on the one hand, and the dedication to audiophile goals on the other. While most mastering labs have slowly upgraded their recording chains over the years, Romanowski's studios have never settled for less than the high end. Michael has done a remarkable job rebuilding a facility that had fallen on somewhat hard times. Both mastering rooms are tricked out with the very best equipment, and Michael and Piper are continuing to improve things. By teaming up with Bob Hodas, a world-renowned acoustician and Focal distributor, they have decked out each room with Focal Utopia speakers. In exchange, the mastering studios are made available for demonstrations to potential Focal customers. Also, Michael and Piper have developed a close relationship with Luke Manley and Bea Lam of VTL, and VTL amplifiers (Siegfried IIs in the big room and MB-450 IIIs in Piper's studio) do a beautiful job of driving the Focal speakers. When I visited, Piper was experimenting with a VTL TL-6.5 preamp in her studio and looking forward to an upgrade to VTL's TL-7.5 III preamp.
As in most top-tier mastering studios, the boards are stuffed with EAR equipment. Ampex tape recorders and Scully cutting lathes with Neumann cutting heads form the heart of the analog chain. The mastering software is Sonic Studios soundBlade, one of the two top digital audio workstation (DAW) mastering tools available to engineers. Piper is on the design team for Sonic Studios and beta tests new versions of the software.
Upstairs, Michael and Piper have set up The Tape Project lab (above) for editing and duplicating the titles offered to tape addicts on their choice of 1/4" or 1/2" tape. In the back of the building they have revived the original Coast Recorders tracking room built by Bill Putnam. The room itself has been left largely untouched, with a Steinway piano, a Hammond/Leslie organ, various bass and guitar amps, and a full drum kit (below). The separate glass-walled control room has been completely rebuilt with new equipment. When I visited, the console looked so new there wasn't a mark on it. The banks of EQs, processors and preamps looked like something out of a candy store.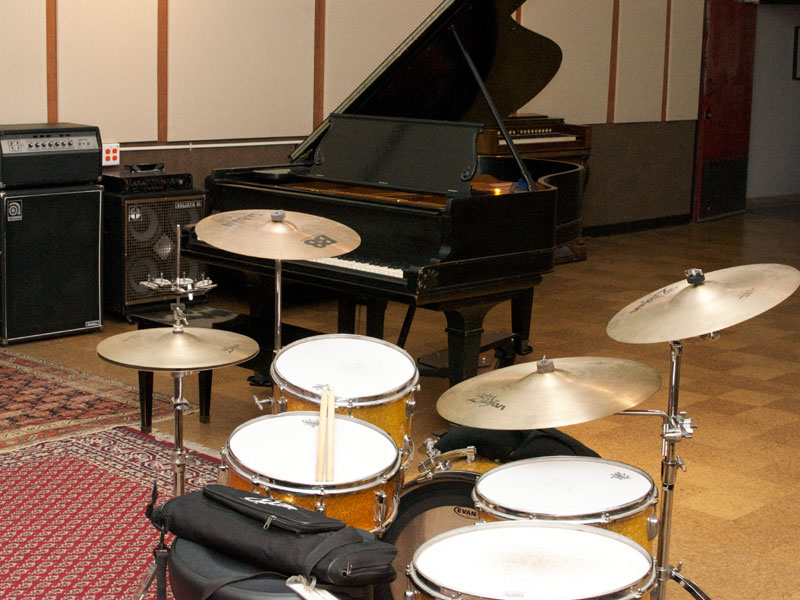 In her spare time, Piper does remote recording at locations as varied as local churches and San Quentin Penitentiary. Piper assists Michael in promoting the recording facility with a house concert series ("Live at Coast"), where a live audience is invited to attend special events being recorded. Piper is active in professional societies and was recently named to the AES Education Committee.
San Francisco has suffered more than New York and Los Angeles from the loss of recording and mastering studio work caused by the digital revolution, but Michael Romanowski Mastering and Coast Recorders intend to bring San Francisco back into the mainstream. With talents like Piper Payne doing impressive work, the folks at Sterling Sound should be looking over their shoulders.