The Living Voice Vox Listening Suite
by Roy Gregory | July 26, 2017
or many audiophiles, the most exotic and expensive products remain a distant dream, seldom seen and rarely heard. When we do get to hear these often mythical beasts, it's under the less-than-ideal circumstances of a show: all those bodies, a bad seat, and you don't get to choose the music or even get to touch the remote.
Loudspeakers don't come much rarer, more exotic or much more expensive than the Living Voice Vox Olympian, with its matching Vox Elysian subwoofers, a massive, four-cabinet, full-range horn system -- and yes, those subs are horn-loaded too. With an all-in price starting at £630,000 and working up from there, depending on finish, they're beyond the wildest dreams of us mere mortals. However, in a weird, exception-that-proves-the-rule kind of way, the Vox Olympian/Vox Elysian combination is arguably more familiar and more widely experienced than most of its less expensive competition. It has been turning up at the High End show in Munich in one guise or another for the last five years, attracting considerable press attention along the way. And the Vox Olympian/Vox Elysian doesn't just show up in Munich; it crushes all comers in the best-sound stakes -- to the extent that this year I gave Living Voice a Lifetime Achievement Award, just so that somebody else could get a look in. Throw in the electronics, racks, cables and the battery power supply Living Voice brings to run the whole system (yep, they really are that serious -- or that crazy, depending on your point of view) and you have a system that doesn't just cost a million dollars, it sounds like a million dollars too.
For many experienced listeners, this system -- generally based around Kodo amplification and cabling and a CEC or Neodio CD front-end -- is one of the best they've ever heard, a reality that is both impressive and worrying by equal parts. After all, if it sounds this good at a show -- in a room with two glass walls, two partition walls and a tin roof -- just how good could it sound given an ideal listening environment? I guess that's exactly the question that Kevin Scott of Living Voice has been asking himself, but, Kevin being Kevin, he didn't just decide to find out. Instead, his response to the question was typically ambitious -- even extravagant.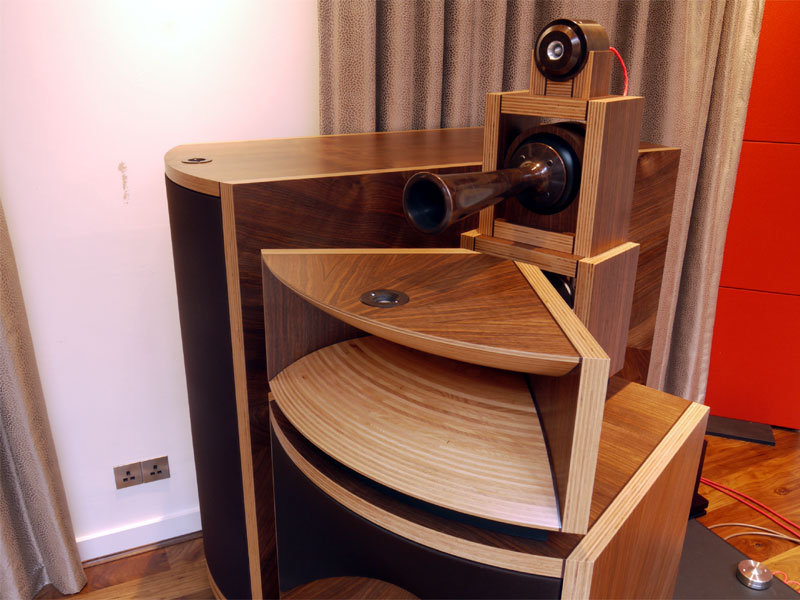 Which brings me to the second and less obvious aspect of this story. When Living Voice first announced the Vox Olympian/Vox Elysian combination, there were many in the industry who looked at the whole project slightly askance, responses ranging from incredulity to dark mutterings about ostentatious vanity projects. Bearing in mind that the combined cost of the Vox Olympian/Vox Elysian setup was over four times the price of a set of Wilson's then-flagship Alexandria XLFs (including a pair of Thor's Hammer subs for good measure), there were few who were prepared to take the speaker seriously, as a project or a product, until that first public outing in Munich, that is.
Then suddenly it all started to make a horrible sort of sense. The Vox products from Living Voice are very real and very serious and they're definitely products -- as the sales confirm. Currently, combined orders for the Vox Olympian and its marginally more (and I hesitate to use the term) affordable Vox Palladian sibling are running at around four sets a year. With a lead time of eight months per set, that's not at capacity, but it's keeping Living Voice plenty busy, given that sales are global and every set is personally installed. So, given the cost of the products and the international nature of the customers, the decision to create a dedicated listening suite in which potential purchasers can hear the Vox-series loudspeakers at their convenience and in both a system and a situation that has been properly optimized is actually a sound commercial investment. In other words, if the speakers make sense, sonically and commercially (which they do), then a dedicated listening room doesn't just make sense -- it's the next logical step.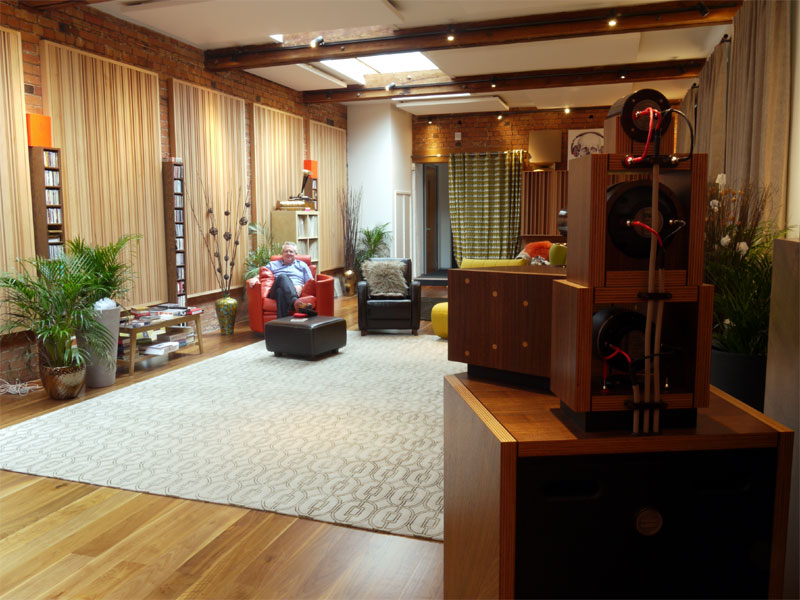 I used suite to describe what Living Voice has created because it is more, much more, than just a listening room. The building is adjacent to the existing Living Voice/Definitive Audio building in Nottingham, UK, and started life as the stable block serving the repurposed mill complex in which the company is based. The long aspect ratio of the building lends itself perfectly to its new purpose, with a central listening space sandwiched between a large storage area at one end and a reception area, kitchen and dining room at the other. The accommodation is spacious to say the least, with a bathroom that's bigger (and definitely more sumptuous) than a few listening rooms I've been in. The space given over to catering and entertaining reflects the fact that the vast majority of customers will have traveled some considerable distance to get there, but it also underpins Living Voice's relaxed, unhurried approach to auditioning the Vox products.
But the bit that most of us will be really interested in is the listening area itself. It's 6.5 meters (21' 6") wide, 12 meters (39' 6") long and 3.5 meters (11' 6") high. At first glance those numbers look awfully close to multiples but, working on the basis that you should build a room as large as possible, because you can always make it smaller, those were the dimensions that presented themselves. They were also the result of work done on the surfaces of the walls, the windows and the creation of a new ceiling. Most importantly, the room's regular nature means that the provision of carefully tuned, frequency-specific bass traps along with care and attention to absorbent and dispersive elements in the shape of furniture, curtains and music storage have resulted in a space that has a beautifully even and relaxed feel. A room this size offers multiple seating options and also gives the speakers room to breathe as well as the distance to integrate properly.
When I visited, the system in situ was pretty much the same one heard in Munich, which made for an interestingly direct comparison. The Vox Palladian/Palladian Basso combination (£450,000) was being driven by a pair of Kondo Gakuoh push-pull 300B monoblocks (£70,000/pair) fitted with Living Voice 300B tubes (£900/pair). The preamp was the Kondo M77 (£40,000), with a choice of Neodio's Origine S2 CD player (£39,000) or the Living Voice-modified Canary CD-300LV (£7500). Cabling was Kondo throughout, racks were the new Living Voice G3 models (£16,000 each) and, once again, the Living Voice Pure Music battery power supply (£25,000) was delivering the AC.
Add that lot up and it's around £665,000 plus cables. Converted to good old Yankee greenbacks -- and even allowing for the weakness of the post-Brexit British pound -- that's still around $850,000, plus cables, or awfully close to that million-dollar mark, a figure the same system with Vox Olympians and Vox Elysian subs would vault with ease.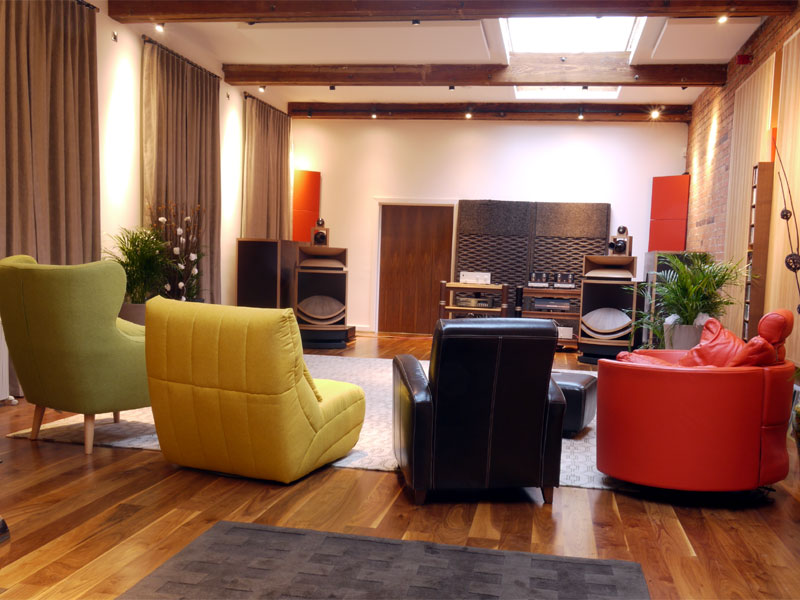 How did it sound? Worth every penny. What started out as a structured audition quickly descended into a simple listening session. Did this system sound better than the Munich setup? Yes, it did, although the two were recognizably the same beast. Tracks I'd used in Munich replayed in the new listening room took on an increased sense of presence and dimensional coherence. There was simply more "there" there -- if you get my drift. The bottom end was more extended and effortless, breathing more easily and adding greater texture and musical intent. So the drum-and-clarinet accompaniment to Christina Pluhar's riotous arrangement of Purcell's Strike The Viol [Erato/Warner Bros. 256463375-0] was delivered with shape and volume to the drum, a sense of reed, pipe and bell mouth to the clarinet, while soprano Raquel Andueza's singing was as astonishing for its precision and control as for its sheer beauty.
With the Batiashvili/Tchaikovsky violin concerto [Deutsche Grammophon Gesellschaft 00289 479 6038], a disc that produced spontaneous applause when played on this system in Munich, the brilliance of the solo performance was just as apparent, but the explosive power and intensity of Daniel Barenboim's orchestral direction were even more astonishing in this context. Whether playing Latin jazz, Nick Cave or a sneaky bit of trance, the system simply stepped back and allowed the musicians free rein. It was a performance that perhaps reached its apogee when, trying vainly to reassume my role as critic, I cued up Sir John Barbirolli's benchmark reading of the Sibelius Second Symphony [Testament SBT 1418], a work that, with its sporadic orchestration and towering crescendos, is an acid test of both system coherence and dynamic integrity. I failed miserably in my attempt, as the disc ran through the whole of the first movement, the rest of the Symphony and then the first movement of the Fifth to boot!
That's the sort of complete, addictive listening experience the Living Voice system provides -- and in my experience, it provides it no matter what you play, come hell or high water. If an audio system is supposed to be a time machine, then this system in this room is somewhere between the Tardis and the De Lorean from Back to the Future. It's a work-in-progress (there's no vinyl front-end as yet), but the results already more than justify the considerable effort and expenditure that have been lavished on the project.
Given that performance, it would be easy to imagine the Vox suite becoming a place of audio pilgrimage -- except that this is a commercial enterprise. It exists to demonstrate and sell the Vox loudspeakers, and I'm afraid that customers are going to take precedence over the likes of you and me, for whom ownership is an unlikely dream. Does that leave us with our noses pressed against the windows, hoping for a peek at the wonders within? Well, it might if the curtains weren't permanently drawn. However, well aware of the interest generated by the Vox products, Living Voice is planning to offer a series of open days, allowing those with no chance of owning the speakers at least an opportunity to hear them. Details are yet to be decided, but I'd suggest that ticketed and timed attendance and an open playlist might get over that "too many people, all the wrong music" issue that so afflicts shows. Whatever the final decision, you can be sure that The Audio Beat will be helping to publicize any such event. This is a room and a system that everyone should hear.