Needle Talk: Kuzma Analog Academy
by Roy Gregory | April 28, 2016
ranc Kuzma's eponymous company has been producing turntables in Slovenia for over 30 years. Make that turntables, tonearms, their associated bits and pieces, and nothing else. That's unusual. Few if any of the great turntable makers have existed for so long in sole ownership and on such a limited product spectrum. Even VPI, the obvious candidate, have always enjoyed a healthy income from their record-cleaning machines, products that appeared well before their first record player. Kuzma have offered several different cartridges over the years, culminating in the interesting and decidedly different four-model CAR series that's part of the current catalogue. There's also been the recent arrival of the excellent (and even more decidedly different) multidisc ultrasonic record-cleaning kit ($1400) -- a solution that, in a typical piece of Kuzma lateral engineering, provides a record-cleaning gantry to convert commercially available ultrasonic baths. But even these moves toward a more diversified product line demonstrate that the Kuzma apple never falls far from the record-replay tree, an object lesson in sticking to what you know and what you do well.
I can clearly remember my first experience of Kuzma products -- the original Stabi turntable and Stogi 'arm. In best 1980s UK audio tradition, the 'table was suspended and the gimbal-bearing tonearm shared more than a few features with the established Zeta design. But even then Kuzma did things differently, the all-wooden 'table featuring a wood-and-glass lid, the 'arm with an oversized bearing housing that looked like it could have happily mounted a machine gun. These days the designs have evolved, although that original DNA lives on and is still discernable in the Stogi Reference CE tonearm ($3450) and the Stabi Reference 2 turntable ($10,720).
But Kuzma is still doing things differently, not least the Kuzma Analog Academy, a two-day dealer/distributor conference and training event held in the second week of April. Of course, plenty of companies hold such events, but how many of them attract attendees from as far away as Japan and Brazil, Thailand and Australia?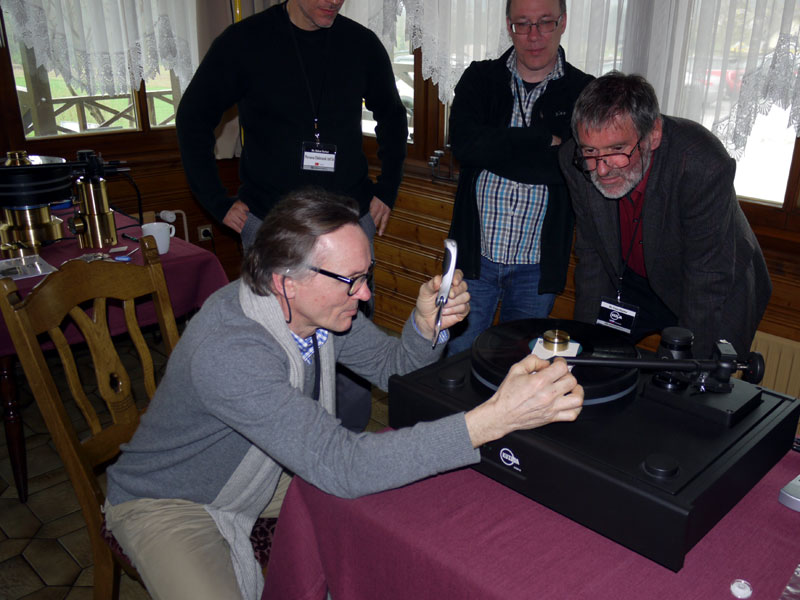 Day one was devoted to cartridge installation and alignment, with attendees first steeped in the theory of tonearm geometry and setup before being thrown in the deep end for hands-on practice on the full range of Kuzma 'tables and 'arms, using Kuzma's supplied protractor and the Feickert Adjust+ software to achieve a textbook initial alignment.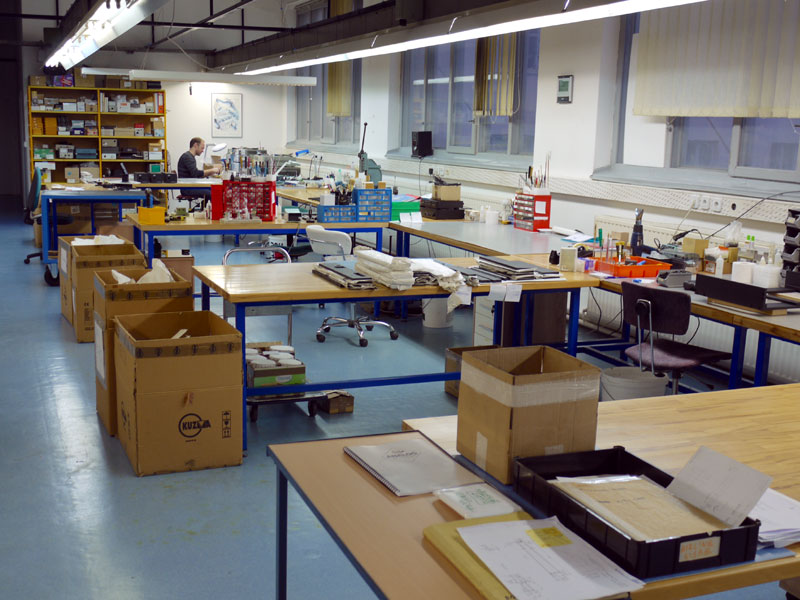 Day two moved on to the use of the more exacting single-point, Dennesen-type protractor in the shape of the Acoustical Systems SMARTractor, along with discussion as to why you may well prefer one approach or the other but will benefit from familiarity with both. After that it was back to the hands-on, with attendees expected to strut their alignment stuff under the beady eye of the Kuzma staff if they were to qualify for their diploma. There was also a visit to the Kuzma factory, where the sheer quantity of parts and stock told its own story of a company that is going from strength to strength.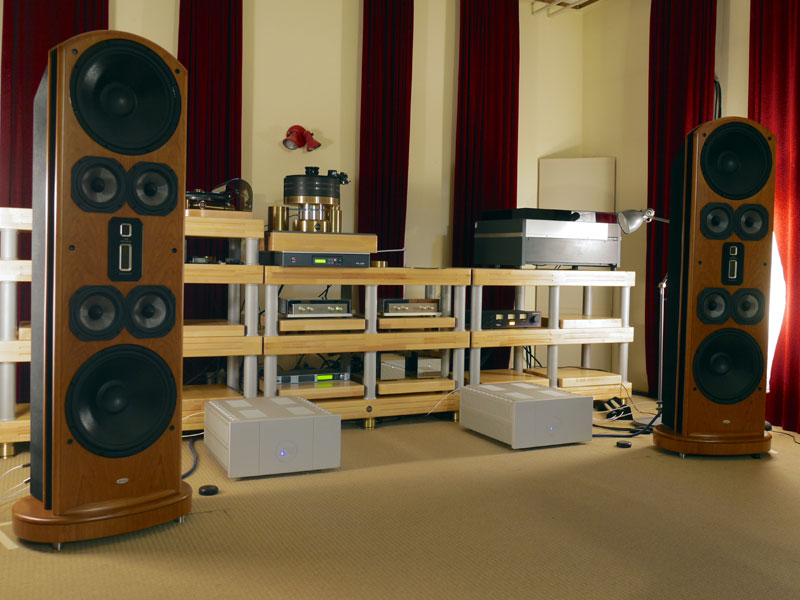 We also got to play with Franc's system, a typically eclectic mix of his own and other, often unusual products. Front-ends were all analog, and you don't have to guess too hard to figure out that the turntable would be a Stabi XL DC ($27,000) equipped with a 4Point 14" tonearm ($8995) and the flagship CAR-50 cartridge ($6550). But you probably weren't expecting the super-heavy platter option: a brass disc that sits below the already massive, laminated platter and adds a further 50 kilograms (110 pounds) of rotating weight. Then there's a Studer A80 open-reel studio machine, there to play Franc's collection of master tapes -- an invaluable tool (he says) in assessing his products during development. If the top level of the racks looks a little empty, that's because it had been stripped to provide decks on which the visitors could try their setup skills.
Electronics were from Zanden and ASI (an offshoot of the Karan Acoustics stable), while speakers (and subwoofers) were from Legacy. This is a big system by any measure, with Kuzma citing the need to play loud as another critical consideration when it comes to assessing turntable and tonearm designs for immunity from acoustic feedback. Well, loud it certainly was, making up in scale and an expansive soundstage as well as sheer gusto what it lacked in terms of spatial coherence, especially at high frequencies. With music as varied as Mahler, Louis Armstrong and Hugh Masakela, the system was effortlessly powerful and immediate.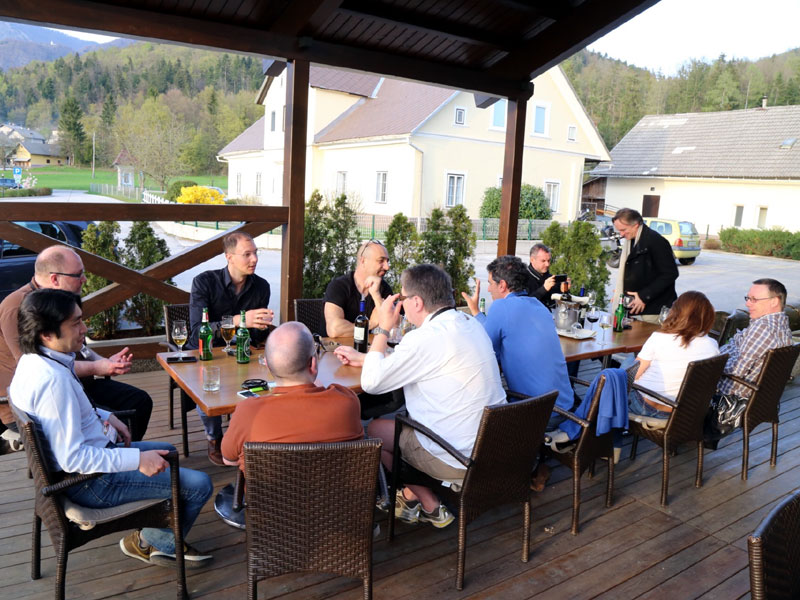 All of which was impressive enough, both the activities and the system, but by far the most impressive thing of all was the collegial atmosphere that characterized the event. Get two dozen distributors and dealers in one place and you are going to get a huge range of knowledge and ability, but everybody was there to learn and everybody was more than happy to share. It was a cooperative attitude that contributed mightily to the success of the event and the breadth of topics covered.
Beyond the relatively straightforward realm of alignment theory and practice, discussions ranged through the changing nature of the analog market and customers; who needs multiple tonearms and why; the sound of different alignment geometries and how you can use them to tune systems; the requirements of mono and 78 playback; listening to VTA, VTF, azimuth and bias, and how each contributes to or is reflected in the sound; the essential analog toolbox; and a few invaluable extras: the benefits of lights and magnification, and just what you can and cannot achieve with a USB microscope.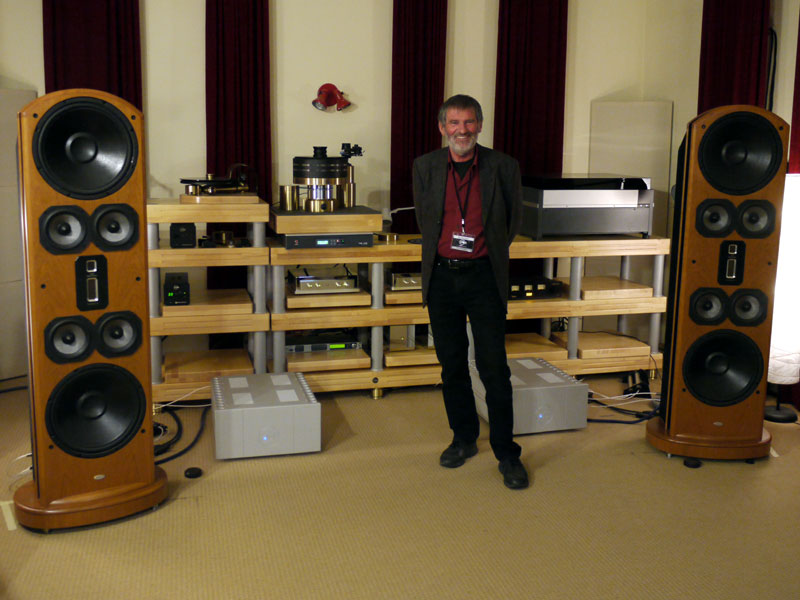 Franc Kuzma readily admits that even he wasn't sure what to expect when he set about organizing the Analog Academy: the results must have exceeded even his wildest dreams, even if they might represent something of a Pandora's box. After all, this first event has set the bar pretty high. A great time was had by all, helped by the generous entertaining and seemingly never-ending supply of food.
The Kuzma Analog Academy has established a blueprint that is, just like Kuzma's products, set to evolve and develop, a process that other manufacturers would do well to watch closely. With this degree of enthusiasm on all sides, the next Analog Academy seems like it's going to be a pretty hot ticket.