Focus on Focal
by Jason Kennedy | August 2, 2012
ocal is the largest loudspeaker manufacturer in France, which might not sound all that impressive until you consider that its home market, which it dominates, only accounts for a quarter of its worldwide sales. Focal was founded in 1979 by Jacques Mahul, who called his company JMlab. Initially Mahul concentrated solely on drive-unit production, supplying speaker builders in the domestic and pro markets as well as installers in car audio. Today the company continues to work in all of these areas, but it no longer restricts itself to building drivers. Trading as Focal, it makes loudspeaker ranges for almost every application. There are 15 floorstanders alone, alongside stand-mounts, in-walls and a growing variety of lifestyle and computer-audio systems. Focal caters to the studio market with pro monitors, and it supplies Fender with drivers for guitar cabs. It also remains firmly entrenched in the car-audio business, supplying the likes of Volkswagen in China and Toyota. Car audio now accounts for 33% of its business.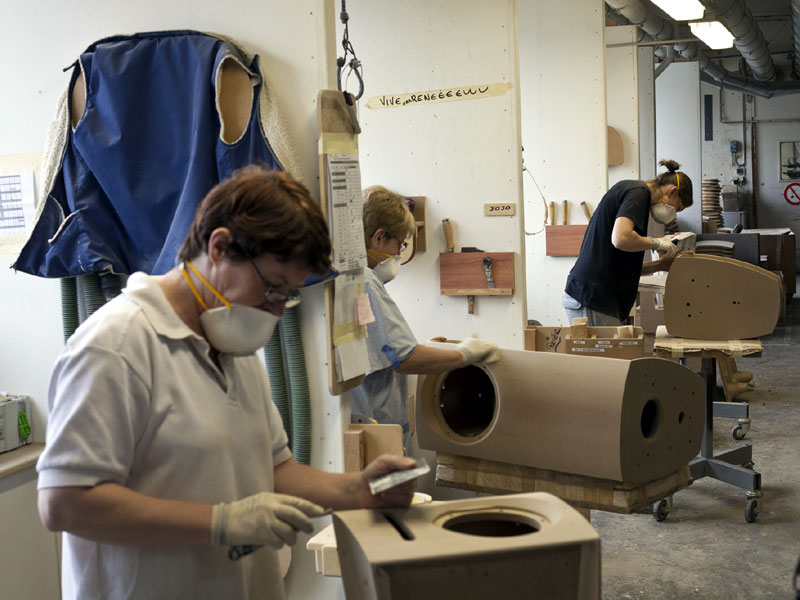 | | |
| --- | --- |
| | |
I visited Focal's cabinet-making plant in Bourbon Lancy and its headquarters in Saint Etienne, where there are production lines for drive units, including the Beryllium tweeter that is found on its high-end models. While cabinets for the more affordable models are brought in from across Europe and China, the company couldn't find a reliable source for the complex shapes of its Electra and Utopia ranges and invested in a local cabinet-manufacturing facility. It has now bought that company and uses it for its high-quality woodworking and finishing. It's a lovely place if you appreciate CNC-machined MDF, a little bit dusty and organized without looking regimented.
Among the many processes and techniques performed here, I was interested to see that some of the cabinets combine MDF and chipboard, the latter recognized in many quarters as having useful characteristics for diffusing resonance in speaker cabinets. But it is rarely used because it's difficult to machine and finish to a sufficient standard. By combining the two materials Focal is able to make acoustically desirable as well as professionally finished cabinets.
The 30 workers at Bourbon plant have an expert on lacquers in their midst. Christian Bouchiquet was formally employed by the King of Morocco as a furniture restorer, but when the political situation started to look unstable he decided to head home. I was impressed to see that he was wearing a white coat -- always the sign of a true craftsman. His team produces 500 high-end cabinets a month, which, given that there only appeared to be two guys doing the gluing and clamping, is quite an achievement.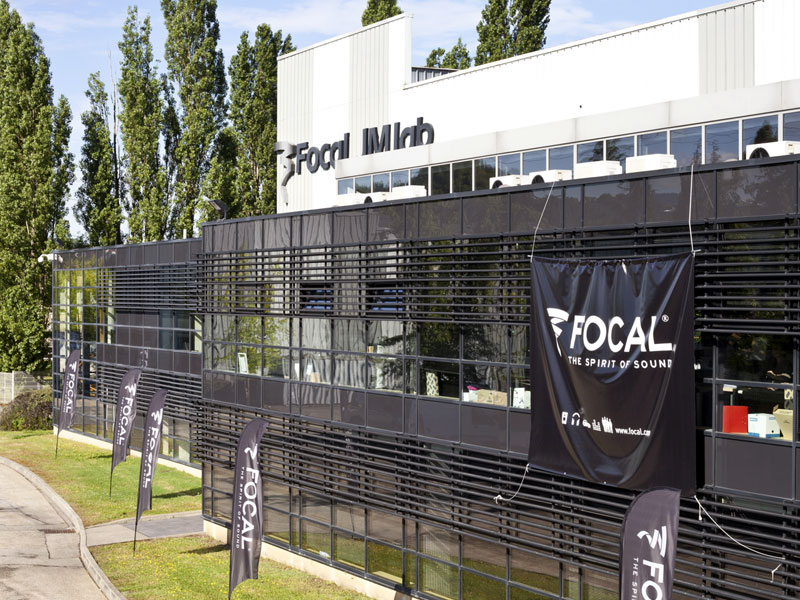 Two hours away in the small industrial town of Saint Etienne, the main Focal facility houses management, logistics, driver production and loudspeaker assembly.
Drivers are "our culture," according to Focal managing director Gérard Chretien, as he explained how Focal developed its sandwich-cone technology for maximum rigidity and minimum weight. In the early days, this process was apparently akin to making a pizza, by which he meant that it was difficult to get the right consistency of "filling." This has been dramatically improved by using thermo-formed Plexiglas foam with a pre-impregnated glass-fiber skin. By using either single or double skins and different thicknesses of foam core Focal is able to produce cones to suit any application. Two skins are used for bass drivers, one on midrange units and one with a thicker foam on drivers for two-way systems that have to deliver both the midrange and bass.
Being able to build cones of any size or mass gives Focal a significant advantage when it comes to developing new loudspeakers. Rather than trying to iron out problems electrically with crossover components, they are able to make custom drive units for specific cabinet volumes and thus keep the network as transparent as possible. As a result, a new cone is developed for each new loudspeaker. In terms of crossovers, 12dB/octave (second-order) slopes were preferred, but computer modeling meant that such things are rarely as clear cut in practice.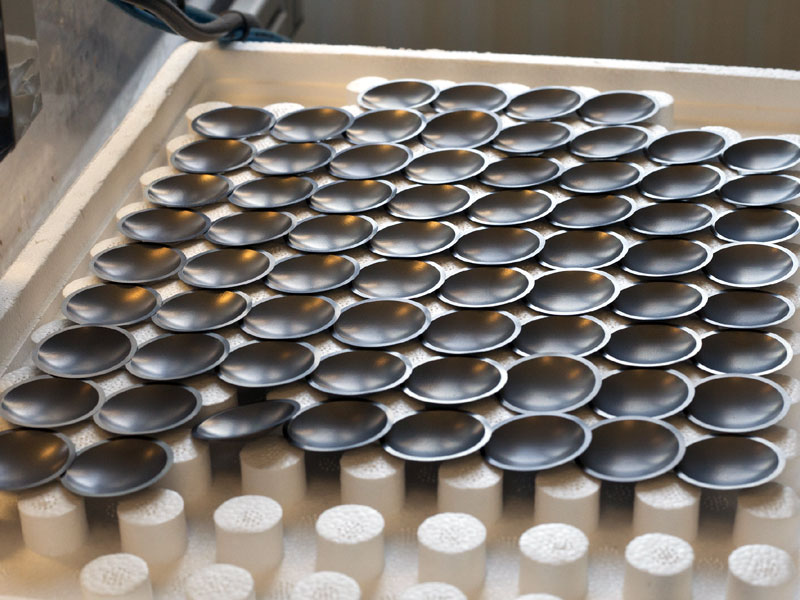 | | |
| --- | --- |
| | |
Focal's preferred material for tweeter domes is metal, and the chosen shape is the inverted dome. Their initial impetus for this was increasing efficiency, but it now includes the argument that a smaller voice-coil diameter gives greater control of the driver, and the shape produces better dispersion than a dome. Focal uses an alloy of magnesium and aluminum for the majority of its tweeters but reserves a material that's apparently a hundred times more expensive than gold for its top models, beryllium. The latest tool that Focal has found to demonstrate the superiority of beryllium is a collection of three tuning forks. These reveal the uncannily low mass of beryllium compared to titanium and it superior self-damping properties compared to aluminum. You get a pretty good idea of just how light beryllium is when a 22mg inverted dome (shown above) is dropped and twirls like a leaf in the breeze. Beryllium dust is a highly toxic material, so manufacturing is carried out in extreme clean-room conditions. The completed domes are not a health concern, however.
Focal has been building demonstration areas for all of the markets in which it does business, so there is a garage that's been given the F1 paddock treatment for in-car audio and a studio control room for pro audio. The latter gave Focal the opportunity to demonstrate its latest and most ambitious monitor, the SM9, a three-way design with a top-firing passive bass radiator. Because it's often necessary to establish what a mix will sound like on a smaller speaker, you can switch off the low-bass driver and use just the midrange/bass driver and tweeter. As these have their own sealed enclosures, you hear a narrower-band version of what the full speaker delivers.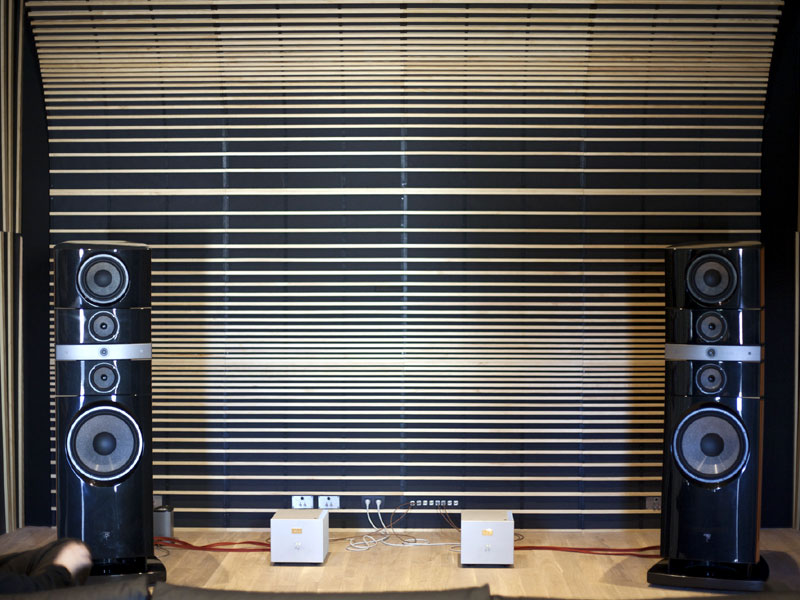 Focal has recently built a new demonstration room for domestic loudspeakers. I got the impression that the press visit was the deadline for the room to be finished, because I could almost smell the paint, and personnel explained that it had not been possible to get it fully sorted from a sonic point of view. It's a spectacular room, with a wave in the ceiling and angled wooden diffusers on all surfaces except the floor. It didn't sound as even as the previous demonstration room, which is more conventional in shape, but with a bit of experimentation I imagine that it will produce better sound overall. Shifting the system supplied by partnering brand Naim Audio into the new room would be a good start.
My visit to Focal's facilities was topped off by a night at the Vienne Jazz Festival, an event that every music lover should visit before he dies. Its appeal lies in the setting, which is a renovated Roman amphitheater where the acoustics are among the best I have encountered anywhere. You really do get the same volume level wherever you sit, and with a good sound engineer at the desk this results in phenomenal entertainment. I got to see Larry Carlton and Al Di Meola with his New World Orchestra, the latter in particular sounding just superb. Focal is naturally involved with this event and sponsors the new-acts stage, Gérard Chretien being one of the people looking for acts that warrant further exposure. Sometimes the reviewer's lot doesn't seem like such a bad one!