DALI in Dallas
by Paul Bolin | October 17, 2014
n September 25, The Sound Organization (TSO) and DALI loudspeakers of Denmark unveiled DALI's brand-new Rubicon line of loudspeakers in TSO's Dallas, Texas, home for a group of audio journalists, and I was among them. TSO focuses on importing and distributing English brands, such as Rega and The Chord Company (not to be confused with Chord Electronics, also an English company) appropriately enough, as owner Steve Daniels is an Englishman born and bred, but they have assumed distribution of DALI speakers and intend to get the brand the attention that it deserves.
DALI's CEO and Managing Director, Lars Worre (above left), was on hand to not only introduce the Rubicons but to explain the thinking and engineering behind the line; he also gave the assembled journalists a thorough history of the company. Though DALI has only entered the US market in the last decade or so, the company has a 31-year history of building high-quality loudspeakers and has met with considerable success, particularly in Western Europe and Japan. Beginning as the manufacturer of a house-brand speaker for the Danish-based electronics chain Hifi Klubben, DALI has grown to be one of Europe's larger producers of speakers, manufacturing some 250,000 units in 2013 and employing nearly 200 people. While the company has a wholly owned plant in Ningbo, China, where certain subassemblies such as terminal strips and some crossovers are built, the vast majority of its drivers and speaker systems are manufactured in Denmark. DALI stands for Danish Audiophile Loudspeaker Industries, and Worre emphasized the word "Industries" -- the company's special focus is on control of all aspects of every loudspeaker system and a consistently high-quality product.
As driver design is done wholly in-house by DALI, the company is free to investigate materials and techniques that are unavailable to builders who use only off-the-shelf drivers. Rubicon (and Epicon) woofers and ribbon tweeters are built in-house. DALI also owns a cabinet factory that makes enclosures for selected models. As Worre pointed out, DALI is a fully integrated manufacturer that has total control over its products. He described DALI's philosophy as focusing on five principal criteria: clarity, defined by intelligibility, articulation and dimensionality; the lowest possible mechanical and electromechanical losses to preserve detail and minimize distortion; timing, particularly in the design of crossovers, so that phase and other temporal characteristics remain true to the recording; wide dispersion for easier room integration; and presenting a compliant load to amplifiers, letting them operate in a predictable and comfortable way.
All of the Rubicon speakers save for the stand-mounted 2 use the same drivers: a purpose-built and Rubicon-specific 6 1/2" woofer/midrange and a 1" soft-dome tweeter integrated with a 17 x 45mm ribbon for maximum air and upper overtones. All cabinets are bass-reflex designs. The 2 ($2995/pair, stands approximately $400) omits the ribbon tweeter in order to provide a smaller package. The smallest floorstander, the $4595/pair 5, uses one woofer/midrange with the dome/ribbon tweeter array, while the 6 ($5995/pair) adds a second woofer/midrange and the top-of-the-range 8 ($7995/pair) a third. There is also a Rubicon LCR wall-mountable model ($1695 each) for use as a center/side speaker in home-theater configurations; the LCR allows the user to rotate the tweeter module for optimal dispersion in either vertical or horizontal placements. Being Danish products, the speakers' cabinets are, unsurprisingly, of sleek design, beautifully worked, and offered in various finishes.
The Rubicon line combines a number of interesting features, many of which derive from the Danish builder's top Epicon line, most notably the ribbon/dome tweeter pairing and a magnet structure described by DALI as "Soft Magnetic Compound" or SMC. To create SMC, iron is ground to something near the consistency of powdered sugar and these particles are then phosphor-coated before being formed into the magnets that are used in the drivers. According to Lars Worre, this approach minimizes eddy currents and electrical conductivity and maximizes magnetic conductivity. This is said to reduce distortion, particularly odd-order harmonic distortion. DALI is adamant that the crossover not be used as a sonic band-aid: "A crossover should be a distributor and not a doctor," as Worre put it. Drive units are claimed to remain linear well above and below the frequency points at which they actively contributing to the speakers' sound.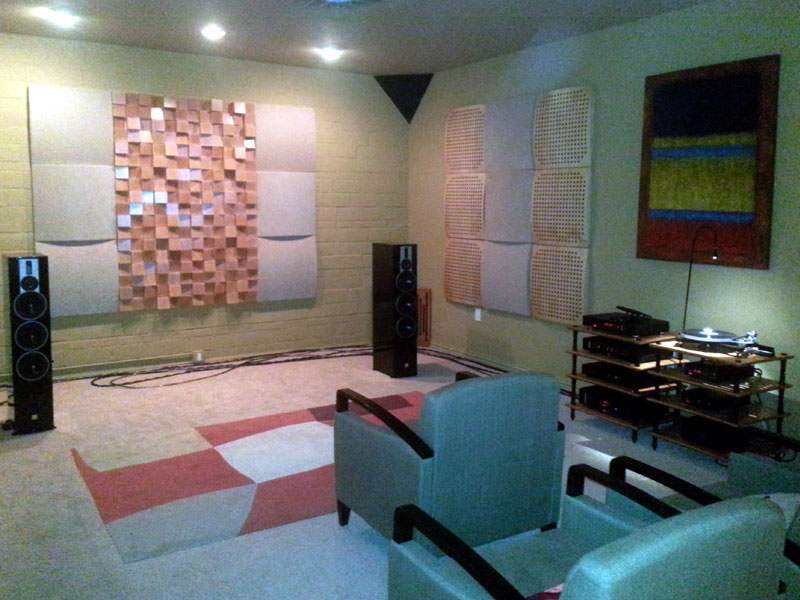 I was able to hear the Rubicon 2 and 8 in separate auditions, used with electronics, sources and cables from Rega and Chord Co., and both were impressively musical and enjoyable speakers. The 2 punched far above its size, throwing a spacious and natural-sounding space into TSO's excellent, purpose-built listening room. Bass and dynamics consistently belied the 2's relatively modest size. It immediately became apparent when listening to a recording of Mark O'Connor, Yo-Yo Ma and Edgar Meyer that clarity and articulation are for DALI more than marketing buzzwords, and the track swung with the lively rhythmic vitality the musicians clearly put into it. Voices were thoroughly natural and instrumental timbres of all kinds rang true. Though the 2 does not have the ribbon supertweeter featured in the larger Rubicons, their treble was grainless and nicely extended. It is a refined and very well-balanced speaker.
The 8 added more of all the things the 2 did so well. While the ribbon tweeter calls no direct attention to itself, the 8's treble was even more extended and airy, adding to the speakers' spacious presentation. As is to be expected, the bass response of the 2.5-way design with its three woofer/midranges, was powerful with no muddiness or loss of control. Even the organ pedals on the well-known "Lord Make Me an Instrument of Thy Peace" from Rutter's Requiem by the Turtle Creek Chorale had precisely defined pitch and surprising power. Especially noteworthy were, once again, the size of the soundstage and the placement of well-rounded images in a cleanly defined space.
Both of the Rubicons I heard were excellent, well-balanced and thoroughly thought-through loudspeakers with a clean, lithe and musically consonant sound. They did a highly commendable and most noteworthy job at one of an excellent component's highest virtues: getting out of the way and letting the music speak for itself. What particularly captured my attention was an unmistakable sense that the DALIs start and stop with remarkable speed and precision. The Rubicon 8 struck me as offering particularly high value per dollar, as it offers the kind of performance that was difficult to imagine in a relatively moderately sized and priced floorstander only a few years ago. The Rubicons sounded very nearly exactly as I expected them to, given Worre's explanation of DALI's goals and design/manufacturing philosophies, and they sounded very good indeed. I suspect that many buyers will end their search then and there.