Playing Indoors: The 2013 California Audio Show
by Dennis Davis | August 16, 2013
he fourth annual of the California Audio Show (CAS) was relocated to the Westin Hotel near the San Francisco airport, farther from the freeway than the former location at the Crowne Plaza, which was plagued by highway and air-conditioner noise. The more upscale Westin provided a much more quiet setting. This year's show went head to head with the much larger Hong Kong audio show as well as a three-day outdoor concert in Golden Gate Park, featuring Paul McCartney, Willie Nelson, Red Hot Chili Peppers, Nine Inch Nails and a host of other performers. Perhaps the CAS organizers were praying for rain, but the weather outside was perfect. Those music-loving audiophiles who hate large crowds, superstar performers and sunny weather instead spent their weekend inside an airport hotel -- and were rewarded with a relatively small but well-organized show.
Those who chose the outdoor event left more elbow room for the audio faithful. More than 40 rooms were spread over three floors. The ground and second floors held 17 conference-sized rooms, and the third floor housed the balance of the exhibitors in typical small hotel rooms. A handful of new products were on display and many familiar products were mixed and matched in configurations new to me. Many of the larger rooms had ceilings dropped about six inches lower than normal, while others had unusually high ceilings, presenting some challenges in terms of room acoustics. Show sponsor Tube Traps had a booth and must have brought along a truckload of product, as their Traps were found in many rooms scattered throughout the show.
None of the usual suspects like Acoustic Sounds or Music Direct had a booth to tempt show attendees with offerings of new vinyl and SACDs. A couple used-LP vendors set up shop in one corner of a hall. AudioVision had a few racks of new vinyl available for purchase. First Impressions Music (FIM) set up shop in one of the small third-floor rooms with speaker company Eficion, in order to provide a three-way comparison of musical selections played back in high-rez, regular Red Book CD and FIM CD versions. Of course the FIM selections sounded decidedly better than the others. While not an entirely unbiased demonstration, FIM has released some truly outstanding CDs, the most recent being CalTjader/Stan Getz Sextet [LIM UHD 061 LE].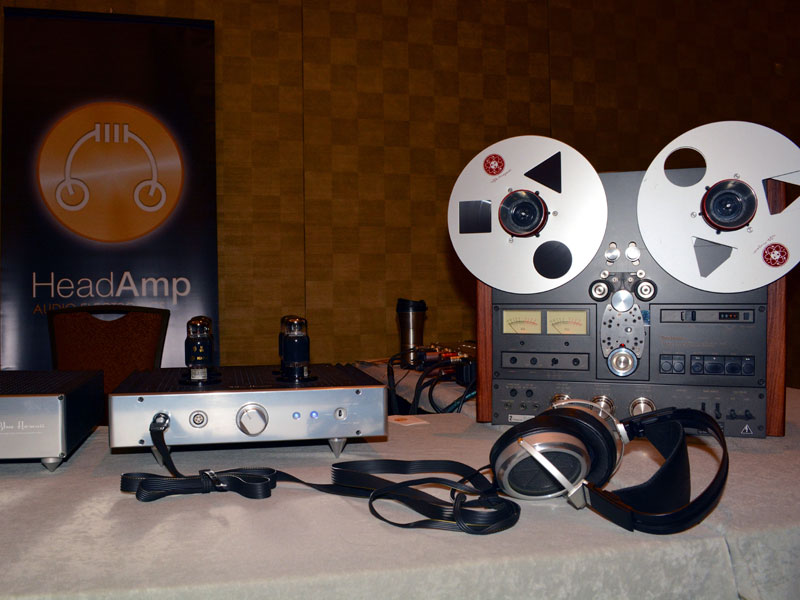 The large ground-floor room usually populated by music vendors was instead taken over by numerous headphone-equipment vendors under the rubric HeadMasters. The ever-present Audeze booth was open, and I drooled over the LCD-3 headphones ($1945), which sounded spectacular driven by the new Astell & Kern AK120 portable DAC/player ($1299). Astell & Kern is a trade name of South Korean iRiver, which once operated under that name in the US, selling the popular Clix MP3 player. After the US operation went bust, iRiver disappeared for a few years, but came roaring back at last year's CES with their AK100. Astell & Kern now show up in force at every show.
However, what really blew me away in the HeadMasters suite was the combination of an electrostatic headphone amplifier from HeadAmp, the Blue Hawaii SE ($5500), with the Stax SR-009 electrostatic headphones ($5250). While this combination has been shown before, and always impresses as the pinnacle of headphone sound, this time around it was driven by tapes from The Tape Project played on a tricked-out deck brought along by a local tape enthusiast. Wow! Just don't expect immediate gratification if you decide you want to go this route. The Blue Hawaii SE is a special-order product. You deposit 25% of the purchase price and wait for yours to be built.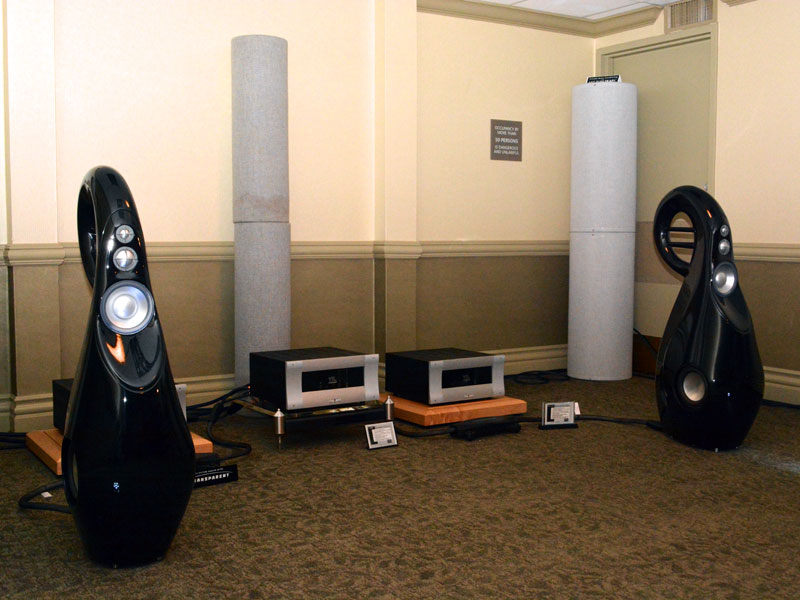 Some of the best sound at the show came from speaker designers who thought outside the box. Music Lovers built one of its four rooms around the Vivid G3 Giya speakers and AudioVision balanced this alternative thinking with a room featuring KEF Blades. These two rooms proved just how good unusual-looking speakers can sound.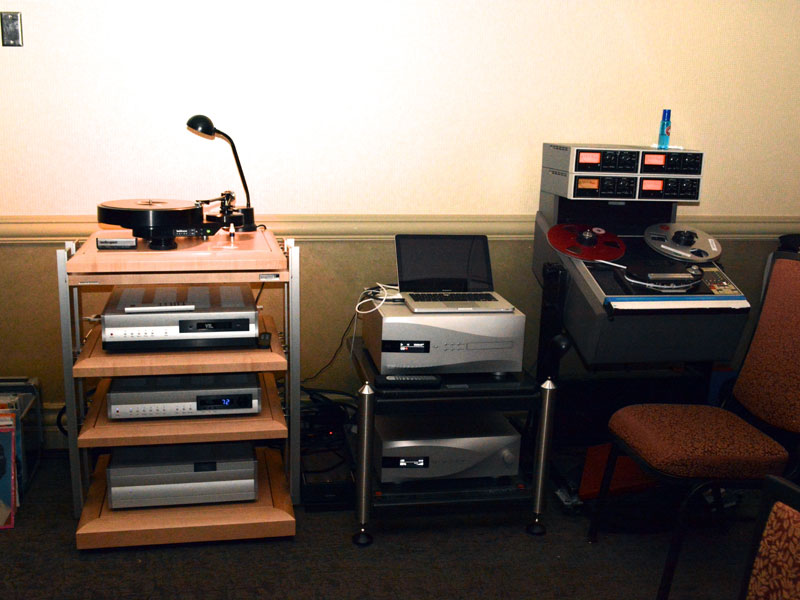 The $40,000/pair Vivid speakers were matched with VTL electronics, switching back and forth between the new $10,000 VTL S-200 Signature stereo amplifier and the more powerful VTL MB-450 Series III Signature monoblocks at $18,000 the pair. VTL's top-of-the-line TL-7.5 Series III line stage ($20,000) fed a TP-6.5 phono stage ($8500) when spinning vinyl on the Brinkmann Bardo Turntable ($9490) with Brinkmann Pi cartridge ($2700). The digital front-end was supplied by dCS: Vivaldi transport ($39,999) and DAC ($34,999). Other than the new stereo amp, these are all tried-and-true components that never fail to impress, but it was refreshing to hear them combined -- the VTL gear is more commonly paired at shows with Wilson Audio speakers. The S-200 stereo amplifier, at one-fourth the price of the speakers, did a remarkable job of sounding like a much more expensive product. Putting out 200 watts of power and said to incorporate the trickle-down technology of its more expensive MB-450 III stable mates, the stereo amp seems to offer a lot of bang for the buck.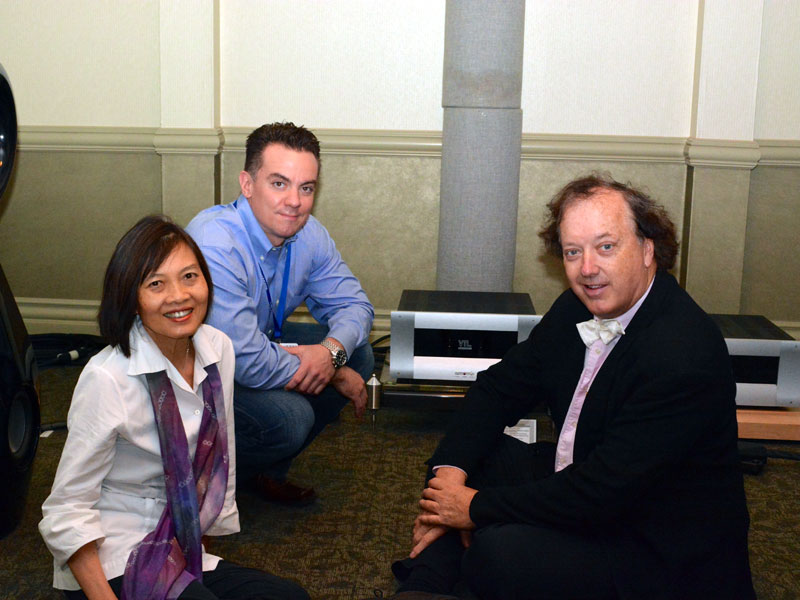 The sound of this system was so good I could have camped out here all weekend. But as good as the sound was, it came in second place to the wonderful company kept there. Bea Lam of VTL (left), Philip O'Hanlon of On A Higher Note (right, US distributor of Vivid and Brinkmann products) and John Quick of dCS (center) worked their magic playing vinyl on Philip's Bardo, digital tunes on the dCS gear and Tape Project tapes on mastering engineer Paul Stubblebine's Ampex.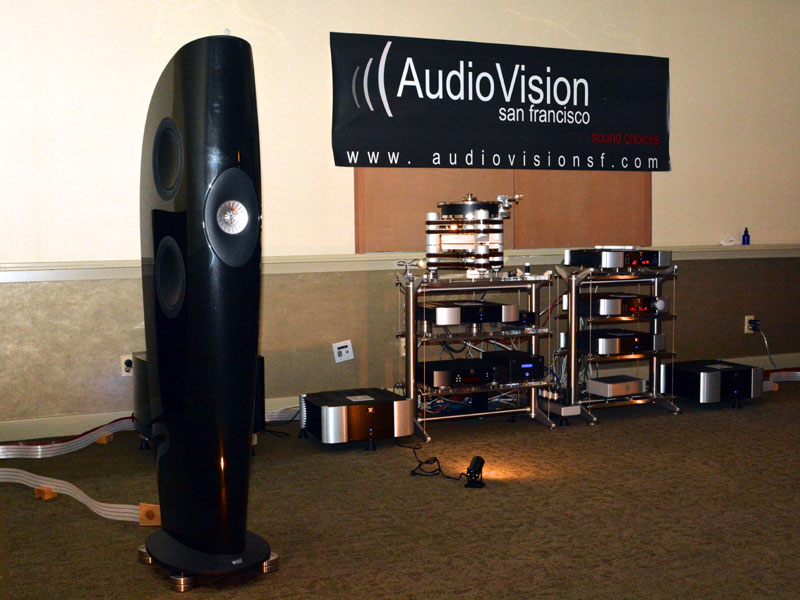 Another system that was doing some very interesting things was in the AudioVison room sporting KEF Blade speakers. I've heard these in several settings since their release, but this was my first opportunity to hear them up on Stillpoints Ultra 5s and tied into a system with Nordost's new Valhalla 2 cables. The Blades on their own cost $30,000 per pair, but adding in the eight Ultra 5 supports ($699 each) increases the package cost by $5592. Still, I cannot think of any $35,592 speakers that clearly outshine the Blades. Few in that price range would be in a fair fight. The AudioVision room subscribed to the principle that system-supporting roles are as important as the components themselves. The components sat on two Stillpoints ESS racks (around $12,000 each) and there was a most amount of room treatment with Leading Edge acoustic panels ($4000 the pair). Despite a somewhat challenging room acoustic, the system was impressive indeed, and I was surprised at how much bass was available from such a slight-looking speaker.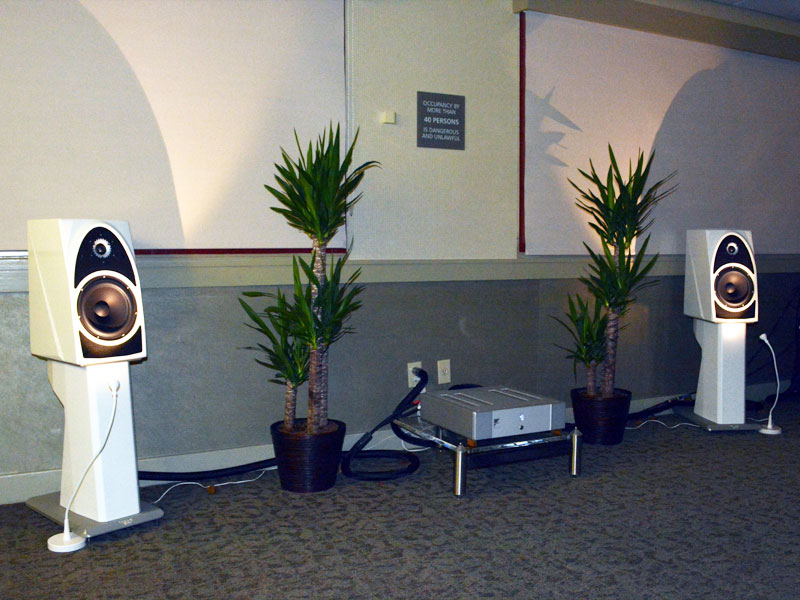 Down the hall, Peter McGrath of Wilson Audio was demonstrating the new Duette Series 2 loudspeakers ($19,990/pair with stands). While Dave Wilson had shown off the new Duette 2 as a prototype at the High End Show in Munich, this was the first public demonstration of the speaker outside the Wilson facilities in Utah. The design goal of the Series 2 was to create a loudspeaker that could work against a wall (and only against a wall), thus appealing to the well-heeled music lover who may not share the audiophile capacity for tolerating speakers placed out in the middle of a room. Driven by an Ayre VX-5 power amp ($7900), the new KX-5 preamplifier (price to be announced) and DX-5 A/V Engine ($10,900) playing CDs, the Duette 2s had little difficulty creating a deep soundstage and pumping out deep, well-balanced bass. The system was playing in a room entirely free of treatment other than a couple of spikey potted palm trees, so the excellent balance of the speakers had nothing to do with fancy room treatment. Clearly, Wilson has succeeded in its formula to make wall-boundary speakers approximate what is generally thought to only be possible with speakers designed to have breathing room on four sides. As the new Duette 2s are in fact designed to operate at their best only when placed against the wall, their appearance takes a little getting used to, but I can imagine installations better designed for such attractive speakers than a small hotel room.
At the more affordable end of high-end audio, there were many vendors vying for attention, but one system stood out as offering truly exceptional sound in a relatively compact size and at a price more attainable to the audiophile forced to work for a living. Music Lovers Audio set up a small room featuring the new Sonus faber Olympica I stand-mount speakers ($6500/pair plus $1200 for the stands) driven by the Audio Research VSi75 integrated amplifier ($8000) and DAC 8 ($4995). Sources were mostly from Pro-Ject, including an Xtension 10 turntable ($2999) and a Phono Box RS phono stage ($999), along with a Sumiko Blackbird cartridge ($750), for analog, and a Stream Box DS media player ($999) for digital. Cabling was supplied by AudioQuest.
While the CAS pales in size compared to the Rocky Mountain Audio Fest or even THE Show Newport Beach, this third year showed a significant improvement over the first two years and offered Northern Californians a one-stop entry into the world of high-end audio.