Asian Tour: Thai Surprise
by Roy Gregory | May 21, 2012
ne of the slowly dawning truths of working as a hi-fi journalist is just how much trust and faith some readers place in your judgment and views. Taken seriously -- as it should be -- this can be quite a responsibility, and at times not a little scary. Add to that a seemingly insatiable appetite on the part of the buying (or merely dreaming) public to hear those views expressed, or simply to discuss the great hi-fi issues of the day and it leads to invitations from show organizers and dealers, distributors and manufacturers to stand in front of a room filled with a (potentially hostile) crowd of the audio interested and strut your stuff; except that given the age and condition of most reviewers -- I don't know one without some form of back problem -- strutting is pretty much a thing of the past. Given the weight of most current high-end products, the back pain and chiropractic costs come with the territory. Believe me, presenting to audiophiles brings a whole new meaning to the term "singing for your supper."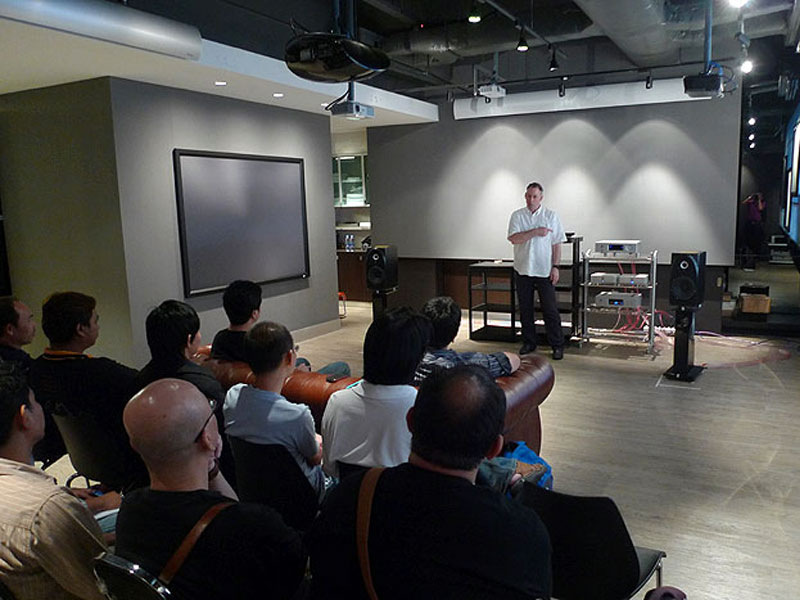 Which probably doesn't sound that enticing -- until, that is, you consider the source of some of those invites. Which is how I wound up standing in front of a room full of Thai dealers in central Bangkok, a system behind me with speakers to the left of me, speakers to the right. As David Byrne was wont to say, "How did I get here?" (Of course, the next line goes, "This is not my beautiful wife," but we definitely are not going there!) The truth is that this was payback for accepting an invitation from Thai distributor Deco 2000 to speak in front of some of their dealers and customers. The system? Ahhh, that was my own fault. You see, I've always been wary of simply foisting my own prejudice and obsessions on the unsuspecting. Instead, I've generally sought to discuss and demonstrate some (probably contentious) aspect of system performance or set up that I've recently been writing about. With Deco's portfolio containing the likes of Wilson Audio, Kuzma, VTL, Ayre, dCS, Boulder, Stillpoints and Nordost, what better place to start than setting up and tuning a two-channel system?
Definitely not in Kansas anymore
ooking out at the expectant faces, waiting for this supposed expert to offer some pearl of wisdom, it was hard not to be aware of just how different this scene would be if played out in the US or UK. Take the space we're occupying for a start; this is the main Deco showroom, tucked away on the fourth floor of the Amarin shopping plaza. A single glass security door gives access to one large display area, divided roughly in half, with three other rooms leading off of it. One of these contains a permanent Wisdom Audio in-wall speaker system, another a full Meridian surround-sound setup and in the third there's a pair of VTL Siegfrieds (the latest Mk II versions, naturally) running in a pair of Wilson Alexandria XLFs. The reception area holds a pair of MAXX 3s, a Wilson center-channel and a massive Thor's Hammer sub.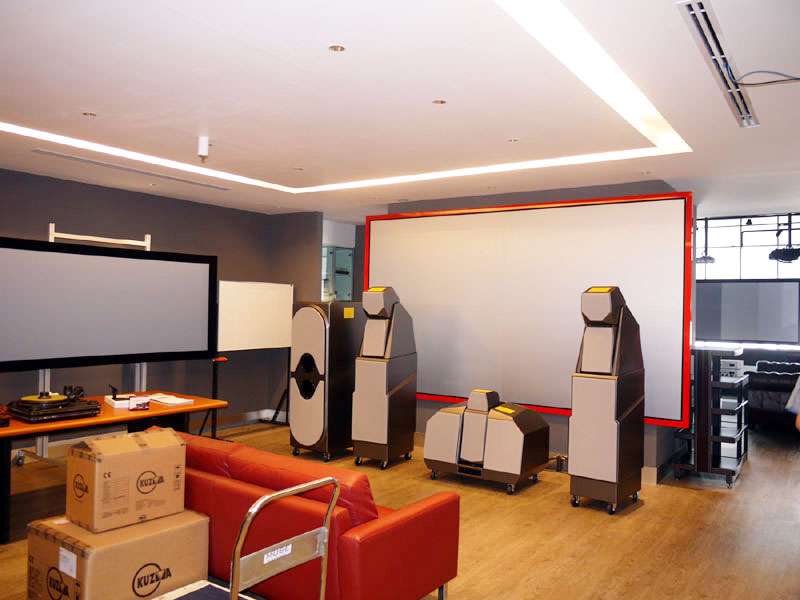 We're in the rear open area, with seating for twenty or so in comfort, and still plenty of room to play with a system properly. Not only are we talking spacious, we're talking a level of tidiness that had Louise, my wife, virtually purring at the absence of extraneous kit, cables, software and all the other detritus that litters not just my listening spaces but the rest of the house -- right up until the tidy fairy visits and then I can't find a darned thing! Despite an almost Spartan interior, there wasn't a single piece of visible equipment -- unless it was being used in a system or it was about to be. Just compare that to your local dealer. The individual rooms and open spaces also featured significant acoustic treatment, something that whilst common in the US is a real rarity in the UK. The installed systems employed a server-based source, with projectors, screens and integrated iPad control in every room, whether two-channel or home-theater orientated.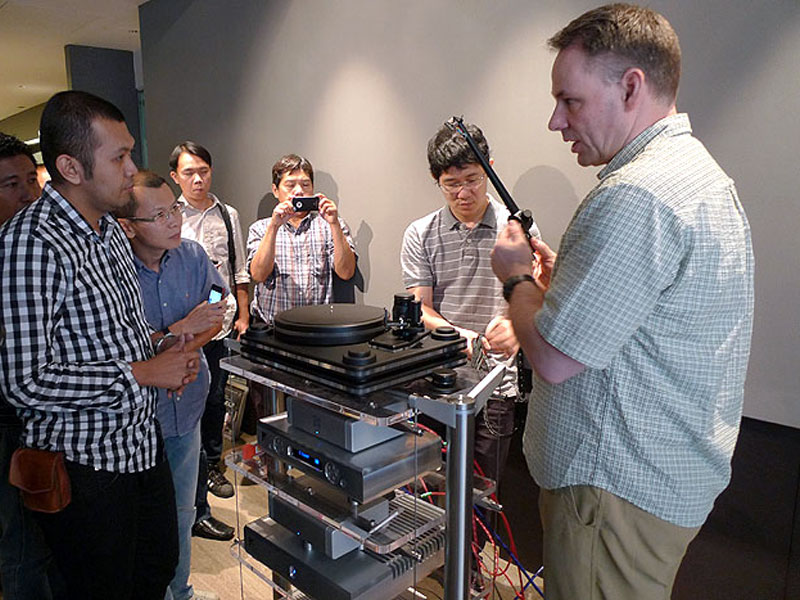 Now look at the audience; they're young, they're keen and they're listening to what I'm saying and watching what I'm doing. They're not just taking this at face value. They want it to work, but they also need to hear it work before they invest any faith in it. Again, compare that to the studied cynicism, graying hair and spreading midband that constitutes the average US or UK audience. These Thai guys really want to learn -- because it will make them better dealers, better at their jobs and better able to compete. And you'd better believe that these guys compete!
Come into my parlor
urn right out of Deco's front door, drop down a flight of stairs and walk fifty yards and you'll be overlooking the central atrium of the Amarin mall. You'll also be within a hundred yards of seven audio dealers, six of them working with seriously high-end products and the seventh selling used equipment from just about every exotic source you can think of. Name a brand and it's here: expensive speakers from Wilson, Avalon, MartinLogan, Focal and Magico; electronics from all the Deco brands plus Jeff Rowland, Jadis, Audio Research, Krell, McIntosh; there are cables, racks and accessories too numerous to mention, and it's all serious stuff. The shops are tiny, crowded but clean and carefully presented. When your nearest competitor is right next door, it does tend to encourage better practice.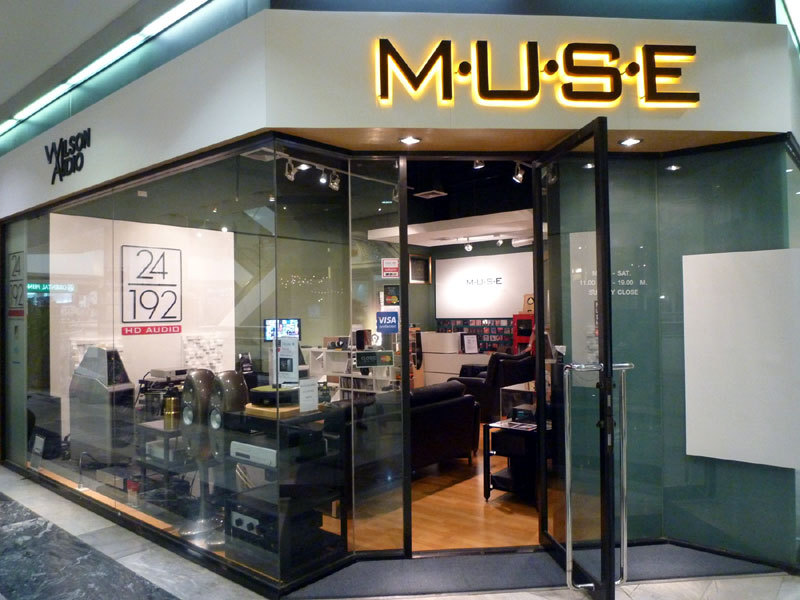 But cross the street to the mighty Siam Paragon shopping center and you'll find an even more surprising sight. This high-zoot mall contains branded stores from every conceivable high-end clothing, watch, cosmetics and handbag manufacturer -- often several for each -- rubbing shoulders with single-brand, audio concept stores to match. I'm not talking Bose or B&O -- although both are present -- but Linn, Levinson, Meridian, TAD and a larger store with Audio Research, Sonus Faber, Krell and the like.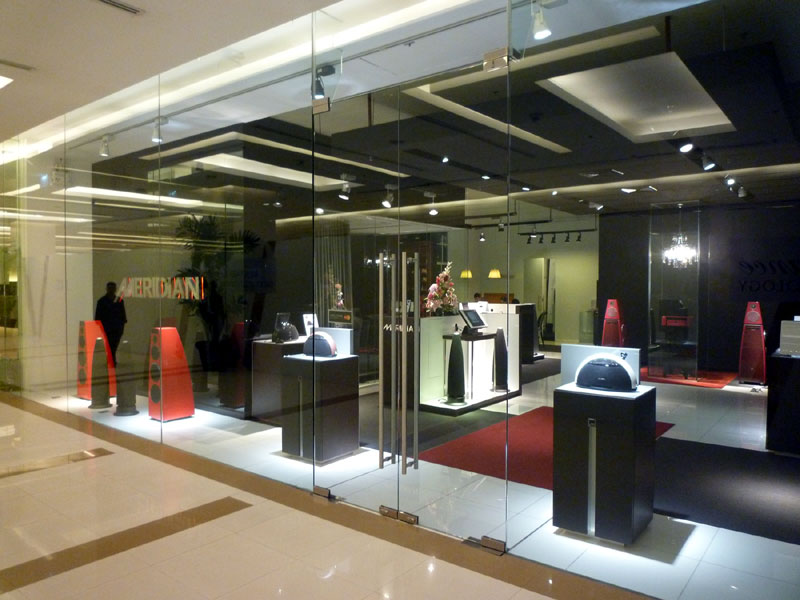 Walking out of D&G and straight into a shop decked out in multicolored Meridian speakers seems almost natural, while in the slightly edgier fashion environment of the Gaysorn complex, Marc Jacobs, Prada, Pucci and La Perla rub shoulders with B&W. Admittedly, the store majors in the stylish and colorful Pod speakers, with a smattering of the striking, upmarket Niro electronics, but why not? The mainstream speakers are in there too, and performance-conscious customers will be perfect crossover-sales prospects.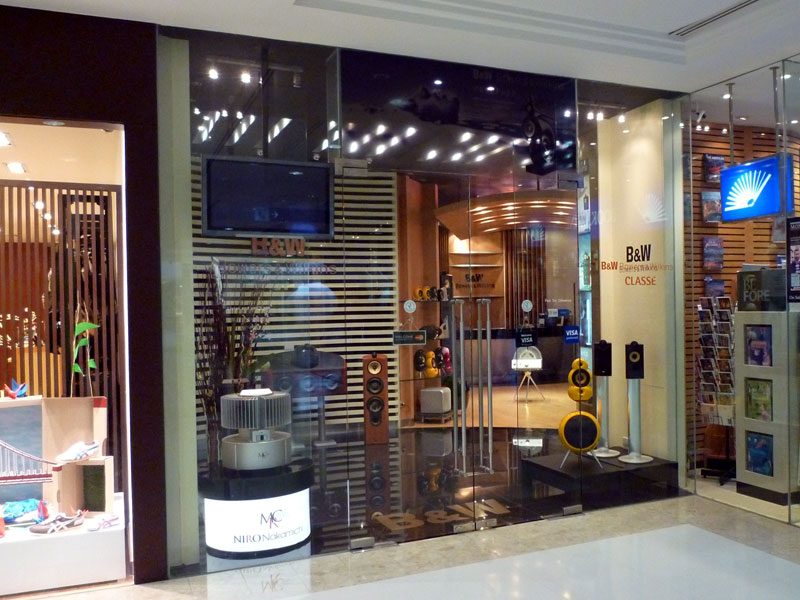 The fascinating thing about these one-brand stores is not the slick presentation or the "style meets performance" marketing. It's a fact that exactly the same recipe that is clearly successful in the Thai market has been tried and has signally failed so often in Europe and the US. You can point to the fact that this is a different culture and economy, that the market is at a different point in its development and that it has a burgeoning affluence and a new consumer class -- all of which may or may not be true -- but the contrast between the high end's old world and new is written in numbers, and the numbers here don't lie. The center of gravity is shifting, and any company that ignores that fact does so at its peril, whether they are producing speakers, electronics, software, magazines or Web copy. At present, these dealers are full of traditional Western high-end products -- but that can change.
Next up, Hong Kong.