Top Audio Video 2011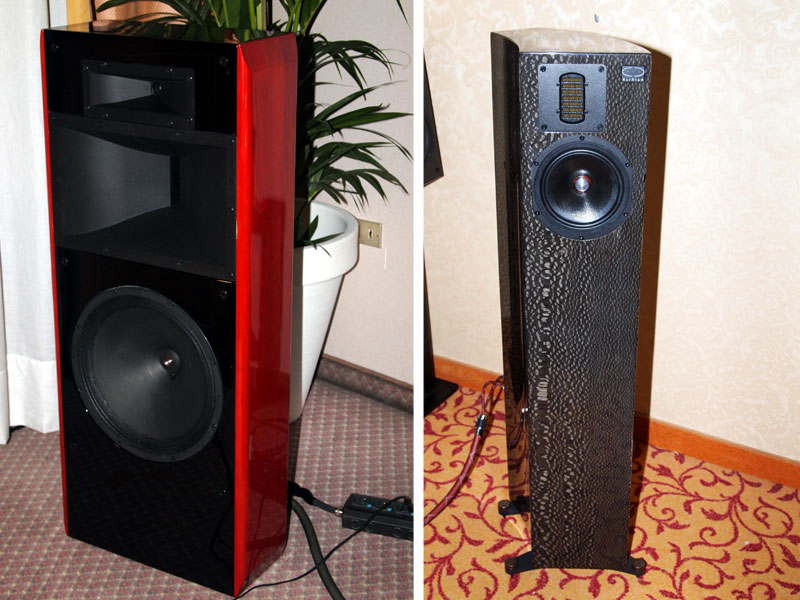 Scuderi Tittarelli showed the Casta Model VC (above left), a 45"-tall floorstander with a horn-loaded 1" compression driver, its midband covered by a 2" unit with "zero compression direct front loading technology" and bass handled by a 15" woofer with Alnico V magnet. It sounded punchy, as you'd expect of a system with 98dB/1W sensitivity, and suitably grand for a speaker selling for €16,000 per pair. Also available is the slightly less imposing Model B, with 8" cellulose woofer.
An asymmetric speaker sold in mirror-imaged pairs is Pacetech's Auralea 309 (above right, €2999/pair). At the top is a Heil AMT (Air-Motion Transformer) tweeter, crossing over at 2250Hz to a 6 1/2" woofer with a cone made from Isotact Matrix Nano material. Impedance is 4 ohms, sensitivity is 91dB/1W, and the gorgeous enclosure is in shimmering piano-finish "Grafite Carbalho." Frequency response is stated as 39Hz-22kHz.
© The Audio Beat • Nothing on this site may be reprinted or reused without permission.