Top Audio Video 2011
by Ken Kessler | October 5, 2011
Top Audio Milano 2011 was a reminder of what hi-fi shows used to be like before the financial crisis. Okay, so the first two days were quiet, and the show was shy a couple of important exhibitors, but, equally, it hosted a few brand-new faces.
Then something unexpected happened: Saturday and Sunday were packed, and the crowds included women, children and a host of adult-under-40s. When the dust had settled and the headcount had been taken, the organizers revealed that 20,000 people showed up, to see over 700 brands. The only reason any of you might sneer is that the show wasn't restricted to high-end audio.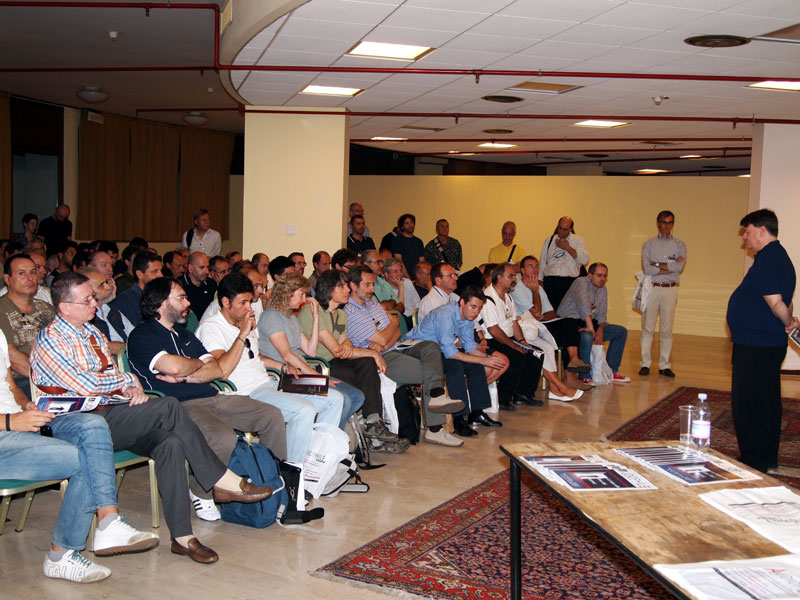 Only in Italy: six demos a day, with seating for around 150, and every session filled. That's 900 people a day for four days, 3600 coming in to hear Pierre Bolduc's demos of mono master tapes.
It's not so much that normal people (or those who've abandoned hi-fi) suddenly have a craving for single-ended triodes, hand-made moving-coil cartridges and electrostatic speakers. But neither were they captivated solely by the in-car audio, home cinema and iPod-related displays, which were sensibly isolated in their own halls to spare the sniffier audiophiles of reaching for the smelling salts. The newbies were buying vinyl, they were sitting through music-only demos, they were listening.
Of course, as with all shows, the usual suspects were in attendance -- the devoted audiophiles who wouldn't dream of missing Top Audio. Where things seemed skewed were the vinyl-and-CD sales area, which happened to be the first area of the show that you came upon, in a clearly defined selling space right after the entrance hall.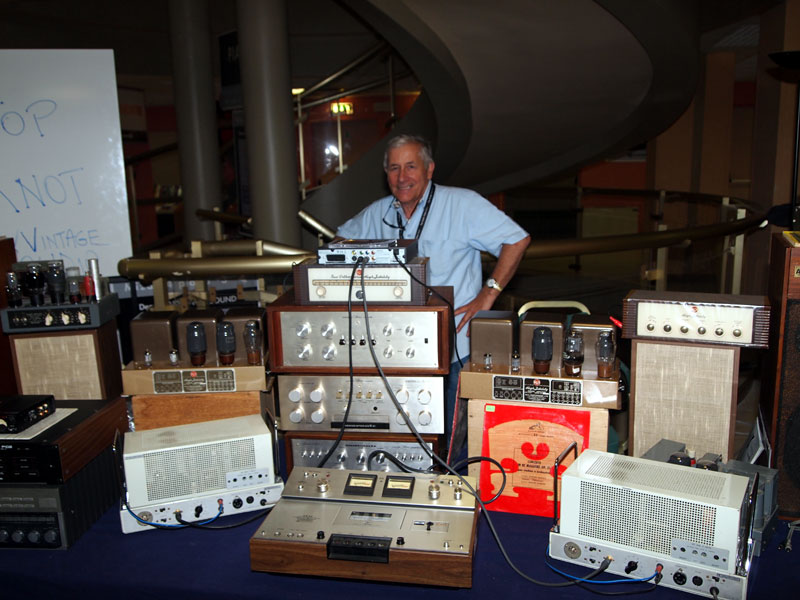 Sergio Marullo is a fixture at Top Audio and known for his selection of vintage vinyl, almost exclusively classical. Of late, though, he's been sharing with visitors a taste of his amazing collection of vintage equipment. Seen here are ultra-rare Radford 15W monoblock amps, an early RCA stereo tube preamp/power amp combination, vintage Marantz gear and much-loved AR loudspeakers. A pox on the toe-rag who stole one of the pushbuttons off a rare Marantz integrated amp.
Like the Munich show, Top Audio bursts with LP vendors. What increased is the proportion of buyers who were younger and buying not reissues but rather vinyl versions of recent releases by current artists. The same individuals could be seen clustering around affordable turntables, as well as higher-priced-but-not-insanely-so models such as EAT's rather cool E-Flat and the sleek and stealthy Avids.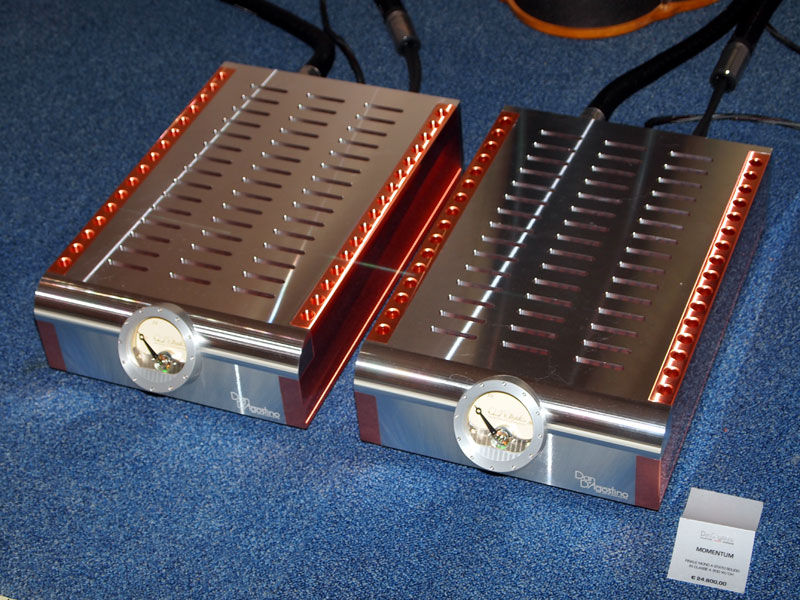 In room after room, the hipper the hardware, the younger the crowd. The younger set drooled instead over Franco Serblin's must-have Accordo speakers, the D'Agostino Momentum amps (above, absolutely the hit of the show), and anything boldly colored or simply not looking like conventional hardware of yore. So, for once, I didn't mind the crowds around the B&W Zeppelins.