Top Audio Video 2010
by Ken Kessler | December 2, 2010
Outside Europe, only Munich's excellent high-end show, held every spring, is well known to the audio community. True, most enthusiasts realize that France, the UK, Spain, Greece and just about every other country in Europe hold audio events, but for the most part they are quite small events and intensely localized in flavor. Equally, they suffer a dearth of new products, as most manufacturers hold out for the "big guns": the aforementioned Munich show, the CES, the Rocky Mountain Audio Fest in the US, and a couple of powerful events in the Far East.
To think this way is to ignore what just may be the nicest show of them all: Top Audio Video Milano. No, I'm not just saying that because I adore almost everything Italian -- even Berlusconi. But look at it this way: with all due respect to the über-professional Munich show, Germany's premier event is almost too business-y, certainly too Teutonic. And even though it's open to the public, it still feels like a trade show. Not so Top Audio Video. I guess it's the difference between the German brain and the Italian heart.
Milan's clever annual event, which attracts 15,000-20,000 visitors and is nearing its quarter-century anniversary, is so perfectly arranged that even the sort of nasty, twisted audio psychotics who claim that "digital causes cancer" and "home theater is the work of the devil" are spared exposure to that which they disdain. Every genre is isolated: a rotunda for in-car systems, a massive hall for home cinema, two-and-a-half floors with traditional bedroom demos of serious audio equipment, and two floors below ground level for those companies that need larger rooms -- e.g., Marantz, Linn, Opera, B&W, Chario, Sonus Faber, etc. And this show is possibly unmatched for the number of software vendors, with many yards of new and used vinyl, Blu-rays, DVDs, SACDs, and all manner of box sets.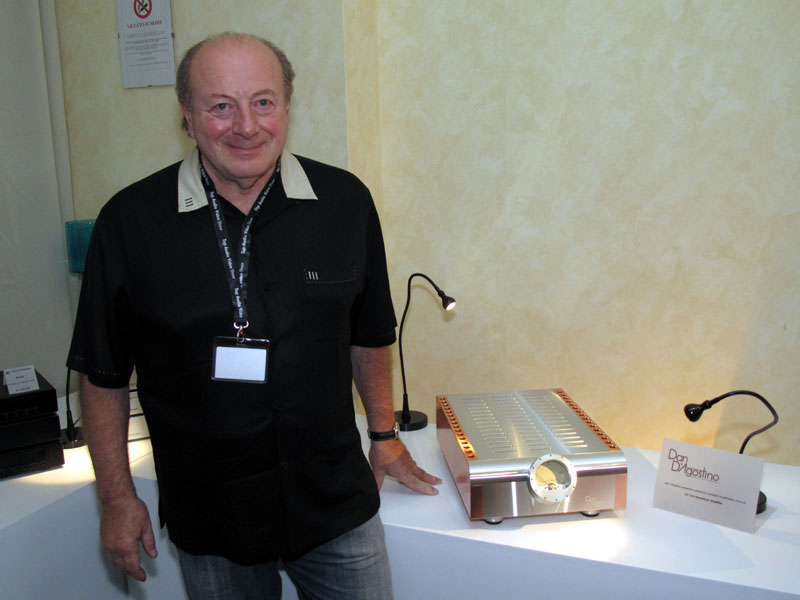 Former Krell head Dan D'Agostino and his new mono amplifier, which debuted in Milan.
Even the sign-posting alerts the geeks -- who respond to a transistor the way Superman reacts to Kryptonite -- with what amount to warnings: every room is identified by product type and the manufacturer's nationality. (The not-too-subtle xenophobia in this sign-posting amuses the hell out of me in this age of poisonous political correctness.) So, as a means of absorbing a load of new equipment, it really doesn't get any easier or better. And this show does host numerous product launches, because Italy is third only to the US and Great Britain (and probably tied with Germany) in the production of true high-end equipment. Even imported brands use Top Audio Video for launches. It was at this year's show that one of the most important and controversial products of the year enjoyed its debut -- Dan D'Agostino's mono power amplifier.
If I were a travel agent and you an audiophile driven by wanderlust, I would implore you to consider a visit to Top Audio Video 2011. After all, where else on earth can you pig out on extreme hi-fi and then pop into town to frequent countless restaurants where Tignanello is under $60 a bottle and the cotoletta Milanese is a local dish?
Prices are given in US dollars when available.