Sound & Vision • Hot Product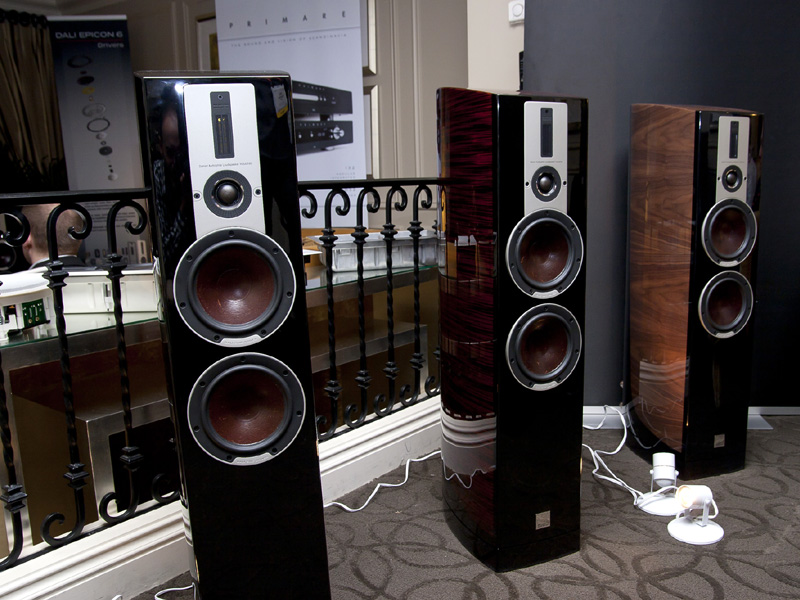 Dali laid on some very tasty consumables in order to lure the press to its presentation, a sure-fire technique that the rest of the UK industry could learn a lot from [hint, hint]. The Danish loudspeaker specialist wanted to tell us about their Epicon 6, a lavishly finished $13,500-per-pair floorstander that incorporates some unusual technologies, prime among them being the use of soft magnetic compounds (SMC) in the magnet system. Unlike solid iron, SMC is made up of tiny magnetic particles that are bonded together and placed very close to the pole piece. When combined with an aluminum ring around the pole, this technology increases flux density and linearity within the motor system, and as a result lowers distortion and increases consistency of impedance. The Epicon 6 has ribbon and dome tweeters that are built into their own aluminum baffle, which is designed to provide a degree of isolation. The cabinet itself is a twin-ported, low-loss design, and the woofers have wood-pulp cones -- a combination that made a very refined sound when driven by a Linn Klimax DS system.
© The Audio Beat • Nothing on this site may be reprinted or reused without permission.