Rocky Mountain Audio Fest 2016 • TABlog
by Dennis Davis | October 13, 2016
ne of the most enjoyable parts of attending an audio show is the opportunity to rub elbows and enjoy dialogue with others of like (or quite often, superior) mind. For many, the path of writing and thinking about music and music reproduction leads down a path that can seem utterly predictable and boring, requiring a periodic jolt to awaken the senses. This year's mental sludge was dislodged by a visit from two special guests from Hong King -- Audiotechnique editor Lincoln Cheng and publisher Rebecca Chin (below with Roy Gregory, far right).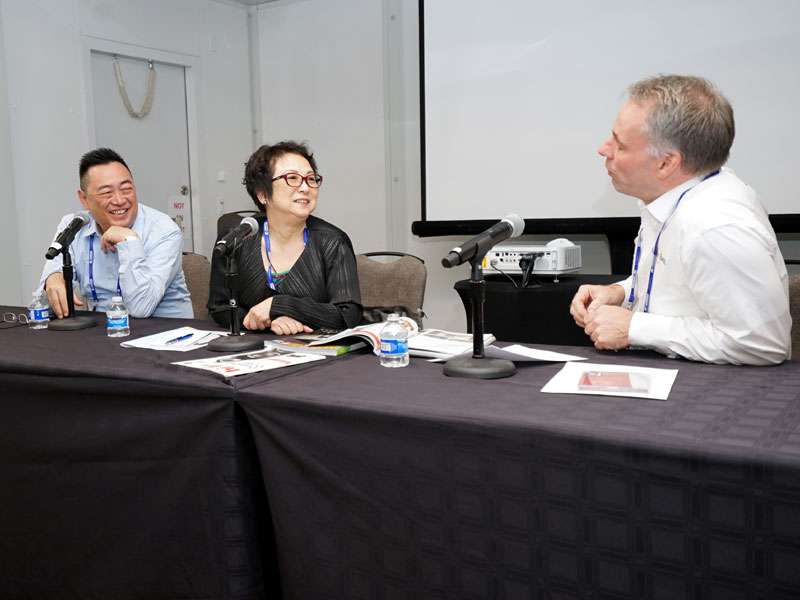 Audiotechnique is Hong Kong's most influential audio magazine, published twelve times a year, with each issue running several hundred pages. Unfortunately there is no English-translated version, so we are limited to following the magazine on Facebook and settling for the tidbits translated by that application to our native tongue. Audiotechnique also stages the annual Hong Kong High-End Audio Visual Show in early August, which should be avoided at all costs by anyone suffering from agoraphobia. Lincoln and Rebecca are like rock stars in Hong Kong and at the annual High End Show in Munich, but they are relative newcomers in the wilds of Denver, where they were practically inconspicuous wandering the halls.
Roy Gregory introduced Lincoln and Rebecca for a seminar during which they shared their publishing experiences and film clips from past Hong Kong shows, providing compelling evidence of just how energetic the interest in hi-fi is in Asia. While no one could envy the existence of long lines waiting to enter the show or to gain access to the individual rooms or seminars, the amount of sheer energy and enthusiasm evident would more than compensate for the inconvenience.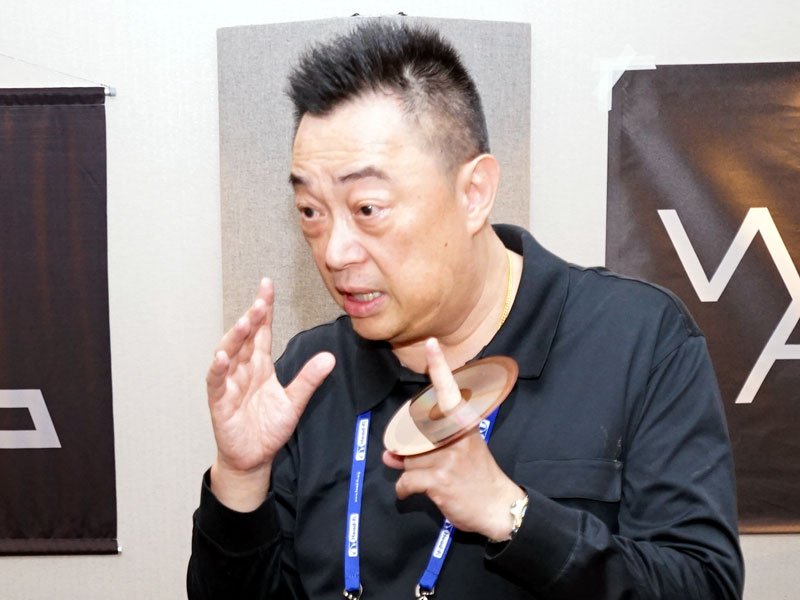 The highlight of Lincoln and Rebecca's contribution to the RMAF was a series of listening sessions demonstrating that remarkable sound could be achieved from Red Book digital recordings. Glass (or Crystal) CDs are made in very limited quantities in Japan, and despite their expense ($1500 to $2000 each) sell out almost immediately. Each disc is cut on a laser-mastering machine, as opposed to being mass-produced from a stamper. Unless you know one of the handful of audiophiles who have a glass CD, you are unlikely to ever hear one. That drawback was remedied in a series of listening sessions in the Crystal Cable room and one in the Wilson Audio/VTL room, where Lincoln played and compared the identical pressing made on both glass and polycarbonate. In this case, Lincoln played the fourth movement of Karajan's 1963 recording of Beethoven's Ninth Symphony. Everyone in a room filled with as many music lovers as audiophiles found themselves moved by how much more musically compelling the glass CD sounded.
Obviously, no one was selling anything here -- even if you wanted the Beethoven Ninth on glass disc, you can't have it unless you inherit a copy from one of the lucky owners. Lincoln did share a bit of silver lining, however. Some of the glass titles have also been replicated in higher-quality polycarbonate versions under the name UHQCD, including the Beethoven Ninth. Lincoln Cheng's recommendation was enough for me; my online order was placed as soon as I returned to my room. That $50 will be well spent if the disc retains a fraction of the magic of the glass CD.