Rocky Mountain Audio Fest 2014 • TABlog
by Dennis Davis | October 11, 2014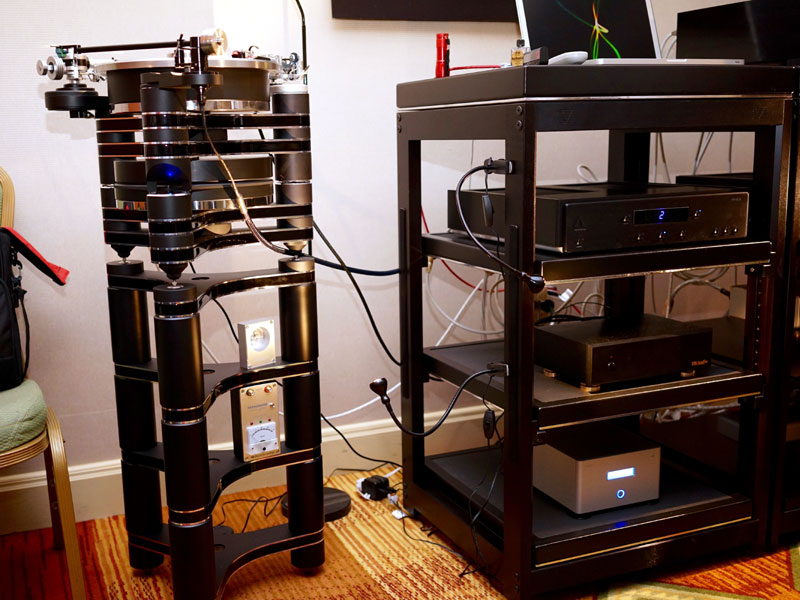 Turntables were everywhere at the RMAF this year -- not just lots of familiar models but new ones and revisions of older models too. And for those for whom one tonearm is just not enough, turntables set up to hold multiple tonearms seemed to be omnipresent.
Clearaudio's Master Innovation turntable ($29,400 as shown) was perched on its Olympus stand ($13,400) and supported three tonearms of Olympic design: a Graham Phantom Elite 10" ($12,500), an AMG 12J2 ($4500) and a Tri-Planar VII U2 SE ($7500).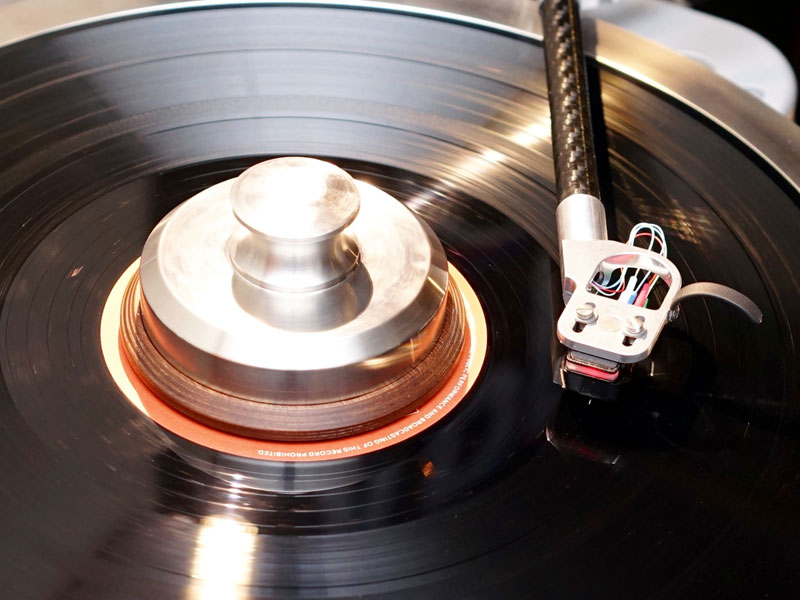 Attached to the Tri-Planar was something new -- an optical phono cartridge from Digital Stream Corporation, the DS-W1 optical phono cartridge. The cartridge detects stylus vibration using a beam of light rather than electromagnetic induction. It comes with its own equalizer/power supply, which replaces the normal phono stage. New even to its distributor, Garth Leerer, the cartridge/equalizer package is expected to price out around $10,000. Presented in a Focal/Aesthetix/Nordost system, the new cartridge sounded quite promising.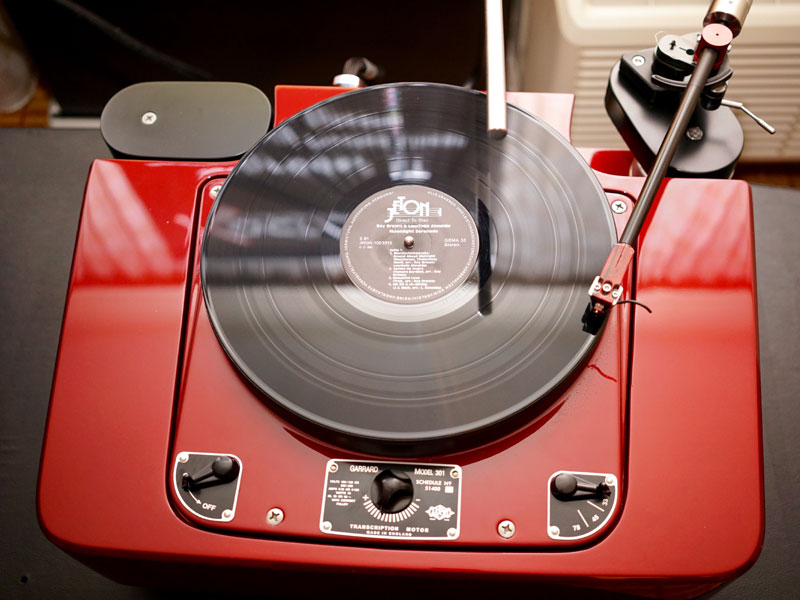 Years in development, Frank Schröder's LT pivoted linear-tracking tonearm ($9990) was shown in full-production mode this year. It was installed with a drop-dead-beautiful Garrard 301 turntable mounted in a custom two-'arm plinth designed and manufactured by Steve Dobbins ($5650), maker of the Kodo The Beat direct-drive turntable.
Schröder's innovation of creating a linear tracker in what appears at first look to be a standard pivoted tonearm shows that not every idea has yet been exhausted. The glossy red paint on the plinth complemented the red details of the tonearm. If there was one piece of eye candy at the show I would have liked to pack in my return bags, this was it. The tonearm sounded fabulous complemented by a Lyra Etna cartridge ($6995).
VPI had 'tables spread out across the show, and both Harry and Mat Weisfeld were on hand to promote them. One of my favorites was a Classic 4 set up with two 12.7" JWM Classic Signature tonearms ($10,000), one with a Miyajima Madake stereo cartridge with bamboo cantilever ($5995) and the other with a Miyajima Zero-Mono cartridge ($1995). While not budget equipment by any standard, this package offered true cost-no-object sound. As easy as it is to swap out VPI tonearms to go between mono and stereo, this is a real dream setup for instant comparison.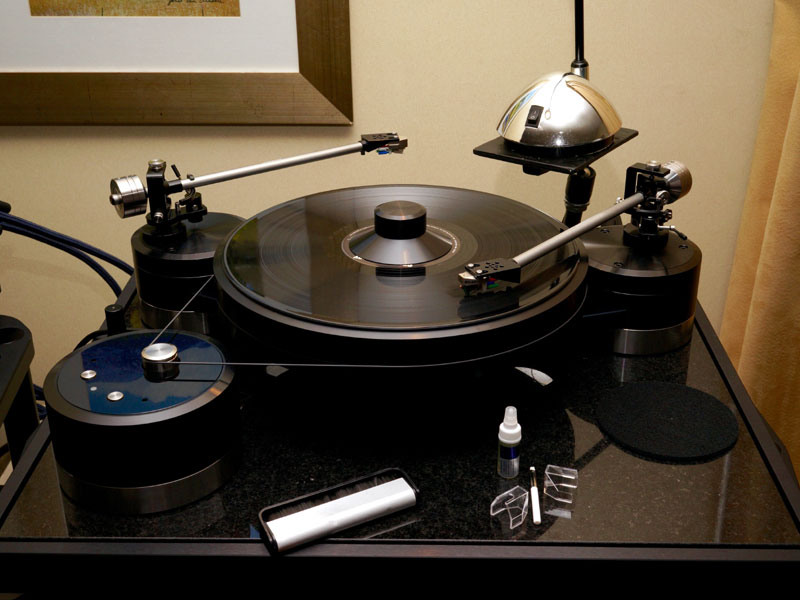 In the Vandersteen/Audio Research room, Brinkmann Audio debuted the new Spyder turntable for the Northern American audience. The Spyder allows up to four tonearms of up to 12" length to be installed. For the show, Brinkmann used two Brinkmann 10.5 tonearms ($6300 each). The Spyder comes standard with one 'arm tower for $14,000, with a second 'arm tower costing $3000. The turntable was equipped with Brinkmann's RöNt II tube power supply ($5000).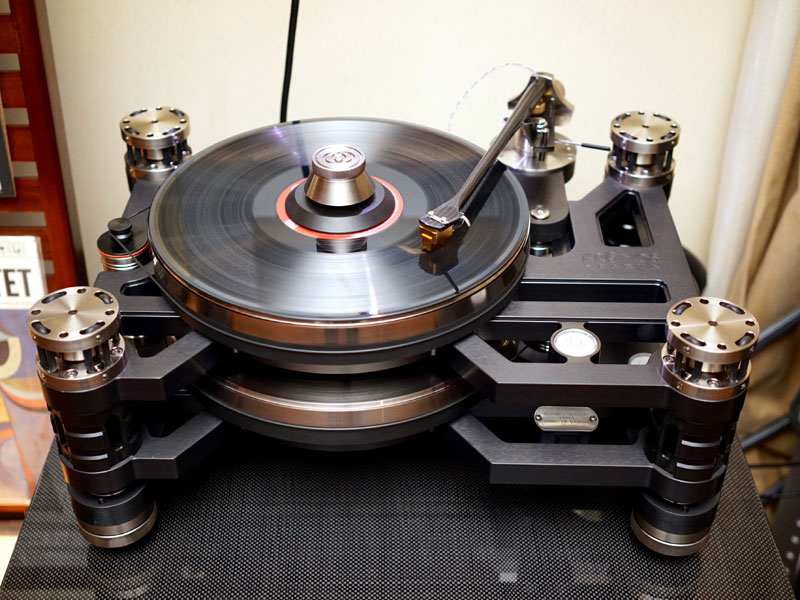 GTT Audio was showing the Kronos Sparta turntable ($21,000) with a Kronos 10.5" Helena tonearm ($6500), for those looking for a Kronos without the top-model price. The Sparta was bearing an Airtight PC-1 Supreme cartridge ($11,000).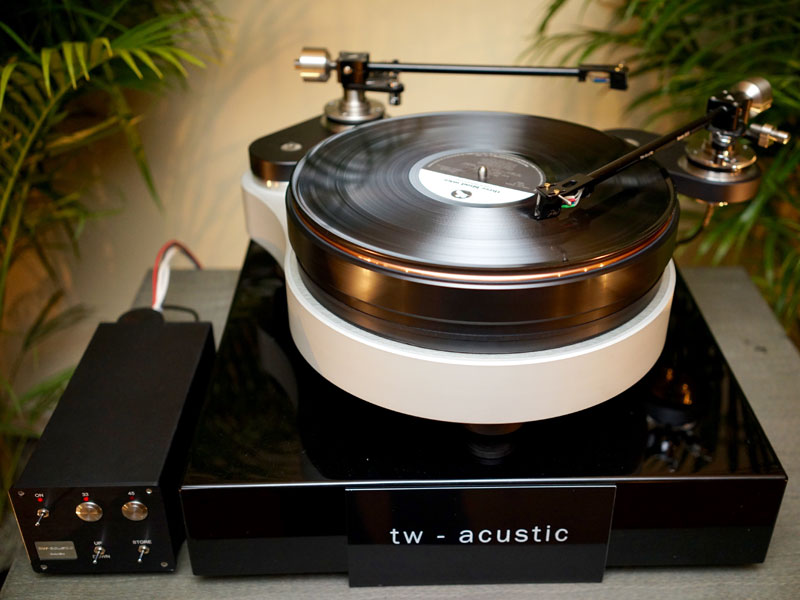 High Water Sound played the TW-Acustic GT SE ($12,500) with two TW 10.5 tonearms ($5500 each), one with an Ortofon Windfeld cartridge ($3899) and the other with an Ortofon Cadenza Mono ($1219). Clearly, a lot of folks got the memo about having both stereo and mono cartridges ready to play.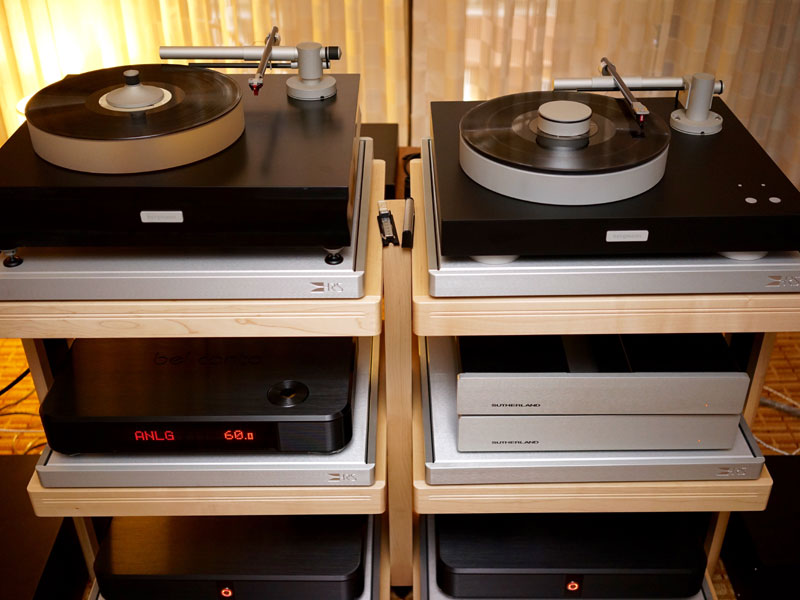 Instead of a single turntable bearing two tonearms, Bergmann Audio of Denmark displayed two of its turntables displayed side by side. It could be no other way with these air-bearing, linear-tracking 'tables. The Magne (right, $16,500) and Sindre (left, $28,000) looked fabulous in a very Danish way. The Sindre was, like so many turntables at the show, fitted with a Lyra Etna, contributing to the long backlog of orders for this cartridge.
For those on a real-world budget, there were plenty of Regas, smaller VPIs and Pro-Jects spread throughout the show. But LP spinners provided stiff competition for electronics capable of no more than the crunching of ones and zeros.