Rocky Mountain Audio Fest 2013 • Best of Show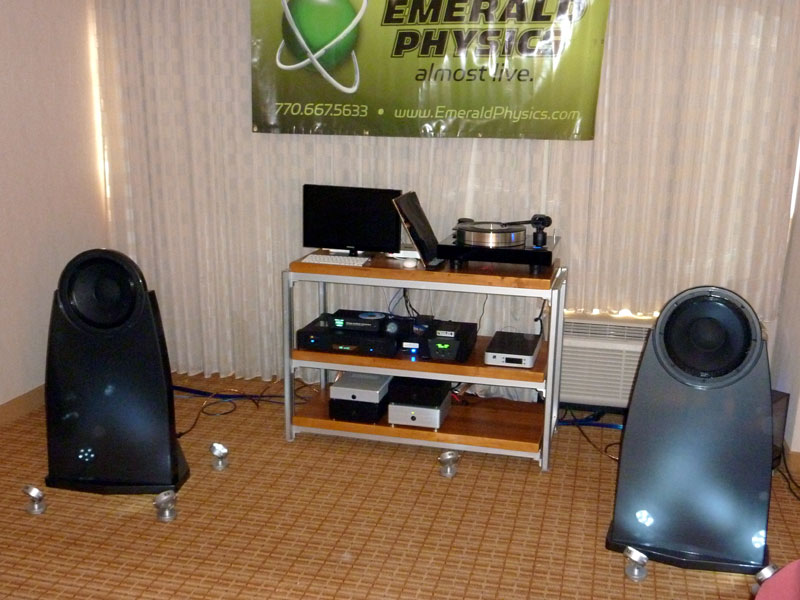 So many show systems are a conglomeration of products from various manufacturers -- one supplying the speakers, another the electronics, yet another the source components, all brought together by the various companies and available at various dealers, price to be determined. The RMAF system featuring Emerald Physics speakers and amplifiers, a DSPeaker preamp/room-correction unit, a pair of REL subwoofers and JoLida digital gear was different. Totaling $11,600 at retail prices, it was offered for sale as a complete system for $8995 out the door. Dealer Underwood HiFi did the legwork of assembling the system, shipping all of the products to Denver, and setting up.
The speakers were Emerald Physics CS3 Mk 2 with the company's DSP2.4 digital crossover ($3500 separately), two REL T9 subs ($1200 each) augmenting the lows. An Emerald Physics EP100.2 SE amplifier ($2200) drove the speakers, the DSPeaker Anti-Mode 2.0 performing preamp duties. A JoLida Fusion tube CD player/DAC was the digital source. Also used but not included in the system price were a Pro-Ject Xtension 10 turntable and PS Audio NuWave phono converter.
What made this system stand out, other than its price and the fact that attendees could easily purchase it, was its powerful, refined sound. Dynamics and authority were on full view, along with a meaty midrange that brought voices to life -- all at a reasonable price.
Hi-fi doesn't have to mean high price and high hassle, and this system was a prime reminder of this.